What does it mean to be Korean-American? Does one create one's own world?
Fact
Koreatown spans three square miles of Los Angeles. It encompasses a 10-block cluster of businesses and homes including four blocks known as Little Bangladesh, and is also one of the city's several Central American communities.
Eats
What do you do if you're a locavore in L.A.? You look around. What's local and delicious?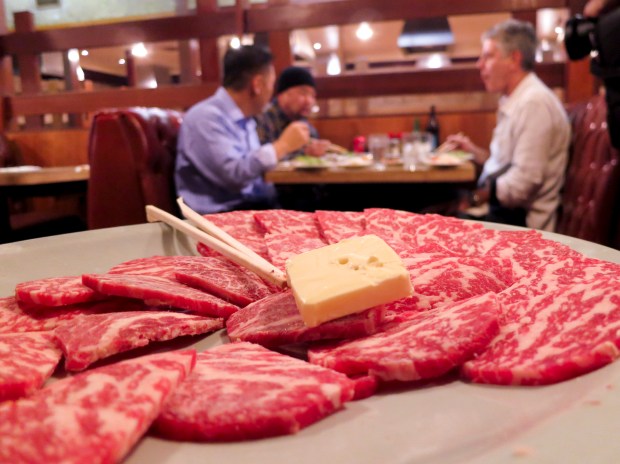 727 North Broadway
Los Angeles, CA 90012
323-380-8680
What Bourdain ate: Kimchi Spam Bowl.
3455 West 8th Street
Los Angeles, CA 90005
213-383-5757
What Bourdain ate: Banchan (Korean cold appetizers); bulgogi (thinly sliced, fat-marbled beef, grilled tableside), sliced ribeye; kimchi bokumbap (kimchi-fried rice).
3821 Beverly Blvd
Los Angeles, CA 90004
323-906-8617
What Bourdain ate: Aloha (pineapple) burger, Spam Little Big Bite sandwich, Halo-Halo (an "oddly beautiful" cup of sweet red beans, white beans, and chickpeas, cubes of red and green jello, young white coconut, shaved ice).
400 S Vermont Avenue
Los Angeles, CA 90005
213-387-1647
What Bourdain ate: Salad bar meatball taco, a David Choe concoction, world-famous Sizzler cheese toast.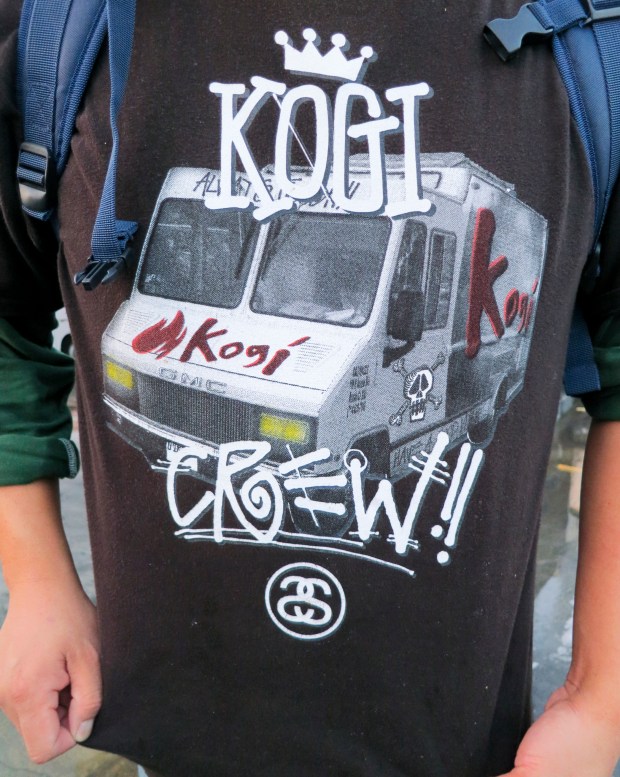 Check Twitter for location: @kogibbq
What Bourdain ate: Kogi short rib taco (double-caramelized Korean barbecue short rib on fresh corn tortilla, with salsa roja, cilantro and onion-lime relish, napa cabbage romaine slaw, and a chili soy vinaigrette).
3109 W Olympic Blvd
Los Angeles, CA 90006
213-381-3568
What Bourdain ate: Wang mandu king dumpling (steamed, thick dough, stuffed to the gills with pork, kimchi, and vegetables), sweet dessert manda dumpling.
4153 W 3rd St
Los Angeles, CA 90020
213-386-7799
What Bourdain ate: Fish curry with chilis, curried goat, samosas, tandoori chicken.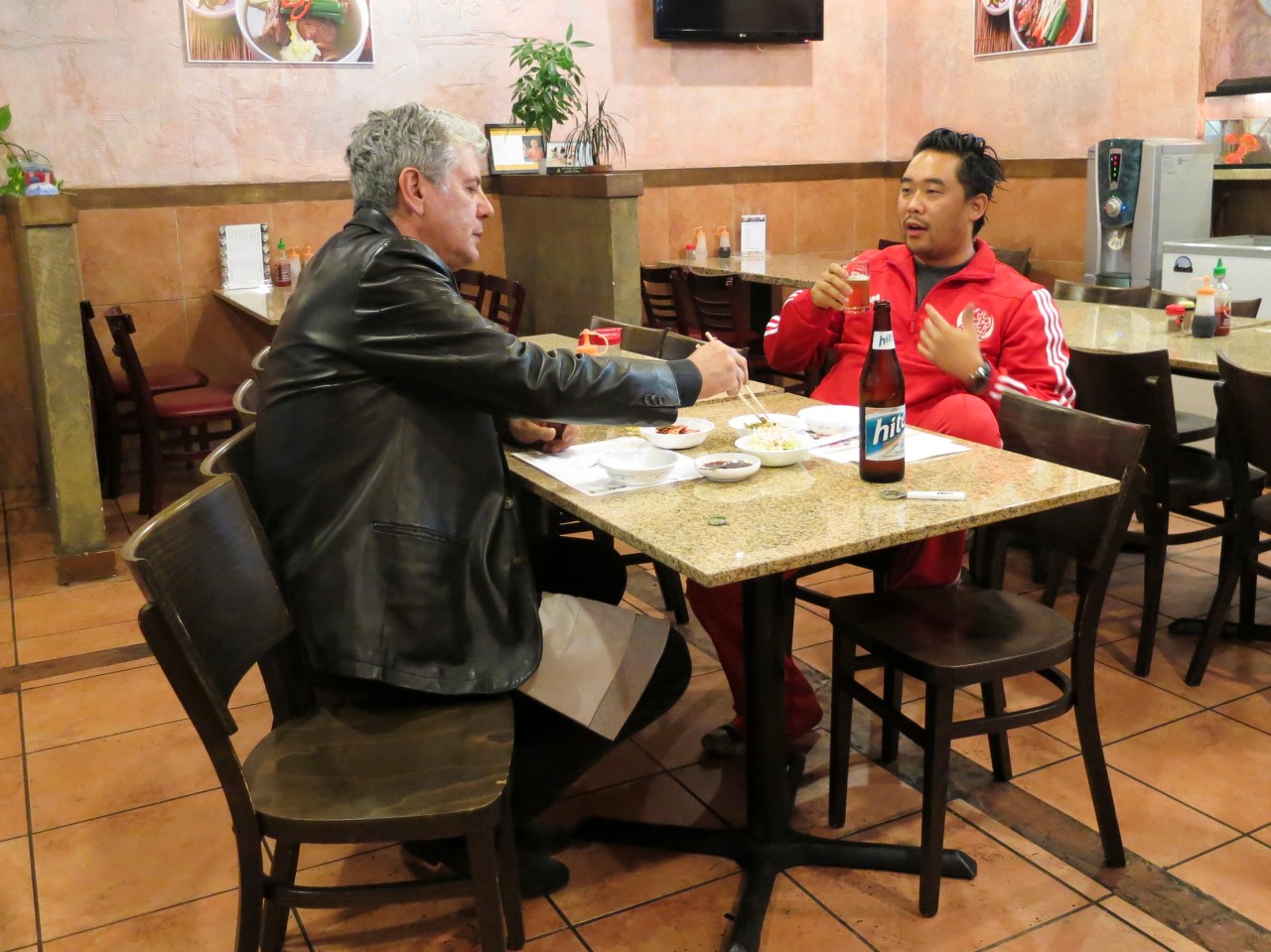 Sidekicks
Koreans can well remember when nobody was interested in their food. Now, it's confusingly au courant.
David Choe: Self-described "bad Korean", despite being an internationally acclaimed graffiti artist and muralist who became very rich spray painting Facebook HQ.
Roy Choi: Korean-American chef who revolutionized American street food over the past decade slinging bulgogi sliders and kimchi-laced quesadillas from his fleet of Kogi trucks.
Estevan Oriol: Mexican-American photographer and filmmaker renowned for capturing LA's gritty street culture.
Lingo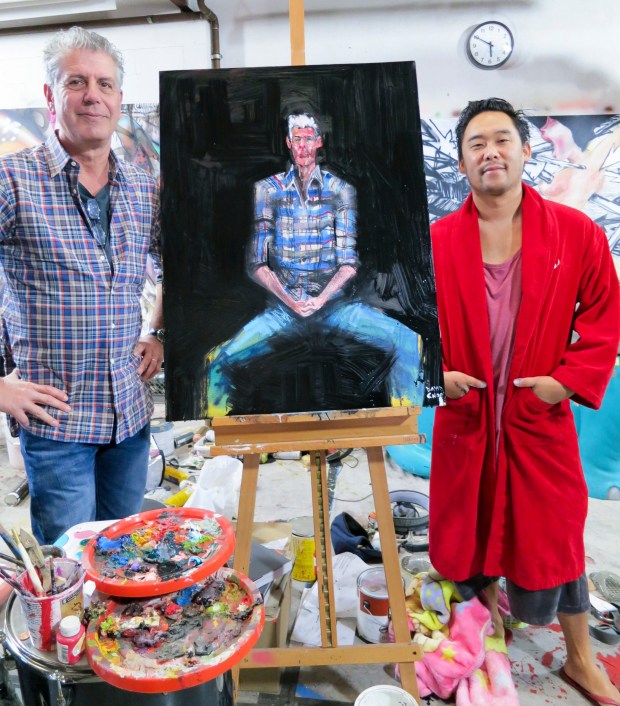 K-Town: Angeleno shorthand for Koreatown.
"Bad Korean": A Korean-American who does not conform to stereotypes of their community's professional aspirations. For example, Roy Choi is a self-professed "bad Korean," who dropped out of law school to pursue a career as a star chef and restaurateur.
Lowrider: The driver of a customized car with the frame lowered closer to the road. The lowrider is a purveyor of moving street art in parts of Los Angeles—and also a target for cops.
For Korean Americans, it used to be that you grew up to be a doctor, a lawyer, an engineer. There were a specific set of rules and expectations. Thanks to some remarkably bad Koreans, though, things are beginning to change.