For me, the hanbok, that graceful, traditional Korean dress from the Joseon dynasty, will always be associated with cubed ham. What does an elegant relic of the past—most often worn today only in formal settings—have to do with cubes of ham? What draws the line between these two disparate things? Sizzler. (It's important to know that after I typed that, in my head, I said: "Fuck, yeah.")
Sizzler, for those of you unlucky enough to have come of age in a place without one, is, was, and shall ever be a magical place. Some know it as a steak house; I hear these days they even do chicken. But the main thing about Sizzler is not their steaks (always stabbed with a wooden pick to indicate the temperature), or the anemic seafood selections. The glory of Sizzler lives in its relentlessly '90s logo, its warm, often wet, beige plastic plates, and, of course, the salad bar.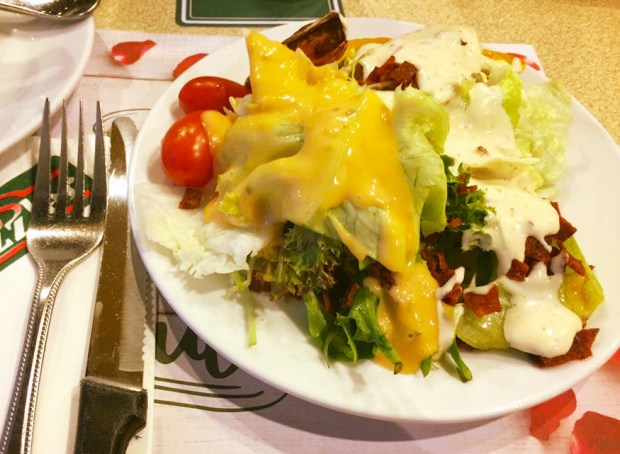 I went on the Sizzler website just a few days ago, and it seems as though the salad bar is now the "Craft" Salad Bar. This, apparently, is due to the addition of quinoa and avocado. But that has no place in my memory. I can remember picking up those clear plastic plates that curved inward and had a pattern on them that hinted vaguely at the texture of lettuce leaves. Iceberg lettuce, green peas, shredded cheddar cheese with a vaguely floury aftertaste, cubes of ham—putty-colored tongs transferred them all to my plate. Next, the similarly-colored tubs of salad dressing, with scoops onto which the names of the dressings were written in white. Often the names were rubbed off, a testament to their heavy usage. (Obviously, a pile of ham cubes, cheese, and peas gets dressed with ranch. Obviously.)
Do not, and I mean do not confuse Sizzler with Hometown Buffet or Golden Corral. Those were for every day. Sizzler was special. (Fuck, yeah.) Sizzler was for birthdays. Sizzler was for when grandma was paying. Sizzler was, also, an apology from my mother after an afternoon in L.A.'s Koreatown, being poked, prodded, and measured by many elderly Korean ladies for a hanbok. (Adopted at four months old from Seoul, it was an attempt by my Southern parents to connect me with the country of my birth. Later, I would wear a hanbok to a school dance–I'm still recovering from the bullying over that atrocity.) Getting measured and fit by a cabal of incomprehensible-to-me women with little to no respect for personal space? That shit is scary. I grew up in small towns in the South, so the clothing, food, and sounds of Koreatown were overwhelming and foreign. Sizzler was a greasy, calorie-laden balm to my battered soul.
I'd almost forgotten about Sizzler, and the hanbok episode, until I watched Anthony Bourdain discover the delights of the Sizz (what do you think about a nickname? I'm on the fence) in Koreatown. I actually did not know of its popularity amongst the Korean-American Angeleno population. Learning that it retains mythic status for others was like learning a gentle, secret handshake that I didn't realize existed but am desperately happy to know.
Meatball tacos (which we saw Dave Choe prepare for Bourdain in the episode) are only one of the examples of greatness that the salad bar at the Sizz (we're going to go with it) inspires. Mashed potatoes, when they are thin and gloppy, become less their own food entity, and something more elemental, a gooey matrix holding together unholy combinations, like wrinkly green peas, fresh-from-the-can-corn, and bits of ground beef (wait that's Shepherd's Pie). Mashed potatoes can cradle meatballs, chicken nuggets, slices of ham, fried shrimp—there is no limit. Once a plate at Sizzler has been laid waste to, the remains paint the plastic like the world's grossest impressionist art. Busy women in aprons come by and collect the stacks that accumulate at the end of the tables. This place is a wonderland, full of things like "Spanish" rice, anemic berries, chilled green grapes, artificially-flavored, soft-serve, waxy dessert, cheese toast, and baked potatoes in foil jackets with individual servings of sour cream.
I felt, back then, the way I imagine I would feel now, faced with something like an Ottoman-era caravansery; but instead of spices I marveled at hard taco shells; instead of silks and satins, the sliced melon and whole pineapples on display; instead of copper kettles, red, pebbly plastic cups of soda that seemed to magically refill themselves. The food, I've come to recognize, was always vaguely unsatisfying; and yet by the next return to the Sizz, I was always freshly joyful, certain that a magical experience was waiting for me. (I've often wondered where I learned the habit of selective memory–I'll have to talk to my therapist.) For now, it's enough to feast on the memory of quintessential American food in L.A.'s Koreatown being scooped up by a Korean girl shuffling in line behind her white mother, peering through the clear sneeze-guard, wondering what to try next.