Rue 80 at Maison Fahrenheit Hotel
80 Adetokunbo Ademola Street
Lagos, Nigeria
(+234) 1-905-4800
Drink date: Accompanied by Shina Peller, owner of Club Quilox, and Banky Wellington, record label owner, actor/director, artist, advertiser, real estate, chef-in-training.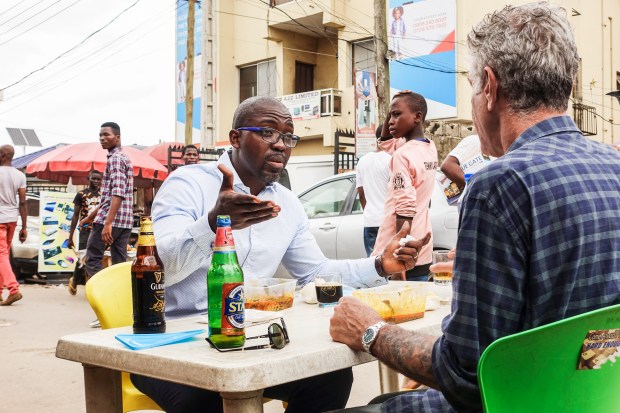 Iya Eba 
10 Berkeley Street, (off Moloney Street)
Lagos, Nigeria
(+234)  802-076-8451
Bourdain had: Pepper soup ("It burns, it burns real good," Bourdain says)
Dinner date: Kadaria Ahmed, journalist, editor, and TV host who moderates presidential debates.
Computer Village,
Ikeja, Lagos
Bourdain ate: Pounded yam ("the ubiquitous starch of Nigerian cuisine," per Bourdain), egusi soup (stew of goat meat, melon seeds, fish stock, and chilis).
Lunch date: Tunji Andrews, journalist, radio host and expert on the Nigerian economy.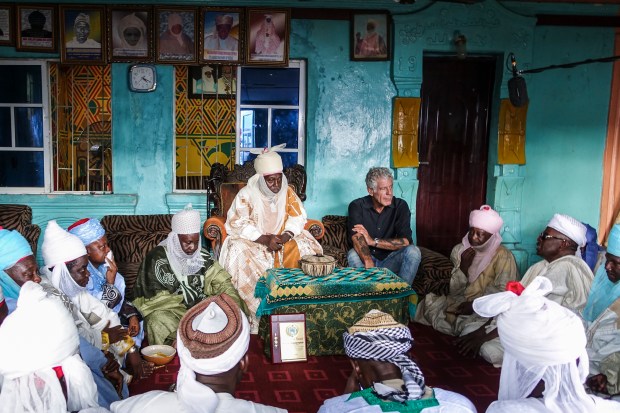 Chieftaincy Council of Hausa Community in Agege
Bourdain ate: Masa (griddle cakes made from sticky rice, sugar, potash—a mineral-rich salt), fura (millet and milk compote), danwake (bean-flour dumplings served with tomatoes), moringa salad, kuli-kuli powder (ground peanut).
Lunch date: His Royal Highness, Alhaji Musa Muhammadu Dogonkadai, Sarkin Hausawan Agege.
Makoko Neighborhood
Bourdain had: A home-cooked meal.
Lunch date: Edoato Agbeniyi, musician, and activist and Yomi Messou, son of neighborhood leader.
Olabode House, 217 Ikorodu Road
Ilupeju, Lagos
(+234) 807-538-5987
Bourdain had: Ewedu (Yoruba soup: crayfish, chilis, locust beans), jollof rice, goat meat, pounded yam, beer.
Lunch dates: Atim Ukoh, her mom Iquo Ukoh, and friend Ozoz Sokoh—food bloggers.
Nerdc Rd, Agidingbi,
Ikeja, Nigeria
(+234) 803-712-5939
Bourdain had: Beer and lunch.
Lunch dates: Femi Kuti and Seun Kuti, both musicians, and Yeni Kuti, the owner of New Afrika Shrine—all are children of Afrobeat lengend Fela Kuti.
While Bourdain didn't eat here, he met some of Lagos' brightest young developers and we just couldn't leave them off this list.
Computer science training company
235 Ikorodu Rd, Ilupeju,
Ikorodu, Nigeria
(+234) 704-067-7987

Another foodless meeting that was still delicious as Bourdain was learning about the greatness that is Nigerian psychedelic rock.
Lagos, Nigeria
Bourdain met: Temi Kogbe, a vinyl digger, collector, and trader of rare West African vinyl. He also runs Odion Livingstone and Livingstone Studio, two music labels dedicated to releasing Africa's unearthed gems from the past.