There are no clocks visible on most gambling floors. That's not by accident: No self-respecting casino magnate wants visitors to know just how much time they're spending at the tables or slots. It's easier to keep patrons playing if day doesn't turn into night, if the responsibilities of the real world don't come any closer, if there is just this present moment.
Outside, time passes. And in Las Vegas, time has transformed the city's famed Strip from a handful of casinos (the action was split between the developing Strip and downtown on Fremont Street) to "America's Playground," bringing in nearly $6 billion in gaming revenue on the Strip alone in 2016.
For Benny Figgins, though, the view's been the same from the gaming floor at Caesars Palace. One of five employees who have worked at the resort since its opening in 1966, Figgins has dealt blackjack, among other games, since 1971. "Where I work at, in the original Palace Casino, it's still the same," he says. "It's a circle, and it's been that from the day it opened. And if you look around, the tables are still in the same positions. But Caesars has gotten a lot bigger."
Figgins knows just how much the Strip's first major "themed" resort has grown. A 21-year-old Figgins got off his graveyard porter shift at the Thunderbird Hotel, one of the Strip's earliest resorts, and wanted to check out the construction site, about two miles down Las Vegas Boulevard, that would eventually become Caesars Palace. A trailer near the worksite had a sign-up sheet for people interested in getting a job. Almost immediately, Figgins had a new workplace.
"It was about two months before the grand opening," Figgins says. "What I was doing was going inside and cleaning up—vacuuming the floors, cleaning the tables, and getting ready for the grand opening."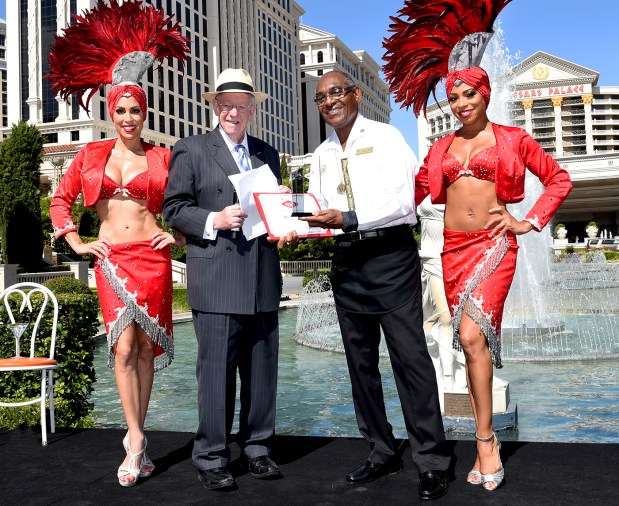 That opening, as Figgins remembers it, was the talk of the town. Las Vegas had casinos, of course, but the Palace was over-the-top: $1 million was spent on a three-day opening party that involved 50,000 glasses of champagne (for 1,400 people, guaranteeing some morning headaches) and a headline performance by singer Andy Williams. "It was like paradise," he says. "Everyone was here. And Caesars stayed like that for at least five years. You couldn't get in here! You couldn't get a reservation. It was packed every night.
During those five years, he'd move to the casino floor, as a dealer, and find himself standing across from some of the biggest stars in the world. Figgins can rattle off their names, without pause: "[Frank] Sinatra. Sammy Davis Jr. Diana Ross. Joe Louis. Paul Anka." Harry Belafonte was a particular favorite of Figgins: "After the shows and everything, he would come down and play my game. I had a real great time dealing to him."
"Back then, they had two shows: A dinner show and a cocktail show," he says. "And after the cocktail show, most of the entertainers would come out and play."
The myths of Sin City cast long shadows over the day-to-day operations of the town. The stories of drunken brawls and illicit liaisons—fun to tell, nearly impossible to confirm—make for great books. But maybe because he started dealing after the casinos were (mostly) out of the hands of mobsters, maybe because of his unfailing politeness, or maybe because of his years in the public-facing service sector, Figgins remembers those days with a rosy tint—with other visitors sometimes sitting side-by-side with headlining performers.
"All the people I dealt to, I'd see that," he said. "I never had that problem with them. They were all down to earth."
Decades later Las Vegas has, of course, changed. Celine Dion usually can't be found sweating out a dealer's face card in blackjack. Caesars Palace offers villas, larger in square footage than many houses and more luxuriously appointed, to high rollers that aren't even available to the general public. The outsized personalities of the Rat Pack have been replaced with the often-faceless disc jockeys of electronic dance music. The 99-cent shrimp cocktail has given way to a restaurant scene that has attracted big-name chefs.
Last year, Caesars Palace celebrated 50 years in operation. Figgins hits his own 50-year mark in April (he left the company for a brief time near the very beginning, coming back in April of 1967). And even though the city has changed around him, Figgins still has a very similar perspective from the gaming pit.
"What stayed the same? I would say the people I work with and management, that stays the same," he says. "It's always nice people."