Norges Rodriguez worked as a telecom engineer and journalist in his native Cuba. But the day I meet him, he's leaning over a bed at a workforce training academy in Las Vegas, learning how to tuck corners and stuff pillowcases with the kind of precision that passes muster in the guest rooms of the city's sparkling casino resorts.
A job as a unionized housekeeper and the $18 an hour wage that comes with it will, Rodriguez hopes, provide him with a leg up towards prosperity that is difficult to come by back home.
"The situation in Cuba is hard for everybody," he tells me in clear, accented English. "I need a job, any job. My family told me that Las Vegas is a good place to start in the U.S. because there are lots of jobs and the rent is cheap."
Rodriguez is not alone in seeking opportunity in Sin City. While Las Vegas' fortunes rose and fell dramatically in the previous decade, they're once again on the upswing, with new casinos—including the mammoth, Asian-themed Resorts World—springing up on the north end of the Strip, a National Hockey League team arriving this year, and an NFL franchise possibly on the way. And that means workers from Montana to Mexico are again heeding the siren call of the city's hospitality industry: secure jobs; union benefits; a chance at the American dream.
Here, you can find bartenders pulling down six-figure incomes, restaurant servers driving Mercedes, and porters sending their kids to college—due in part to a labor movement that has organized workers at more than 90 percent of casino resorts on the Strip.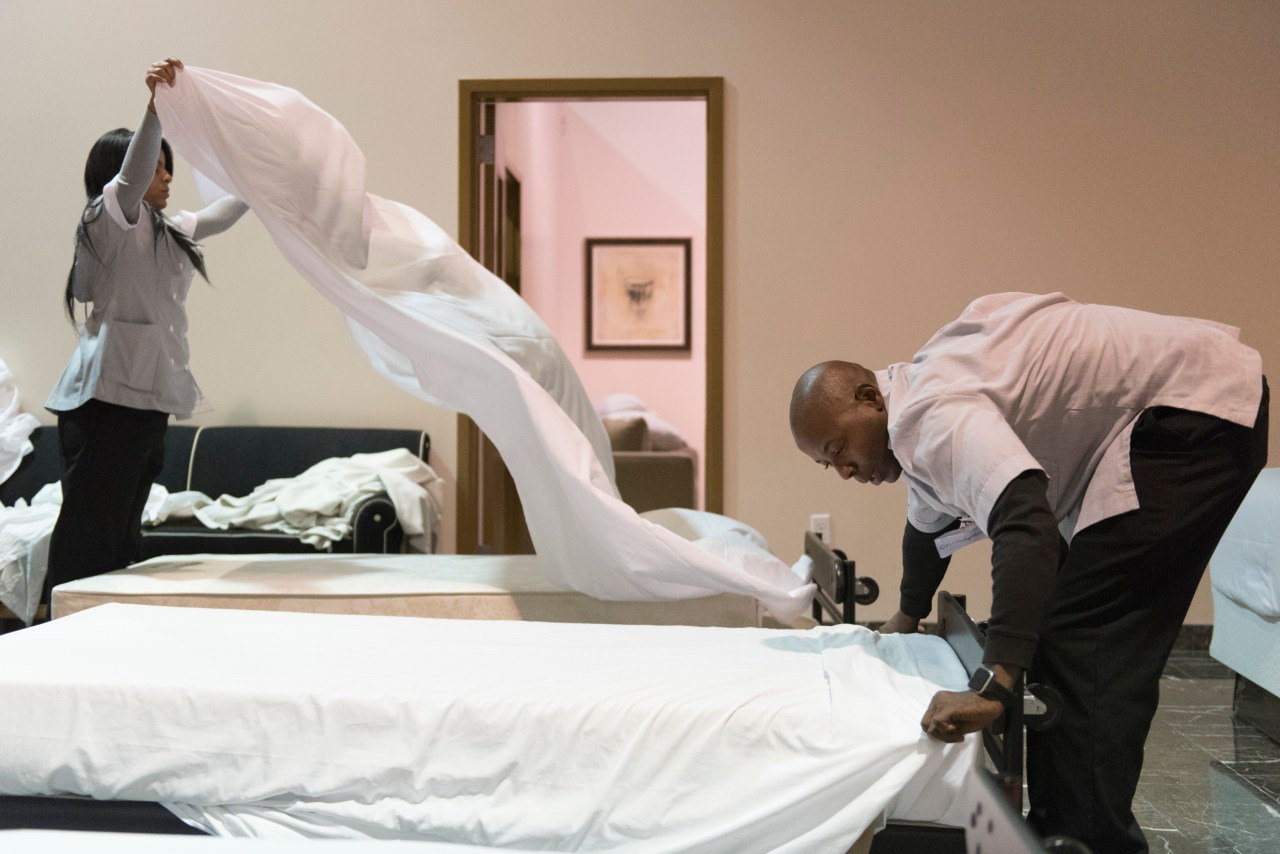 Catering to the city's legions of thrill-seeking tourists can come with its own challenges, especially for those workers who lack union representation. But with the latest statistics showing migration to the Las Vegas area from other parts of the U.S. at a five-year high, it seems that like Rodriguez, many people are willing to roll the dice.
"Done!" one of Rodriguez's fellow students shouts, motioning to the bed he's completed making. An instructor checks her stopwatch. Five minutes, not bad.
Dressed in striped shirts and black pants, the students hail from Ethiopia, Nigeria, China, the Philippines. The classes at the Culinary Academy of Las Vegas are run by the Culinary Workers Union Local 226, the powerhouse labor union that dominates the Strip, with funding from casinos.
The Culinary Union has seen its membership rebound to 57,000 after dropping from a high of 60,000 to 55,000 during the depths of the recession, according to union spokesperson Bethany Khan.
The day I visit the academy, everyone is chattering about the news that president-elect Donald J. Trump's hotel here has signed a contract with the union, ending a year of foot-dragging after workers voted for representation. Like other Culinary Union members, Trump International Hotel workers will now receive pensions and paid healthcare for themselves and their families.
The union has fought Trump on the political playing field, too, mobilizing members to canvas for Democrat Hillary Clinton and state-level candidates, and helped turn Nevada blue in an election where most swing states went the other way. So many Las Vegans are covered by its health plan that clinics here post signs in the window reading "Aceptamos Culinaria"–we accept Culinary Union insurance. The union plans to open its own chain of health centers beginning this summer.
As housekeeping students, Rodriguez and his cohorts are stepping onto what's typically the first rung of an industry-sponsored ladder of opportunity: work six months in any union job, and you can return to take free classes at the Academy, learning to become a pastry chef, server, even a sommelier. (Classes charge tuition to non-members, for which local job training agencies sometimes foot the bill.)
"In two weeks worth of training here, you're changing two generations," enthuses Aaron Hammer, a former food and beverage manager for Caesars Palace and The Cosmopolitan who left the for-profit world to serve as the school's curriculum manager. "It's not just a matter of 'Now I have a job with $17 an hour and good benefits.' It's 'I now have healthcare for my family and can provide for my aunts and uncles and cousins who are living in the house.'"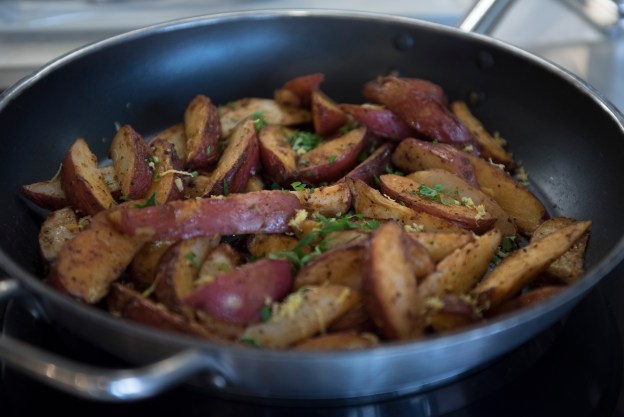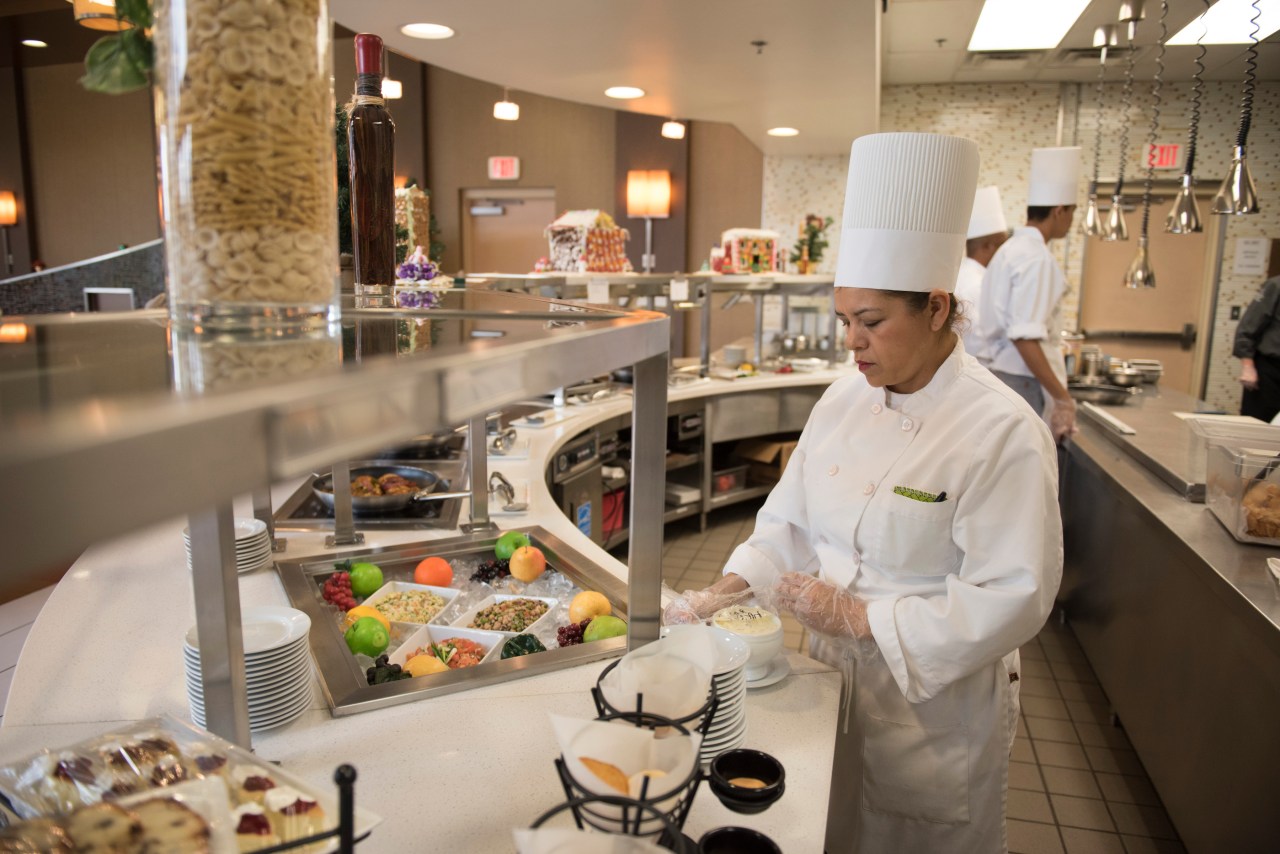 Imelda Mendez's eyes tear up as she recalls how she raised four children while bussing room service. Divorced, unemployed, and with a one-month-old daughter, Mendez showed up at the union hall one day in 2004 looking for work. A temporary gig at Bally's Las Vegas turned permanent after Mendez convinced the manager to keep her on. Then came nearly two years filling in shifts from the extra board, working the morning shift, swing, graveyard—whatever was available.
"You start something and it's not easy, but later you say, now I did it," said Mendez, who is originally from Mexico.
Mendez eventually got a regular shift and a second job at the medieval-themed Excalibur Hotel and Casino. Along the way, she learned English and bought a mobile home. Her oldest son is now an engineering student at the University of Nevada at Las Vegas, and her daughter is studying to be a nurse. When she pulls all-nighters, Mendez stays up with her.
With her kids in school and a guaranteed pension in her future, "now I feel like I can breathe," says Mendez, 45. She's quit her second job and is training to be a cook, a role that she says will increase her pay by half and allow her to earn money for a hobby she already enjoys at home. "Every week I cook something different—Italian, Chinese."
Stories like Mendez's are common in Las Vegas, but the faces of the protagonists have changed over time, says Claytee White, a professor at UNLV heading up an oral history project on the Culinary Union.
"In the 1940s and '50s the industry is just beginning to become itself, coming alive. We see African-American women working in the back of the house, talking about buying cars and houses and sending kids to college," said White. "Then they make way for people from Mexico, South America, and Central America, and that life becomes possible then for another group."
The promise of a middle-class lifestyle for service workers is such a part of the zeitgeist here that the Culinary Union even made a promotional video about it. Titled The Las Vegas Dream, it recounts the union's 80-plus-year history, punctuated by strikes in the '70s, '80s, and '90s that won workers health coverage for family members and employer neutrality in union elections, among other gains. Workers' stories alternate with shots of children bicycling past rows of the identical tile-roofed homes that sprang up during the boom.
"What we show here in Las Vegas is that you can unionize jobs that aren't traditionally unionized," says Jeff Waddoups, chair of the economics department at UNLV. "It's a great case study of how service sector unionism can take jobs that typically pay poverty wages and cause people to have insecure lives, and actually make workers' lives better and more prosperous."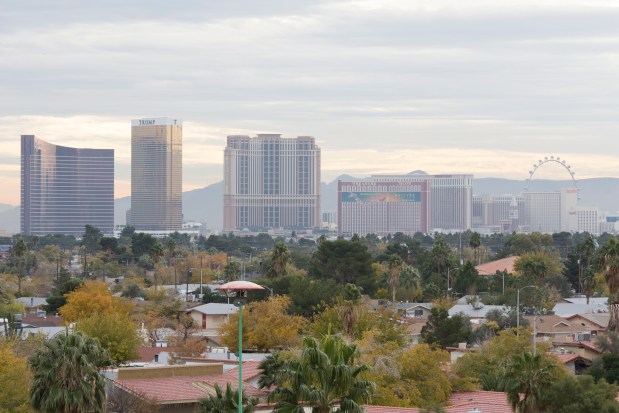 For young people with language and customer service skills, Las Vegas offers a kind of desert version of Silicon Valley, where one can learn a skilled trade that commands respect and big paydays without a college degree.
Gone are the days of turn-and-burn bars selling five-cent drinks. Marquee mixologists, like Tony Abou-Ganim of Libertine Social and Francesco LaFranconi at distributor Southern Wine & Spirits, are crafting innovative libations with fresh ingredients, while helping to school the next generation.
Want to be a bourbon sommelier? You can do that here. Or you can join the 12 Las Vegans who hold prestigious master sommelier titles—the largest concentration in the U.S. outside of New York City and California's wine country.
"The fact that you can make a career in the hospitality industry here is awesome," says bartender Nicole Ogle, 29, who relocated from New York to Las Vegas to work in hospitality. "By offering education and a retirement plan, they're making it so you can be proud to be a bartender. There's nowhere else in the country where you can make a living like this."
Ariel Peralta made a vow 11 years ago: Someday he'd work for famed French chef Joël Robuchon. Known for impeccable presentation and service, Robuchon's eponymous restaurant is the only one in Las Vegas to earn three Michelin stars. Succeed under him, Peralta figured, and he could work anywhere after that.
After stints busing tables at a number of Strip eateries, these days you can find the 31-year-old waiter serving delicate $200 tasting menus to tourists in the uber-chef's more casual small plates studio, L'Atelier de Joël Robuchon. Financially, Peralta had aimed to earn $100,000 a year and says he's "pretty close" to that now.
Then there are the intangible benefits. "I learn something every day about food and wine," he says. "Mr. Robuchon is all about the guests having fun, so you have to create that atmosphere and experience for them. I'm now able to feel comfortable talking to anybody."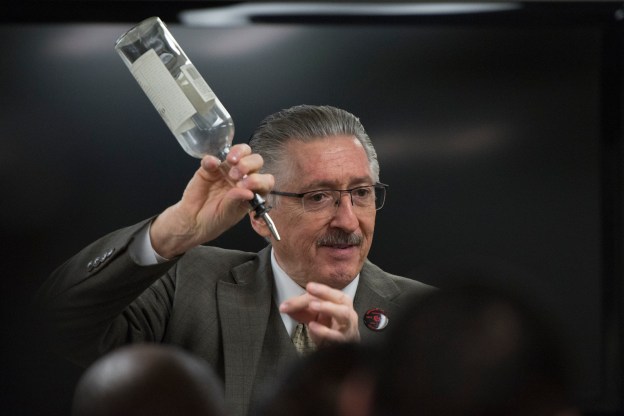 Still, headlines dubbing Las Vegas a workers' paradise during the area's boom in the early-to mid-2000s might have been a bit overblown. For one, there's the extreme control casinos exercise over the appearance of employees—especially female employees—at work.
Front desk workers at non-union resorts report receiving detailed instructions on acceptable makeup colors and styles. Get a run in your stockings or a chip in your nails, and you might be sent home from your shift. (While there may be appearance requirements in unionized workplaces, they are negotiated by the unions and the employees help set the rules.)
"You have to have the face, the look, the presentation and handle all the stress behind it. You can't break character for a second," said Stephanie Case, a former front-desk worker. "It was the most stressful job I've ever had. It was more stressful than being a nurse."
Winter sees Las Vegas gyms and tanning salons flooded with young hopefuls preparing to "audition" for coveted food and beverage server jobs at the casinos' outdoor day clubs. At these party pools, tips flow freely and a typical job interview consists of doing a twirl in a bikini (ladies) or shirtless (men) while telling a panel of judges whether you have modeling experience.
While union cocktail servers at indoor bars can enjoy job security well into their 70s, those at non-union properties or those seeking a job must look the part, which often means youthful. "I'd say around your mid-30s to early 40s, if you really take care of yourself, you can get hired," says Claire Gentile, a cocktail server at a Strip resort. "But honestly, they like young chicks with fake boobs because that's really what the game is about."
You have to have the face, the look, the presentation and handle all of the stress behind it. You can't break character for a second.
Venture outside the highly regulated, organized arena of the Strip and you're quickly reminded what it means to be an employee in a libertarian-leaning, right-to-work state. While 19 states will see minimum wage increases this year, Nevada's remains at $8.25 per hour ($7.25 for workers who receive health benefits), and the state consistently ranks near the bottom in state-by-state comparisons of social services like healthcare and education.
Non-union resorts must keep pay scales attractive to lure workers, but benefits often pale in comparison to those available at union shops.
Casiano Corpus, Jr., a porter at the off-Strip Palace Station casino for 25 years, was excited when he received a 50 cent per hour pay raise in 2015. Then he saw that monthly premiums for his employer-sponsored HMO plan had doubled, he says, to about $120.
The increase stung, but Corpus had no choice but to keep paying. His wife suffered a stroke while cleaning hotel rooms last year and now goes to rehab five days a week. As their two sons chase each other around their tiny but cozy 1940s bungalow, Corpus explains that the home lacks central heating and air conditioning, forcing the family to rely on space heaters. His company offers a 401(k) retirement plan, but as the sole breadwinner, Corpus says he can't afford to contribute.
The benefit cutbacks at Palace Station also coincided with an increase in workload, Corpus says, with porters like him responsible for cleaning larger areas than in the past. Workers, he says, worry that they'll be fired if they object.
"Sometimes they just keep adding work and stretching you out, and you're just going to do what they say," says Corpus. "You're afraid to be disciplined all the time."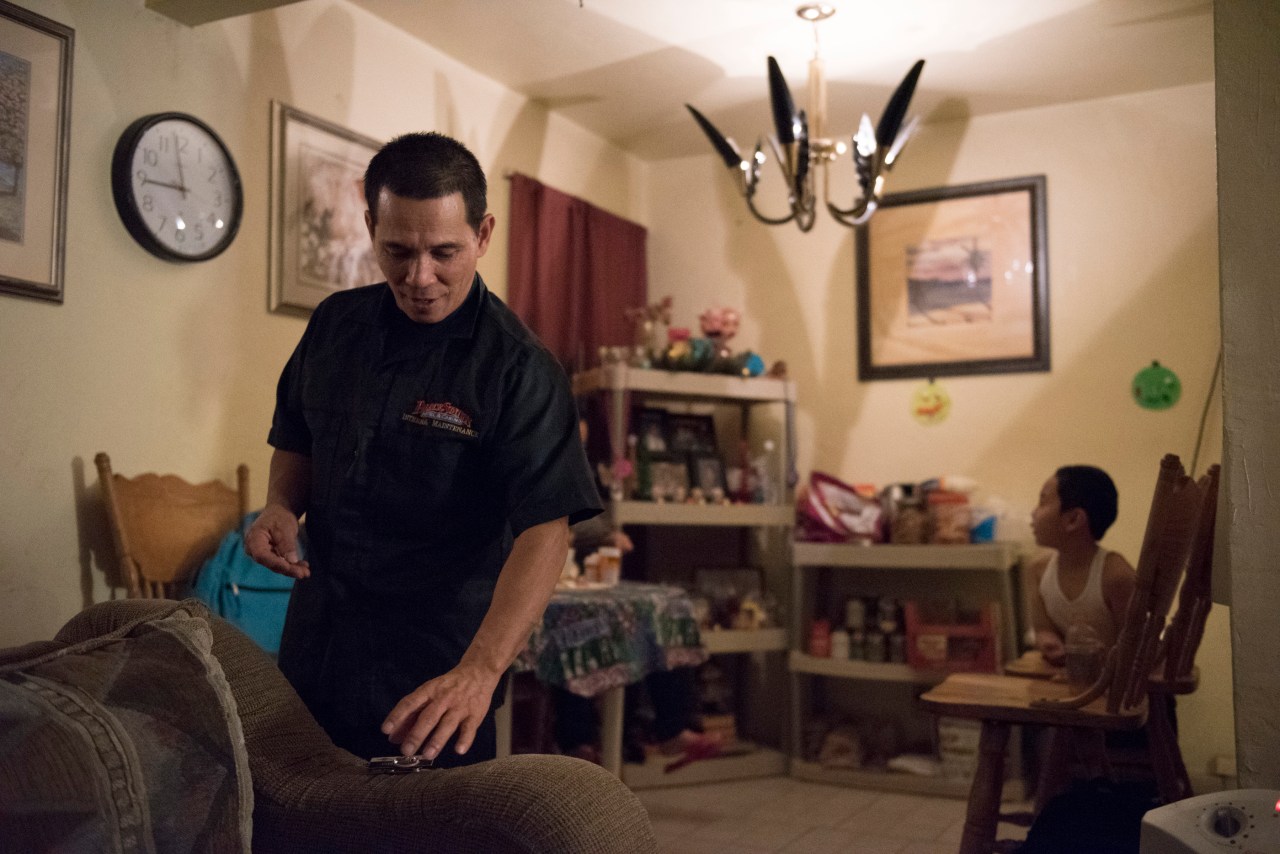 Corpus' employer Station Casinos eventually reversed the health insurance premium increase, according to the company and the Culinary Union. Company spokesperson Lori Nelson declined to comment on workers' other concerns. With 11 off-Strip casino hotels frequented by locals, Station is in the minority among Las Vegas' biggest gaming companies in remaining largely non-union.
A campaign by some Palace Station workers to join the Culinary Union faltered in October when casino employees rejected unionization by just four votes. The union filed a complaint with the National Labor Relations Board accusing management of illegally influencing the election. But Corpus tells me he and his coworkers will keep fighting. They're inspired by recent union victories at Trump Tower and Boulder Station, another Station Casinos property.
A few months after we meet, in a settlement supervised by the NLRB, Station Casinos agrees to bargain a contract with the Culinary Union for Palace Station workers. In a statement to the media, the company says it wants to avoid a "lengthy, disruptive, distracting" legal battle.  "What we're focused on is making sure that our employees have good wages, good benefits and a good quality of life," says Nelson.
The agreement comes in the wake of another piece of news: Las Vegas' biggest casinos have broken a seven-year losing streak, posting net positive income of $979 million in 2016. I think of Corpus and his crew, determined, as workers in Las Vegas have been for decades, to grab their slice of the pie.