On this trip, unexpectedly, the mood in London became darker. Uncertain about the future.
Few in London went to sleep thinking that England would leave the European Union.
51.9

Percent of voters who voted to leave the E.U.

46.6

Percent of voters who voted to remain

10

Estimated percentage loss in overall economic output post-Brexit, according to MIT
The mood in London is like a collective nervous breakdown. Drinking seems appropriate.
Rochelle School, Arnold Circus
London E2 7ES
+44.20.7729.5677
What Bourdain ate: Wine, peas in their pods, radishes, vitello tonnato, Welsh lamb chops with lentils and green sauce.
40 Balls Pond Road
London N1 4AU
+44.20.7275.9818
What Bourdain ate: Jamaican takeout.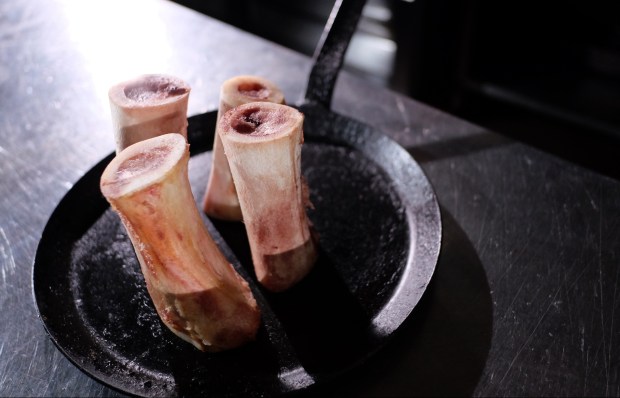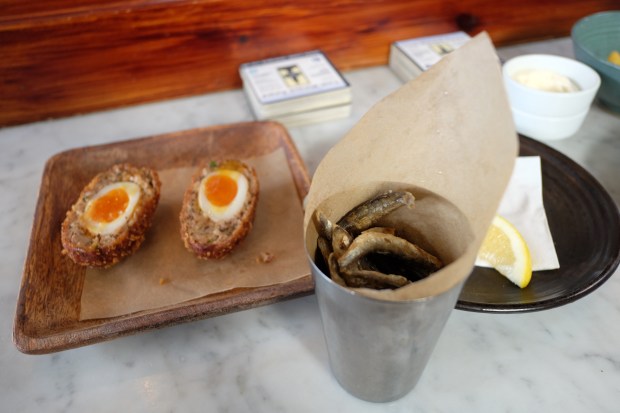 26 St. John Street
London EC1M 4AY
+44.20.7251.0848
What Bourdain ate: Roast bone marrow with parsley and caper salad, sourdough (made in-house); pickled calves tripe with radish, shaved carrot. and watercress salad; kidney; pig's head and potato pie.
46 St. Thomas Street
Weymouth DT4 8AW
+44.13.0578.5700
What Bourdain ate: Traditional fish and chips.
Old Loose Hill, Loose
Ken ME15 0BL
+44.16.2274.3125
What Bourdain ate: Lunch and a pint of Guinness.
217 Uxbridge Road
Shepherd's Bush, London W12 9DH
+44-20-8749-5886
What Bourdain ate: Scotch egg, whitebait, fries, and Guinness.
194 Southgate Road
London N1 3HT
+44.20.7294.7191
What Bourdain ate: A few pints of Guinness.
Sidekicks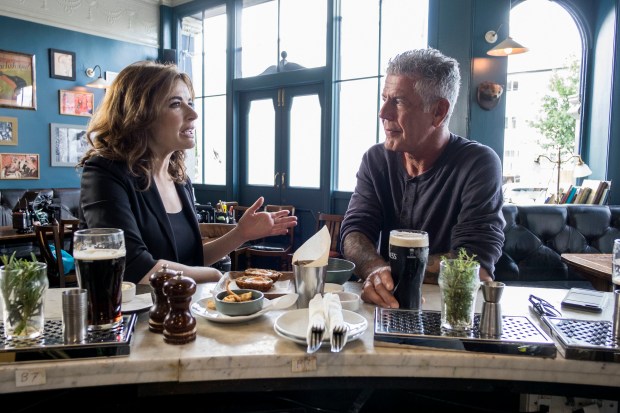 Nigella Lawson: Celebrity chef and kitchen goddess with a library of bestselling cookbooks to her name.
Jamie Hince: Musician; guitarist from hit indie rock duo The Kills.
Fergus Henderson: Chef of St John's, London's famous shrine to nose-to-tail eating. One of Bourdain's long-standing kitchen heroes.
Jay Rayner: One of the UK's most respected—and feared—food critics.
Marco Pierre White: One of the food world's first "celebrity" chefs, a brilliant but short-tempered culinary savant who set the tone for the wave for celebrity chef culture of the 21st century.
Ralph Steadman: Prolific British illustrator best known for his collaboration with American gonzo journalist Hunter S. Thompson.