Los Angeles has been a Mexican city from the start, founded by 44 settlers from the states of Sonora and Sinaloa, including mestizos of Native American, African, and European descent. Then called El Pueblo de Nuestra Señora la Reina de los Ángeles de Porciúncula, the City of Angels was established in what today is known as Olvera Street, where the weary travelers likely cooked the first Mexican meal eaten in L.A.
Today, around half the city's nearly four million residents are Latino, and the massive population has created a patchwork of markets, cultural centers, street food, and restaurants unrivaled anywhere north of the border. L.A. boasts food from more than half of Mexico's culinary regions, ranging from the moles and mezcal of Oaxaca to Mexico City-style street food and northern Mexican carne asada, much of which remains unknown to even the most adventurous locals.
You can retrace the map of Mexico bite by bite across greater Los Angeles. Up in Pacoima, you can find the foods of Michoacan: carnitas, morisqueta (pork, beans, and rice), uchepos (fresh corn tamales), enchiladas estilo Apatzingan, chavindecas (a type of quesadilla), and stewed goat birria. In South Central, the boulevards and avenues are home to Sinaloan and Nayaritan seafood dishes: ceviches, aguachiles, marlin tacos, shrimp al mojo de ajo, and pescado zarandeado. East L.A. is a Chicano Shangri-la, where hulking burritos, combo plates, and chile verde feed local police, politicians, film crews, gang members, and Mexican-American celebrities from Danny Trejo to Los Lobos. In nearby Boyle Heights, many of the best street vendors in the game hold court on anointed stretches of Olympic, Whittier, and César Chavez.
I've traveled to every Mexican state, spoiled by the amazing food culture and people of my ancestral homeland, and Los Angeles is the only place in the U.S. where I can replicate many of the rich and tasty experiences found south of the border. Hitting the streets of L.A. to find Mexican or Central-American cuisine is a way to find hidden treasures and to understand and celebrate the city's Mexican-American culture.
This is your mission: To experience as wide a variety of L.A.'s sprawling, diverse, beautiful Mexican-American culture as possible. That means you'll need a full tank of gas, an empty belly, and a huge appetite for discovery. Vámonos.
7:30
am
Primera Taza
1850 E. First St.
Los Angeles, CA 90033
Get Directions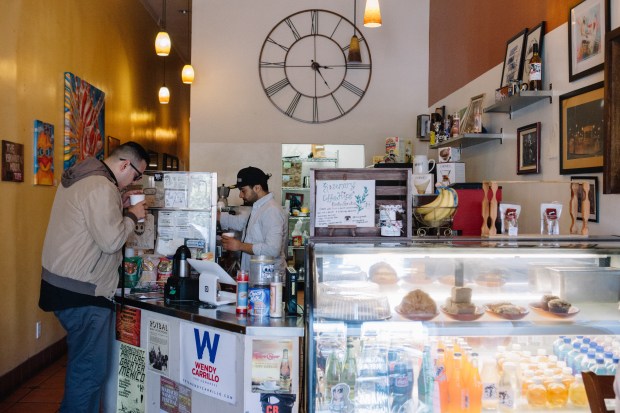 Start the day with a cup of joe made with Mexican coffee beans at Primera Taza, a family-owned cafe in Boyle Heights that brings together a daily cross-section of the city's many cultures. Try an Iced Taza de Mocha, espresso blended with Mexican cacao and ice, and, if they're on the menu, indulge in a loncha, a type of Mexican sandwich made with imported bread from Jalisco that is one of L.A.'s most rarely-encountered sandwiches.
Across the street at the historic Mariachi Plaza, Mexico's costumed, roving musicians are hanging out, waiting for a gig—shell out $10 to buy a song and a little inspiration. Ask for "Cuatro Caminos," "Solamente Una Vez," or "Quiero Que Sepas"—a few of my favorites to get the day started right.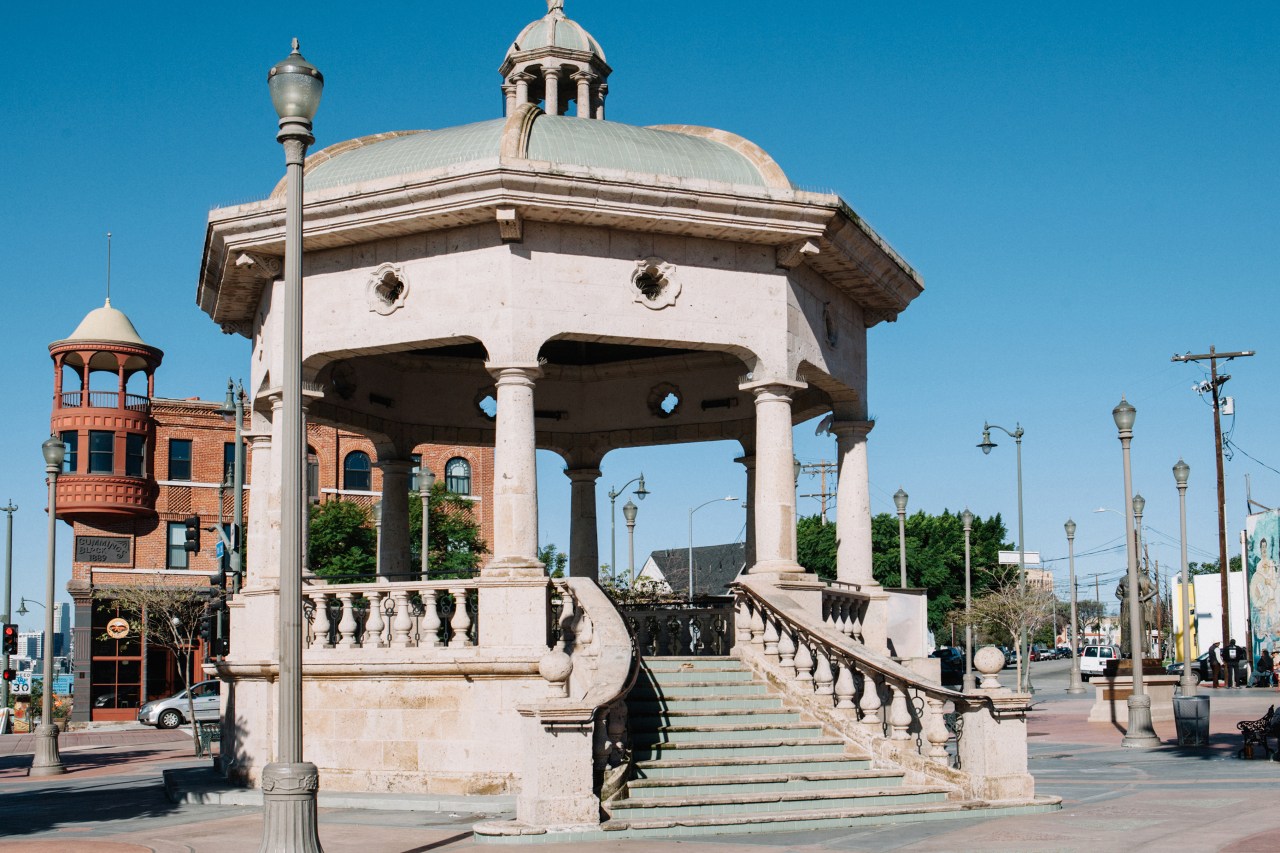 8:15
am
Carnitas El Momo
2411 Fairmount St.
Los Angeles, CA 90033
Get Directions
A savory pork-centric breakfast may not be typical fare for everyone, but you're an Angeleno for the day, so head to Carnitas El Momo on Fairmont off Soto for fresh carnitas. Romulo "El Momo" himself fishes out the large cuts of hog maw, skin, and shoulder to serve his customers, and his children each take turns selling out of a trailer in Compton (Saturdays) and South Central (Saturdays and Sundays).
No perfect day in Los Angeles could ever be contained within a few city blocks. Driving is an essential part of the L.A. experience—especially to catch the most delicious eats the city has to offer. Hop back in the car, grab the 710 and head down to Compton for a clandestine eatery, Tacos El Palomas.
10:00
am
Tacos El Palomas
16606 S. Pannes Ave.
Compton, CA 90221
Get Directions
On a quiet Sunday morning in Compton there's a faint sound of the rhythmic chopping of taqueros; head up another driveway and go around to the back. The crowd at Tacos El Palomas is buzzing, and the six picnic benches are full—waitresses are beginning to expedite taco orders, and a vulgar conversation led by a character in a Marlboro snapback hat captures the attention of all diners, who grin or laugh out loud along with his jokes. The man, named Chuy, has several ice boxes full of callo de hacha (penshell clams) brought in from Sinaloa; he's got machaca (dried, shredded beef), too. On the other side of the center island, steamed beef heads—lips, eyes, cheeks, and tongue—are being chopped for tacos, and a woman sells empanadas filled with fruit to this mostly Sinaloan crowd. Underground restaurants like this are all over the Latino sections of Los Angeles, offering some of the city's finest food and a unique window into Southern California's cultural stew.
Try as many of the cuts as you can to experience the full array of tastes and textures, dressing each to your liking. This is one of the best places for tacos in L.A., and the cooking is as good as you'd find if you were in Sinaloa.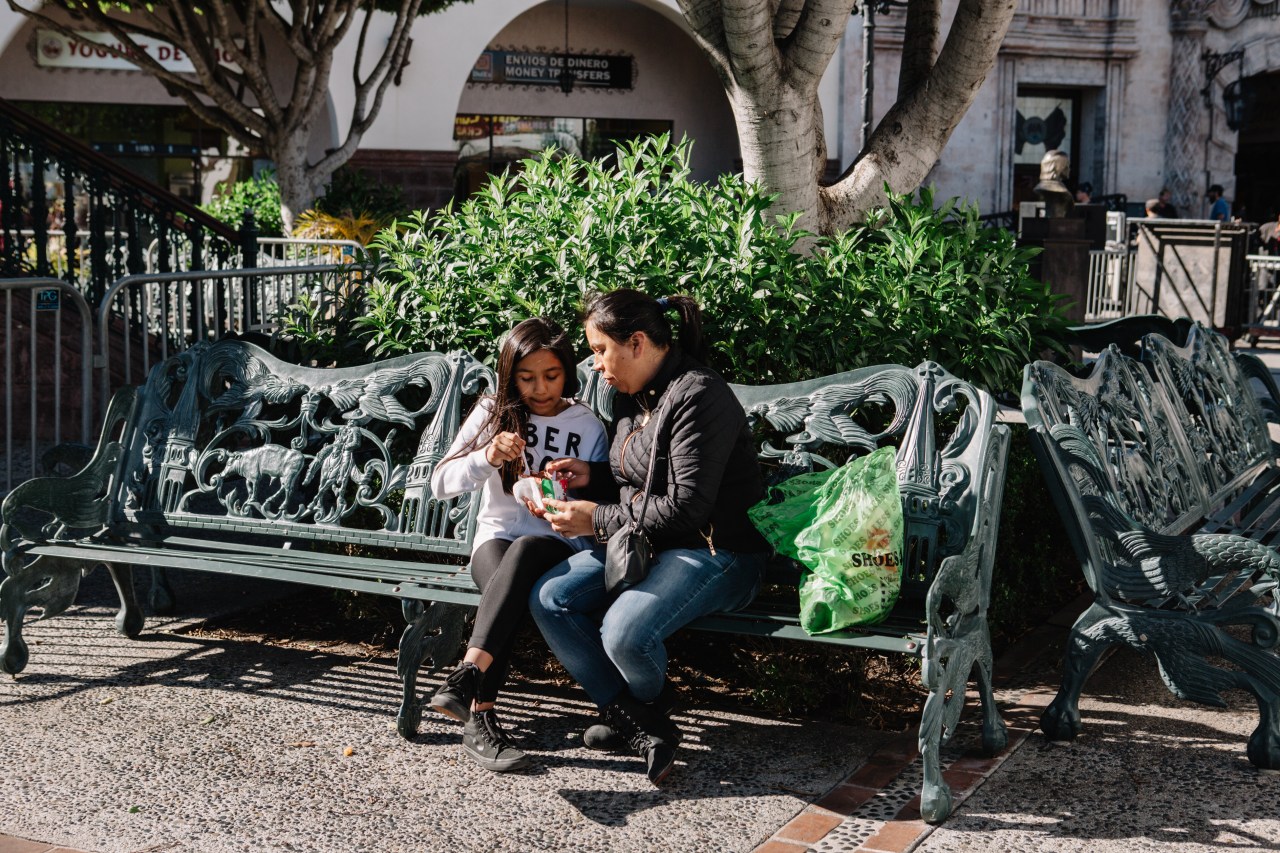 11:00
am
Alameda Swap Meet
4501 S. Alameda St.
Los Angeles, CA 90058
Get Directions
There's no better place to take in the full scope of L.A.'s Latino culture than at one of its outdoor Mexican markets. There are three main venues, and they all offer something different. The Plaza Mexico in Lynwood is a Mexican theme park of shopping and restaurants. In Vernon, hit the combined Alameda Swap Meet and El Faro Plaza, and in Boyle Heights, head to El Mercadito, where the multi-leveled complex is reminiscent of the markets in Guadalajara.
Start at the Alameda Swap Meet, and walk through the stall inside the huge warehouse selling baptismal clothing, narco-themed shirts, cowboy boots, and all the flavors of the chucheria (candy store): tamarind, chile powder, salt, chamoy, lime, and caramel. Need a burner phone? No problem. And, there's always a handful of Asian massage booths and someone trying to bring Nutrisystem into your life.
Outside the market, between the Swap Meet and the El Faro Plaza, street vendors serve tlacoyos (stuffed masa diamonds), tacos de canasta (basket tacos), and fruit, while guys try to sell tinted windows. The Plaza has some great food vendors, but we're just here to soak up the culture. The gritty street between the two complexes echoes with noise of ranchera music, street salesmen, and Silverados bumping Banda Sinaloense MS de Sergio Lizárraga. Are you feeling Los Angeles yet?
Olvera Street has a long, strange history with L.A.'s Latino community. In the late 1920s, Christine Sterling enlisted Harry Chandler, the publisher of the L.A. Times, to restore the neglected Olvera Street to its former glory and recapture the romanticism of Old Mexico (or rather, Mexico as seen through the eyes of a white socialite).
Sterling required that vendors dress in tasteless costumes that played into the stereotypes of Mexican women as sex objects and men as buffoons, and the Mexican food required Sterling's seal of approval. Mexican food was not welcome outside of Olvera Street, and racism towards the community was rampant, coming to a head during the Zoot Suit Riots in the 1940s when U.S. servicemen clashed with Mexican zoot-suitors.
Today, the Mexican community has reclaimed Olvera Street, frequenting its shops, restaurants, and events like the Mole Festival, Las Posadas, and Dia de Los Muertos celebrations. There's plenty of art to take in—catch an exhibit in the America Tropical Interpretive Center to see the avant-garde work of politically-motivated Mexican muralist David Alfaro Siqueiros. Across the street at La Plaza de Cultura y Artes check out exhibits, traditional Mexican cooking demos, and lecture series. And no hub of Latino culture would be complete without good food. We'll have plenty to eat at our next stop—but if you feel like an appetizer, the taquitos and avocado salsa at Cielito Lindo are the perfect street snack, dripping with the flavors of America's original taco culture.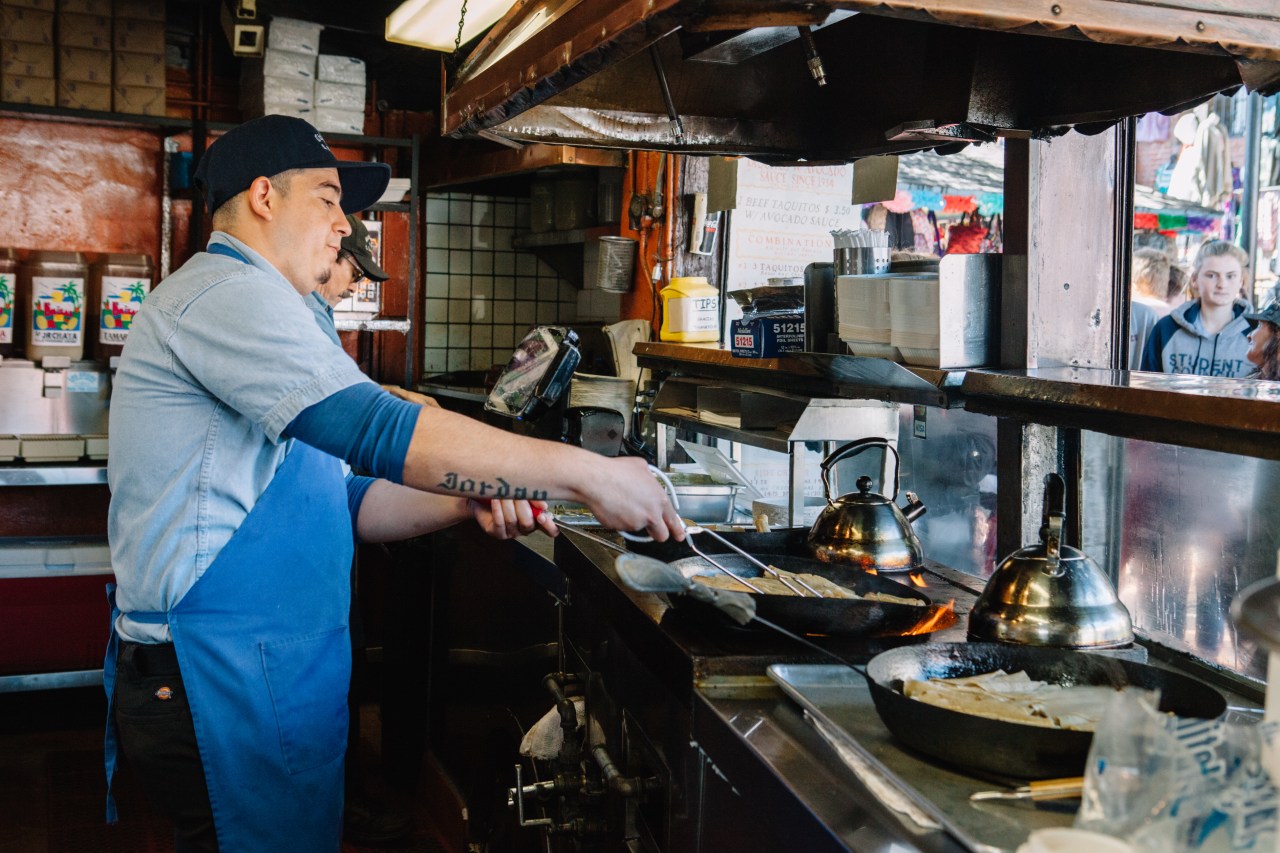 2:00
pm
Mariscos Jalisco
3040 E. Olympic Blvd.
Los Angeles, CA 90023
Get Directions
It's time for comida, the big meal of the day for Mexicans. Immigrants from Mexico's coastal regions like Jalisco and Nayarit brought with them a rich, seafood-centric food culture to L.A. The only challenge is choosing. You could do Coni'Seafood, where Connie Cossio does wonders with shrimp and serves one of my favorite fish dishes in the city: pescado zarandeado—whole butterflied snook, marinated with chiles, lime, and spices, glazed with mayonnaise, and grilled—served with pile of corn tortillas. Or head to Lennox's Mariscos Chente's, where Connie's father, Vicente Cossio, still does shrimp ceviche and seafood cocktails like no other. At Holbox, Gilberto Cetina Sr. and Jr.'s ode to the coastal cuisine of the Yucatán, you'll find a raw bar of mixed ceviches, pan de cazón (dogfish shark pie), and whole butterflied fish marinated in achiote.
But those can wait for another perfect day. Mariscos Jalisco is just a short ride away from Olvera Street and has all the makings for an ideal comida. Raul Ortega's shrimp taco is wrapped in a corn tortilla and fried whole then doused with a tasty fermented tomato sauce and dressed with a fat slice of fresh avocado. The seafood cocktails are stellar and the spicy red aguachile tostada—a blend of chiles, ketchup, limes, and raw shrimp cooked in the lime's acid—is a must.
There's a seating area inside an adjacent building, but sitting on the brick-lined stoop outside is a great way to take in the action and the murals across the street at the Estrada Courts development.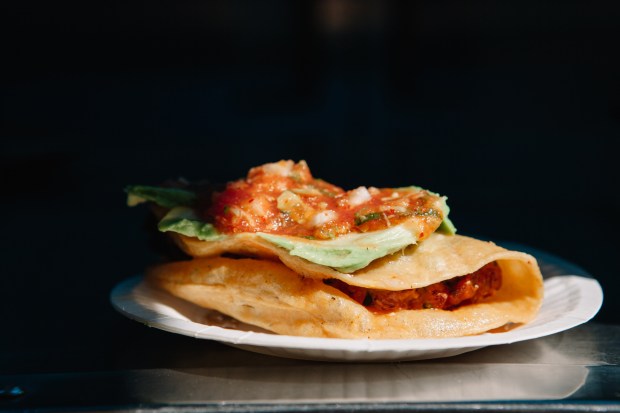 4:00
pm
El Mercadito
3425 E. First St.
Los Angeles, CA 90063
Get Directions
Head over to the Mercadito, modeled on the old traditional markets of Mexico, and beat the L.A. heat with some raspados, Mexican ices. Go all in with a diablito, a ball of shaved ice spiked with chile powder, tamarind, chamoy and a banderilla (tamarind-coated straw). I love to watch first-timers struggle with the interplay between two essential elements of the Mexican palate: sour and spice. Upstairs, grab a beer before strolling the market to stock up on pantry items for your kitchen. My favorites are the rainbow array of mole pastes from the states of Guerrero, Puebla, and Oaxaca, sold by the scoop—just add stock and you have one of the most sophisticated dishes in the world simmering on your stovetop.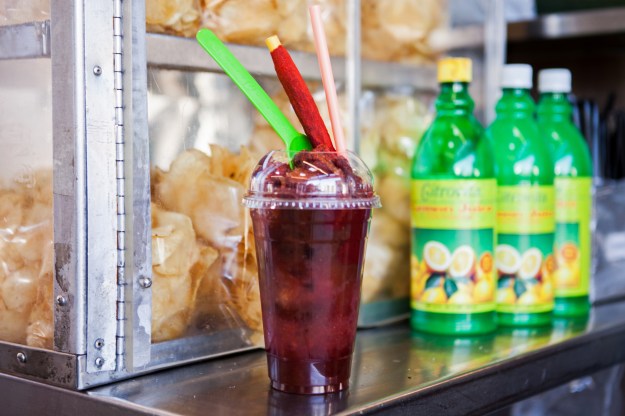 6:00
pm
Guelaguetza
3014 W. Olympic Blvd.
Los Angeles, CA 90006
Get Directions
Oaxacans call the L.A. area Oaxacalifornia due to the huge population living in the Los Angeles metro area. In some cases, there are more people from a given pueblo in L.A. than back in Oaxaca and more Oaxacan restaurants than any major city in Mexico outside Oaxaca, including Mexico City.
But Guelaguetza—which opened its doors in Koreatown in 1994, is where Oaxacalifornia began. The food is excellent, but more importantly, they have mezcal. Make it happy hour, Los Angeles style, with a tasting of rare agaves: tepextate, cuishe, madrecuixe, and tobalá. Sit at the bar and snack on the restaurant's famous moles or assorted antojitos. (And don't worry about having one too many—your next stop is just a short taxi ride away.)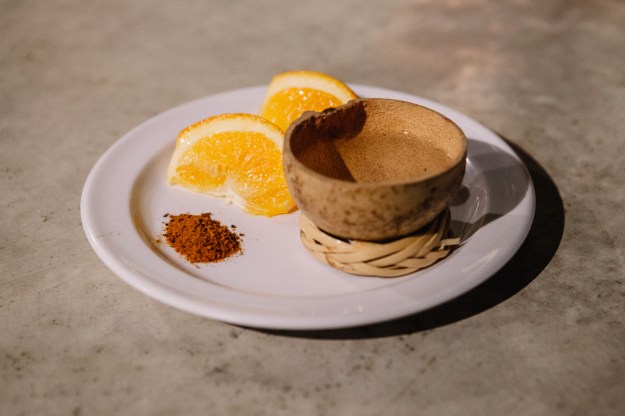 9:00
pm
Broken Spanish
1050 S. Flower St.
Los Angeles, CA 90015
Get Directions
It's an exciting time to witness the evolving Mexican-American culture in Los Angeles, like Alta California cuisine, a movement led by pocho (Mexican-American) chefs: it's a blend of California cuisine, international flavors, the local abundance of produce, and the Mexican-American foundation of flavors and recipes.
Broken Spanish, chef Ray Garcia's South Park restaurant, is the epicenter of the Alta California movement, both geographically and spiritually, as Garcia has gone all in with this project: a big restaurant and a big risk on Mexican fine dining.
The restaurant in the former Rivera space riffs on Mexican classics like caracoles (snails) in mole verde, lamb neck tamales, and a chile relleno filled with potato and kale, and dressed in a sauce soubise. Rivera's legendary chef, John Sedlar, was the first Latino to pioneer an original fine dining style based on Southwestern cuisine, a gastronomy founded by Mexican-Americans. Now it's happening again in Sedlar's former address, where Mexican-Americans are cooking the terroir of East LA. Pacoima, Pico Rivera, and Huntington Park. I'll drink to that.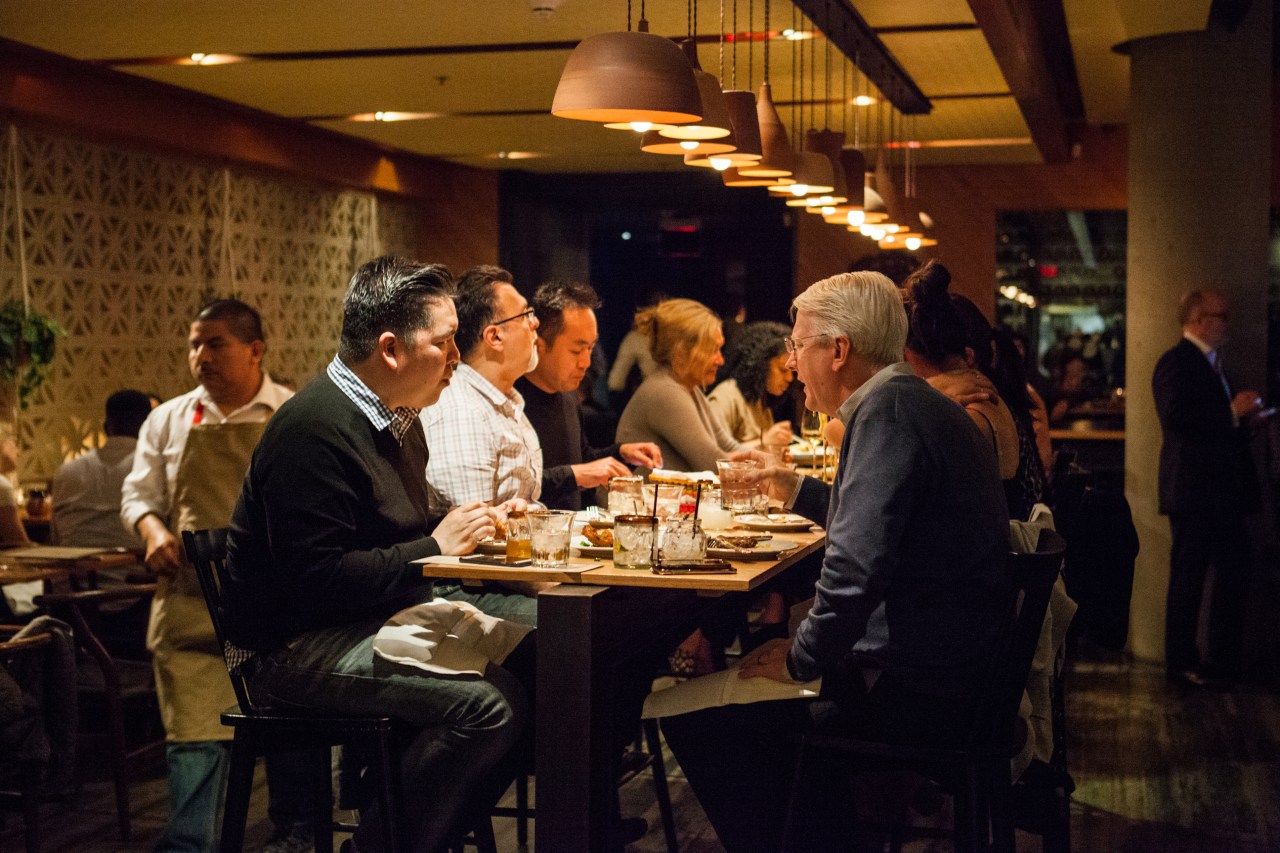 You can continue your mezcal education here at Broken Spanish. Have a shot of Real Minero made with the barril varietal of agave, and maybe another, and perhaps even talk a little too loud at the bar, because that's how we Mexicans roll—we party like there's no one else in the room.
And if the mezcal high should lead us on the path to bacchanalia for which the only panacea is a paper plate overflowing with fragrant roasted and fried meats set upon warm tortillas—I know a place or two.