If there's any advantage to the formidable urban sprawl that frames L.A.'s metropolitan edges, encircling a city with one of the largest Mexican populations in the world, it's that you're never far from badass tacos. Los Angeles is host to the regional cuisines of half of Mexico's states, and with each passing year another provincial bill of fare is wrapped in corn or flour tortillas, evermore focused with hyper-regional styles from Mexican cities and villages. Los Angeles is a taco city, where every Angeleno, regardless of socio-economic group or culture, knows how to dress a taco like a pro. Taco Tuesday is just Tuesday when you can find tacos as delicious as these in every barrio. Here, we break down the best taquero in every neighborhood.
Arts District
Guerrilla Tacos
Each week brings a new offering: braised lamb, foie gras, roasted sweet potato (one of the only recurring recipes), chicken with a poached egg—pure pocho excess—or tender duck hearts dressed with a smoky, luminous orange salsa. Wes Avila is one of L.A.'s best chefs, bringing prestige to his craft through the traditions of a street taquero.
East L.A.
Tacos Quetzalcoatl
"Mad" Max Enriquez is one of L.A.'s best traditional Mexican taqueros, specializing in pit-roasted lamb barbacoa, and a variety of meats like cecina (soft jerky), chorizo and adobo (marinated pork), but his best menu items are his vegetarian creations. The Omega-2 taco comes with stewed wild greens, called quelites, spinach, and other vegetables on top of a handmade corn tortilla, covered with fried cheese and painted with streaks of vibrant salsas—all flavors rooted in Chalmita, Estado de Mexico.
Tacos Quetzalcoatl
Location: 4827 E Olympic Blvd, East Los Angeles, CA 90022
Contact: (323) 392-4444
Historic South Central
Chichen Itzá
At one of the best traditional Mexican restaurants in the United States, Angelenos seek out an iconic taste of the Yucatán peninsula: cochinita pibil. Chefs Gilberto Cetina Sr. and Jr. make their own achiote paste from scratch using local bitter orange in their slow-roasted marinated pork cooked in banana leaves for mouthwatering tacos de cochinita pibil.
Culver City
Loqui
Flour tortillas are having a moment in Los Angeles with places like Ari Ampudia and Cameron Wallace's northern Mexican-inspired taqueria, where Wallace (a Tartine alum) rolls out artisanal flour tortillas by hand for hefty tacos filled with meats or vegetables accented by layers of melted cheese, pot beans, guacamole, and salsa. Only in L.A. could one hit SoulCycle, shop for Linda Farrow sunglasses, and enjoy authentic Mexican cuisine at a mixed retail complex.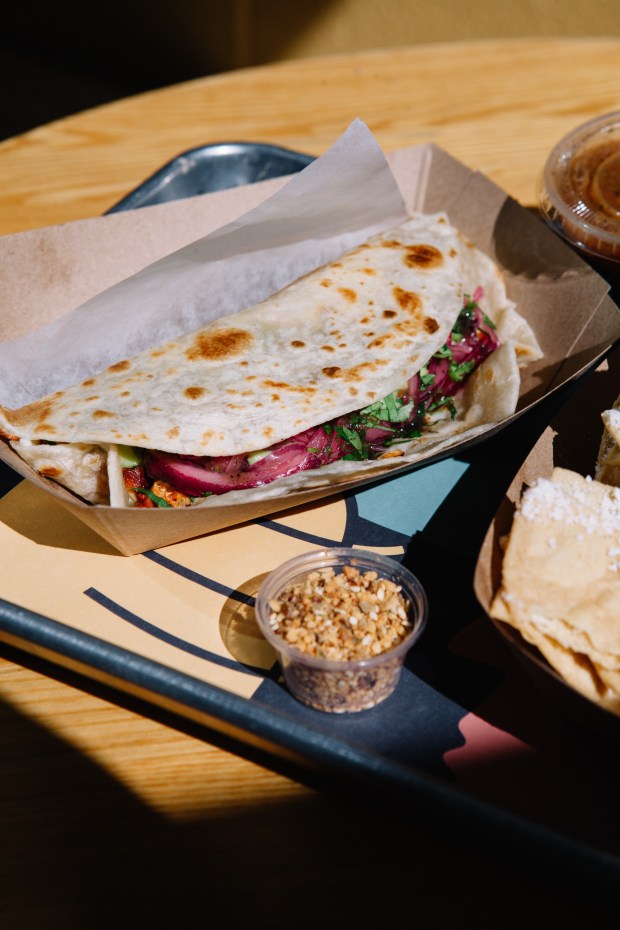 Sawtelle
Sonorita's Prime Tacos
Genuine Hermosillo-style carne asada now inhabits Little Osaka, amidst a wealth of sushi bars, celebrated artisanal ramen joints, and Japanese pubs. The flour tortillas are imported from Hermosillo, the perfect canvas for the mesquite grilled, sliced rib-eye and an ice cold Bohemia for a true northern-Mexican steakhouse encounter.
Atwater Village
Ricky's Fish Tacos
Ricky Piña is a local treasure, sourcing many of his ingredients from his hometown of Ensenada for frying up the best fish tacos in Los Angeles: crispy, golden-brown beer battered fillets dressed with Mexican cream, cool pico de gallo, salsa and cabbage, all wrapped in a white corn tortilla and Baja dreams.
Ricky's Fish Tacos
Location: 1400 N Virgil Ave, Los Angeles, CA 90027
Contact: (323) 395-6233
Fashion District (DTLA)
Sonoratown
From San Luis Rio Colorado, Sonora's gateway to the rich culinary traditions of Mexico's carne asada capital, comes a menu of regional tacos: caramelos (grilled meat and melted cheese on a flour tortilla), lorenzas (melted cheese and grilled meats on a toasted corn tortilla), mesquite grilled tacos with flour tortillas and chivichangas. The chivichangas, which are lightly fried burritos (burritos are a regional style of taco), are worth the trip alone.
Inglewood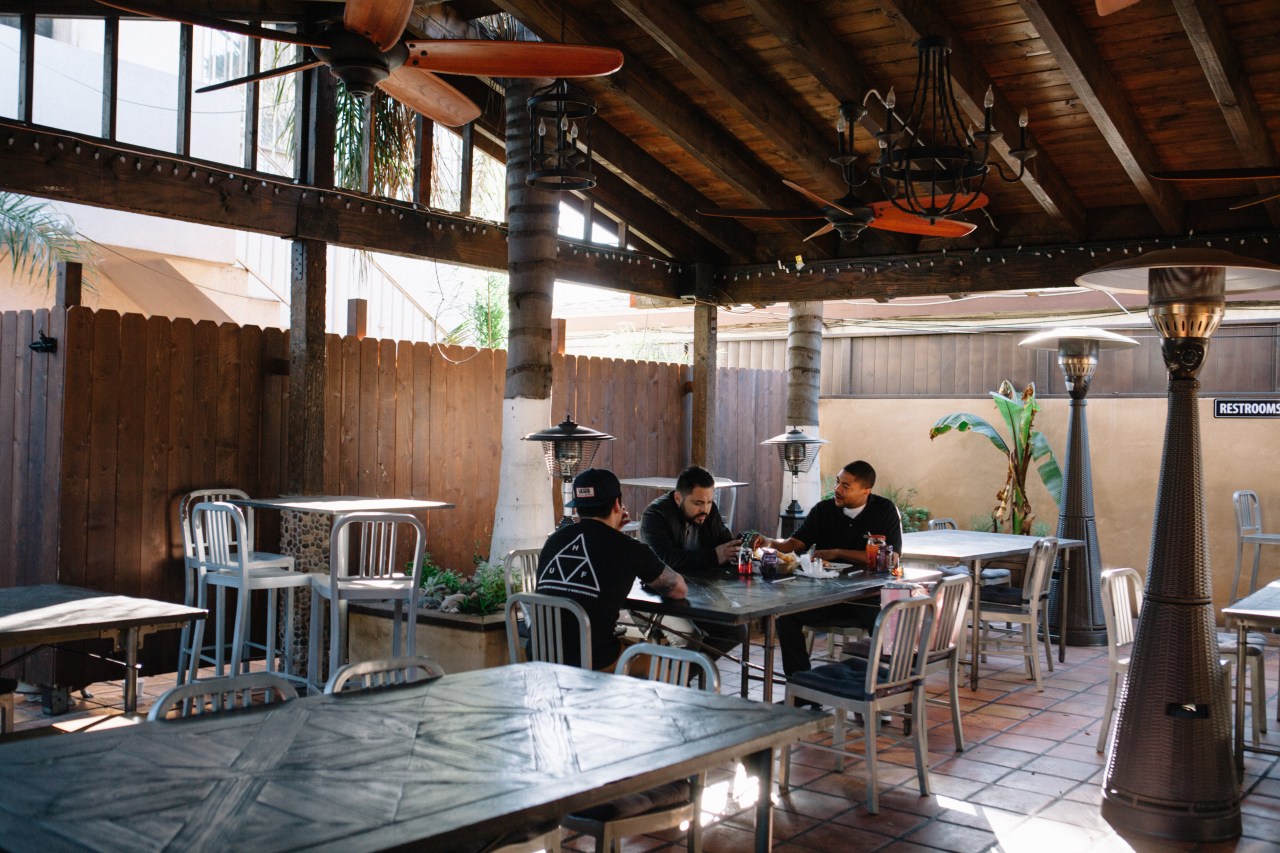 Coni'Seafood
Smoked marlin tacos are a given with L.A.'s vital Sinaloan and Nayaritan communities, and no one does is better than this Inglewood seafood lover's paradise. The smoked marlin itself is brought in from Mexico and stewed with vegetables, herbs and spices then wrapped in a corn tortilla with melted cheese and finished on the grill for adding smokiness.
Coni'Seafood
Location: 3544 W Imperial Hwy, Inglewood, CA 90303
Contact: (310) 672-2339
Downtown LA (Financial District)
Broken Spanish Taqueria
As one of the preeminent players in the Alta California movement, chef Ray Garcia blends the L.A. street taco menu of grilled meats, braises, and stews with unconventional toppings like clams and lardo, dressed with crisp market vegetables and bright salsas set on blue heirloom corn tortillas. Add a couple of Tecates kissed with salt, lime and a squeeze of salsa Huichol, and that's what we call a power lunch in the Financial District.
Mid-City
Leo's Tacos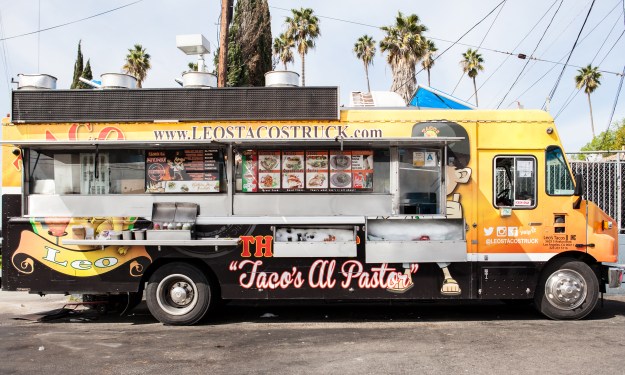 With over a half-dozen loncheras (food trucks) and more coming, this Mexico City-style al pastor taco specialist, manned by professional taqueros recruited from Oaxaca, is the king of the vertical spit. Get the tacos al pastor for thin-cut layers of fire-roasted pork in a sweet adobo, and consider an alambre Hawaiana (Hawaiian), which is a hash of their tasty al pastor sautéed with cheese, peppers, onions, bacon, and pineapple.
Pacoima
Don Cuco's Taco Truck
In one of the city's oldest Mexican enclaves known for its Michoacan-style cuisine, this food truck parked below a freeway interchange is a destination for tacos de carnitas—pork fired in its own fat, confit-style. There's always a line along this dimly-lit industrial stretch for one of the best taco trucks in the Valley.
Don Cuco's Taco Truck
Location: 12595 Foothill Blvd, Sylmar, CA 91342
Contact: (818) 675-1790
Eagle Rock
Cacao Mexicatessen
Each week, our inboxes receive a newsletter from this Mexican-American taco lounge listing an exciting, playful menu of tacos like chile relleno filled with shrimp and deep fried avocado, or a pan-seared cheese crepe with shrimp and scallops on a corn tortilla. Here locals dine on original taco dishes that are part of an emerging local Mexican gastronomy paired with spicy cucumber micheladas and young, crisp Baja California wines.
Walnut Park
Tacos La Güera
One of the most common styles of tacos found on the main thoroughfares of L.A.'s Mexican enclaves are tacos de fritanga, or tacos fried on a stainless steel disc, generically known as a comal. Brisket, fried in a well of fat, is the prized cut favored by aficionados–but is often replaced with cheap supermarket beef; this busy food truck is one of the few vendors in SoCal offering the real deal.
Pico-Union
La Flor de Yucatán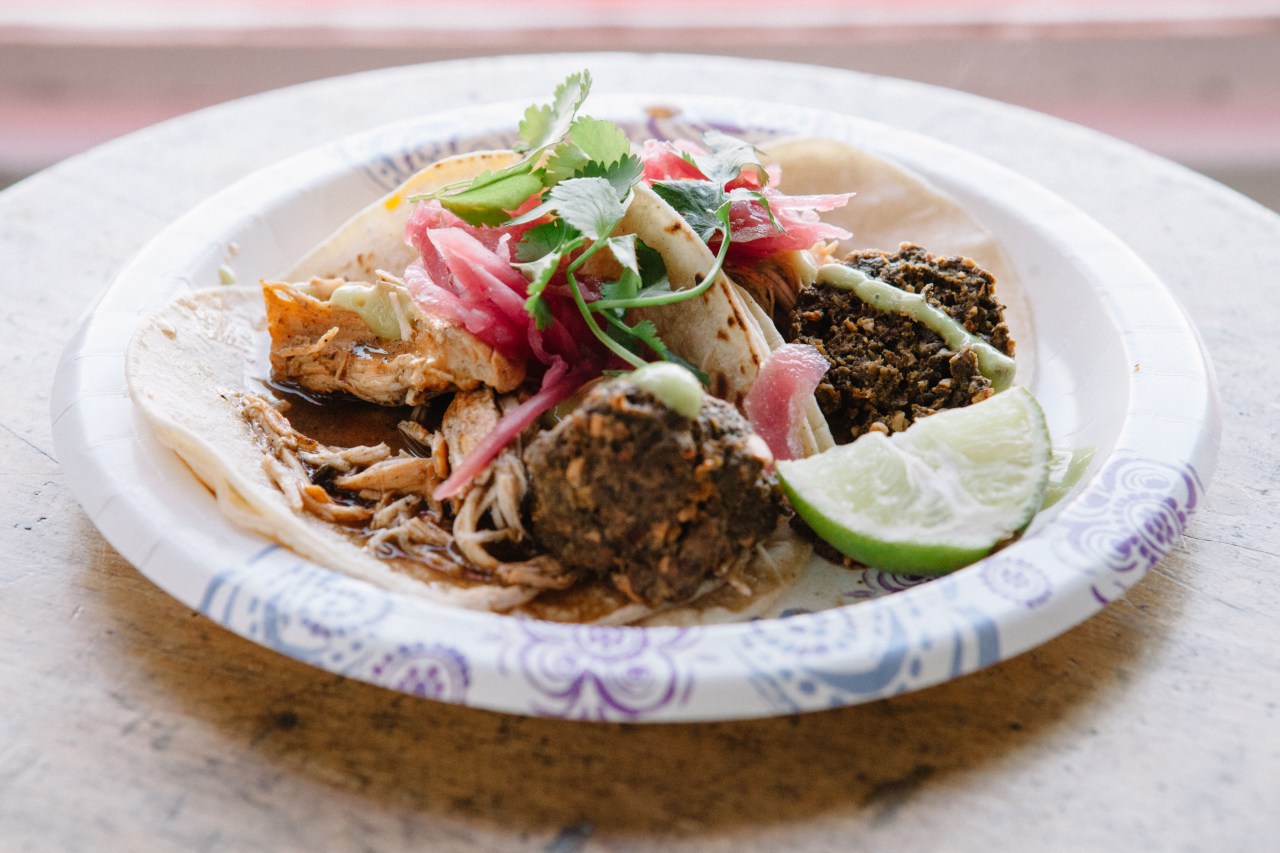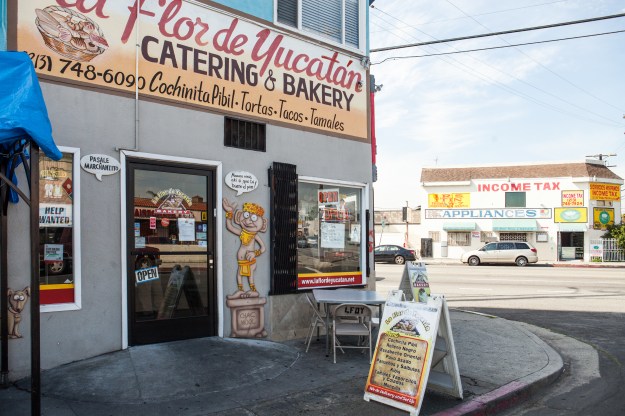 On the eastern edge of L.A.'s Byzantine-Latino Quarter resides one of the oldest regional Mexican bakeries, where Yucatecans go for volovanes (stuffed turnovers), hojaldre (puff pastry), mukbil-pollo (large tamal) or tacos de relleno negro, shredded turkey braised in a black recado made with achiote served on a corn tortilla with pickled onions and avocado salsa. Ask for some raw habaneros if you dare and chase each bite with the incendiary pepper like a native.
South Park
Carnitas El Momo
Carnitas should only be procured from an artisan, like bread in France or soba in Tokyo, and in Los Angeles, a 55-year veteran of the taco trade, Romulo "El Momo" Acosta is the king of Mexican confit-style pork. Do as they do in Salamanca, in the state of  Guanajuato, and pile on a fistful of carnitas, slice open a couple of pickled jalapeños, let the juices coat the pork and toss the jalapeños on top, no onions or cilantro required.
Whittier
Colonia Tacos Guisados
Chef Ricardo Diaz is one of the pioneers of L.A.'s haute Mexican-American cuisine, having developed Guisados—a highly successful taco concept—and his taco drive-in, which features chunks of beef tongue dressed with Sriracha, cauliflower with a shot of corn salsa, or tezmole, a mildly spicy mole covered in pumpkin seed salsa. Diaz is a master of pocho (Mexican-American) stews and braises, inspired by Mexico, our local products, and whatever Diaz feels like cooking—because in L.A. chefs like Ricardo make their own rules.
Colonia Tacos Guisados
Location: 11114 Whittier Blvd, Whittier, CA 90606
Contact: (562) 699-2424
Boyle Heights
Mariscos Jalisco
Raul Ortega's famous truck serves deep fried perfection filled with a tightly guarded recipe of shrimp and secret ingredients doused in a lightly-fermented tomato sauce and garnished with fat slices of fresh avocado. One bite in and you'll be happily reminded that this is the reason you live in Los Angeles.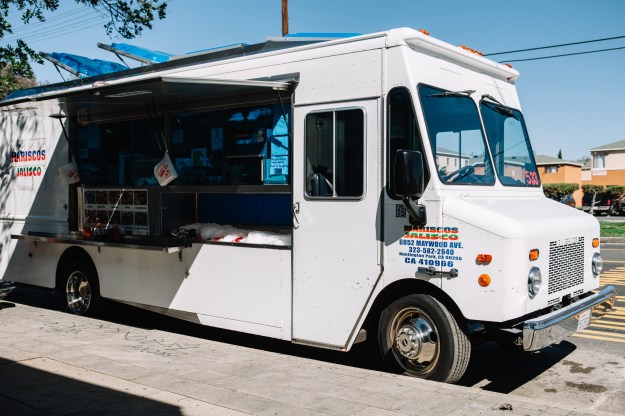 West Los Angeles
Oaxaca On Wheels
Los Angeles is host to the largest Oaxacan community outside of Oaxaca with the west side being one of the larger districts in Oaxacalifornia, where a row of food trucks in Santa Monica Boulevard. sell tlayudas, mole, and tacos. The specialty at this truck is the tasajo, a soft beef jerky that's as typical in Oaxaca as it is here in Oaxaca's northern outpost.
Chinatown
Mexicali Taco Co.
Real mesquite roasted carne asada is now commonplace, but chef Esdras Ochoa was the first taco slinger to bring the northern Mexican grill to the United States, where fine cuts of simply salted steaks, charred salsas, cabbage and dressings on a flour tortilla converge into a hearty stew of flavors, temperatures, and textures.
Compton
Tacos La Carreta
Tucked in the back of a tire shop, Jose Morales Sr. and Jr. are grilling up a very local style of carne asada that's a fixture on the late night taco scene in the Pacific beach resort town of Mazatlán, Sinaloa. Tacos, known as vampiros, are served in flour tortillas, with chopped mesquite grilled steak and melted cheese on top of a firm, toasted corn tortilla, dressed with vegetables, avocado sauce, and salsa. Don't miss the signature item, the chorreada, a sope slathered with a layer of unrefined lard and covered in melted cheese.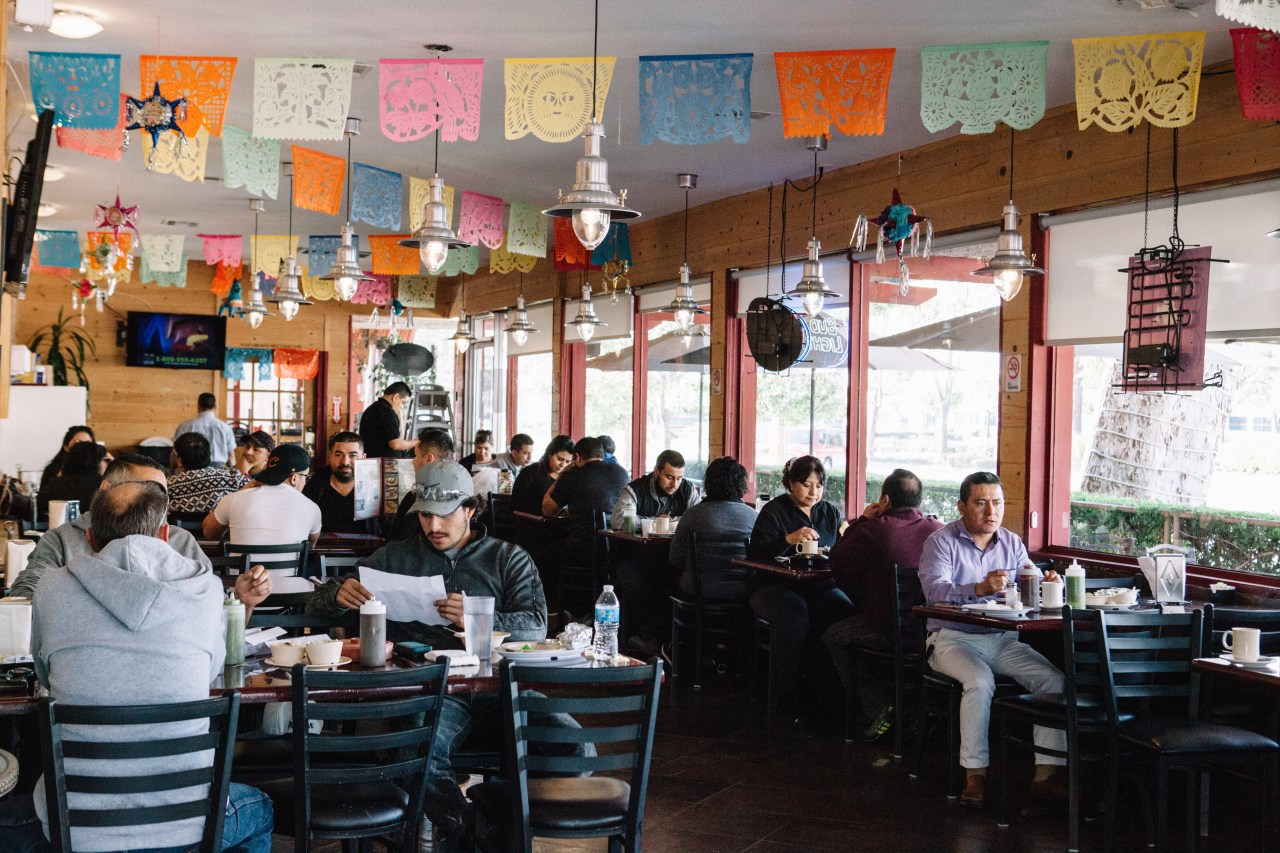 Aqui es Texcoco
Former engineer Paco Perez has left the world of design behind him to pursue his true passion—Texcoco-style lamb barbacoa—but not without applying a little ingenuity from his former occupation. Using his original oven design, Perez has recreated the natural conditions of an earthen pit in a conventional kitchen appliance for slow-roasting whole lambs, which he serves with fine corn tortillas, drunken salsa spiked with pulque and herby, acrid papalo.