New York is a city that is many things to many people. For some, its essence is the glitz of Fifth Avenue and genteel landscapes of Central Park. For others, its pulse is felt in the art galleries of Chelsea and heavy-hitting museums that dot midtown Manhattan. But for still others—admittedly, the kind of New Yorkers and tourists I like most—the soul of the city is the constantly evolving palimpsest of its immigrant neighborhoods, where waves of newcomers have brought their culture and reinvented themselves and their food over the last century and a half.
If this is your idea of New York City, the Lower East Side provides a delicious landscape to study the city's history. Immigrants may have arrived at Ellis Island, but the Lower East Side is where they settled. And cooked.
In the mid-19th century, the neighborhood's tenement buildings began to swell with arrivals from Germany and Ireland and later from Italy and Eastern Europe. By 1910 the Lower East Side was a bustling patchwork of pickle vendors, Yiddish theaters, and pasticcerias and had one of the highest population densities in the world.
By the 1950s, however, these communities had dwindled as the following generations sought greener pastures (quite literally) in the outer boroughs and suburbs. In their place came migrants from Puerto Rico and other Caribbean islands, bringing plantains and rum, creating salsa music and Nuyorican poetry. Later, waves of Asian immigrants began to populate lower Manhattan; Chinese immigrants from various provinces set up dumpling and noodle shops well outside the borders of historic Chinatown. Meanwhile, just north of Houston Street, a fertile counterculture of punk rockers and new wave artists invented sounds and styles that would influence music, art, and fashion for generations to come.
Like much of New York, the only constant on the Lower East Side has been flux, and much of its history—including its eateries—has been erased in the process. Vestiges of these communities remain, however, and there are a number of places where you can dine on recipes honed over the course of a century. Lucky for you, some of these are, as Anthony Bourdain once put it, "not just the oldest and the last—but also the best" of New York's eating institutions.
Bagel with lox and cream cheese
Is there a food more iconically New York than a humble bagel—plain, sesame, or flavor-packed everything—topped with cream cheese and lox? Sure, pizza and hot dogs are up there in the pantheon, but I'd argue for this classic bagel sandwich's place at the top any day.
Though the origins of the bagel are disputed—many believe they were first baked in Poland in the 1600s—they were most certainly brought to America by Eastern European Jews by way of the Lower East Side. Bagel bakeries proliferated throughout the Jewish settlement here, at its peak in 1910 one of the largest such communities in the world. Pushcart vendors sold them strung onto garlands and wooden rods on Orchard and Hester streets. Bagel baking was such a formidable industry that a union was formed—Bagel Bakers Local 338—which controlled production and kept the local recipe a secret until the 1960s, when the development of machine-made bagels eroded their control. Meanwhile, Jewish delis proliferated, selling glistening platters of cured fish, tins of caviar, pickles, and cheeses—all the things that go with bagels but which, because of kosher laws, cannot be sold by butchers.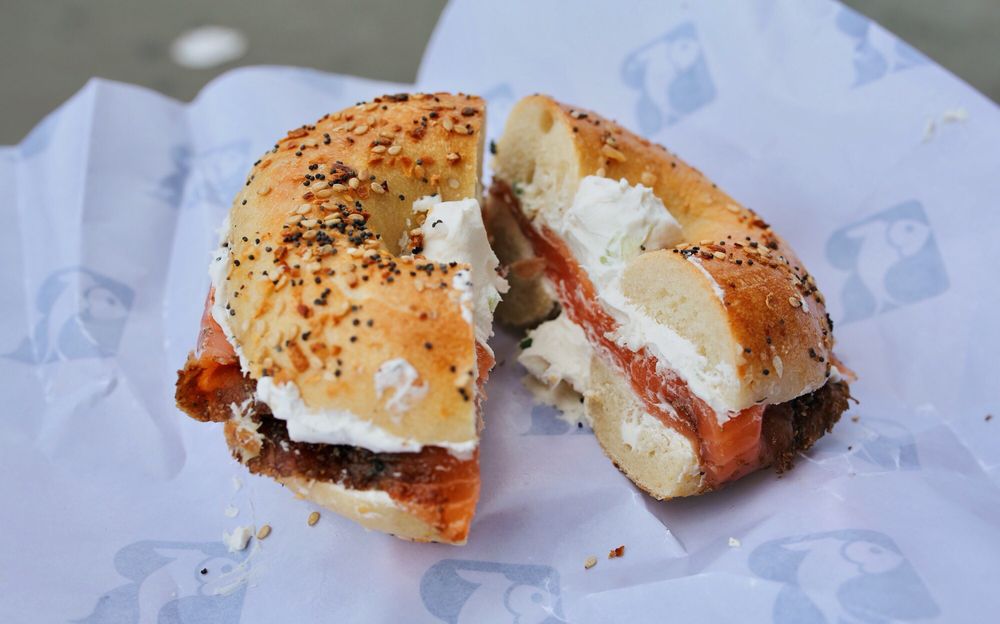 Herring was the preferred fish for curing and smoking in the old country, but it was scarcer in America, so salmon (laks in Yiddish) was used in its place. Italian capers and French-style cream cheese were later smeared onto bagels with cured and smoked salmon, and a new, delicious food emerged from the melting pot.
The pushcarts are long gone, but a trio of centenarian institutions remain: Katz's Delicatessen for superlative pastrami; Yonah Schimmel for hearty knishes; and the grand dame of appetizing delis, Russ & Daughters, for—you guessed it—bagels with lox and cream cheese.
Mofongo con pernil asado
By the 1950s the demographics of the Lower East Side had shifted. Migrants from Puerto Rico and the Caribbean settled into the areas where communities of European immigrants began to dwindle. Puerto Ricans had arrived in New York in the previous decades, but the largest numbers came between 1940 and 1970; changing economic forces on the islands drove thousands of people from the countryside into the city and onto the mainland. Spanish and Spanglish flourished, and a unique Nuyorican culture and identity emerged in the Loisaida, a Spanish phonetic pronunciation of the Lower East Side.
With the people came the flavors of the islands: arroz con gandules, stewed red beans, sweet and salty plantains, and rum-spiked coquito. But the dish that most Puerto Ricans and Nuyoricans wax poetic about is mofongo con pernil asado: slow-roasted pork shoulder served alongside a squat tower of green plantains whipped into a creamy mash and studded with crunchy chunks of chicharrón (fried pork skin).
Few traditional Puerto Rican restaurants remain, edged out over the years by the trendy bars and restaurants that now dominate the area. But you can still savor a perfect mofongo at Casa Adela, opened in 1976 and operated by the eponymous Adela until her death earlier this year. Though the matriarch is no longer there, the restaurant remains in the family, and you'll still feel like you're in her casa. Brush up on your Spanglish, order yourself a mango or mamey batido, and watch life go by on Loisaida.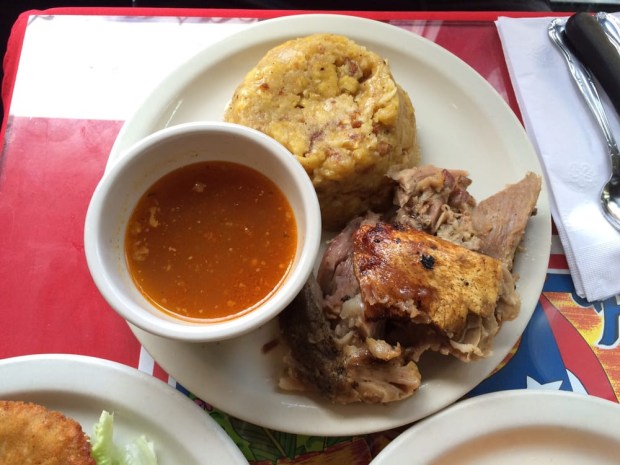 Varenyky
At the western edges of the East Village, you'll find a sprinkling of Ukrainian institutions: St. George Ukrainian Catholic Church; a storefront selling pysanka, hand-painted Easter eggs; and a few restaurants. Blink and you might miss the remnants of the once-thriving Ukrainian community along East 7th Street near Second Avenue. The Ukrainian population here likely peaked after World War II, when this area, known as Little Ukraine, was home to a bevy of butchers, bathhouses, and cheese shops.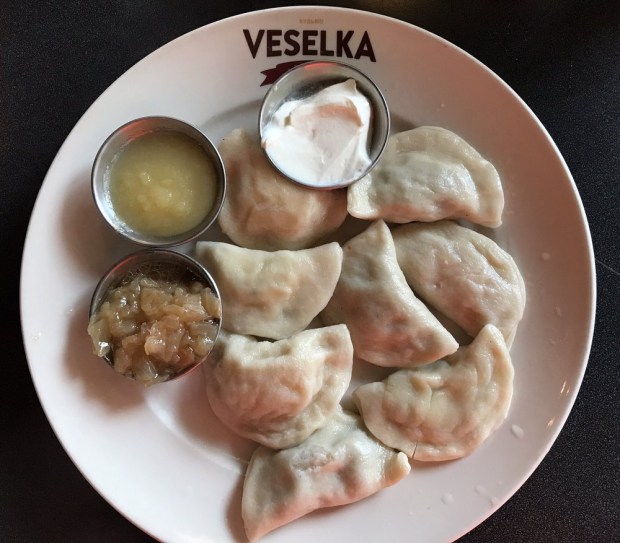 A handful of Ukrainian diners serving blintzes, borscht, and varenyky earned the area the moniker "pierogi belt." Open 24 hours, these restaurants were as popular with clubgoers and artists in the 1970s and 1980s as they were with the resident babushkas. Many of the diners are long gone, but 64-year-old neighborhood institution Veselka still bustles with life day and night, doling out pierogies in equal measure to drunken revelers trying to stave off hangovers at 3 a.m. and Ukrainian churchgoers seeking sustenance at noon.
By the owners' estimate, they serve nearly 3,000 doughy Ukrainian dumplings every day. The pierogies come in many flavors here—cheese, meat, sauerkraut, even arugula and goat cheese—but don't get distracted. It's the potato ones you're after. Boiled or fried, that's up to you—but be sure to order them with sides of applesauce, sour cream, and sautéed onions (yes, all three) for dunking, smearing, and smothering.
Ban mian
Long confined to the area below Canal Street and west of the Bowery, the borders of Manhattan's Chinatown began to shift in the late 1960s. The passage of the Immigration and Nationality Act of 1965 allowed for large-scale immigration from China for the first time in over 80 years. For most of this period Chinatown had been an enclave of Cantonese culture as well as a test kitchen for Chinese-American cuisine; it was here, not China, where dishes like chop suey and chow mein were invented.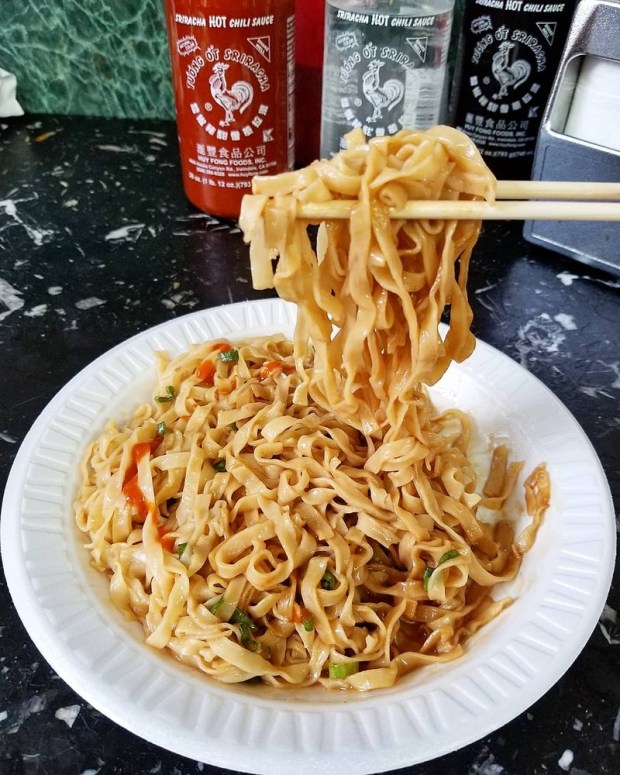 But between 1965 and 2000, Chinatown's population swelled with newcomers from Hong Kong, Guangdong, and Taiwan, and they settled in the areas north and east of the neighborhood's original boundaries. One of the largest influxes of Chinese immigrants came in the 1980s and 1990s, when migrants from Fujian province arrived and made their home in the southeastern elbow of the Lower East Side. The area around East Broadway and Allen Street became a nexus of Fujianese life, and entrepreneurs opened businesses like the Chinatown bus network—originally established to shuttle restaurant workers to jobs in other cities' Chinatowns.
Walking along East Broadway, you'll notice the Fujian cultural associations, groceries, and restaurants serving fish ball soup and pork-and-chive dumplings. A short way from there, on Eldridge Street, lies Shu Jiao Fu Zhou, a perfect place to sample Fujian xiao chi (street food, or literally, "small eats"). Order the ban mian. For less than a subway fare, you get warm wheat noodles that arrive in a shallow bath of peanut sauce, ready to be mixed up with additional splashes of hot, soy, or fish sauce to your liking.
Yakitori
Ask a New Yorker where Little Italy or Chinatown is and they'll point you in the right direction. Ask them about Little Tokyo, though, and you might get a blank stare.
It's a shame. There's no better place in New York to transport yourself to Japan than the East Village. St. Marks Place between Second and Third avenues and the neighboring corner of Stuyvesant and East 9th streets boasts one of the densest concentrations of Japanese businesses in Manhattan, all hewn in the likeness of Tokyo's noodle shops, bakeries, cocktail bars, and even toy stores.
At various points over the decades of the 20th century, St. Marks Place was a magnet for activists and artists, a stomping ground for communists, beatniks, and punk rockers. Leon Trotsky, William Burroughs, and Debbie Harry all called this street home at one point or another. It was this alternative milieu, the storied rock and jazz venues, and low rents that attracted the young Japanese expats who set up businesses here in the 1980s and 1990s.  
To get a flavor of the neighborhood, bypass the ramen shops—excellent options are easily found elsewhere these days—in favor of one of the many izakayas, lively Japanese gastropubs dedicated as much to eating as to drinking. Up a flight of stairs the hidden but raucous Village Yokocho makes an excellent spot to tuck into a sampling of yakitori—skewered meats and vegetables dunked in soy and grilled over a charcoal fire—and share a pitcher of Sapporo. Enjoy skewers of crispy chicken skin and bacon-wrapped enoki mushrooms as all around you expats and locals exchange shouts of sumimasen! and arigato!