Prepare yourself for chaos. A day in Manila can feel like a scene from a blockbuster movie. The tangle of streets is crowded with cars driven by people who believe in a middle lane, commuters who ignore the pedestrian lane, and vendors selling strings of jasmine flowers, peanuts or phone chargers while pimped-out chrome WWII-era passenger jeeps screech past, blaring eighties power ballads. Manila used to be known as the "pearl of the orient." The label connotes a gentility now buried under decades of destruction and haphazard development. The city  may take some digging, a sense of adventure, and a ride sharing app to appreciate. But embrace the chaos and you will be rewarded. The city is rich in history, great food, and above all, generous people with a sardonic sense of humor—arguably the essential ingredient in appreciating the wild absurdity of the Philippines' capital city.
8:00
am
Juanita's
17 West capitol Drive,
Barrio Kapitolyo,
Pasig
Get Directions
People from the Philippines or "Filipinos" have always been known for hospitality. It's just in our DNA to be helpful or make a guest feel at home. Note: Filipinos are the worst at giving directions. Blame it on poor urban planning. One of the best places to go where one can experience hospitality and breakfast food with a side of WiFi is at Breakfast at Juanita's. Located in Pasig City, the old house turned restaurant is the breakfast spin-off of the popular mothership Café Juanita, a local favorite known for its Filipino comfort food, excellent service and a goldmine for Instagram photos with campy Asian interiors that feel like a posh version of TGI Fridays with antiques, memorabilia, and Eastern bazaar finds.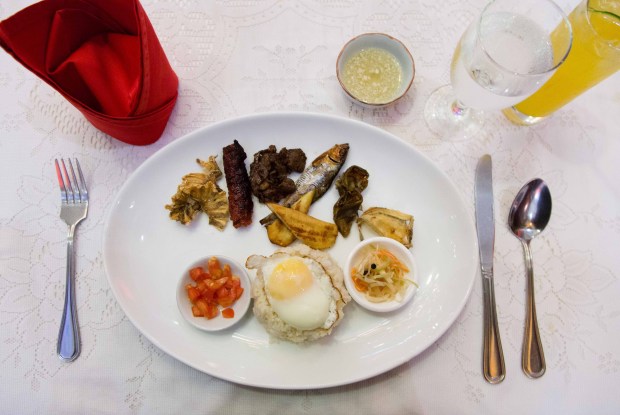 A typical Filipino breakfast is meat or fish served with silog, a hybrid term short for fried rice (si for sinangag) and egg (log for itlog). Choose the breakfast sampler served with garlic rice and an egg to get the best bites. Look for Cafe Juanita manager Jun Malaluan, who's been with the restaurant for two decades, and can patiently explain the whole menu to you and even offer alternatives for diet restrictions. If there's room in your belly, order their kouign amann or baked empanada that comes with coffee, a good way to end the meal.
Note: Gratuity in Manila is usually minimum 15% of the total amount without service charge and 5%-10% of the amount with a service charge. It's a good idea to keep small change to pay for public transportation or tip.
 After breakfast, walk or take a tricycle (the local version of a rickshaw) to artbooks.ph along Pioneer Street. Artbooks.ph opened two years ago with over 600 titles ranging from visual art, architecture, film, music, dance, and history. Artbooks.ph is a good stop to get an overview of what to do and where to go in the Philippines, more valuable information than travel blogs, which often just promote having fun.
Due to a lack of public libraries in Manila, it's no surprise many students go to artbooks.ph to research and talk to Ringo Bunoan, an established artist, curator, and researcher, or to Katya Guerrero who comes from a family of publishers. The duo started the store together. Ringo recommends Culture and History by Nick Joaquin for a better understanding of the Philippines. Politely ask to browse through rare titles such as The Architecture of Leandro V Locsin, Philippine Contemporary Art or The Culinary Culture of the Philippines. Pick up a zine made by an emerging Filipino artist or choose from the unique selection of postcards to send to friends.
After artbooks.ph, walk to the Boni Station of the Metro Railway System (MRT) to head southbound and get off at Taft Avenue station. If the MRT breaks down, it is best to take a car before noon while traffic on the main highway is moderate.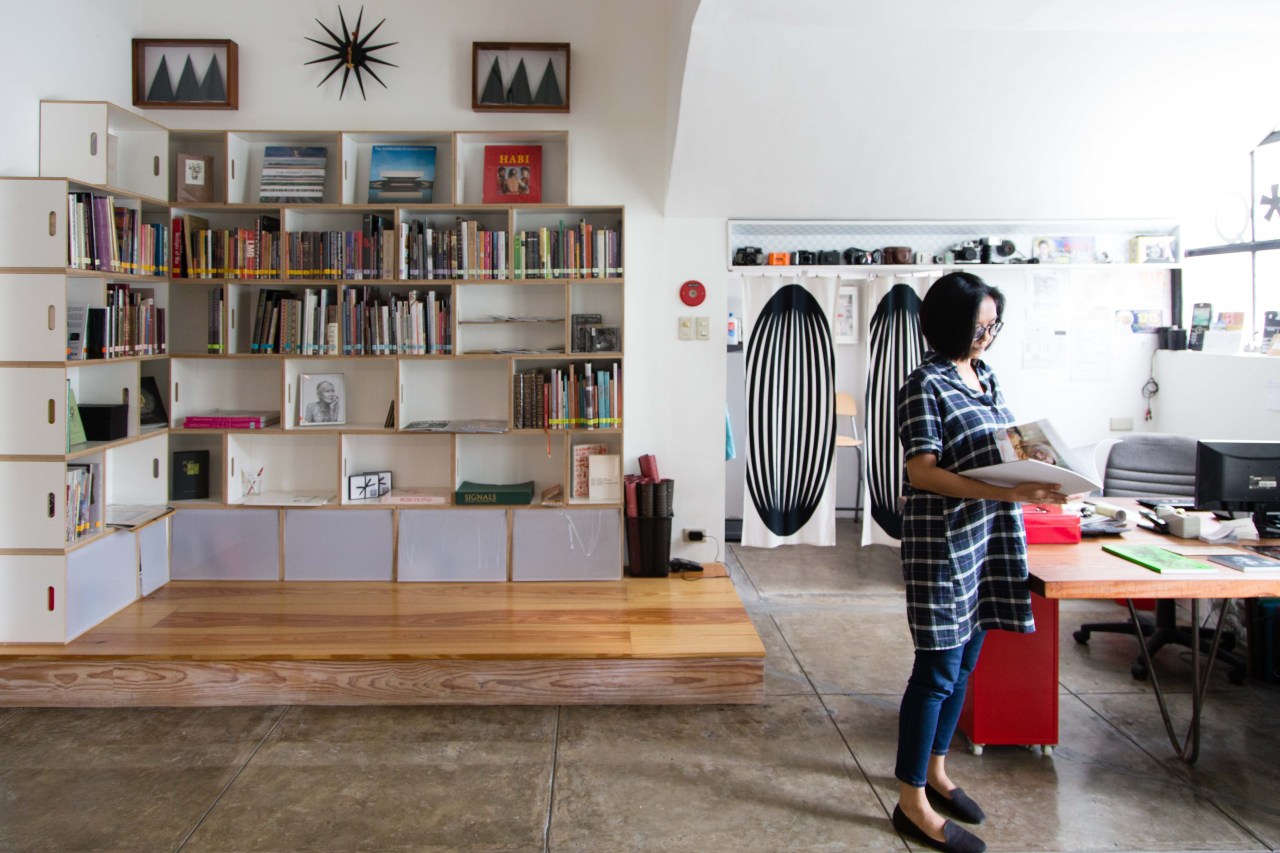 The next destination is Pasay City. For those who were born during the latter part of the century, Pasay was known as the pleasure district because of the number of love motels around the area and a market called Cartimar, where people bought their pets, bikes, plants and other export goods. Past Taft Avenue and before reaching the tourist belt known as Roxas Boulevard, you cannot help but feel that the city has seen better days due to the congested streets and shabby surroundings. When you enter the property known as the Chinese Compound along F.B. Harrison street, you feel like you're in an Old World movie set.
The 4,000 square meter compound was built in 1948 and the 21 two-story structures made of wood and concrete were occupied by a prominent Chinese clan. Today, the compound is a great example of adaptive reuse in the Philippines. Stroll along the tree-lined driveway that leads to The Henry Hotel,  a favorite among seasoned travelers and lovers of design. Order coffee or dalandan—local orange juice—in Apartment 1B, the hotel's restaurant. Admire art at Avellana Art Gallery or local craftsmanship at Artelano-11 Furniture Gallery. The compound is a design haven for creatives including fashion designer Jojie Lloren and interior designer Eric Paras.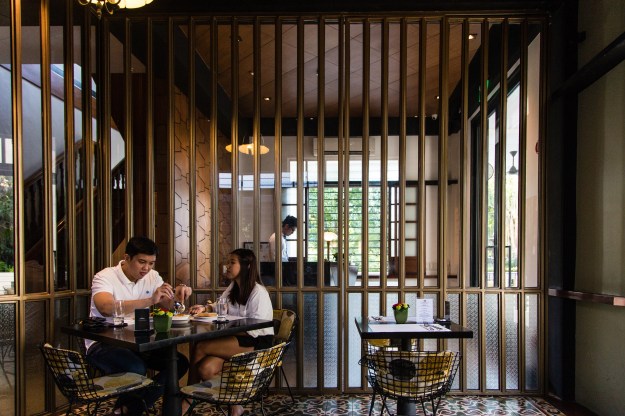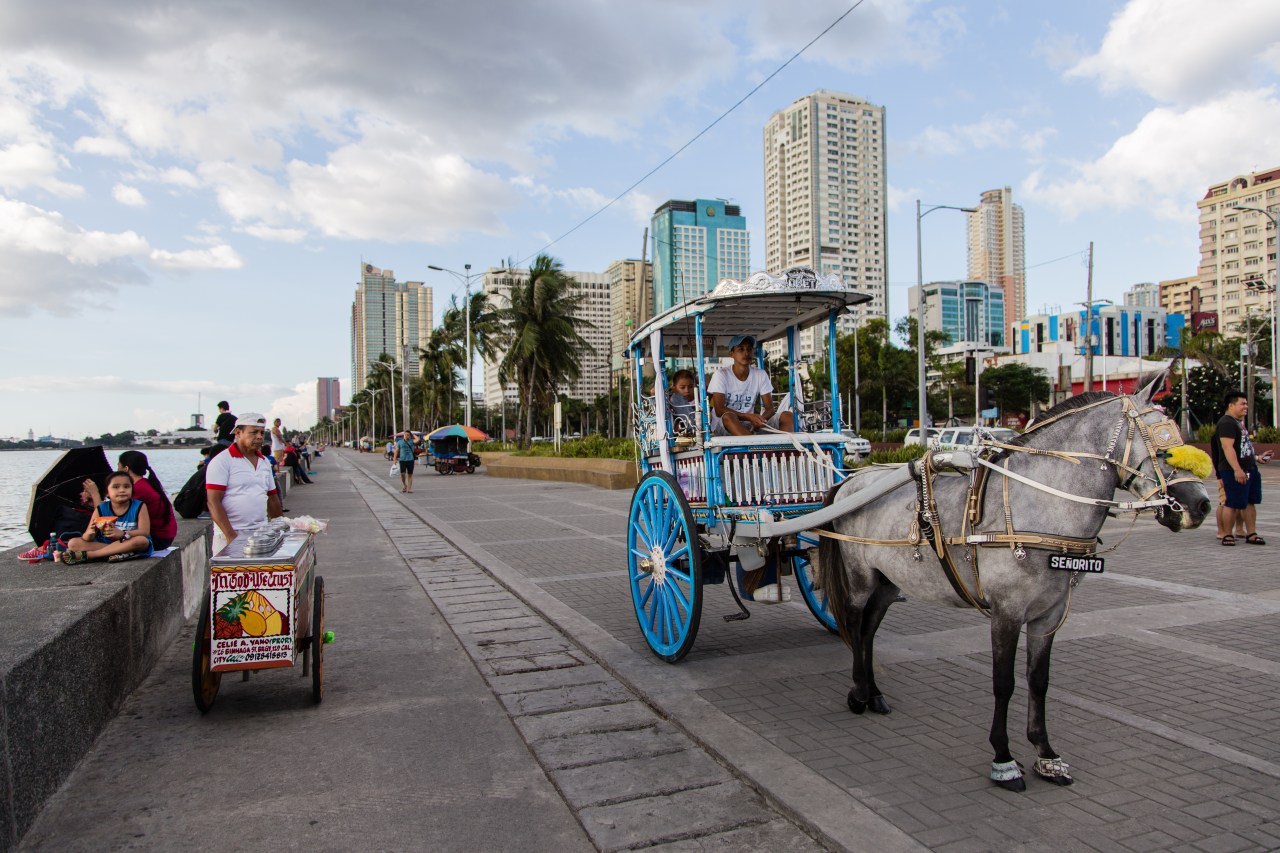 12:30
pm
Cultural Center of the Philippines
CCP Complex, Roxas Boulevard, Magdalena Jalandoni, Malate, Pasay, 1300 Metro Manila
Get Directions
Before leaving the Chinese compound, ask the hotel staff or security to get a cab to Binondo, a place where many Chinese people still reside. If the driver is accommodating, ask for a drive by the Cultural Center of the Philippines complex. The imposing structures to look out for are the Cultural Center of the Philippines, the Philippine International Convention Center. The most controversial structures are Coconut Palace and Manila Film Center.
The Coconut Palace was built in 1981 as a guest house for Pope John Paul, who later refused to stay in the decadent octagon-shaped palace while people outside the complex were living in poverty. It was recently used as the official residence and office of the former Vice President Jejomar Binay. The Manila Film Center was constructed for the first Manila Film Festival in January 1982, which was attended by Robert Duvall, George Hamilton and Brooke Shields, amongst others. Some call it the largest tomb in Manila because, during construction, a scaffolding fell and buried night shift workers. It is said that construction continued despite this, to open the theater in time for the festival.
Known as the world's oldest Chinatown, Binondo is the perfect place for lunch after a hearty protein-packed Filipino breakfast. There are many places to choose from, like Shanghai Siopao for steamed buns, Quik Snack for noodles, New Po-Heng Lumpia for fresh spring rolls or Presidents Tea House for a lauriat—or feast—fit for a Tai-pan. But for something good, cheap and fast, hit up Dong Bei Dumplings.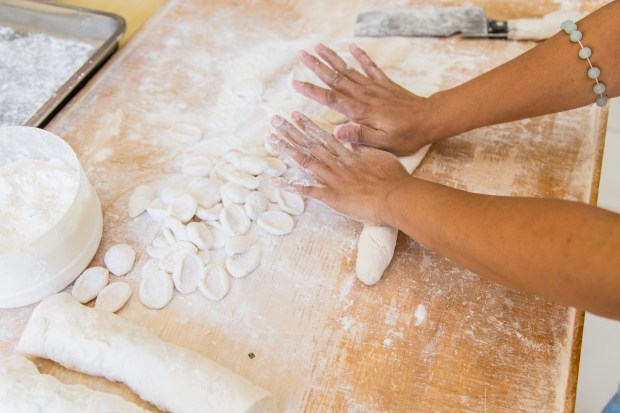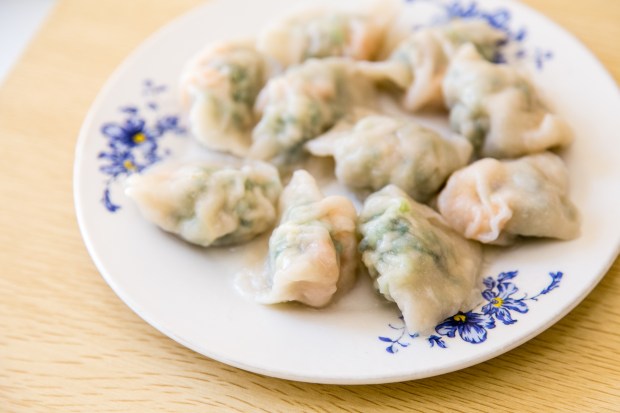 The dumpling shop is in a plain-looking storefront that looks like an accounting office from a distance. But a closer look reveals staff making dumplings instead of filling up ledgers. There are only six tables inside, so review the menu while waiting to sit down. You can't go wrong with fried stuffed pancake, steamed kutsay—garlic chives—fried bean curd and the specialty, xiao long bao, or soup dumplings. These may look like tiny pillows but they pack a flavorful, moist punch.
For dessert, head to the Chinese Deli around the corner for hopia, a flaky Chinese pastry stuffed with mung beans. Eng Bee Tin Chinese Deli in Ongpin Street is one of many places to get hopia. But in this particular place, one color dominates the deli shelf: purple. Gerry Chua is the owner of Eng Bee Tin. He turned his family's business around in the 80s when he infused ube (purple yam) in hopia. Chua is now known as Mister Ube, he not only gave Filipinos the purple yam-flavored calorie bomb but also purple firetrucks because he created the largest network of volunteer firefighters.
There are many things to do in Binondo at this hour, but it's grueling to walk under the mid-afternoon sun after a dim sum feast. To cool down, head to First United Building and get to know Escolta, Manila's "Queen of the Streets".
Escolta was the commercial and financial hub from the early 1900s until the 60s. But like most parts of post-war Manila, Escolta survived but did not age gracefully—until a band of creative professionals moved in a few years ago. Together with the owners of First United Building, 98B COLLABoratory began reviving the "Queen of the Streets" through fostering a community that turned Escolta into a hotbed for creativity and entrepreneurship. Grab a fruit soda or iced coffee from The Den coffee shop while catching up on social media. Ask the security guard if you can visit the First United Building Community Museum for a fee of 50 pesos. Do some shopping at the HUB Make Lab, the marketplace and incubator for local businesses. Tenants include Heritage Collective, General Merchandise, and Simoy ng Haraya, where you can buy tasteful presents like books, shirts and local perfume for people back home. And if you want to move up happy hour, order drinks at Fred's Revolucion and pair it with schnitzel. 98B COLLABoratory also hosts a lot of events in the space like block parties, film showings, music festivals or art exhibits so check their website for events.
6:00
pm
Makati Cinema Square
2130 Don Chino Roces Ave,
Pio Del Pilar (btwn Arnaiz Ave & Fernando),
1231 Makati City, Makati City
Get Directions
The next destination is via car. It's the only shopping center worth visiting: Makati Cinema Square. "A mall with cancer" is how American author David Sedaris described MCS in 2006, due to its B-movie interiors. It was the premiere mall when it first opened decades ago with cinemas, a bowling alley and a ban on patrons wearing flip flops on the premises.
Today, the mall is full of stalls hawking counterfeit goods from bags to perfume, and second-hand everything from antiques to smartphones. There are a barber shop, salon and tattoo parlor; foot and full-body massages are available. There are also two firing ranges, and places to learn fencing or archery. Mail postcards in the post office behind the chapel on the ground floor. Try a snack in the modest eateries or buy pancit palabok (noodles with innards) in celebrated Filipino fast food joint Jollibee. For a drink, try Little Tokyo across the mall for sake and Japanese beer.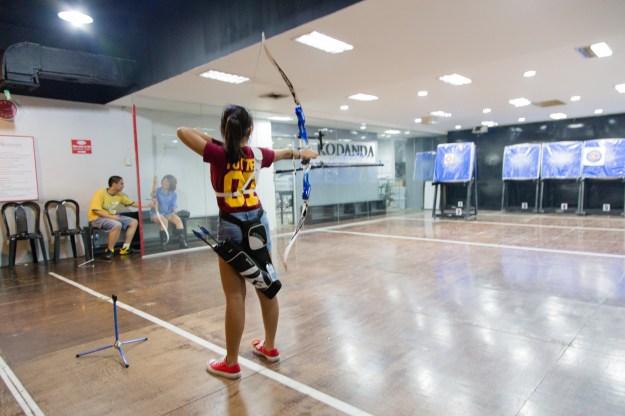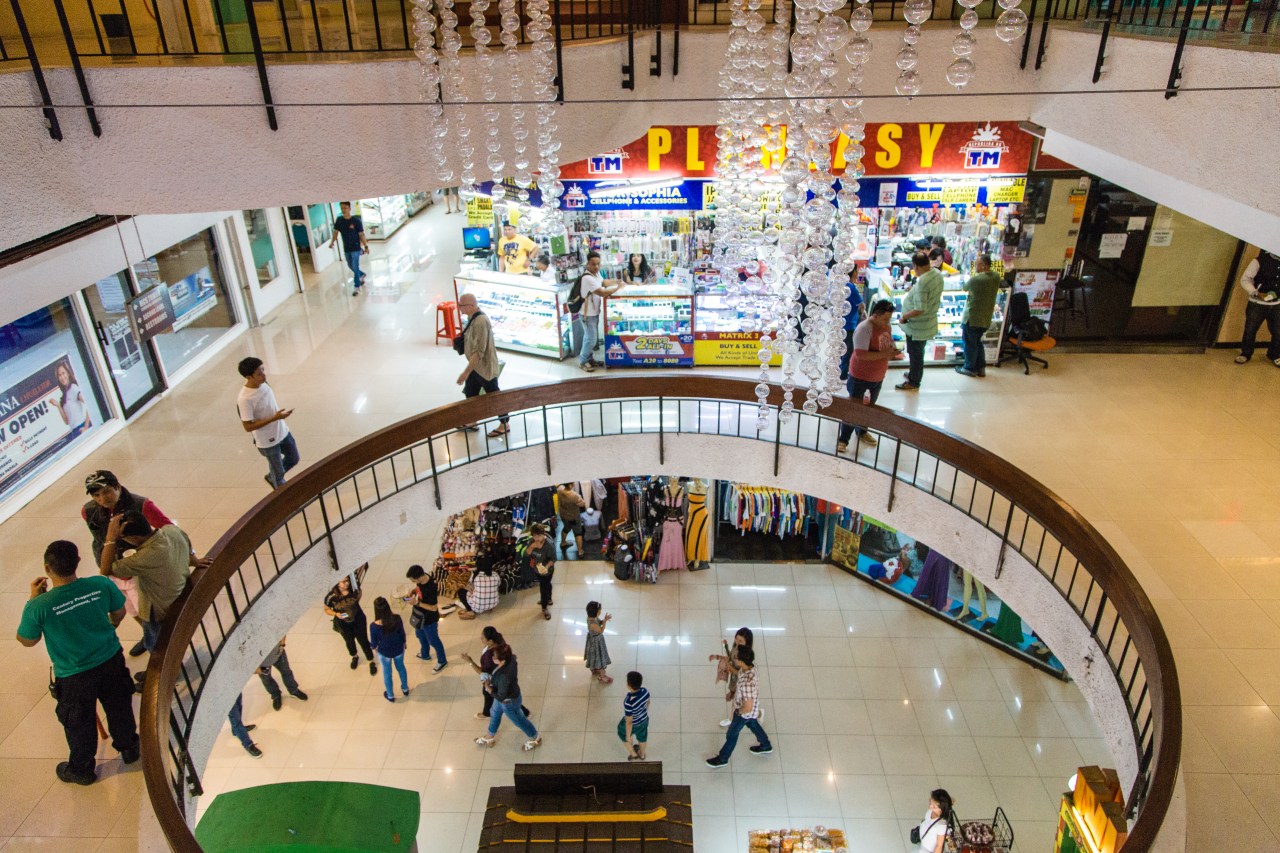 After MCS, take another car ride to P. Burgos or Poblacion. If your driver happens to be old and gives you a meaningful glance, that's because, though it's gentrifying and hip now, it retains a reputation as a bit of a red light district. But many parts of the area attract young professionals, expats, and budget travelers who want a good meal, drinks, inexpensive accommodations, or the company of rabid fans during sporting events.
For dinner, go to Tambai which is a tribute to "Tambay," or "hang" in English, something that Filipinos love to do. Look for Franco Ocampo, one of the owners who decided to convert the place from a sari-sari store (local convenience store) to a hangout.  You must order the yakitodo, a plate of yakitori sticks with gizzard, liver, sausage and isaw (barbecued pig or chicken intestines), a popular street food item. Add the kimchi fried rice, soft shell crab, and cold soba to complete the meal.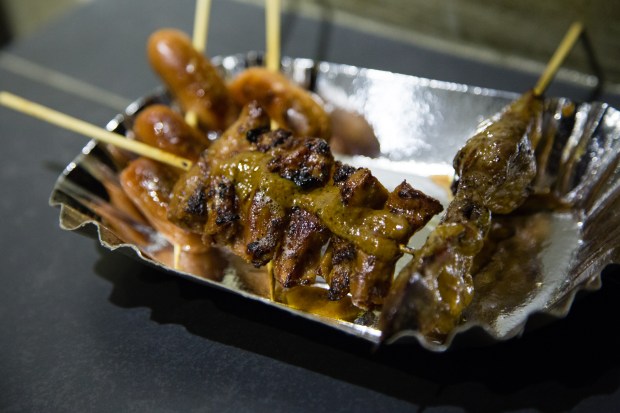 For more drinks, cross Kalayaan Avenue by foot to Felipe Street where you will find Alamat. Alamat is a Filipino-themed pub and deli built from repurposed construction materials and interiors with a strong Filipino theme, illustrated by things like the jeepney by the bar, and folklore characters painted on the wall. Try a twist on a mojito, which subs in calamansi for the traditional limes. They also have their signature shooter Chupapa with local rum Don Papa as a base. Order their excellent pulutan (tapas-like snacks) like Classic sisig which is a sizzling dish of pig's face and ears. Or try Piyanggang chicken wings, their take on the Tausug tribal dish made with burnt coconut meat.
If you want a view of the Manila skyline and a DJ while having drinks, head next door to the roof bar at Z Hostel, a bordello that has been converted into an upmarket hostel. You can book a room in the hostel if you're too tired to do anything after a long, hectic day.