Just a few miles from Marseille there is no noise aside from a rooster's crow and some bird calls. Goats graze in the fields. Vève and Lulu retired here after spending their entire lives in Marseille. Even in retirement they are activists, taking part in several support groups and charities. Earlier this year they decided to host an "unaccompanied minor"—a child migrant alone in France.
"The speaker explained that she was hosting two of them, so I told to myself, Why not me?" says Vève. "We hadn't thought of it before because, you know, we are in the middle of nowhere here" she adds, looking at the landscape.
Last June, A. came into their life. "He was initially supposed to stay only four days," Vève says. It's now been three months since the quiet and tall 17-year-old arrived. A., who is Ghanaian, crossed Togo, Benin, Nigeria, and Chad before arriving in Libya. He was stuck in Libya for a year until he secured passage on a small wooden boat bound for Italy. The boat sank during the crossing. After four hours in the water, he was rescued by SOS Méditerranée, an organization founded by citizens of several European countries.
In 2017 alone, more than 1,500 migrants fleeing economic and political insecurity and war died crossing the Mediterranean.
"A. has already lived three lives more than me, and he's not even 18 years old yet," says Lulu.
Vève, Lulu, and A. all spoke on the condition of anonymity, because some French civilians assisting migrants have in the past been charged with smuggling.
Despite this risk, "there are a lot of us opening our homes," says the energetic 60-year-old Vève. "But the system is easily overloaded," and it takes several months to place a migrant with a family.
A.'s stories came out little by little, but it takes only a few words to understand the violence he faced during his journey. He told Vève he was tortured while detained in Libya. When she brought him to a hospital because of intense jaw pain, the doctor told her it was likely due to gritting his teeth while he was tortured. The couple gets to know him a bit better every day; their help is as much an emotional commitment as it is practical.
They created a new routine to meet his needs: 4 a.m. bureaucratic meetings at the prefecture to submit asylum applications; drop-offs in Marseille to hang out with his few friends, also migrants. And once in a while taking him to a night of dancing, where a renewed innocence takes the place of a still-close past. After only three months, it is as if A. has been part of the family for years. He spent the holidays with Vève and Lulu and their grandchildren.
English is their common language, even if strong accents sometimes make it difficult to understand each other. A. can speak some Italian as well: The few words he knows are the relics of his stay at a nunnery after crossing the Mediterranean. "One day he even started singing 'Bella Ciao'!" Lulu and Vève smile.
The kitchen is riddled with Post-its to improve his French vocabulary: plate, kettle, clock. A. is eager to learn, hoping to build a life in France. He explained to Vève that he was in danger in Ghana, where his father was murdered in front of him by a gang. He said these criminal groups often come on farmers' lands, plundering and killing people, while authorities do nothing to stop them.
A. is still waiting for his papers and to find out if the government will transfer him to a more permanent home for unaccompanied minors. But once he turns 18, he will be on his own. Meanwhile he deals with his homesickness by watching Ghanaian movies. "I spent a fortune increasing my internet plan," Vève pretends to complain. "I have unlimited data now!" she adds with smiling eyes. A. follows current events in his country closely and knows every Ghanaian football player who has played for Olympique de Marseille, or OM, the emblematic club of Marseille. Lulu would like to enroll him in a football club, but how can he do this with no official documents? So many seemingly simple questions have no answers.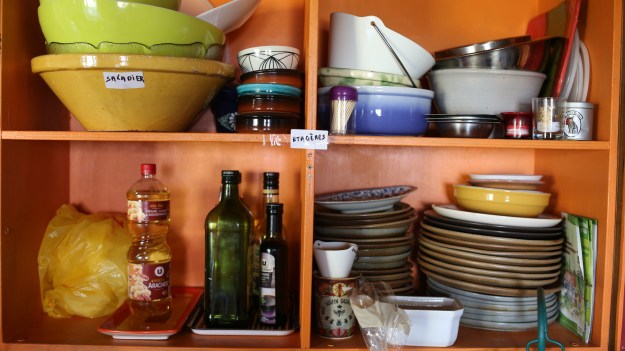 In France the government has been mandated to protect undocumented minors since 1986. In March 2016 the administrative court even determined that the Bouches du Rhône department, the regional district where Marseille is located, was responsible for four unaccompanied minors sleeping on the streets of Marseille. But some of France's local administrations rely on informal networks to supplement official measures. For example, the Nord department, the country's most populous, issued a call in July for families interested in hosting minors under the age of 16, offering to cover living costs of 380 euros per month. The Bouches du Rhône department hasn't put out such a call despite the fact that activists estimate there to be 500 young migrants in the region. There are 240 spots in the government's regional reception centers, according to the local administration.
But grassroots collectives are being set up. In Marseille some of these groups are connecting with activists in the Roya Valley, migrants' gateway to France since the 2015 closure of the official border between France and Italy. They must be careful, because a few people have already been arrested for their work, which activists sarcastically refer to as "crimes of solidarity." Vève and Lulu categorically reject these arrests: "Should we close our eyes and leave them? Where? At Saint Charles?" Marseille's main railway station has become a gathering place for migrants. "They are in the grip of sexual predators and drugs. Some people ask them to work but then refuse to pay their salaries at the end."
Vève and Lulu's friends admire their commitment. Some have followed suit, though most think they wouldn't be able to live so closely with a complete stranger. "Obviously sometimes there are cultural misunderstandings—about the meal schedule or children's education. But we laugh a lot in the end," Lulu says with a smile. "And for our grandchildren this is worth more than any class on tolerance and anti-racism."
They are worried, though. This weekend, for the first time, A. didn't come home after a day out in Marseille. Vève feels A. is becoming distant in these days, as time passes without a resolution to his status in the country. In October he will turn 18 and be considered an adult by the system. He has applied for asylum and is working with a lawyer but is waiting on the government's decision. If his application is rejected, "in the case of a police check he could be placed in detention," Vève points out.
While A.'s battle is far from over, he can count on two loyal allies. "We can't just say goodbye to him after we have shared all this. We are well aware of our responsibility," Vève says.