Minas Gerais, in southeastern Brazil, is known for its cultural traditions, from the cheese and cachaça produced in its small villages to the baroque architecture in its hilly cities. Tourists, however, tend to bypass the state capital.
Planned and built in 1897, with streets neatly organized in a valley surrounded by the lush Serra do Curral hills, Belo Horizonte is more often a transit point, used to go elsewhere. Most tourists go straight from the airport to Ouro Preto, the former capital, crammed with baroque churches stuffed with gold. Or to Brumadinho to visit Inhotim, one of the most important contemporary art collections in Brazil, scattered throughout a 140-acre botanical garden.
But Belo Horizonte is worth a visit. The city has grown far beyond its downtown grid, blending old traditions with contemporary twists. BH feels like a countryside town in a big-city shell, where both silly and important matters are settled around bar tables, day and night. With little rain and mild temperatures (an average 79 F in summer and 74 F in winter), it has some of the best weather in the world. Put on your comfy shoes and hit the streets early (and hungry!) for a perfect day around BH.
Mercado Central is where locals and tourists alike buy cheeses, fruit preserves, cachaças, artisanal sausages, spices, rope tobacco, gemstones, enamelware, handicrafts, and much else produced in Minas Gerais. Mercado Central is also a great spot for sampling traditional mineiro dishes. Start your morning like most people from Minas Gerais: eating baked goods with a strong, rich coffee.
Pão de queijo, a gluten-free cheese bun, is an institution. Every family claims to have the best recipe, so the only reasonable option is to try a lot of them and rank them yourself. Start at Café Dois Irmãos. There's freshly baked pão de queijo, biscoito de queijo, and broinha de queijo—order at least one of each. Biscoito de queijo is similar to pão de queijo but crunchier. Broinha de queijo—my favorite—is sweet, made with corn flour and cheese, creamy on the inside, with a caramelized crust that melts in your mouth. Also try the house espresso, made with beans cultivated in Lavras, a southern mineiro region known for its quality arabica coffee.
In a tour around Mercado, the main star is queijo mineiro (mineiro cheese). Although its name changes according to the region it's from—canastra, do Serro, Carmópolis, etc.—mineiro cheese is made with only raw cow's milk, rennet, and salt, but its tastes and textures vary by terroir and aging process. Ask to try a sample of each. Cachaça is also proudly made in Minas, and the variety is colossal. It's possible to sample cachaças as well if you're OK with morning drinking.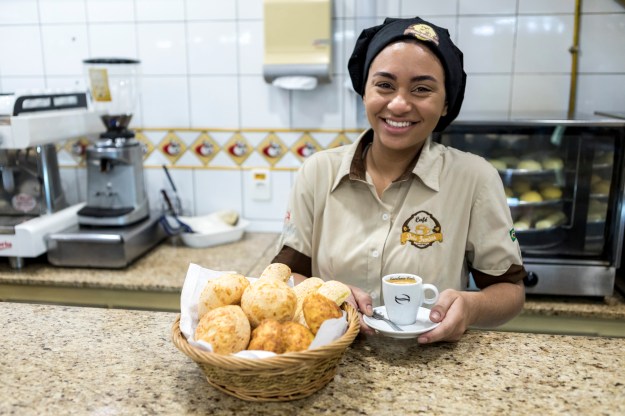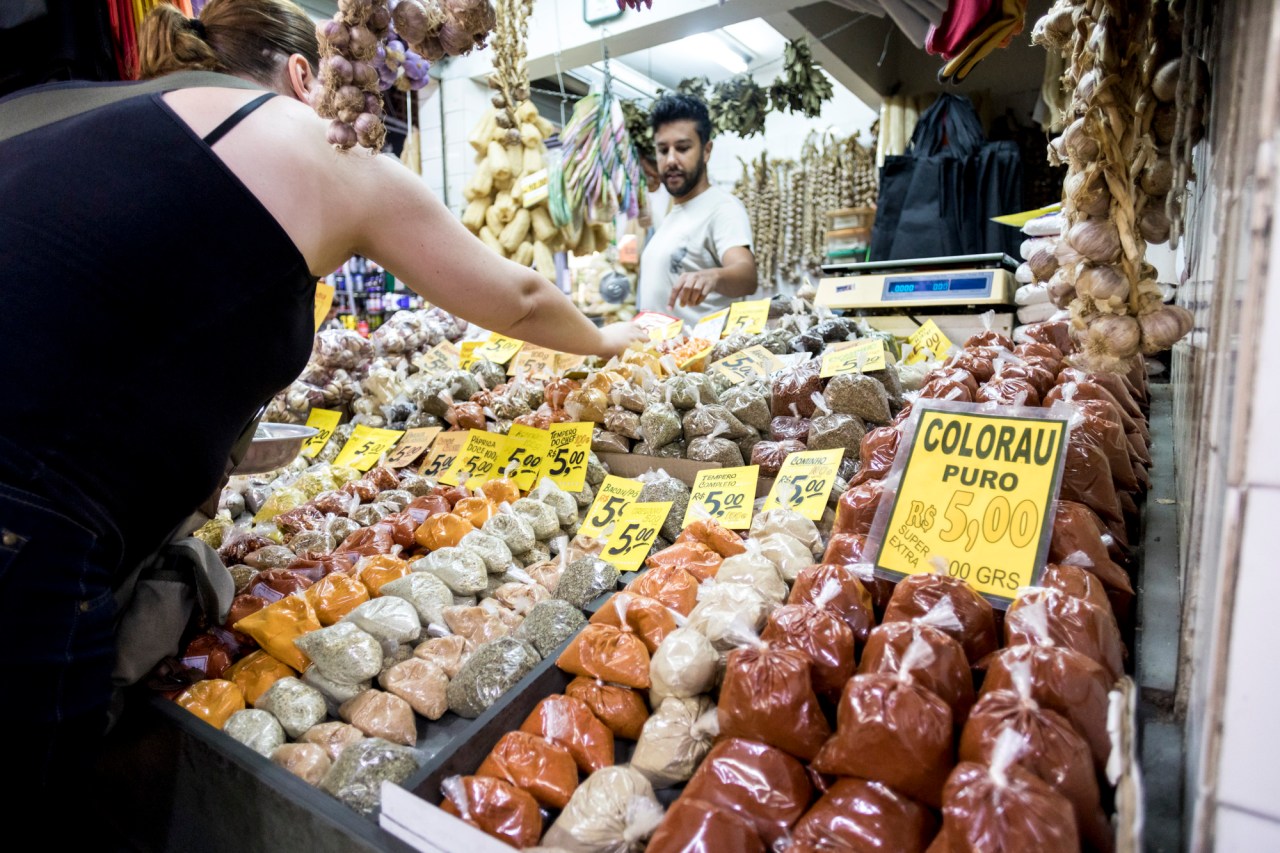 The best shops in the market have a cozy, slightly chaotic vibe, so don't fall for the hipster, ready-for-tourists ones. And don't worry if you get lost—everybody does in the maze-like corridors. Just keep walking and discovering what the market has to offer. Locals are usually happy to chit-chat, help with directions, and give their own tips on what to eat, see, and buy at their beloved market.
Don't leave Mercado Central without buying a snack at Empório Árabe e Delikatessen d'Hana, whose Lebanese-born owner, Hana Ahmad Khaouli, opened the place in 1987. She says Mercado Central reminds her of Damascus' souks. My go-to snacks are the moist and spiced kibes, both the traditional variety stuffed with ground meat and onions and her vegetarian creation with cheese, olives, and Middle Eastern spices.
Walk up Augusto de Lima Avenue and enter Edifício Maletta, a mall that has historically been known as a gathering place for artists and bohemians. Leftists used to meet in its bars to speak freely against the military dictatorship that lasted from 1964 to 1985. Along with bars and restaurants (go back at night another day), there are interesting used-book shops on the second floor. Go up the broken escalator and explore. Besides books, they have a huge variety of vinyl, comics, photographs, and old postcards.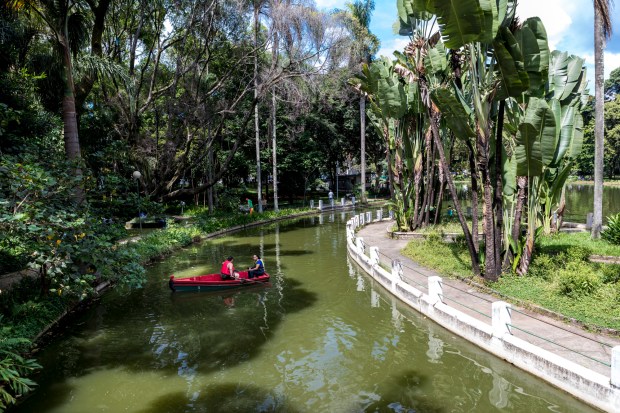 Now head to Parque Municipal, downtown's lungs, with over 280 tree species and even more ornamental and medicinal plants. It's also a shelter for many wild birds. If you're lucky, you'll spot a toucan or flocks of parakeets. Buy fresh coconut water at the park and have a picnic below the trees with the snacks you bought at d'Hana. Inside the park there are artificial lakes, a theater, a rusting amusement park, and the city's most traditional cultural center, Palácio das Artes.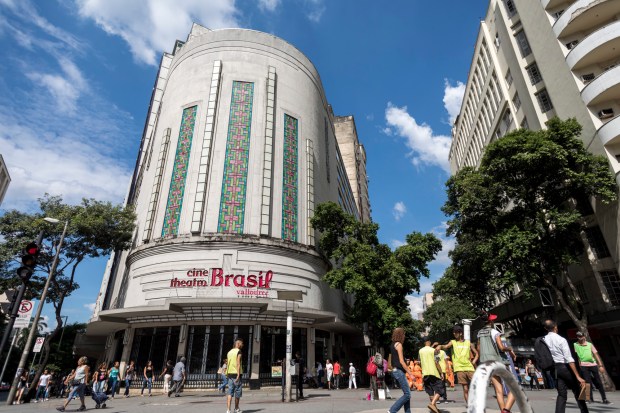 A few blocks down Afonso Pena Avenue is Praça Sete, the busiest square in the city. There is lots of life happening within its four closed corners. Watch and listen as old men play chess and checkers, indigenous people sell jewelry and other handicrafts, street sellers hawk their goods, businessmen walk hastily, and private organizations ask for donations. In the middle, there's an obelisk known as Pirulito, which is a Brazilian word for lollipop (and a childish expression for a penis). My favorite building in the area is Cine Theatro Brasil. The cinema, built in 1927, was the first art deco architecture in Belo Horizonte and the tallest building for a few years. It's now one of the shortest around, completely restored, and a good place to stop and use the toilet, drink some water, and appreciate the intricate woodwork in the walls and floors while you're there.
Hungry? Café Palhares is only a block away. Founded in 1938, it's a small bar lined with a long counter and tall stools to accommodate as many clients per hour as possible. Really, really friendly waiters treat you like a regular even if it's your first visit. A classic among elders, laborers, and foodies alike, Palhares serves only one dish: KAOL, an acronym for cachaça, arroz (rice), ovo (egg), and linguiça (sausage). The plate also comes with farofa (flavored coarse cassava flour) with beans, braised couve (kind of a Brazilian kale), and tomato sauce. It's a simple meal that Palhares elevates to poetry: The softly fried egg yolk running down the rice and blending with the well-seasoned tomato sauce is glorious. Nowadays the cachaça costs extra. A cold beer goes well too.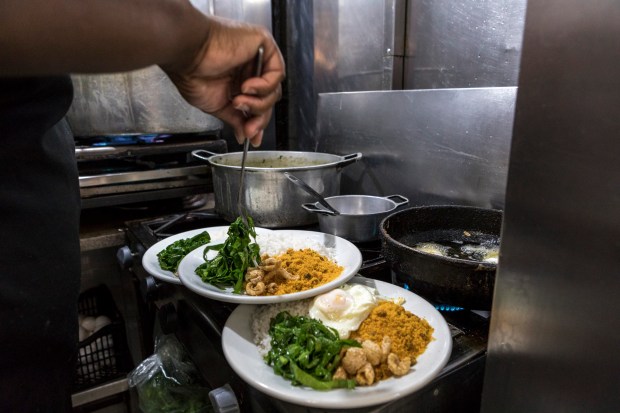 After this heavy food, you'll need a break. Enough walking for now—take a taxi or Uber/Cabify to Academia do Café, a small coffee shop that's also a barista training school. The relaxed environment means that some people use it as an informal office. Order a coffee tasting to try various local beans and extractions. If you have still room for a pão de queijo, why not?
2:30
pm
Praça da Liberdade
Praça da Liberdade, s/n
Funcionários
Get Directions
Hire another car to go to Praça da Liberdade, built to be the city's epicenter. Facing tall palm trees and luxurious gardens, the Palácio da Liberdade is where the governor of Minas Gerais rules over the state. The other neoclassical buildings around the square were turned from state departments into cultural centers and are part of the Circuito Liberdade.
Standing proudly in one corner is the Niemeyer Building, a classic modernist piece of architecture. Its seductive waves in reinforced concrete were built in 1954 by Brazil's best-known architect, Oscar Niemeyer. Unfortunately, since it's residential, you can't enter unless you know somebody who will invite you in.
Next to it is Centro Cultural Banco do Brasil, with generally good and often great contemporary-art exhibitions—and free entrance! On the other side of the Centro Cultural are more museums, my favorite being Memorial Minas Gerais, where rooms filled with interactive installations will help you experience Minas' cultural traditions and soul.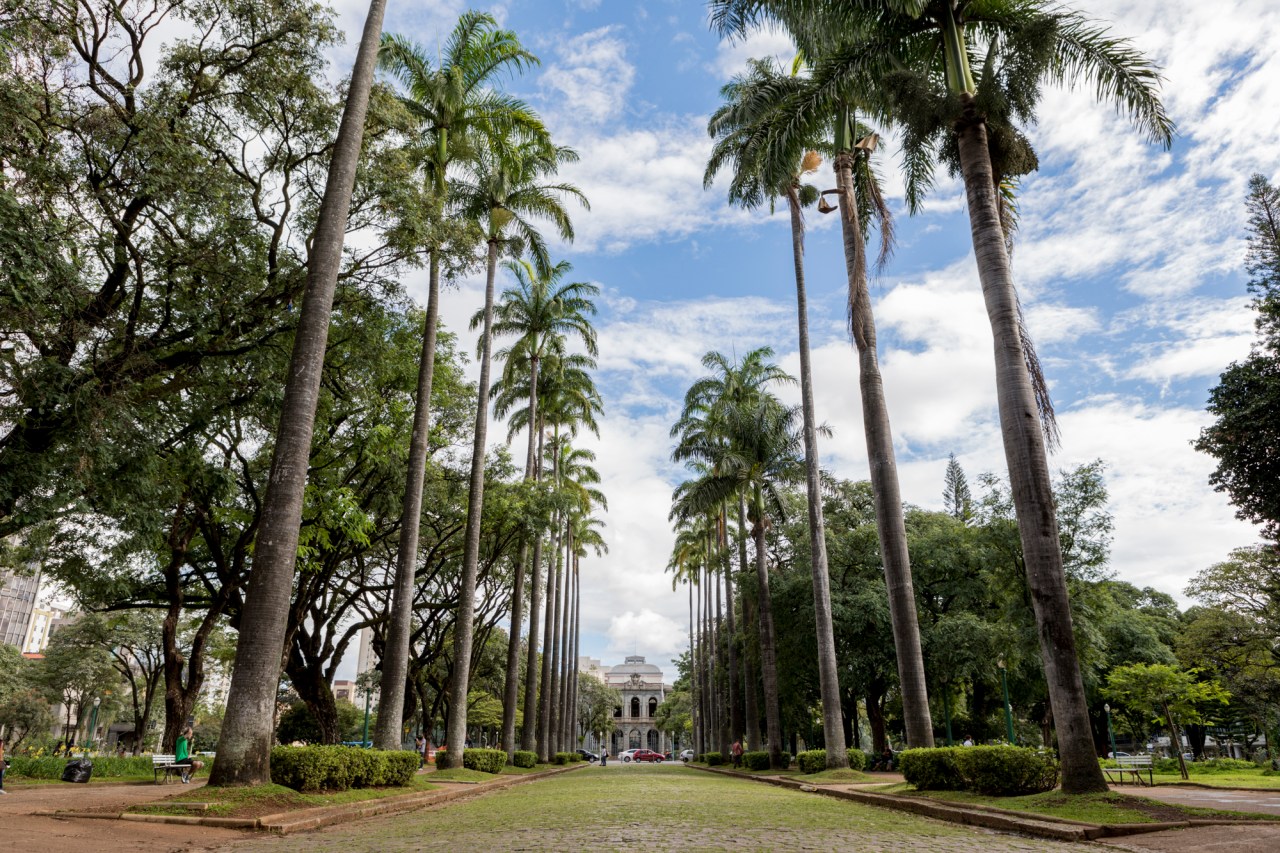 5:00
pm
Viaduto Santa Tereza bridge
Viaduto Santa Tereza
Floresta
Get Directions
There is a reason why the city is called Belo Horizonte (Beautiful Horizon), and there are many great sunset spots for appreciating its gorgeous sky. Walk down from Praça da Liberdade through tree-studded Bahia Street and then by Viaduto Santa Tereza bridge to get to Sapucaí Street before the magic hour.
Sapucaí, located right in front of Estação Central (Central Station), is growing as an artistic and gastronomic boulevard overlooking the city skyline. The sun sets behind buildings painted with colorful graffiti. The graffiti was a gift from CURA (Circuito Urbano de Arte), a women-led festival that wants to heat up the city's urban art scene.
Watch the sky's colors change from a stool just outside Dorsé Bar e Restaurante, where you can taste local craft beer and order coxinha de tapioca, divine fried cassava dumplings stuffed with shredded carne de sol (mineiro jerk beef) and cheese.
The city lights are now lit, and there's a picturesque place to relish them right in the city center. Top Bar is located on the 24th floor of a commercial building next to São José Church, back on Afonso Pena Avenue. Ride the old elevator to the 23rd floor and then climb one set of stairs before crossing through a narrow, unattractive door.
Inside, colorful blinking lights illuminate a dance floor surrounded by holographic wallpaper and concrete stalactites protruding from the ceiling. Tables by the windows have two seats arranged side by side—like airplane seats with the tray tables down, but even less comfortable. Tacky music is the finishing touch on the old-style romantic ambiance.
Despite all the stimulation on the inside, it's still impossible not to be mesmerized by Top Bar's view of the city. Street lamps on Afonso Pena light the way up to Serra do Curral and down to the bus terminal. There isn't much food on Top Bar's menu, but the view and the kitschy decor are worth a stop for a beer before dinner.
Walk back down Viaduto Santa Tereza and wend your way through the streets to the Santa Tereza neighborhood, a charming residential area where musicians gather to improvise at bars. Bitaca da Leste is a small bar and store with a record player, a few vinyls to choose from, and tables on the sidewalk.
Young owners Luiz Paulo Mairink and Alice Maciel prepare hearty meals with traditional ingredients. Try the crackling pork belly (crunchy skin on the outside, fatty, tender meat on the inside). The menu varies according to the season and day of the week. Ask for the special and trust the chef. Bitaca also has creative vegetarian options prepared with vegetables you've probably never tasted, like ora pro nobis, taioba, and jiló. Oh, and craft beer on tap.
Walk down Capitão Bragança Street to Zona Last, an LGBTQ-friendly bar that is the perfect place to enjoy warm city nights. There's artificial grass on the other side of its narrow street, and the crowd often blocks off traffic. Try the cachaça de jambú (made with an infusion of Amazonian flowers that numbs your mouth) straight from the northern state Pará. Local cachaças, drinks and, of course, beer are also on the menu. The bar doesn't have a kitchen (you're probably stuffed already anyway). This is a place to meet people and dance on the street. If you have any energy left, cross Silviano Brandão Avenue and dance off the rest of the calories you ate and drank today at Velma. The small, cheerful, often crowded nightclub stays open until morning with parties that vary from electronic to Brazilian northern music.