Mayor John Fetterman is waiting for Anthony Bourdain.
It's June, and Fetterman is inside the much-ballyhooed new restaurant, Superior Motors, on the ground floor of a converted Chevy dealership in downtown Braddock, a once-booming steel town.
He chats with the members of Bourdain's crew already on hand. He chats with his wife, Gisele Fetterman, who is joining the two of them for dinner.
When Bourdain arrives, introductions are exchanged, if not entirely needed.
The three grab a table, and the cameras roll. Plates of walleyed pike and scratch-made bread with house-cultured butter issue forth from the kitchen. A conversation begins that will cover not only the food before them, but everything from President Donald Trump's insurgent success in this part of the world to the sometimes uneasy evolutions underway in Rust Belt towns like this one.
Superior Motors, located literally downstairs from Fetterman's home and across the street from Braddock's shrinking but still pivotal steel mill, is a symbol of just this type of cultural shift—a high-end eatery in a town that has spent the last several decades dogged by poverty, out-migration, and underdevelopment.
But, as the restaurant's arrival signals, that's slowly beginning to change. Fetterman knows this. He's talked about it before: the need to revitalize with roots, the need to evolve without evicting.
He talked about it when running for mayor of Braddock—and winning by a single vote—in 2005.
He talked about it when running for U.S. senator from Pennsylvania—and losing—in last year's Democratic primary.
He'll talk about it again when he makes another run for the Senate in 2022.
But he'll also speak of those places, unlike Braddock and nearby Pittsburgh, with little to no change underway. Those places with draining optimism and only distant heydays left to tout. Those cities and towns, for instance, without a Superior Motors to call their own. This is Fetterman's big-tent brand, so to speak, one as liberal as it is large.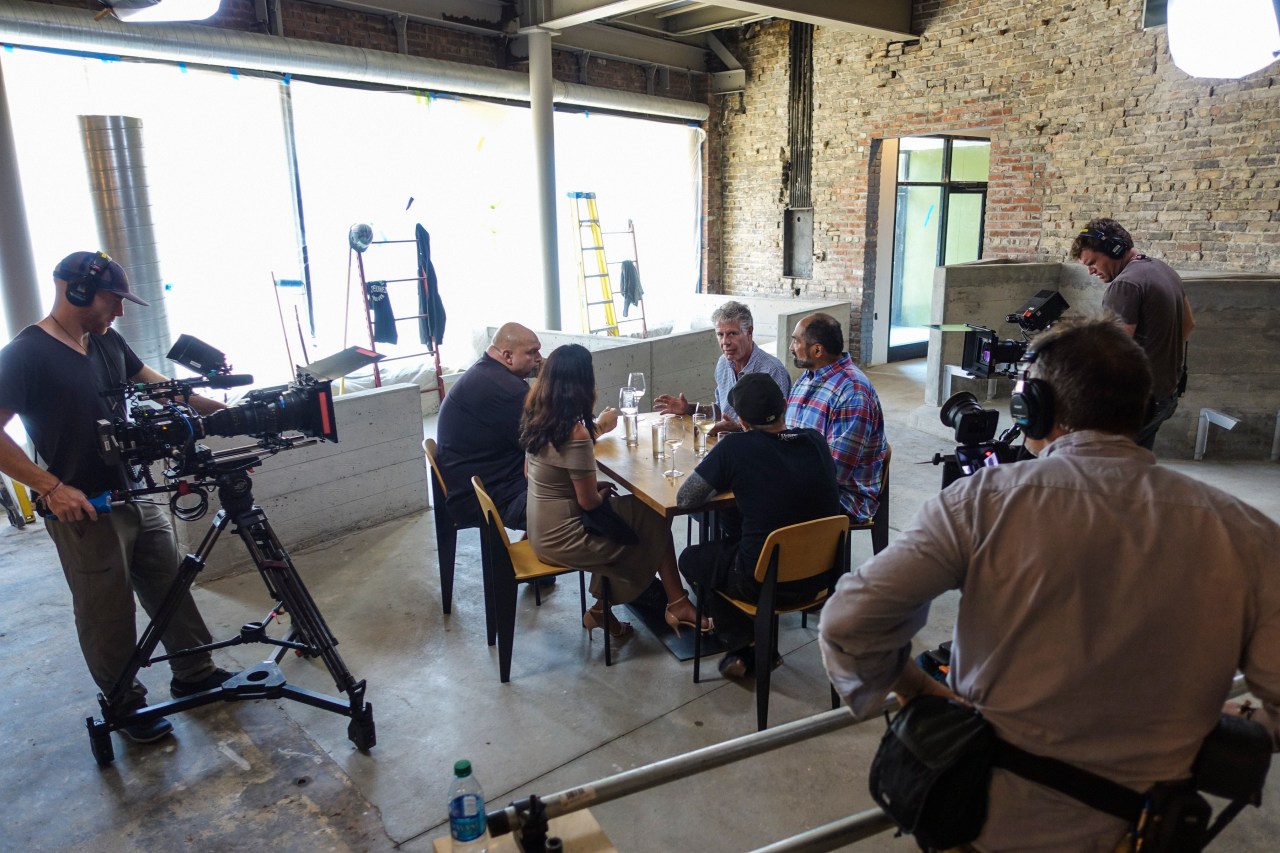 In the wake of the 2016 election, he emerged as a populist hero of sorts. Some say he is the heir apparent to Sen. Bernie Sanders's progressive momentum and a possible conduit between the Democratic Party and its most disillusioned rank-and-file members—many of them spurned Sanders supporters.
Fetterman has also been looked to as a means of bridging the arguably gargantuan gap between his Democratic Party and Trump voters, at least those who responded to Trump's economic message more than anything else.
There's good reason for this.
Fetterman, much like Sanders, has warned of the effects of globalization on the American workforce and on towns like his. He's also presented himself as a champion of a forgotten working class.
Perhaps more crucially, though, Fetterman's own parents are Trump supporters.  
While he was running for U.S. Senate on a pro-refugee, pro-police accountability, and pro-immigration platform last year, Fetterman's parents had a Trump sign planted in their front yard. Weeks after the election, at Thanksgiving, Fetterman says the family largely avoided talk of politics. For the most part, that continues to be the case.
"It's not contentious or anything," Fetterman explained. "It's just one of those things we don't talk about, and my parents are ridiculously, wildly over-the-top supportive of me."
To understand Fetterman's appeal is to understand idiosyncrasies like these, the same that have beguiled his supporters and propelled a steady stream of media coverage throughout the years.
And that idiosyncratic well runs deep.
For starters, Fetterman is a 6-foot-8, Harvard-educated Rust Belt revivalist with Braddock's ZIP code (15104) tattooed on his left forearm. His politician's wardrobe is made up almost exclusively of oversize charcoal-colored, short-sleeve button-ups and gray cargo shorts. He's a white mayor in a majority-black town. He's also a political outlier who garnered almost 20 percent of the vote in last year's Senate primary on, he says, a "shoestring budget."
His wife is also a Dreamer who came to the U.S. from Brazil and lived here undocumented for years.
The two met in Braddock, where Gisele went after reading a 2007 magazine article about the town and its unusual mayor. She was fresh out of college and working as a nutritionist in New Jersey when she decided to make the five-hour drive to talk food insecurity and public-health initiatives.
"I just read about Braddock and parts of it sounded like Newark," Gisele says. "I was drawn to Newark because it was a city that needed love and Braddock sounded like the same. I worked in food justice, so that's what I had to offer at the time. … I drove the Brooklyn Bridge and would think about the steel coming from Braddock to build it. It fascinated me."
She met John, and the two eventually eloped to Burlington, Vt., that mecca of northeast liberalism. They now have three children together, ages 3, 6, and 8.
Fetterman was also a transplant, drawn to what he calls Braddock's "malignant beauty."
He was born in Reading, Pa., and raised in York, Pa., some 200 miles to the east of Braddock, at the buckle of Pennsylvania's Farm Belt. After graduating college and while on assignment with AmeriCorps, he went to the faded industrial titan that was southwestern Pennsylvania and Pittsburgh.
He later left to attend graduate school in Cambridge, Mass., and ultimately returned, at which point he was offered a job with a Braddock program supporting "marginalized young people."
He's been here ever since and has been re-elected mayor four times. He's currently unopposed in the November race.
"There's a lot of things I'm glad we've accomplished, and it's all through establishing really great working relationships with really great partners," Fetterman says. This includes Levi's, which featured Braddock in a 2010 ad campaign. It also includes the regional nonprofits behind the launch of an urgent-care center that came here five years after the local hospital was shuttered, leaving residents to travel 20 minutes or more to the nearest ER.
"But the single thing I'm most proud of," Fetterman adds, "is that we went five and a half years without a loss of life in our community. That would be my back-of-the-envelope 'What are you most proud of?' answer." When asked for the corresponding timeframe, Fetterman extends his right arm, where the month, date, and year of each Braddock homicide since he took office are etched into his skin.
It wasn't always this way, with milestones measured in murders—or a lack thereof.
At one time, Fetterman says, Braddock was so prosperous that it "couldn't build housing fast enough and couldn't bring immigrant labor in fast enough." The steel plants boomed, including the 150-year-old Andrew Carnegie monolith across the street from Fetterman's home. At its height, U.S. Steel's Edgar Thomson Plant employed some 5,000 workers, Fetterman says. It is currently down to little more than 500.
"So it would have been as unimaginable for them to see this future here as it would be for us to go to San Francisco 100 years from now and see it in decline," Fetterman explained. "This place was so prosperous, and of course all that changed. And whatever metaphor you want, whether it's the Silicon Valley of its day, Braddock was defined by anything but decline until trends outside its own control took over."
Now there are early signs that Braddock's momentum may be shifting up again. In fact, Fetterman's June meeting with Bourdain took place in the dining room of one.   
Superior Motors has been a linchpin of Braddock's revitalization hopes for years, but what that revitalization could mean for the borough long term remains unknowable.
Fetterman says the same could be said of almost anywhere or anything.
"I mean it's unambiguously good, it's a wonderful development for the community," he says of the restaurant. "Around half of the employees are Braddock residents, and it gives people an entirely new way to come out and experience Braddock."
He pauses.
"But of course there are no guarantees—there's no guarantee we're gonna wake up tomorrow—but the response has been overwhelming."
Published in partnership with The Incline.