More than 150 languages are spoken in Queens, the most diverse borough in New York City and one of the most diverse places in all the world. And there just as many ethnic restaurants—from Bhutanese billiard halls and Mexican seafood cocktail stands in the back of bodegas to northeast Chinese lamb leg feasts and street-side tofu vendors—as there are languages spoken. Take your stomach on a world tour—Bhutan, China, Bangladesh, Mexico, Thailand and more—all without ever whipping out your passport. All you need is a MetroCard and access to the 7 train, a.k.a. the International Express.
Stop: Main Street/Downtown Flushing Chinatown
Joe's Steam Rice Roll
The Chinese name of this place, Shi Mo Chang Feng Wang, or "Stone Milled Rice Roll King" says it all. Unlike many other chang feng, or rice roll purveyors, Joe Rong doesn't use pre-made rice flour. He grinds his rice into a powder using a stone mill, just like they do back home in Guangzhou. The result? A luscious, light broad roll of noodles perfumed with rice. There are over a dozen fillings available including beef, shrimp, pork liver, egg, red-tinged char siu, and roast pork with crisp skin. For an old school combo try shrimp and egg.
Soybean Chen Flower Shop
This bright and cheery spot run by Mr. and Mrs. Chen has the distinction of being New York City's only place to get fresh flowers and even fresher tofu. Creamy curds of hot dou hua, or flower tofu, are scooped out from a cart tucked in the store's front window. Choose from two sauces: saline, a combination of chili, crunchy pickled greens, and salty dried shrimp, or sweet, which blends ginger and sorghum syrup.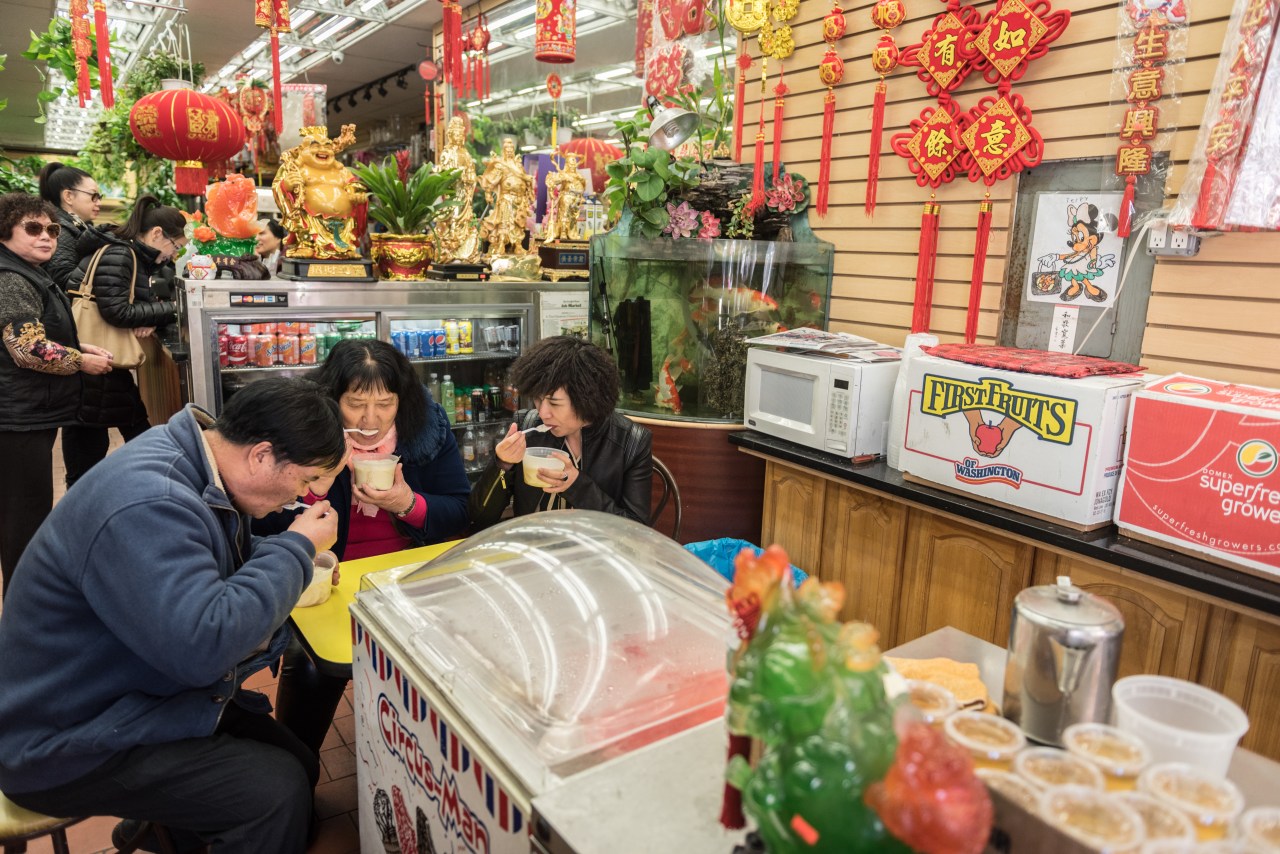 Desired Taste International
There are many places in the neighborhood to score fatty lamb skewers kissed by hardwood smoke and seasoned with red pepper and cumin, but there's none quite like Desired Taste International. That's because the Dongbei spot serves up the largest—and tastiest—lamb skewer around. Listed on the menu as "roast lamb leg," kao yang tui is a haunch that sports a salty cumin and pepper scented crust that gives way to deep purplish flesh. It will set you back about $90, but it's worth every penny. For dessert, try the grilled durian.
Stop: Junction Blvd.
Warren Street/Little Ecuador
With more than half a dozen street food vendors selling everything from the succulent, crisp-skinned roast pig known as hornado Ecuatoriano sided with giant, starchy kernels of mote, or hominy corn, to guatita, tripe in peanut sauce, and bolons, mashed plantains stuffed with pork, the corner of Warren Street and Roosevelt Avenue is a veritable Little Ecuador. For a real treat go there during the World Cup and take in an Ecuadorean match on one of the large-screen TVs that the Mini Picanteria El Guayaquileño truck sets up.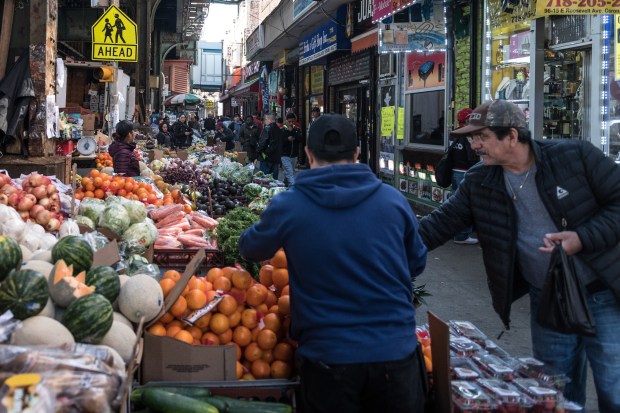 Tortas Neza
Like many of his paisanos Galdino Molinero, the Mexico City-born sandwich artist behind Tortas Neza, is obsessed with soccer, and he has the tattoos to prove it. His arms are dedicated to his favorite team Pumas de la UNAM. He's also obsessed with the gigantic Mexican sandwiches known as tortas. The undisputed king is the torta Puma named for his favorite futbol club. Be prepared to bring a 13th man to eat it. It's larger than your head and stuffed with a chorizo omelet, fried hot dogs, a fried chicken cutlet, several slices of ham, head cheese, lettuce, and a fistful of Mexican cheese.
Stop: 82nd Street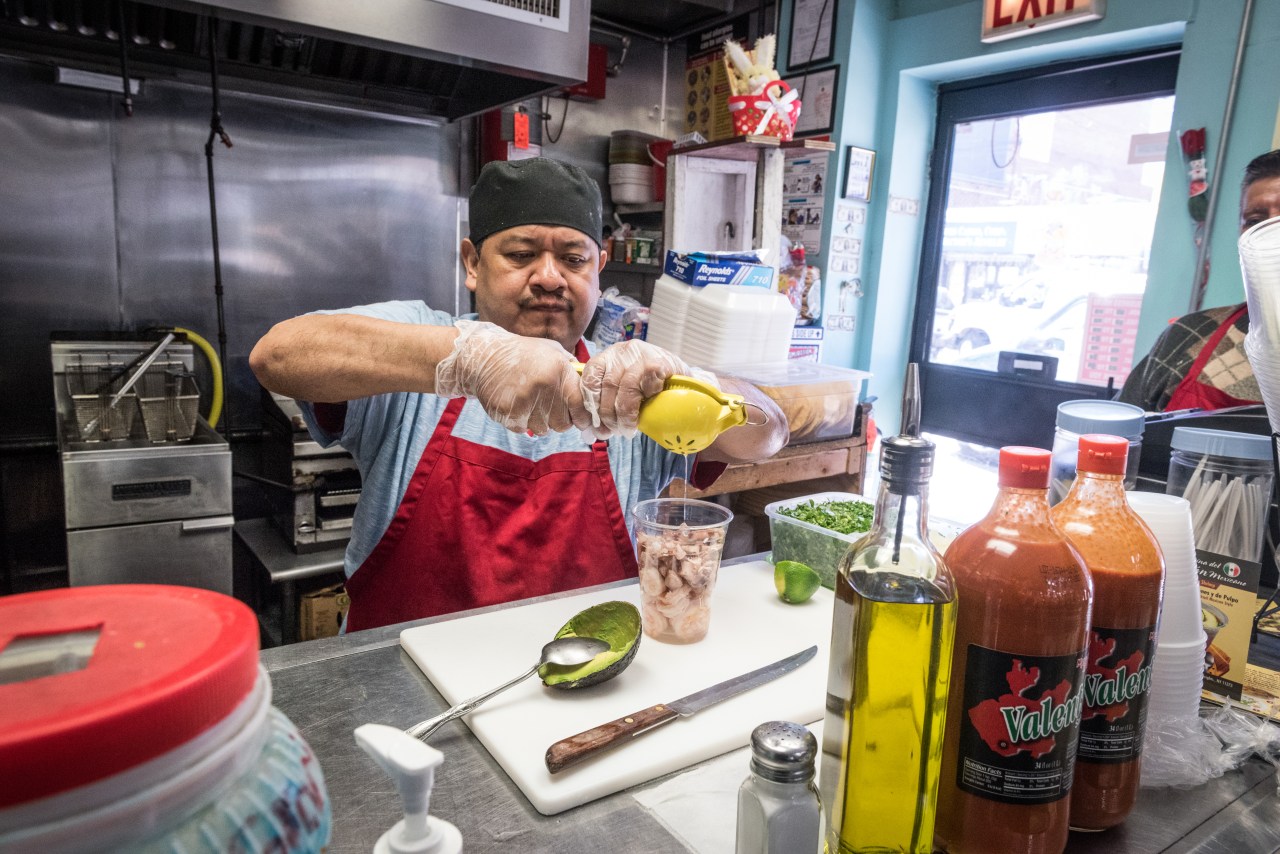 La Esquina Del Camarón Mexicano
The best Mexican seafood restaurant in Queens isn't a restaurant at all, it's a two-table operation in the back of a bodega where Pedro Rodriguez whips up specialties from his hometown of Veracruz, including octopus tostadas, seabass empanadas, and Mexican seafood cocktails, or cocteles, as they're known back home. The specialty of the casa is the mixto, a combination of octopus and shrimp olive oil and a goodly pour of his tomato-based secret cocktail sauce all topped with cilantro, onion, and avocado. Add a splash of Valentina hot sauce and some crumbled saltines and dive in.
Stop: 74th Street-Broadway
Baul Dada Jhal Muri Shop
Ask Baul Dada about his Indian chaat and he'll whip out a green flag with a red circle and declare, "I'm from Bangladesh!" as is his specialty jaal muri. The Bangladeshi chaat is so popular that there's even a phone card named after it. An order of the spicy puffed rice will set you back $3. It's a sensory overload of a snack consisting of puffed rice, kala chana (black chickpeas) chopped tomatoes, cilantro, green chili paste, red onions, crunchy dried soybeans, cilantro, spicy fried noodles, and mustard oil. Available from 3:00 p.m.-10:00 p.m. only.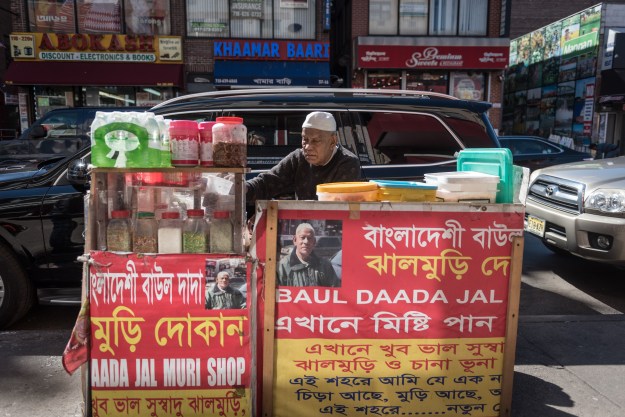 Raja Sweets & Fast Foods
This lovely Punjabi-run establishment specializes in North Indian vegetarian fare, including several chaats. Go for an order of dahi puri, six crispy orbs filled with potato and chickpeas drizzled with coriander and tamarind chutneys and topped with yogurt and sev, crunchy bits of chickpea flour noodles. Served cold, the puris explode with all manner of textures and flavors. For dessert grab an order of warm gajar halwa, a buttery carrot based mash that's astoundingly good. 
Stop: 52nd Street/Roosevelt Avenue
Weekender Billiard
Snooker and spicy food are the specialties at this Bhutanese pool hall in Woodside. Ema datse, the Bhutanese national dish that eats like a Himalayan queso, is available in several varieties. The most traditional consists of little more than long green Italian hot peppers and cheese. Pair it with a hearty plate of red rice. Cabbage and cheese momo dumplings are excellent as is bumthang puta, a tangle of nutty, cold buckwheat noodles seasoned with garlicky chili oil and just enough Sichuan peppercorn to make your mouth tingle.
Stop: 46th Street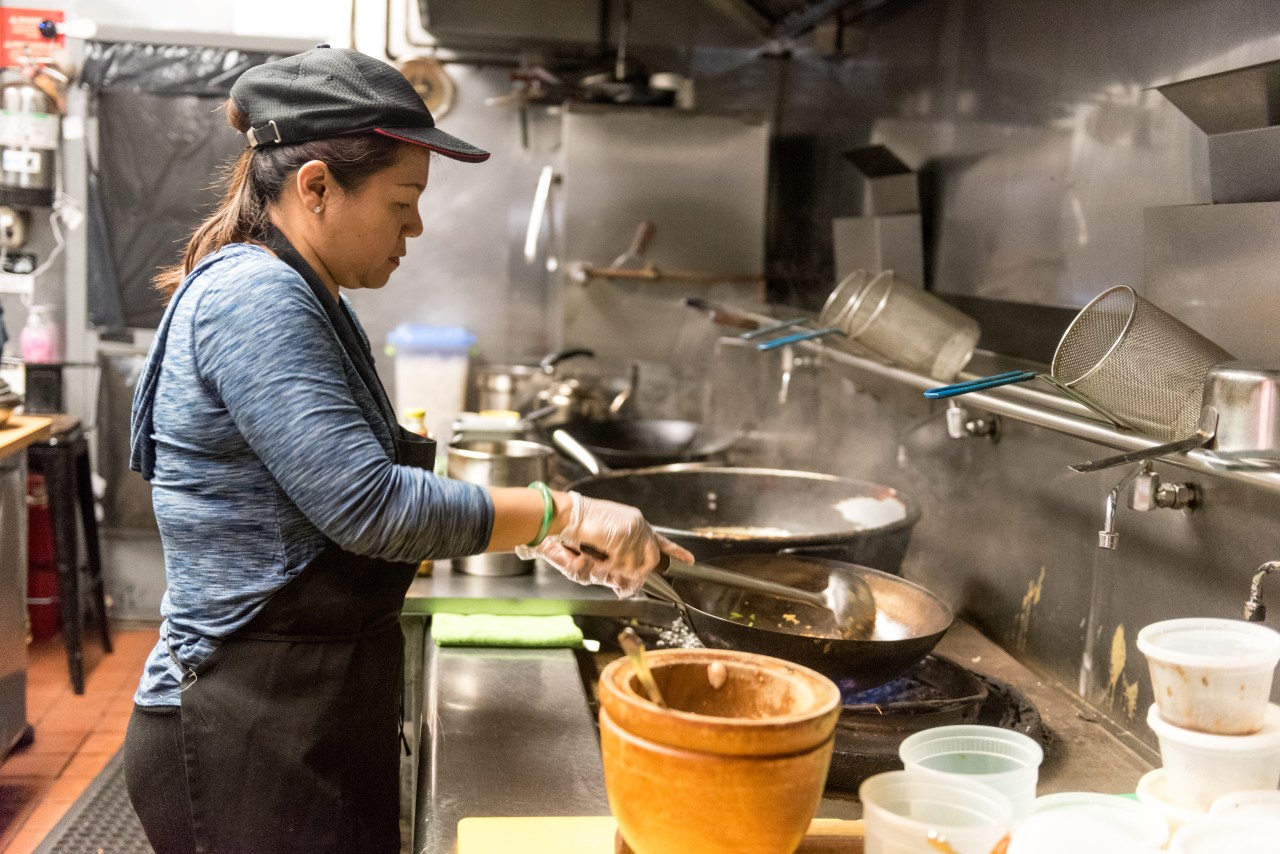 Thai Diva
At first glance, Thai Diva, with a menu that features such farang-friendly favorites as pineapple fried rice and pad Thai, looks like a run-of-the-mill spot. Ask for the Northern Thai menu though and you'll experience some of the most vibrant Thai food being cooked in Queens. Kwanthong Jamsaidee hails from Chiang Mai and cooks up a lovely tum kanoon, a tangle of young jackfruit, piquant chilies, and vibrant kaffir lime leaves.  Khanom jeen nam ngiao, a tangle of vermicelli noodles and pickled greens served alongside a rich tomato and chili-based broth bobbing with meaty pork ribs and dried dok ngiw flowers is another specialty. Combine the two for the best Thai style pork ragu in Queens.
Stop: 45th Road-Court Square
John Brown Smokehouse
Kansas City native Josh Bowen brings real deal low and slow Kansas City-style barbecue to Long Island City with his down-home restaurant that features kick-ass live blues in a garden out back. Don't miss the burnt ends—double-smoked nuggets of brisket that eat like meat candy. Other standouts include the pastrami, rib tips, and a souffle-like corn bread. For a real Queens twist, side your 'cue with some radish kimchi.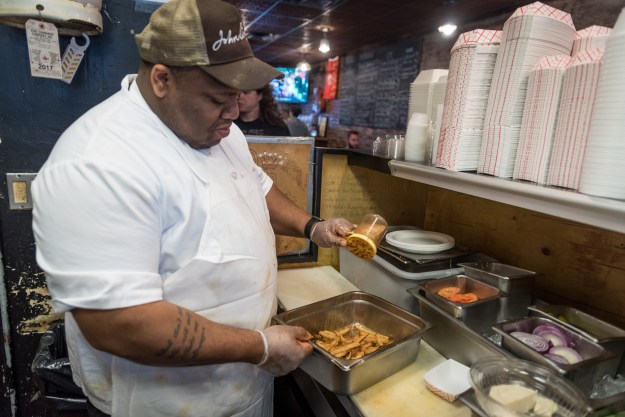 Stop: Vernon Blvd.
Sugar Cube Dessert & Coffee
The offerings at this sleek shop owe as much to confectionery as they do to Greek culture and design. Sugar Cube is the brainchild of architect Peter Zaharatos, who uses a 3-D printer to generate molds for his chocolates as well as the models for the shop's sleek design. The gem-like chocolates come in 10 flavors, including salted caramel, pistachio, mint and dark ganache. Ekmek kataifi—a dollop of pistachio creme fraiche atop a cloud of custard infused with mastiha, a slightly piney flavoring made from evergreen sap, all resting on filaments of shredded wheat soaked with a honey-orange syrup—speaks to Zaharatos' Greek heritage.