From Uzbekistan's flagship carrier to the Sardinia-based Meridiana Airlines, from LOT to JAL and TAME to TAP, more international airlines and passengers arrive at JFK International Airport than any other airport in the Americas. For travelers, that doesn't just mean braving JFK's notorious immigration queue. It also means layovers. Often long ones, in an airport that doesn't offer a lot of joy for travelers. If you've got more than three hours between flights, though, there is very good news nearby. It's called Queens, and you can quickly see as many glimpses of the wide world by ducking out of the terminal for a quick mission to southern Queens and parts of southeast Brooklyn as you could by hitting any spot on the JFK flight board.
Singh's Roti Shop & Bar
It's hard to describe all the things that Singh's is to the uninitiated. Is it a diner? A bar? Neon-lined Caribbean disco? It's sort of all of those things, so it's best to start by just mentioning the soft drinks. There is no testament to West Indian authenticity like a line of homemade soft drinks whose taste and texture are largely unknown north of the Antilles. Singh's has sea moss, thickened with red algae (a rumored aphrodisiac); mauby, a slightly bitter soft drink made from tree bark; sorrel, the bright and acidic hibiscus flower drink. Even beyond the drinks, the menu is a masterclass on the dizzying cultural mix of Trinidad & Tobago. There are lo mein and dhal puri and fried plantains, but the goat roti is what ropes me back every time. A classic West Indian street food, with homemade flatbread wrap enveloping a heavy, spicy stew with equal parts potato and goat meat. Watch for bones, buy a thick drink to douse the spice, and dream of islands far away.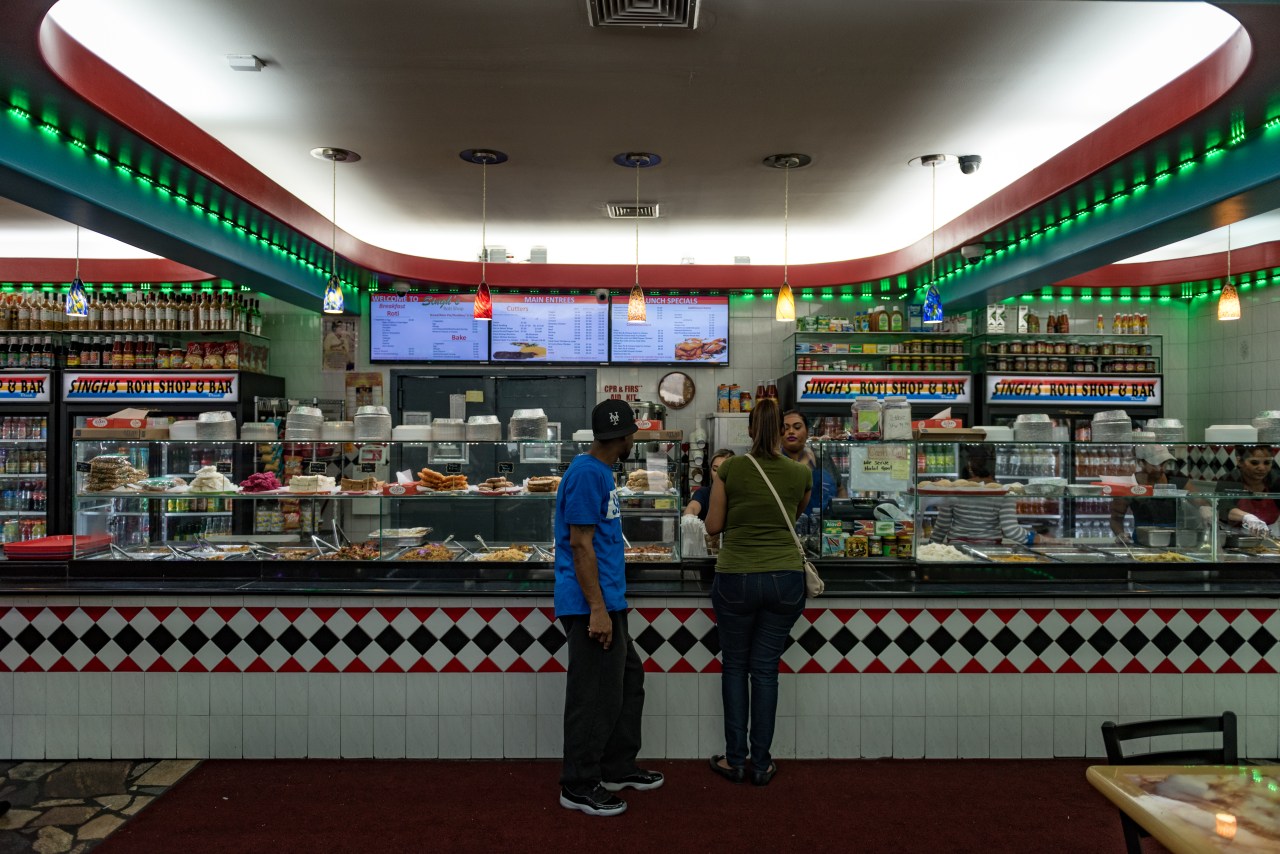 Grassy Point Bar and Grill
This tip may not have much of a shelf life, sadly. I visited the Grassy Point Bar and Grill in April and saw a massive wooden sign in the parking lot advertising Bar and Parking Lot for Sale. But inside, life was the same as I had left it the last time I sat at the round bar and pounded a Bud Light before heading home. Off-duty Broad Channel volunteer firefighters played darts and razzed each other. Two brothers argued about the family business. The Yankees were on all the screens at once. I remain endlessly fascinated by Broad Channel Island, a community of about 3,000 people between Howard Beach and the Rockaways. It's the only island in Jamaica Bay. It's largely white and working class. The whole island feels like it was airlifted from another time and place, and Grassy Point Bar and Grill is its living room. Grab a beer, strike up a conversation. And when you're traveling back at night into the rest of Queens, pull off the east side of the road, watch the A train glide across the Bay on above-ground tracks, see the big planes take off from JFK just a few hundred yards across the water, and marvel at the oddness of it all.
Don Peppe
Family travel, or, god forbid, group travel, is a constant dance with anxiety. Is everyone accounted for? Who lost their luggage? How much did all those plane tickets cost again? But size is a virtue at the southern Italian eatery Don Peppe, where every plate is a platter, and the smallest dishes feed four. The waitstaff is big-hearted and familiar, the food is pitch-perfect. Sure, the prices are heavy, but the sauces are light and besides, you're going to split the bill. The shrimp Luciano over linguine—delicate sweetness of shrimp and softened onion, just the right bite to the pasta—is one of my favorite dishes in any borough. And being at Don Peppe feels right because Italian culture runs so richly through this part of Queens. The sumptuous banquet halls of Howard Beach are monuments to Italian-American success. On the darker side, John Gotti ran the Gambino crime family out of the Bergin Hunt & Fish club in Ozone Park just a couple miles away from Don Peppe. But all the best versions of family play out here now—shared meals, good food, warmth, and comity.
Don Peppe
Location: 135-58 Lefferts Blvd, South Ozone Park, NY 11420
Phone: (718) 845-7587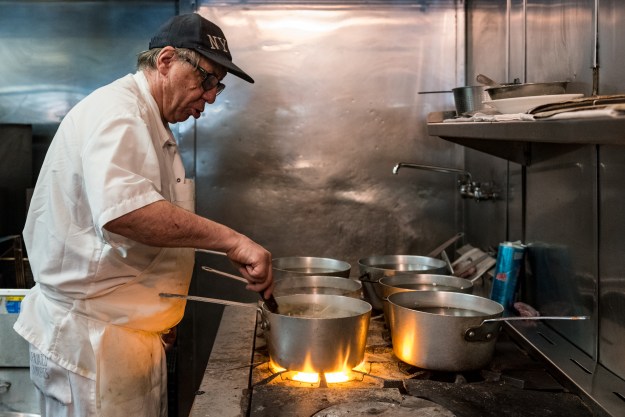 Tatiana
In the years that I covered Eastern Europe for Time Magazine, I found myself flying back into JFK from Slavic hinterlands and Black Sea resort towns alike with a compulsion to decompress in stages, like a diver avoiding the bends. Brighton Beach helped. In particular, the outdoor seating at Tatiana, where you can order cured slabs of fatback or platters of pickled herring and watch the life of the beach boardwalk walk by in all times of year (summer is Speedo season, winter is Shapka season, and they're all equally fascinating). The ever-changing open-air bar (now called Cafe-Bar Moscow, I believe) just next to Tatiana on the boardwalk is the true gem. It's a harder crowd here, professional drinkers smoking and pounding mugs of Slavic lager or downing shots of vodka from the freezer in the back. Yes, drinking is central to the entire boardwalk ("Vodka and Cognac pours like fountain Di Trevi in Rome," says Tatiana's website). But this is a gem of slurred conversations in Russian and claps on the back and impromptu bursts of song, and it makes me miss Russia dearly.
Tatiana
Location: 3152 Brighton 6th St., Brooklyn, NY 11235
Phone: (718) 891-5151
Aqueduct and Resorts World Casino
Set foot in the Aqueduct Race Track and you are entering a distinct subculture that cuts across class and race; where odd terms like bug boys and break maidens inhabit the minds of men buying inscrutable paper tickets from long rows of tellers or touchscreens. And they are almost all men, save for Laurie Woolever (Anthony Bourdain's co-author and fellow Aqueduct aficionado), who took Bourdain for a beer and a bet in his Queens episode of Parts Unknown. You can still bet offseason—throughout the late spring and entire summer after live racing moves to Belmont—but prepare for a certain sallow spirit to the place, shuffling men and discarded slips and signs everywhere offer self-exclusion, whereby problem gamblers ask to be banned from wagering. But I prefer this dustier gamblers den to the Resorts World Casino next door. True, you don't have to know any special jargon to play the Titanic-themed video slot machines or give your money to sultry virtual blackjack dealers, but the aggressively cheery lighting and endless halls of bright machines and cheap drinks lets you know that the whole thing is a happy con, and you are the blinded rube.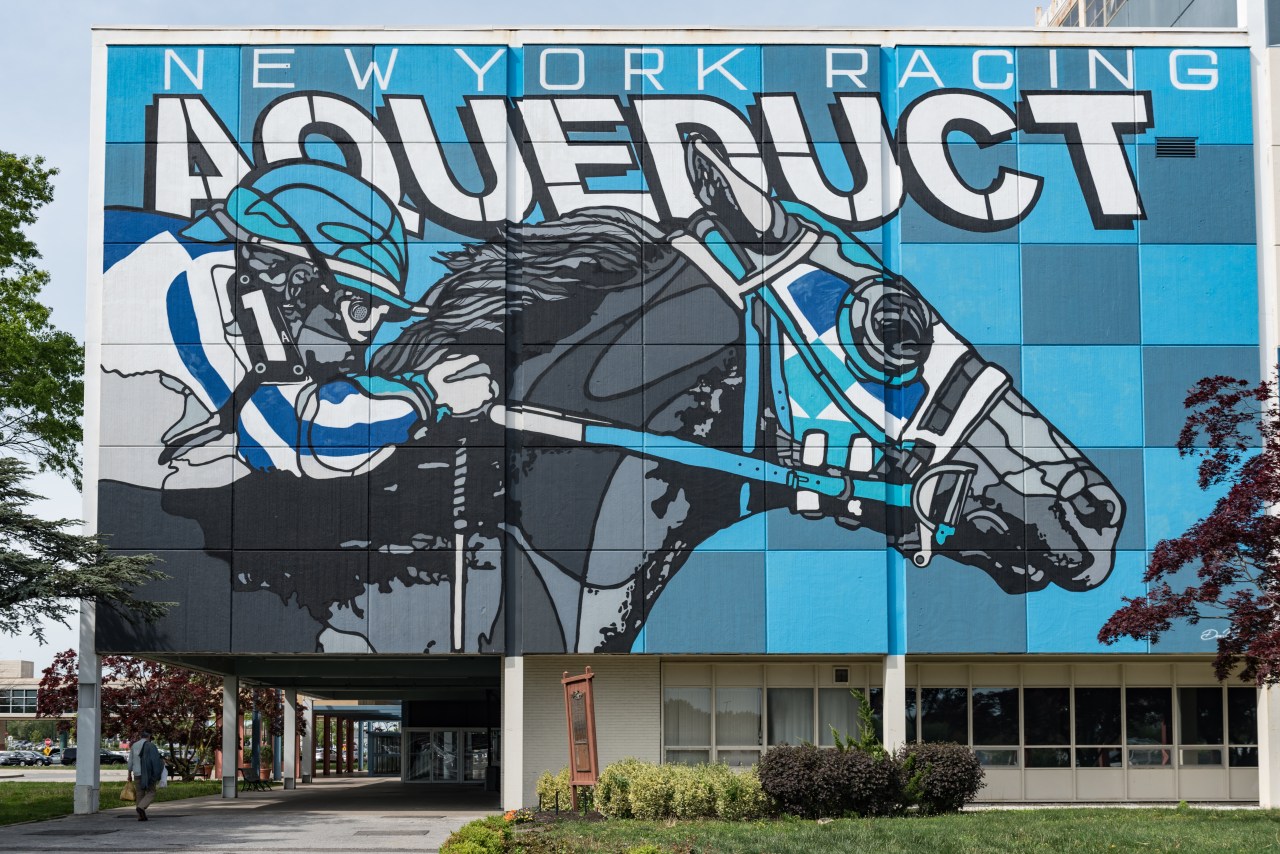 Kashkar Cafe
What started as a Russian beachhead in Brighton Beach is now rapidly morphing into a Central Asian oasis. The flavors are changing with the demographics, which is why the best food in Brighton Beach, in my mind, is now found at the tiny and hugely delightful Kashkar Cafe. A five-minute walk from the beach, the food is at least five thousand miles east of Moscow's steamed fish and cold cuts. Instead, this is Uyghur/Uzbek food. It's BYOB so grab a beer at the bodega on the corner, and go for the full experience: geiro lagman (hand pulled noodles with cumin-laced lamb); weighty manty dumplings; and a plate of the moist, spiced lamb pilaf. You could head back to JFK and travel an entire day utterly untempted by any foods that airlines or airport concessions have to offer.
Kashkar Cafe
Location: 1141 Brighton Beach Ave, Brooklyn, NY 11235
Phone: (718) 743-3832