Synopsis: Bourdain joins his old traveling companion Zamir Gotta on a weeklong tour of Moscow and St. Petersburg. Traveling on the eve of the 2014 Winter Olympics in Sochi—months before Russia would annex Crimea and a year before dissident Boris Nemtsov was killed—Bourdain drinks and dines with dissidents, artists, and former oligarchs, all of whom have felt the effects of Putin's increasingly autocratic government. Nearly 100 years after the October Revolution ended imperial rule, just how much has changed in Russia?
On Vladimir Putin:
"[He's] a former midlevel manager in a large corporation, short—I think that's very important, short—who has found himself master of the universe. And like a lot of short people, if you piss him off, bad things happen to you."
And like a lot of short people, if you piss him off, bad things happen to you.
"He strikes me as a businessman. A businessman with an ego. He's like Donald Trump—but shorter."
On political assassinations:
"Critics of the government, critics of Putin—bad things seem to happen to them."

[On the imprisonment and poisonings of prominent Putin critics] "I don't think you need to be a conspiracy theorist to say whoever did this very much wanted everyone to know whodunit. Everybody understands, and everybody is meant to understand."
I share my toilet with no man
On capitalism:
"You asked for capitalism, you got it, buddy. According to Reaganomics, it's the 'trickle-down theory.' So that means if I make lots and lots and lots and lots of money, that money will somehow trickle down to you. You know, my masseur, my garage attendant, my aromatherapist."

"I never had any dreams of growing up in a socialist wonderland. Like when there was a brief period where I was a hippie, the idea of living in a commune—not attractive to me. No way. I share my toilet with no man."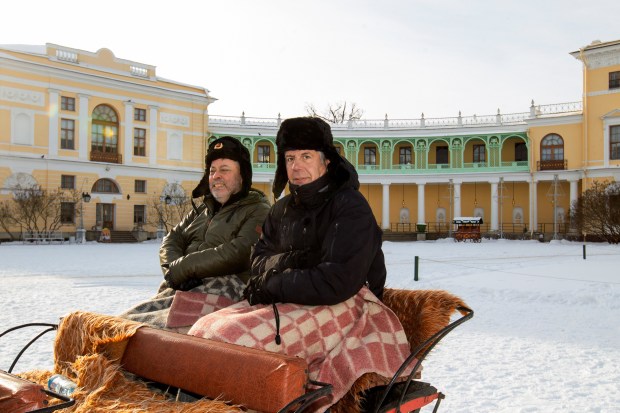 On demonstrations:
[At a public demonstration against Putin]

"This is nothing new for me. Blows against the empire, 'Street Fighting Man,' I go way back with this. I marched on the Pentagon with my dad when I was a kid.

"[If] that dog was aiming for my nut sack, my days as a dissident may be over quickly."

"The idea of running up the steps and disemboweling royals, I can easily

imagine myself doing that. It would not take much convincing."
Guests weigh in:
Zamir Gotta

: [On vodka] "Listen, why don't we just taste the awesome?"
Why don't we just taste the awesome?
Gotta

: "Up to high school [education is] still free. The quality is not as good as it used to be. People used to get a lot of things for free. Now it's coming to an end."

Boris Nemtsov (critic of Vladimir Putin, assassinated in 2015)

: "This is my country. The Russian people are in very big trouble. The Russian court doesn't work. Russian education declines every year. And I believe that Russia has a chance to be free. It's difficult, but we must do it."

Rouben Kazariyan (member of the rock band Louna)

: "There is something in rock music that unites everybody. It's something beyond politics. It's a certain energy, and this energy is the same in every country, in every city."

Matilda Shnurova (co-owner of restaurant Cococo)

: "The most popular thing [in Russia] is Italian-Japanese cuisine and karaoke." 

Bourdain

:

"Sounds like a nightmare." 

Gotta

: "Fusion, Tony. That's the word."

Bourdain:

"Where are we?" 

Gotta

:

"The Peter and Paul fortress, which used to be a burial place for the Romanovs, who were a little bit executed in 1917." 

Bourdain

:

"A little bit? They were very executed."