In Moscow, imperial-era cafes on prime real estate and food-media-famous chefs might distract the many traveling food hunters, but modern Russian cuisine is a broad church, and in Moscow, this is a particularly good time to worship. In the search for the shiny, innovative dishes, however, don't miss the joys of fast-food comforts or the treasures of long-held favorites such as the cuisine of Russia's southern neighbor Georgia. With Moscow's newfound confidence in its culinary bounty and local ingredients and a bewildering number of classic and bleeding-edge options, it can be hard to know where to start or finish. Here's a day's worth of eating (and drinking) through central Moscow that showcases the city's exuberant variety, covering high, low, old, new, weird, nostalgic, fast, and cheap—but always good.
Teremok
When McDonald's opened on Moscow's Pushkin Square in January 1990, it was Russia's first fast-food restaurant. Now there is a rich array of international and local fast-casual dining options. The Arbat, Moscow's elegant pedestrianized artery, has a Shake Shack, a KFC, and even a Coyote Ugly—a chain of cheesy bars inspired by the 2000 movie with that name. Skip those and head to Teremok, which started out as a small kiosk in Moscow in 1998 and soon blossomed into a local chain competitor of McDonald's slinging fast and good blini (Russian crepes) with red caviar instead of Big Macs. For breakfast, order a buttery blin with shiny salmon roe or try the E-mail blin, which comes with mushrooms and melty cheese, as all email should.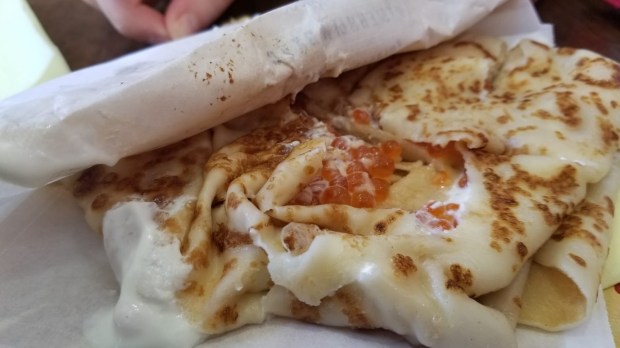 Est Khinkali Pit Vino
Head toward the leafy, affluent Patriarch's Ponds district to Cafe Est Khinkali Pit Vino (Eat Khinkali, Drink Wine). This is a welcoming, airy space with a cozy interior, offering, among other Georgian specialties, khinkali—huge, delicious soup dumplings filled with savory broth and minced lamb, pork and veal, or cheese. Georgia's rich and flavorful cuisine is molded by centuries of Silk Road exchange between Europe and Asia, and Georgian restaurants are common in Russia, serving up stews, grilled meats, and the sumptuous bread-and-cheese marriage that is kachapurian. As the name of the restaurant suggests, order some khinkali, and don't forget the wine—try a bottle of Mukuzani.
Grand Cafe Dr. Zhivago
15/1 Mokhovaya Street, building 1
Walk down the broad Tverskaya Street toward Red Square and the Kremlin and settle into the Grand Cafe Dr. Zhivago, on the ground floor of the five-star Hotel National. The restaurant self-consciously celebrates various stages of Russia's history, with Soviet-era art and a bold red-and-white color scheme (and matching staff uniforms), and serves unapologetically luxurious takes on traditional Russian food—meaty aspics, buckwheat porridge, the imperial Russia standby Olivier salad, and a colorful range of caviar—all at pretty reasonable prices. Call for reservations: +7 (499) 922-01-00.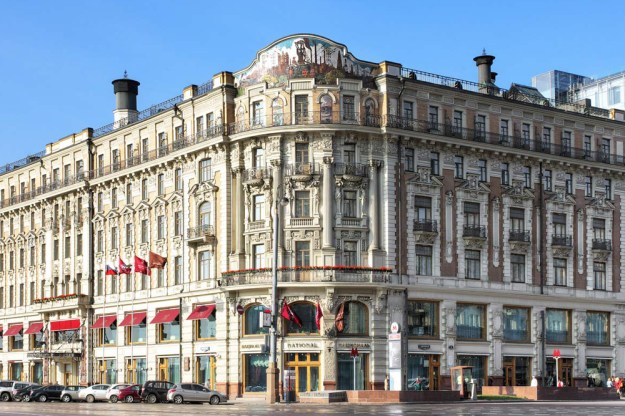 GUM
For dessert, duck into Glavny Universalny Magazin (Main Department Store), better known as GUM, Moscow's beautifully over-the-top late-19th-century department store overlooking Red Square. Once a large collection of local stores, it's mostly luxury clothing chains and priceless-carpet merchants these days, but there are some more reasonably priced treasures too. On the ground level, look for the phone-booth-size kiosks where uniformed vendors sling a Soviet-era treat dear to Muscovites' hearts: ice cream cones. In the 1930s, the Soviet Union introduced stringent national standards for ice cream, among the world's strictest. (One of the requirements was that it include only natural ingredients.) GUM's ice cream was wildly popular and came in vanilla, chocolate, and crème brulée. Today the small stands offer more flavors and are as popular as ever.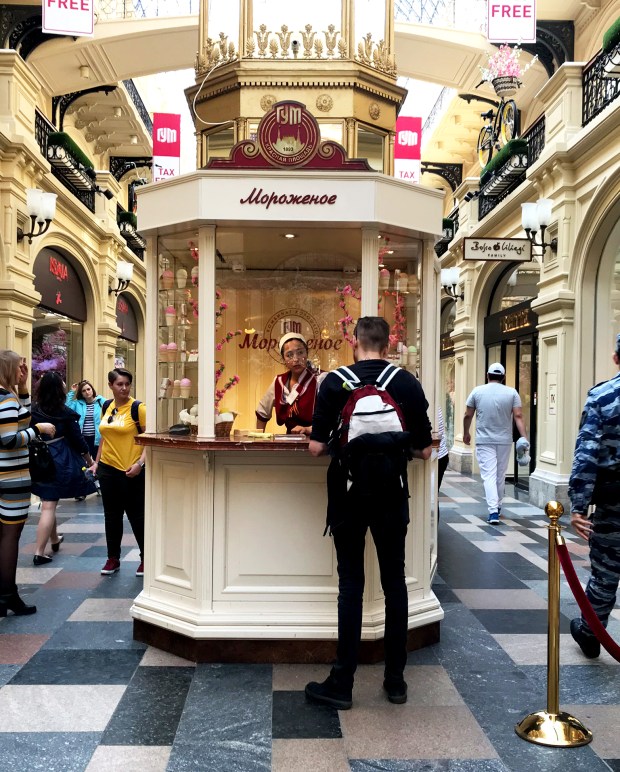 Delicatessen
Sadovaya-Karetnaya Street, 20, building 2
Walk 30 minutes north, past the 19th century Moscow Hermitage Garden. Off a nondescript courtyard, head downstairs to Delicatessen, a comfy and casual speakeasy with a sinfully playful food menu. Try the fried calf brains in egg yolk, the caviar pizza, or the horsemeat tartare finished with a branding iron right at your table. (There are also delicious more conventional options, such as a heaping pile of delicate potato and bacon chips.) Ask the bartender to make you a cocktail to match your order.