Moscow, the European metropolis on Asia's western flank, has always been a canvas for competing cultures. Its cuisine is no different. The ancient baselines of winter grains, root vegetables, and cabbage acquired scaffolding from both directions: eastern horsemen brought meat on sticks, western craftsmen brought pastries, and courtly French chefs came and drowned it all in cream.
History has a place on the plate here as well: War, hunger, and some of the world's great doomed social experiments—from feudalism to communism and bandit capitalism—all changed the way that Moscow eats. So in the spirit of all of those grand failures, we—a Russian chef and an American writer—will attempt here to reduce the towering history of this unknowable city to 13 dishes, remembering the imperial past but with a special emphasis on the more recent decades of culinary paroxysm, as Moscow emerged from its Soviet slumber.
Olivier Salad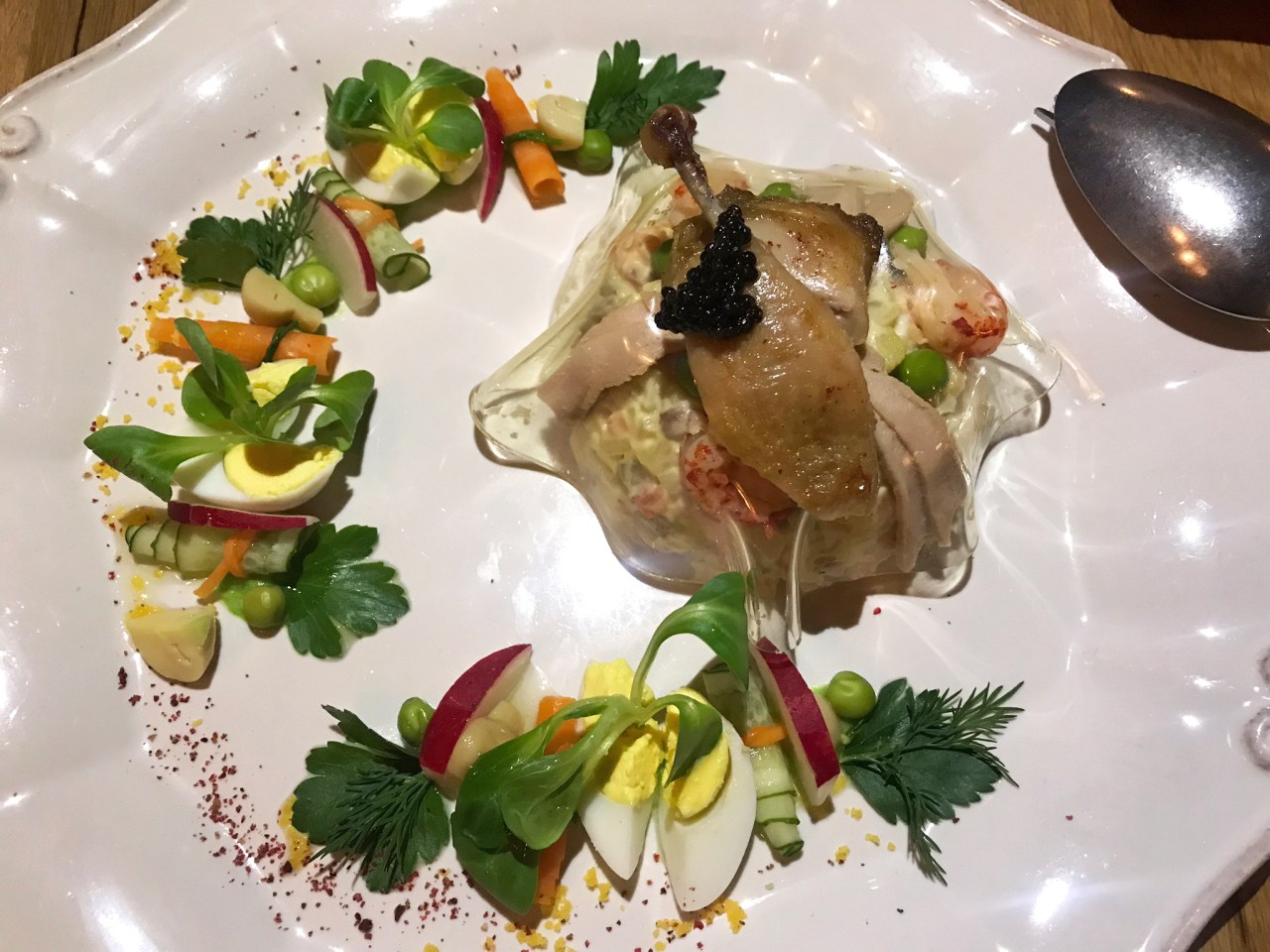 To visualize the long marriage between French and Russian cuisines, picture Peter the Great, on a diplomatic sojourn to Paris in 1717, a "stranger to etiquette," meeting the 7-year-old boy king Louis XV and lifting him in the air with sheer elán. These things were simply not done, and yet there they were. Peter's joyful (and often envious) fascination with all things French took hold, among other places, in the kitchen. He brought French chefs back to his palaces, and then the lesser nobility followed suit; and when the first restaurants emerged in Moscow, they also spoke French. The Hermitage restaurant, which was open from 1864 until history intervened in 1917, had a Francophone Belgian named Lucien Olivier as a chef, and he made a salad that was a perfectly unrestrained combination of French flavors and Russian ingredients: Grouse! Veal tongue! Proto-mayonnaise! The ingredients now tend toward the pedestrian—boiled beef, dill pickles, various vegetables, all bound with mayonnaise—as the salad has become a staple of Russian cuisine, especially on New Year's. And yes, if you've ever seen the lonely ensalada rusa wilting behind the sneeze guard of a Spanish tapas bar, it is supposed to be a successor to the Olivier. But in Moscow you should eat Matryoshka's version, which is not the original recipe but has some of that imperial richness: crayfish, quail, sturgeon caviar, and remoulade, all under a translucent aspic skirt, for 990 rubles ($16).
Vareniye
There is a type of expression around bottling things—bottled lightning, summer in a jar, etc.—that feels very apt here. What exactly is bottled with vareniye (jam)? A lot more than just fruit. These jams, which tend to be thinner than Western varieties—with whole berries or fruit chunks in syrup—are bottled with a lot of Russian identity. There's the Russian love of countryside. Deep dacha culture of summer cottages and personal orchards. Traditional naturopathy (raspberry vareniye taken with tea will fight fever). And above all, friendship is bottled here—vareniye made from the overabundance of fruit at one's dacha is the most typical Russian gift, real sharing from real nature, even in the often cynical heart of Europe's largest megacity. Visitors who are short on lifelong friendships in Moscow can pick up some fine vareniye at any LavkaLavka shop (we recommend the delicate young pine cone jam) or, curiously enough, at many Armenian stores.
Borodinsky bread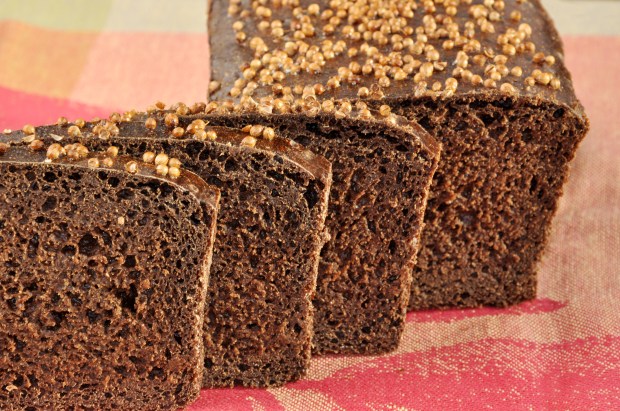 The clinical-sounding title of Lev Auerman's 1935 classic Tekhnologiya Khlebopecheniya (Bread Baking Technology) doesn't promise scintillation. But Auerman's recipe for rye bread changed Russian bread forever. Legend had it that the bread was baked dark for mourning by a woman widowed in the battle of Borodino in 1812, but the real birth of the bread was Auerman's recipes. A modification on sweet, malted Baltic breads, Auerman's Borodinsky bread is 100 percent rye and uses caraway or anise. The recipe has evolved a bit—today it is 80 percent rye and 20 percent high-extraction wheat flour and leans more on coriander than caraway. But its flavor profile (sweet, chewy) as well as its characteristic L7 mold (making a deep brick of bread) has made it easily identifiable as the traditional, ubiquitous, every-occasion bread of Moscow. You can buy it everywhere, but the Azbuka Vkusa high-end markets have a reliably good sliced version.
Buckwheat grechka
Look closely at those Russians who have followed their money to live in London or are vacationing in Cyprus. See the slight melancholy that not even cappuccinos or sunshine can erase. It's not because Russians are gloomy by nature; it's probably because there is no real grechka outside of Russia and Ukraine, and that is devastating. Buckwheat grain and groats—grechka (or grecha in St. Petersburg)—are deep in the culture. It's a wartime memory: Victory Day celebrations on May 9 feature military kitchens serving buckwheat like they did at the front. It's a little slice of Russian history that lies somewhere between oatmeal and couscous. In Moscow, eat it at Dr. Zhivago with milk for 180 rubles ($2.90) or mushrooms for 590, and rejoice.
Mimoza salad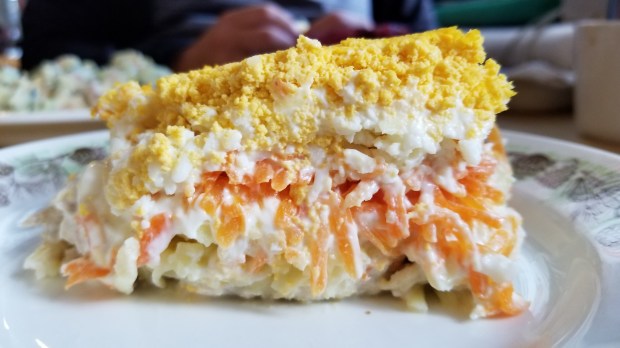 This fantastically expressive egg-and-canned-fish salad is a testament to Soviet ingenuity—it's the ultimate puzzle to make a drastically limited food chain sparkle—and the universal human thrill of layering foods. The geological creation starts with a base layer of fish, topped by layers of grated cooked potato, mayonnaise, shredded cheese, grated carrots, sweet onion, and diced egg whites, then capped with a brilliant yellow crumble of boiled egg yolk. It sits there on the plate, dazzling like the flowering mimosa tree it is named after. The taste? Well, it's comfort food. Pick some up to go at any Karavaev Brothers location—the excellent deli chain sells it for 650 rubles ($10.40) a kilo.
Shashlik
It seems odd, almost impossible, to imagine a time in Russia before shashlik. It's meat on a stick, something that humans have eaten since at least the time of Prometheus. But shashlik as we know it now—cubes of marinated meat cooked with vegetables on a mangal grill—didn't really take off in Russia until the early 1900s. Due to a lack of suitable meat in much of the Soviet era (there were no meat cattle herds, only dairy herds), we're starting the clock on shashlik in the late Soviet period. Despite its relatively recent (re)appearance, it is now the ubiquitous grill phenomenon of Russia, a welcome ritual of summer.
Plov
Much of Russian cuisine has borrowed heavily from Central Asia and further east over the millennia (pelmeni, anyone?), but plov is a striking example of an entire Eastern dish making its way directly into Russian households. With the collapse of the Soviet Union and upheaval in many Central Asian Soviet republics, mass economic migration to Moscow took off in the late '80s and early '90s. Central Asians today are the lifeblood of the Moscow labor force. In turn plov—rice steamed in stock with meat and vegetables—has jumped from migrant communities to the homes of Muscovites everywhere. It has developed an unfortunate reputation for being a food that even finicky kids will eat, so there is a lot of harried domestic plov being made. But you can get a fully expressed Uzbek version at Danilovsky Market, online at plov.com, or at Food City—the surf-and-turf Tsukiji of Moscow.
The Big Mac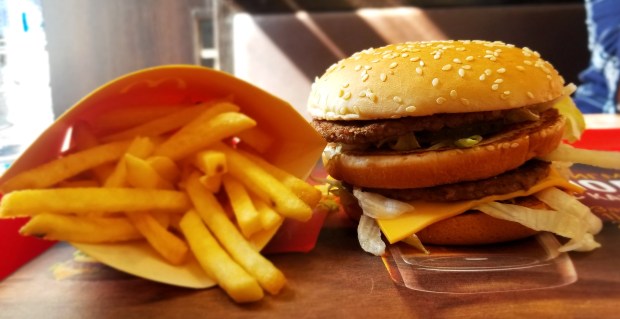 So many of the difficulties in American-Russian relations come down to one foundational attitude problem: The Americans (that's half of this writing duo) were incredibly, distressingly smug through the entire fall of the Soviet Union. We mistook Soviet failure for an American victory, and that made all the difference. What does that have to do with a Big Mac? Well, when Russia's first McDonald's opened on Pushkinskaya in 1990 and 5,000 people turned out to wait in line for the first taste of America, we back home in the states mistook it for culinary and commercial superiority. But there was something more complicated happening: Russians had been denied Western goods for so long and with such force that any outside identity was much-needed oxygen. And the long-term victory, as McDonald's has continued to thrive in post-Soviet Russia, really belongs to the local franchise, which used higher-quality ingredients than its U.S. counterparts, establishing a chain that is successful not because of its American identity but because of its Russian modifications. We wouldn't recommend eating at American fast food restaurant, especially not when there is Teremok for your fast-food needs, but having a soda in the original location is one way to sit and ponder the sin of hubris. And to use the free toilet and Wi-Fi.
Shawarma
The crown jewel of Levantine meat preparations. Perhaps the single greatest street meat in the world: shawarma. It first came to Moscow in the form of a shawarma joint across from the Passazh mall, opened in the early '90s by Syrian cooks who dazzled masses with their sizzling, spinning, spiced-meat emporium. Lines that stretched to hundreds of people weren't uncommon in those heady early days. Even though the original spot closed many years ago, Moscow shawarma has only grown from there, mutating into the beast it is today, where you're likely to find chicken, cabbage, mayo, and a thin tomato sauce all combining to make the Levant a distant memory.
Fish tartar, aka sashimi
One result of the aforementioned American smugness is that the West seemed surprised at how rapidly 1990s Russia assimilated some of the most hardcore capitalist traits, including but not limited to conspicuous consumerism. Moscow's new elite was very, very good at that. What could be more conspicuous than re-creating a restrained, exclusive seafood cuisine from Japan in the chaotic, landlocked megacity of Moscow? The very improbability of high-end sushi and sashimi in Moscow fueled much of its allure, and even though the trends have moved on from sushi, you can still sense the emotional attachment that the oligarch class has to those formative wastes of money. Sumosan restaurant started in Moscow back in 1997 and has since expanded to Monte Carlo and Londongrad, where they serve a dish that they call Fish Tartare in their restaurants and through their private-jet catering service.
Blue Cheese Roll
If the early elite sushi restaurants in Moscow were the frivolous edge of a food phenomenon, then Yakitoriya, a chain that started in the late 1990s, democratized it with affordable sushi rolls geared to local tastes. The Blue Cheese Roll, available now for 417 rubles ($6.70) on its menu, seems like the apex (or nadir) of the Russianized roll: salmon, smoked eel, cucumber, cream cheese, blue cheese sauce. It might not be Jiro Ono's dream, but a true Russian middle class, one that can work honestly, earn meaningful salaries, and have a freaky sushi roll at the end of the week just like the rest of us—that's something worth dreaming for.
Khinkali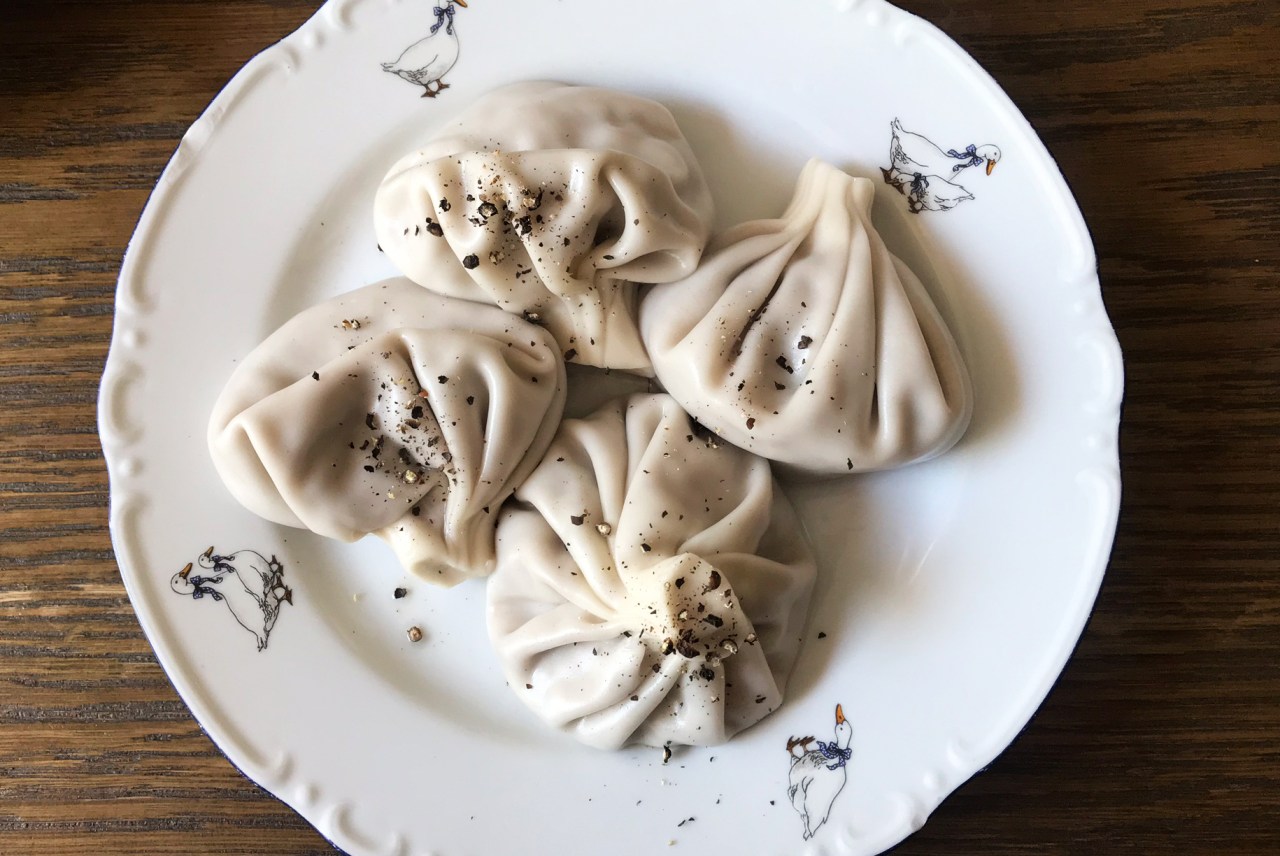 If you're American, have you ever wondered why tacos took over middle America but sopes remain virtually unknown? It's curious how a country can assimilate some foods from their neighbors but remain blissfully ignorant of others. That may explain what took place two years ago in Moscow, when the city seemingly discovered the bagged awesomeness that is khinkali, a soup dumpling from Russia's southern neighbor, Georgia. It became very trendy very quickly, and khinkali joints sprouted across Moscow like griby after a rain. But it wasn't just that dish: What they were serving was a bit of the imagined southern sybaritic lifestyle of the Caucasus, as promised in restaurant names like Est' Khinkali Pit Vino (Eat Khinkali Drink Wine). Your best bets are at the stately Sakhli, around 100 rubles ($1.60) per soft, fulsome dumpling, or the more modernized Kafe Khinkalnaya on Neglinnaya Street, which also asks 100 rubles ($1.60) a dumpling.
Burrata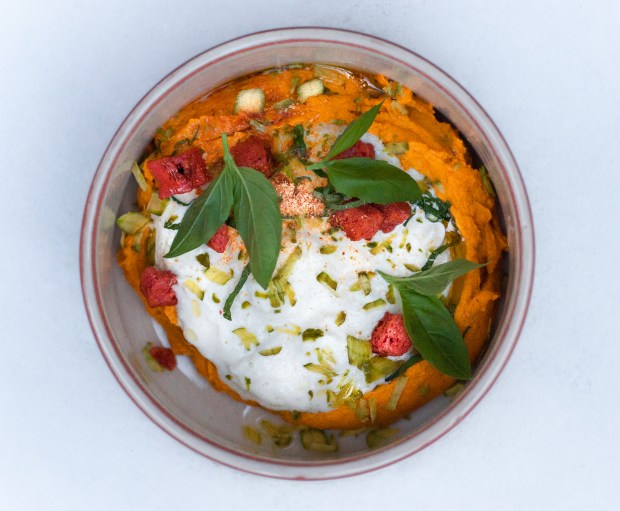 We have named burrata—yes, that Italian alchemy of cheese and cream—the Perfect Dish of Moscow 2018, if only because it is the dish of the moment, ready to be enjoyed at the height of its faddishness now and equally ready to be replaced when the city decides to move on. Read Anna Maslovskaya's masterful breakdown of why—and where—to eat burrata in Moscow.
Originally published on Roads & Kingdoms on July 6, 2018.