Once the seat of Russia's empire, St. Petersburg today may be Russia's cultural capital. The city boasts an array of art museums, an evolving culinary scene, and distinctive baroque architecture.
Founded in 1703 by Peter the Great, the city was built across several islands in a bay in the Baltic Sea. Those islands are connected by hundreds of canals and more than 400 bridges. As you navigate St. Petersburg's waterways and sample traditional Russian dishes with a modern twist, don't forget to stop for a moment and soak up the grandiose landscape that the czars used to call home.
Start your day at Saint Espresso in the historic and central Petrogradskaya district. Saint Espresso makes some of St. Petersburg's best coffee and boasts a superbly designed interior: Imitations of old religious frescoes line the walls, and to-go cups feature renderings of the famous Alexandrian Column angel that stands in Palace Square across the Neva.
If you want something more upscale, try a farm-to-table Russian breakfast at Cococo in the city center. The menu features inventive dishes like black Russian blini (crepes made with squid ink) and draniki (fried potato patties served with salmon tartare, smoked halibut, and horseradish sauce). Cococo is quite popular, so book at least a day in advance.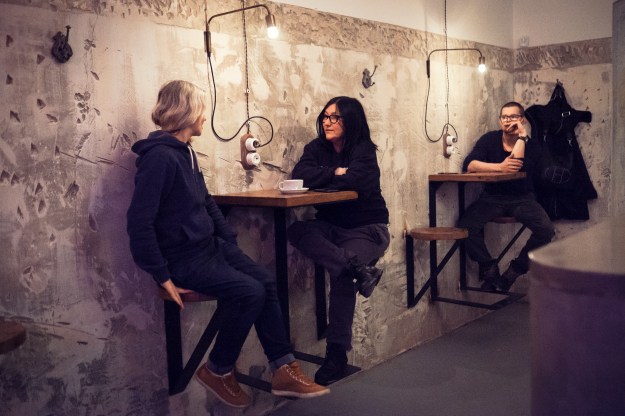 During the frigid winter months, it may be hard to venture back outside after a cozy breakfast, but St. Petersburg has plenty to offer. Consider taking a walking tour with a professional guide (I recommend Peter's Walking Tours) who can speak at length about our city's legendary figures, including Peter the Great, Catherine the Great, and Vladimir Lenin, who moved here from Ulyanovsk in his early 20s.
If you decide to guide yourself, walk about 30 minutes from Saint Espresso to St. Petersburg's central Palace Square. Visit the Winter Palace to get a glimpse of pre-revolution opulence, and spend a few hours roaming the vast art collection that once belonged to Catherine the Great at the State Hermitage Museum. The museum's contemporary art collection devotes an entire wing to French artist Henri Matisse that includes his famous masterpieces Dance and Music, commissioned by one his patrons, Russian art collector Sergey Shchukin.
Walk about 15 minutes down to the Moika River embankment, turn right, and walk past the picturesque Church of the Saviour on Spilled Blood, the expansive Field of Mars park (named after the Roman god of war), the Summer Garden (designed by Peter the Great in 1704), and Mikhailovsky Castle (home to the world's largest collection of Russian art) on your way to the spot where the Neva meets the Fontanka River.
Head down Pestelya Street to see the famous St. Petersburg Stieglitz State Academy of Art and Design. Take a moment to study the Moorish-style Muruzi House (built in the 1870s, it was inspired by Alhambra in Granada, Spain), an apartment building on the corner of Liteyny Prospect and Panteleymon Street.
By now, you've likely worked up an appetite. Walk or take a taxi to Duo Gastrobar, a small, inexpensive restaurant about 10 minutes east of the art academy, run by longtime friends and collaborators Dmitry Blinov and Renat Malikov. Try the baked celeriac with sour cream and truffle, veal tails with parmesan, and a perfect sweetbread paté made with pears and grappa. Don't miss the cabbage with homemade cheese sauce and truffle or the meat, like the crunchy pork rib or lamb.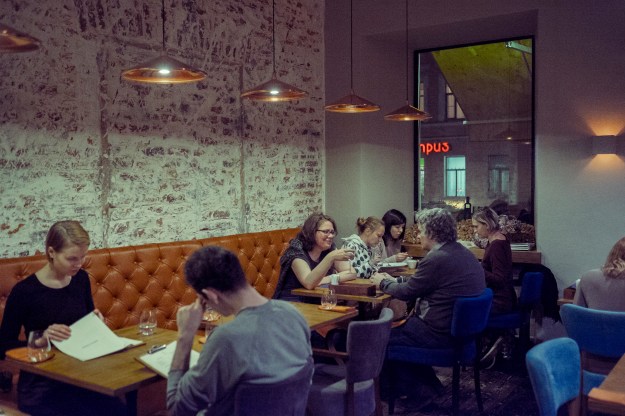 After lunch, take a 20-minute taxi ride to St. Isaac's Square and climb the 262 steps to the Dome of St. Isaac's Cathedral, the tallest cathedral in Russia, to take in magnificent views of the city. You'll soon be glad you burned the calories.
Walk across the square to the Astoria Hotel for afternoon tea. Built in 1912 during the rule of the last tsar, Nicholas II, the ritzy hotel practically emanates history. In the years after the October Revolution, the Bolsheviks turned the hotel over to loyal artists and writers, and Lenin was known to give speeches from one of Astoria's balconies.
During World War II's Siege of Leningrad, the Russian government turned the hotel into a military hospital. Hitler had heard of the Astoria's beauty and had planned to celebrate the fall of Leningrad with a lavish party in the hotel's Winter Garden. He even sent invitations to Nazi supporters. Of course, that event, to the pride and relief of Russians, never happened.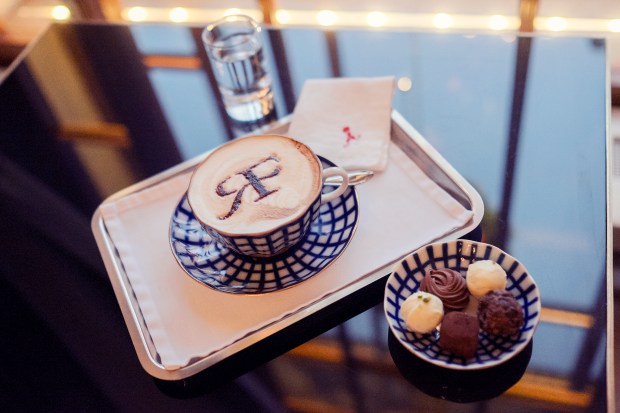 Today the hotel is known for its afternoon tea, served daily in the Rotonda Lounge. Once frequented by the likes of H.G. Wells (who wrote about his travels to Russia and reportedly rubbed shoulders with Lenin) and Mikhail Bulgakov, the Astoria still serves tea in its iconic Imperial Porcelain Factory cups, noted for their checkered cobalt pattern, as well as black caviar with champagne, traditional blini, and masterfully made meat pirozhki (small pies). Grab a seat by the floor-to-ceiling windows overlooking St. Isaac's Square and watch the city go by.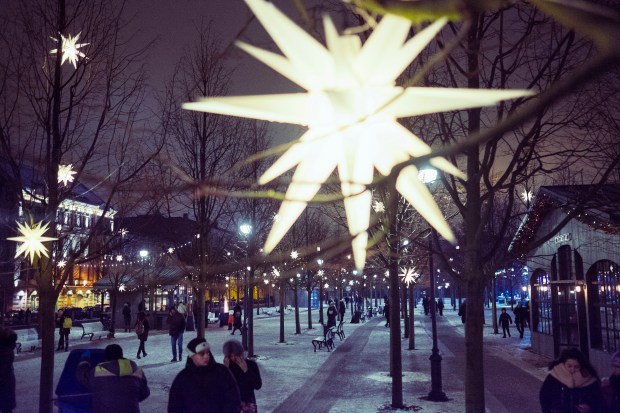 6:00
pm
New Holland Island
2 Admiralteysky Canal Embankment
Get Directions
Recently opened to the public, New Holland Island, which was previously controlled by the navy, sits between two canals and the Moika River and is accessible only by bridge. Every summer, crowds gather for concerts and theatrical performances on the island, which also boasts a restaurant, an ice rink, and on weekends, a nightclub.
Nearby Solaris Lab is a glass-domed cafe that sits atop a 19th-century mansion. To get there, walk to the very end of Pereulok Pirogova to house No. 18 and climb a dark staircase to the roof. Once you reach the cafe, you'll be greeted with one of the best views of St. Petersburg and even a telescope. Solaris serves some of the city's best coffee, and the staff is always friendly.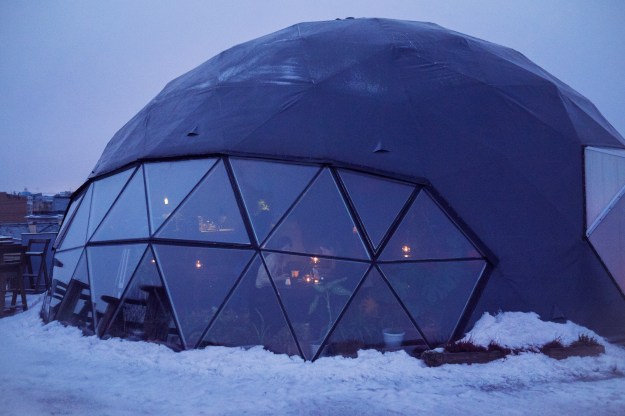 Head back to street level and walk five minutes to EM, a sleek, modern, 20-seat restaurant on the Moika River. A night at EM, which was built inside an old apartment building, feels like going to dinner at an old friend's house—if that friend was serving up a seven-course tasting menu, that is. Chef Lesy Drobot and her staff of four work in an open kitchen, where they prepare dishes like goatling with marinated rhubarb and desserts like tomato ice cream, along with fresh bread with flavors like parsley root.
If you want to walk off that tasting menu, take a 30 to 45-minute jaunt to Kabinet a cocktail lounge resembling an 18th-century gambling house, where bartenders whip up new cocktails on the spot. Call the bar in advance.
El Copitas is even more clandestine. Visitors are required to call in advance, and someone will meet you near the bar and guide you to spot, which sits beneath an apartment complex. Try the fig margarita.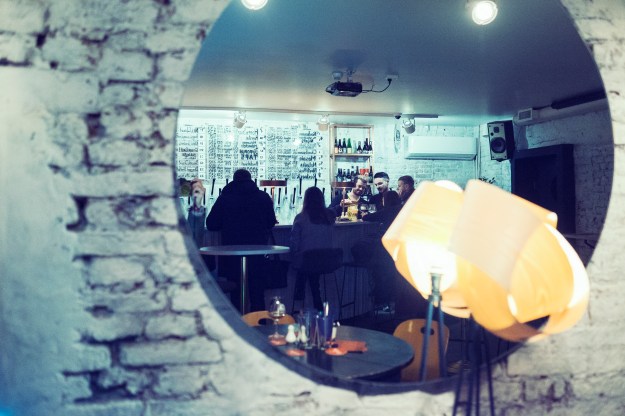 If you prefer highbrow boozing, check out Bar Hroniki, a quiet, minimalistic spot that evokes a Soviet-era corner bar. Writers, poets, journalists, oppositionists, cinematographers, students, expats, and other freethinkers are the regulars here. Sip the Free Ingria cocktail with cloudberry liqueur, down the signature northern shot, or try the very popular Kizlyarka, a cocktail with notes of grappa and whiskey. Right next door is Redrum, a bar opened by AF Brew, a small local brewery. All beers and ciders here are locally produced and fairly priced.
Head over to neighborhood bar the Hat for the city's best live jazz. Performances start at 9 each night. You may catch bar owner Billy Novik performing with his legendary Billy's Band. If you prefer electronic music, go to Tantzploschadka (Dance Floor) on Konyushennaya Square, which hosts top-notch DJs on weekends.
If you visit from May to November, you may get to see bridges over the Neva River go up at night to allow large ships to pass. It's an incredible site, best witnessed from a boat on the Neva or Moyka embankment. Don't have a boat? Go to the Palace embankment, where you can see the Palace and Trinity bridges go up and take in a view that includes Peter and Paul's Fortress and the Old St. Petersburg Stock Exchange and Rostral Columns.