Today, Kanazawa's splendid market, Omicho Ichiba, sprawls over the equivalent of an entire city block. Its tendrils wind down alleys, and its shops and restaurants sprawl across three levels, but it wasn't always this way.
During the latter stages of World War II, city officials became concerned that Omicho might present a tasty target for the bombers that regularly passed overhead on their way to factories to the north and south. So they decided to remove temptation by leveling the market themselves, leaving little more than a massive empty lot. This act of self-destruction was a spectacularly unfortunate decision. Within one month, the war ended, and the entire market had to be rebuilt, in one of the few cities to completely escape wartime devastation.
I was told this story by Issei Kamitani, the chairman of the Omicho Association's Future Committee. His youthful looks belie his age and the fact that he has run his family's wholesale and retail fish company, Yamaka Suisen, for the last 17 years, since he was just 30 years old. I pressed him for other facts about the market and learned that it has been in constant operation since about 1720—save for the aforementioned hiatus—and that although there are dozens of fishmongers among the vendors, nearly all the operations are owned by just eight companies. He mentioned that back before the age of industrial cooling, every shop had a deep hole in the floor. In the winter, it was filled with blocks of ice and snow and packed in straw in order to keep the fish chilled through the long hot summers—and many of those holes still exist.
The history of Yamaka Suisen is no less interesting. For starters, it's nearly as old as Omicho and began when a poor fisherman wanted a better life and opened a small shop. In time, his business grew until he was selling directly to suppliers of the ruling Maeda clan, the local feudal lords. At that time, only high-ranking families were allowed to have surnames, so Kamitani's ancestors took over the failing Kamiya brewery, adopted its name, and began selling fish as Kamiyasu. (Somewhere along the way, the family name became Kamitani.)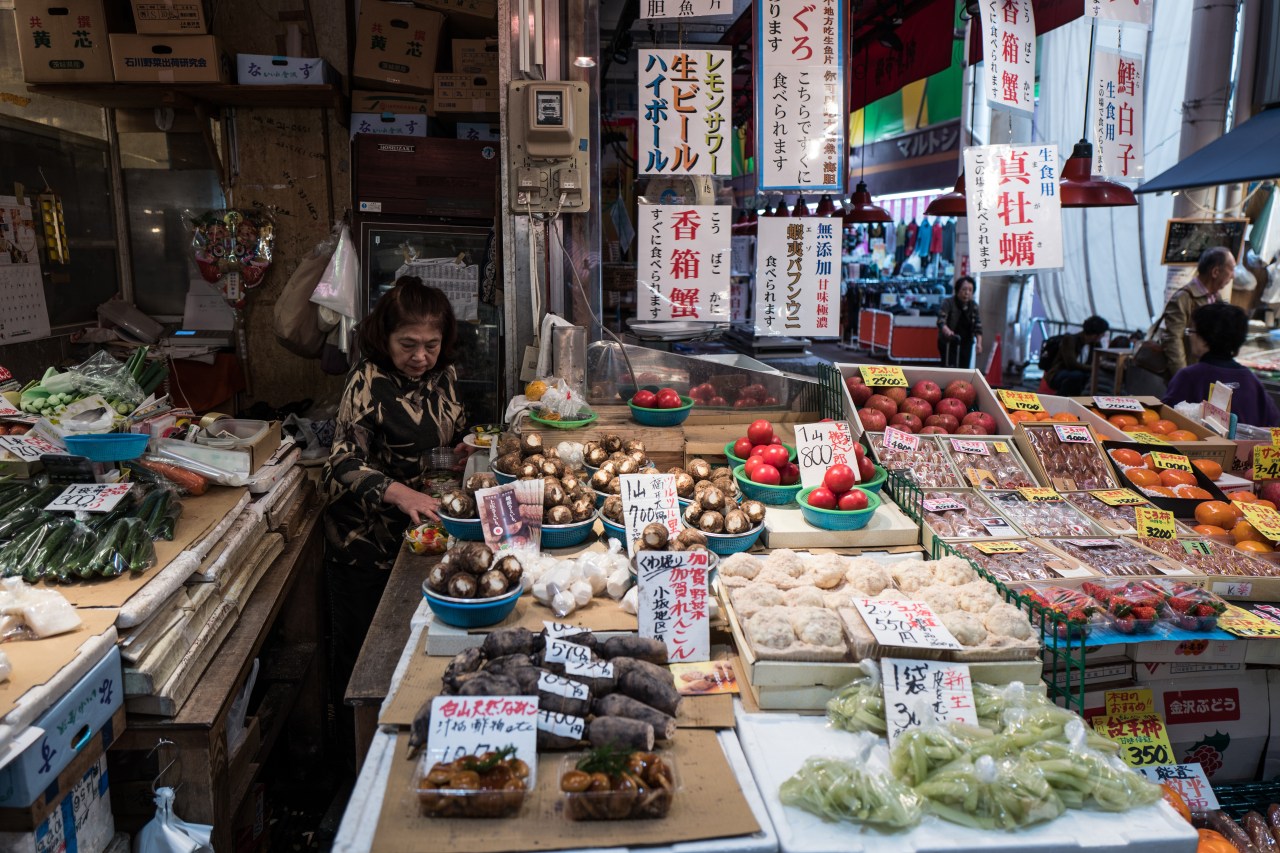 Fast-forward to the mid-1960s, when the Japanese government declared every major city would have a chuo ichiba, or central fish market. Because Kamitani's father didn't want the business to leave Omicho after more than 200 years, his uncle agreed to split the company and continue operating as Kamiyasu at the new, strictly wholesale market, and the original shops began trading as Yamaka Suisen, handling wholesale and retail. Today the two companies collaborate more than compete, selling to each other and growing the business together.
The 21st-century Omicho Ichiba is made up of about 180 shops selling everything from fresh fish and seafood to produce, tea, sake, and even clothing—and then there are the restaurants. But let's start with the main attraction: the fish.
Although Omicho strives to sell as much local produce as possible, factors beyond its control result in fish from around Japan sharing the limelight. Weather, seasonality, demand, and shoppers' desire for variety all result in a vast selection on offer, from Hokkaido uni (sea urchin) in the far north to fugu (blowfish) from Shimonoseki, hundreds of miles to the south.  The majority of fish is sold fresh, but frozen, fermented, pickled, and dried varieties are also available. Many stalls offer samples, while others encourage shoppers to buy a morsel and eat it on the spot. Among these, the iwagaki, or rock oyster, purveyors are by far the most popular, as no self-respecting oyster lover can resist the sight of these enormous natural delicacies. From Nov. 6, kani (crab) season begins, and many stalls are blanketed in the bright red carapaces of this succulent winter treat. Year round, nodoguro, or blackthroat perch, is available; it's delicious raw or grilled whole.
Many visitors to Japan might very well get their first glimpse of raw wasabi at Omicho. When ground to a paste, these gnarly green stalks produce a range of flavors, from light and sweet to sinus-clearing, and at no point will you be reminded of the pathetic crap that oozes from tubes back home. Even more surprising is that when wasabi is julienned, it loses much of its bite and instead delivers a crisp zing, which is perfect in a maki, or sushi roll.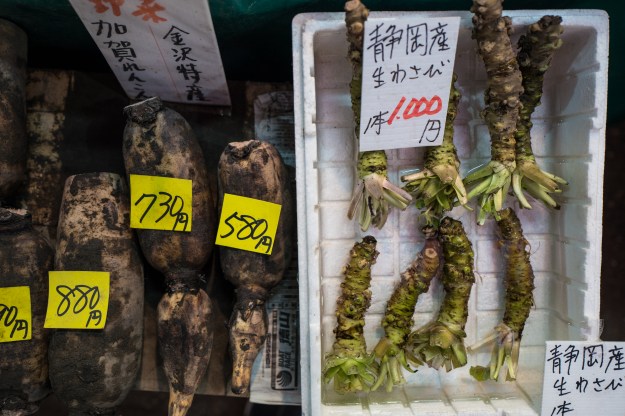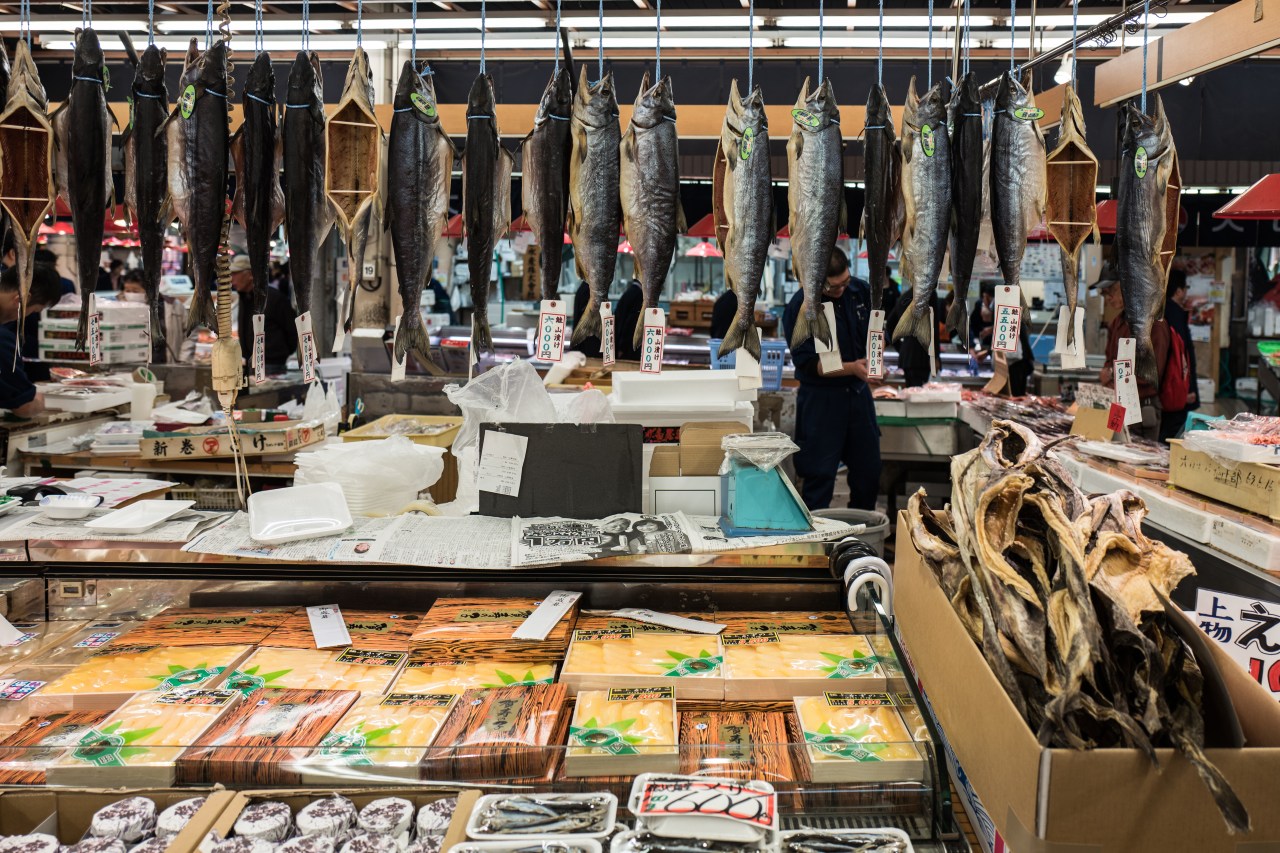 Also found in the produce stalls are the Kaga yasai, or the 12 varieties of heirloom vegetables grown in the Kaga (as the area was known in Edo times, 1603 to 1868) region. These include golden sweet potato, round white turnip, lotus root, and pumpkin, among others. Thanks to strict growing regulations and a savvy PR team, they've gained a loyal following throughout Japan, to the point that it's not unusual to see Kaga yasai cited on Tokyo menus.
But enough about the endless array of fabulous ingredients. It's time to talk about the restaurants that take those raw materials and turn them into slices of heaven.
Above all, Omicho excels at kaisendon, or slices of fresh raw fish laid atop a bowl of seasoned rice. It comes in every combination imaginable—including assorted, featuring five or six species; the tuna special, with regular, fatty, and extra fatty; the Hokkaido, with crab, uni, and salmon; and pretty much any other permutation you can dream up.
Along with kaisendon, visitors clamor for straight-up sushi. A number of conveyor belt options that also serve set lunch menus nestle side by side with conventional sushi bars. Basically, you can't go wrong wherever you end up, so choose one, duck under the noren (entrance curtain), and enjoy.
The gastronomic fun doesn't end with raw fish, however. Omicho also has tempura, curry, Chinese, beef, and ramen options, each serving its respective specialty with pride. The restaurants can be found scattered throughout the market, on the main floor, the second floor accessible by several hidden stairways and an antiquated elevator, and in the basement of the adjoining Omicho Ichibakan. Keep in mind that many restaurants and stalls are closed on Sundays and Wednesdays, but if you're in town only on one of those days, it's still worth taking a wander through to see what's available.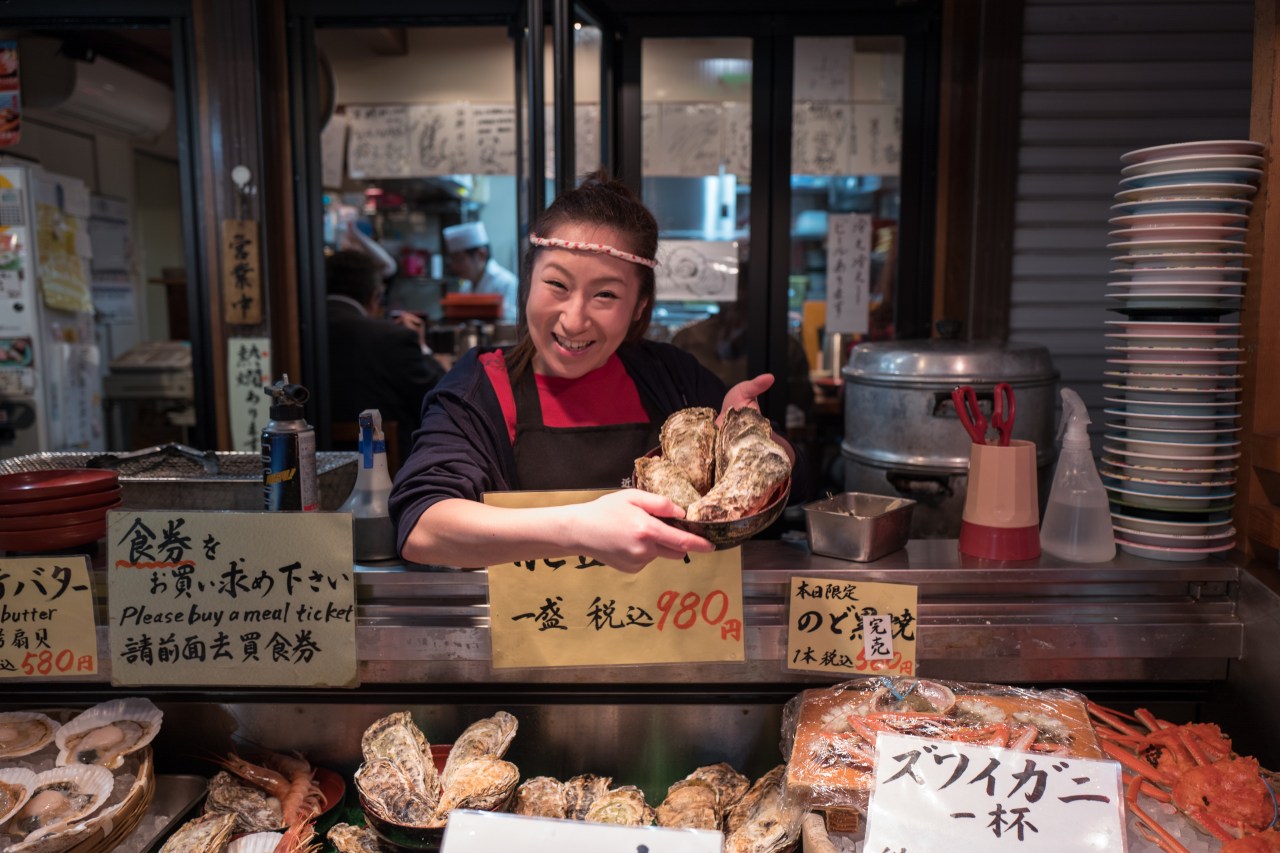 As you walk through the bustling aisles listening to the vendors cheerfully shout about their wares, it's difficult to imagine the market ever changing. But this is exactly what Kamitani and his colleagues on the Future Committee spend their time discussing. As the current generation of market workers starts to retire, there are few willing to take their place. Hot in summer, freezing in winter, long hours standing on concrete floors and a lot of heavy lifting—these working conditions do not appeal to the majority of the next generation. Although for every negative there is an equally compelling positive—an active social environment, evenings and two days a week free, little or no overtime—it's just not enough to attract the numbers needed to keep the market going strong.  
While this isn't a problem with an easy solution, Kamitani mentioned a bright spot in the market's future: a revolutionary new freezer system that flash-freezes fish so quickly, it can last for over a year and, when thawed, cannot be distinguished from fresh. The hope is that this will dramatically cut down on waste for fishmongers and sushi shops alike, as they will be able to purchase smaller portions and thaw just what they need for the day. This in turn will help with sustainability, as fewer fresh fish will need to be caught to meet demand.
For now, Omicho Ichiba is a vibrant, thriving market offering locals and visitors a seemingly boundless supply of the freshest fish around. It's no mystery why Omicho is fondly referred to as Kanazawa's Kitchen, and no visit to the city would be complete without at least a couple of hours spent investigating and enjoying its many temptations.