Long gone are the days when Bilbao was perceived as industrial and boring. Years of trade and immigration laid the groundwork for a modern city whose arrival was sealed with the plunking down of the Guggenheim Museum in 1997. From that moment, Bilbao shook off the factory dust, cleaned up its act, and began to equate art not with frivolity but with the potential to transform the city. Bilbao continues to be a buzzing, multicultural capital, anxious to try new things yet still fiercely clinging to its Basque traditions—especially when it comes to food. This Basque capital has a grittier, more traditional style of eating than its sibling, San Sebastián, but no envy of its sister city.
Do breakfast like a real bilbaíno, or botxo, as residents are called, with a bollo de mantequilla. This rather nondescript-looking baked good is a brioche-like bun, sliced open and spread with a French buttercream-style whipped mixture. The balance of thickly sweet and spongy savory is synonymous with the city and an emblem in its own right. Grab one at Pastelería Arrese, along with one of their supremely perfect chocolate-dipped croissants. Pastelería Arrese is actually renowned throughout the Basque Country for its truffles. They are spectacular: a thin coating of chocolate powdered with confectioner's sugar or cocoa powder that hides a delicious, creamy filling, which can be cognac, heavy cream, coffee, or Valencia orange flower-scented chocolate. Founded in 1852, it's still family run, and there are various locations around the city—but for our purposes, visit the one on Foru Kalea.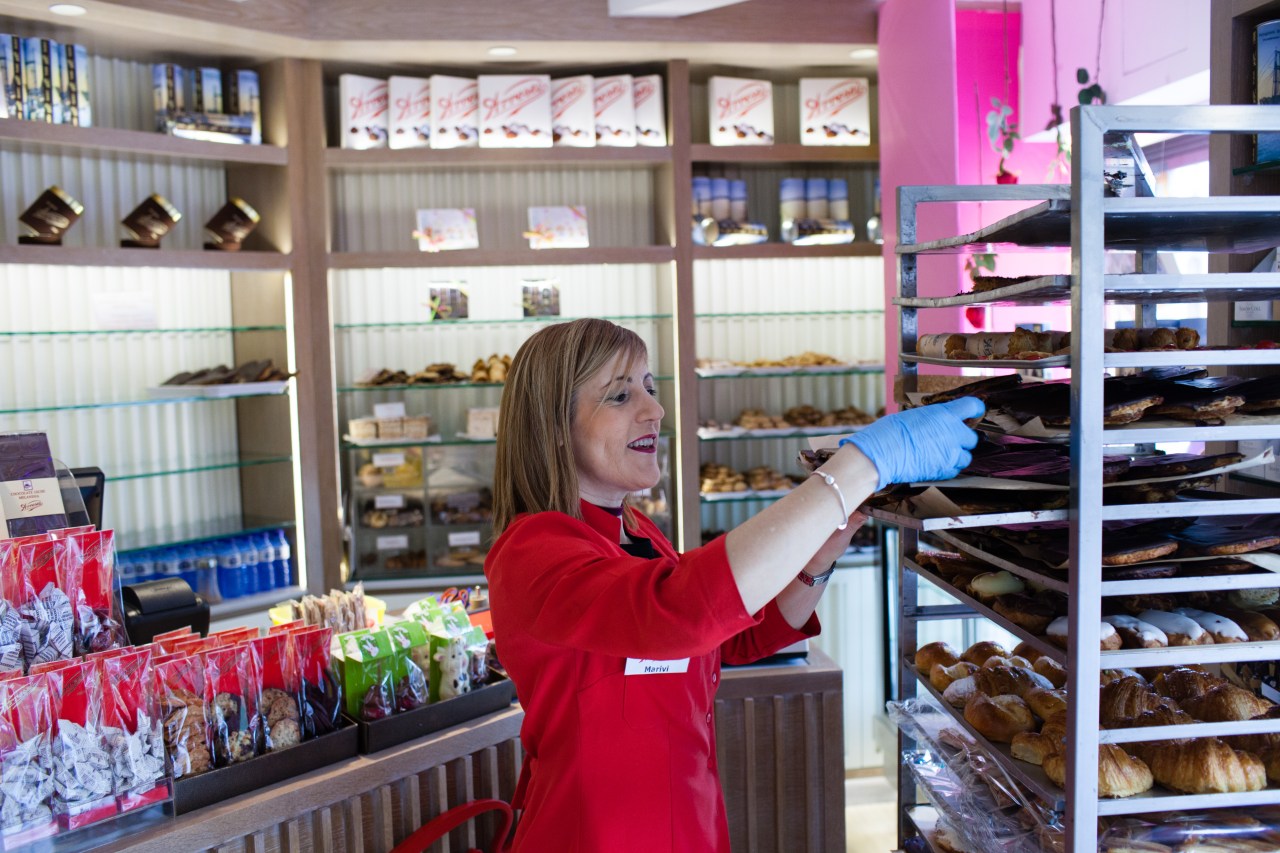 10:00
am
Mercado de La Ribera
Erribera Kalea, s/n
48005 Bilbao
Get Directions
Stroll along the banks of the Nervión River and stop in the Art Deco Mercado de la Ribera. Built in 1929, the 100,000 square foot building is the largest covered market in Europe, according to the Guinness Book of World Records. For a Bilbao resident, it's where you pick up the day's produce, cheeses, and other necessities, as well as the daily catch, fresh from the Cantabrian Sea. Until quite recently, the seafood was floated right up to the doors of the market by boat.
This lively market is perfect for people-watching—locals come as much to chat with their purveyors as to shop for their groceries. You'll likely rub shoulders with several of the town's chefs—like Álvaro Garrido of the Michelin-starred Mina—who still arrive before service to pick out their produce.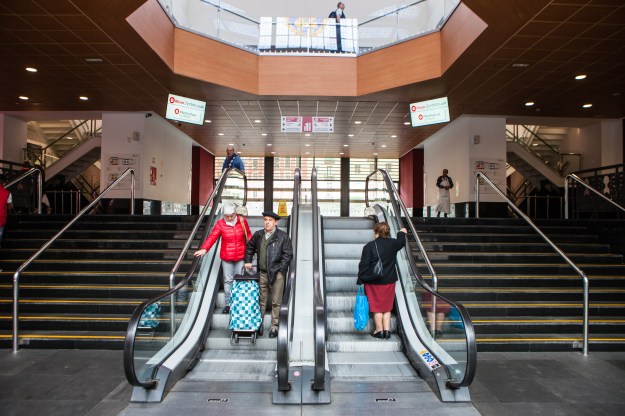 The neighborhood of Bilbao La Vieja couldn't be a more fitting representation of what has happened to the city as a whole over the last two decades. Not too long ago, it was riddled with drugs and widely considered to be one of the worst areas in the city. Now it is speckled with storefronts of local fashion designers (like Trakabarraka) bookstores with attitude (ANTI liburu-denda), and a new generation of art galleries. At the forefront is SC Gallery, founded in 2008 and specializing in urban art, drawing artists from all over the globe.
Finish your tour of Bilbao La Vieja propped up on the river walls of Marzana. It's la hora del vermut, vermouth time, that magic window historically located between the end of Mass and the beginning of the Sunday family lunch. Now la hora del vermut takes place anytime before a meal, and your drink can be any number of artisanal vermouths and frilly garnishes. But you should take vermouth the traditional way today, and you'll find an enclave of consistency at Ander Etxea. The marianito is a Northern Spain tradition, a vermouth prepared with a dash of Angostura, perhaps some gin or Campari, and often a secret ingredient that varies from bar to bar.
Should you get peckish, good bites can be had down the way, in bars with a touch more modernity, like Dando la Brasa, El Perro Chico, or Peso Neto.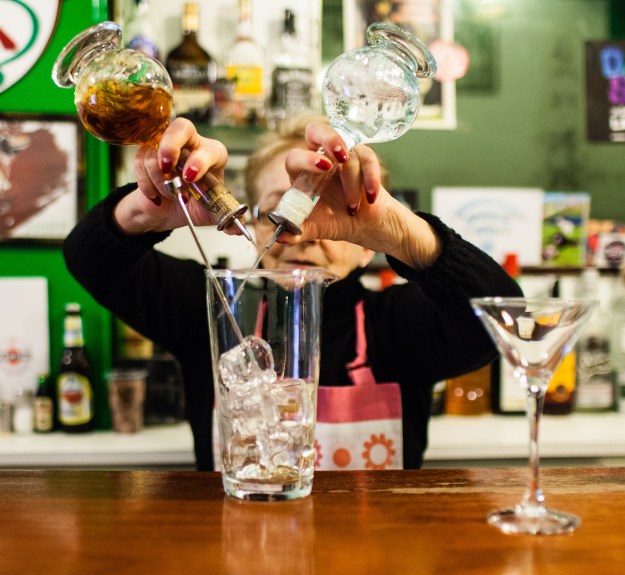 1:00
pm
Funicular de Artxanda
Funikularreko Plaza, s/n
Bilbao 48007
Get Directions
If it's a sunny day, step into the 100-year-old cable car that climbs up Mount Artxanda.
The whole of Bilbao sprawls out below you from one of the best viewing points in the city.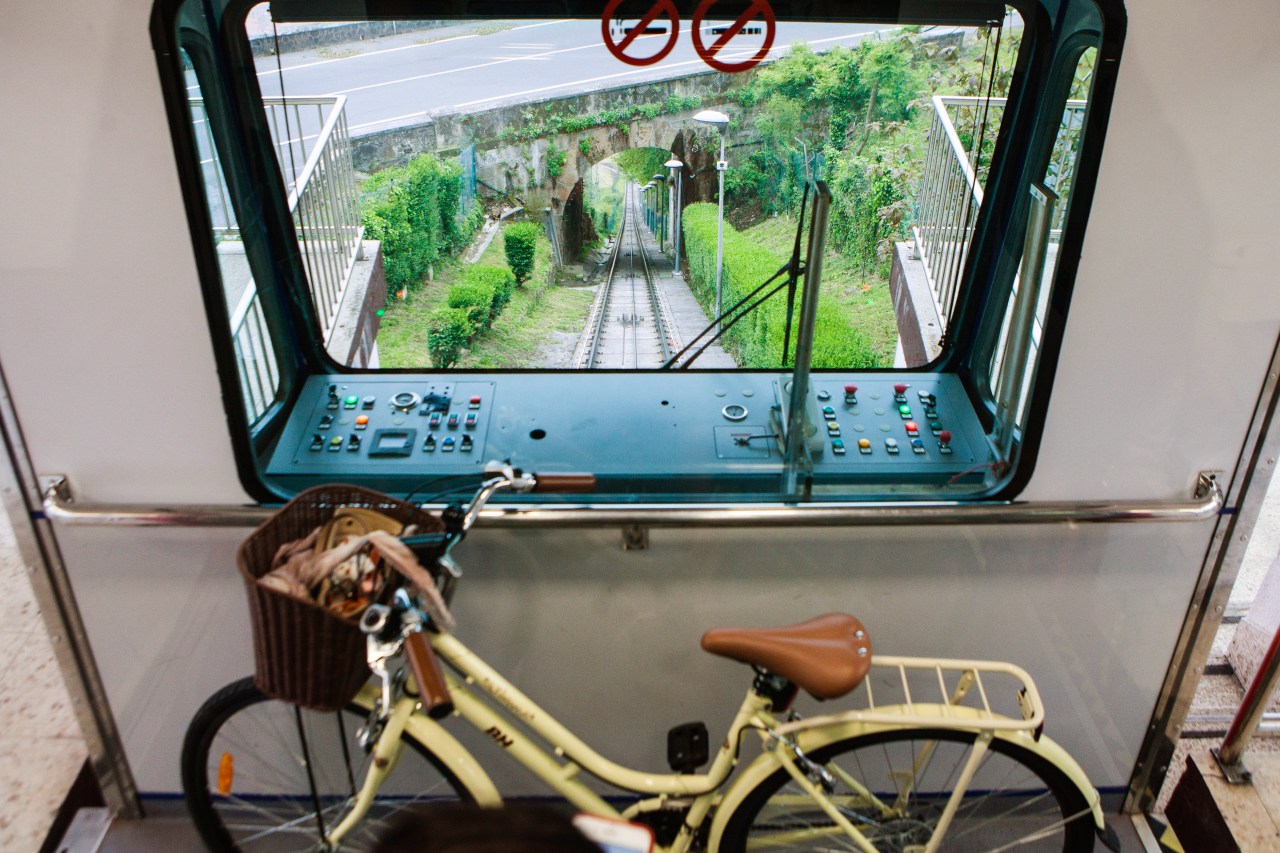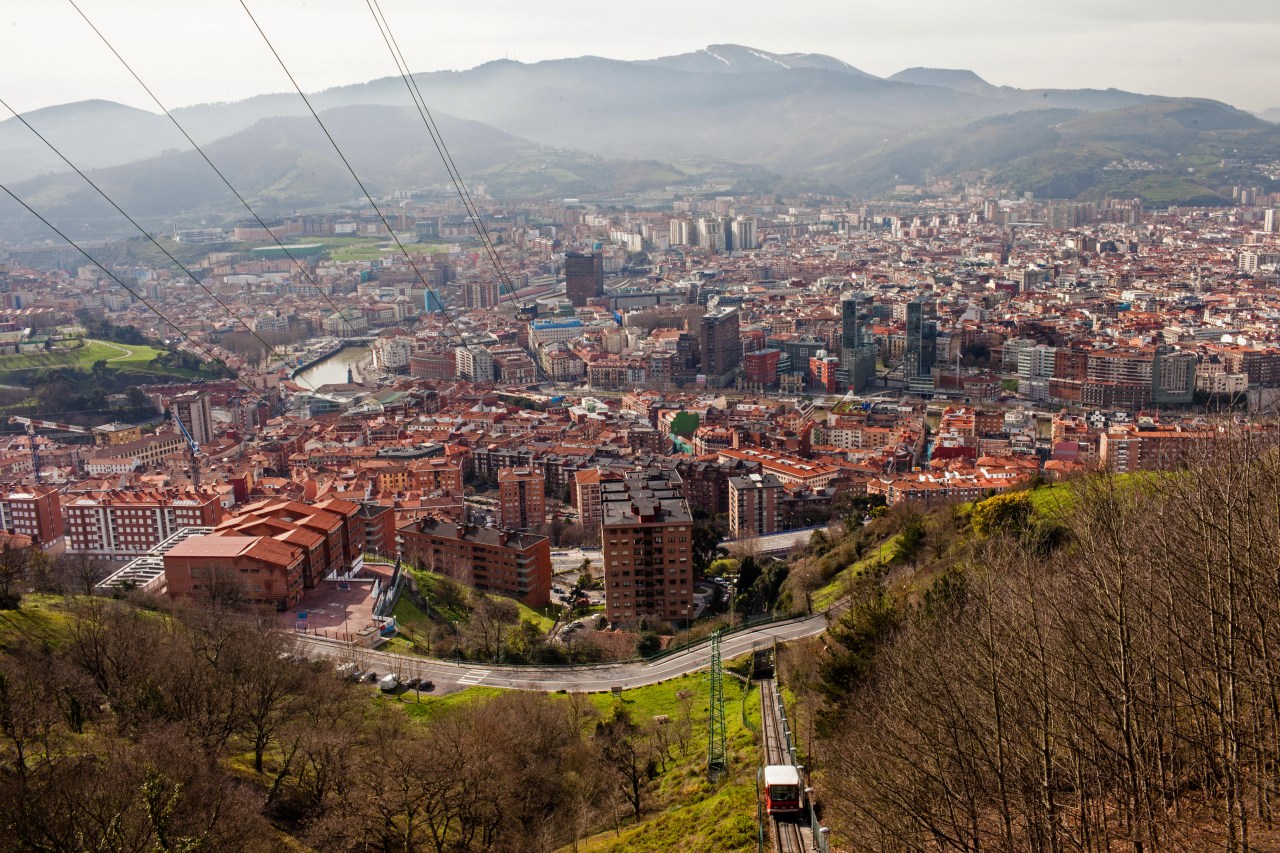 2:00
pm
Txakoli Simon
San Roke Bekoa Bidea, 89
Bilbao 48015
Get Directions
Right about now your eyes should be full and your stomach empty. Staying on Mount Artxanda, follow the path up to Txakoli Simon, about a half-mile walk from the top of the cable car.
The Bizkaian answer to a ciderhouse, a txakoli is a well-loved establishment, historically a country home that produced wine and served it along with food from the garden and pantry. Nowadays, it often refers to spots that combine a few Basque staples: outdoor eating, grilled seasonal foods, a get-your-elbows-on-the-table-and-eat group mentality, and txakoli, that sometimes salty hay-colored white wine that goes down too easily. First, relax with the sun on your face and sip from a cold bottle of local txakoli, looking over the urban blocks that used to produce 10,000 liters of the wine yearly. Then perk up when a giant txuleta steak arrives, smoking over charcoal on a small grill brought to the table and sliced to reveal a bright red interior. This is a perfect way to while away the day.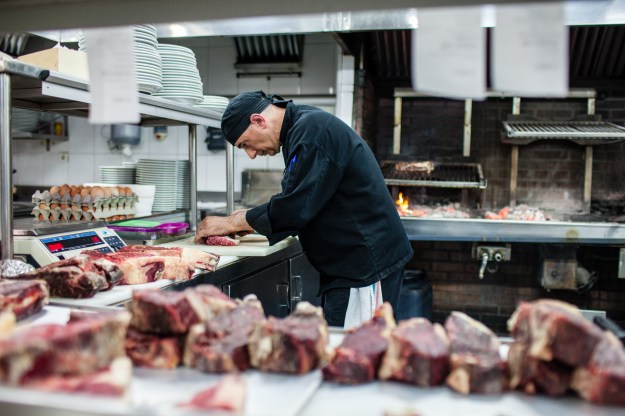 After filling your belly and soul, hop on the cable car and head back down the mountain. Take the Puente de La Salve to see one of the best genres of art flourishing in Bilbao: urban art. "Giltza Bat" is an enormous piece by Verónica and Christina Werckmeister. Wander through Bilbao La Vieja Street, Cortes Street and the Plaza Kirikiño to see various murals by Bada, Fermín Moreno, and Jorge Rubio. Then walk along the river, saluting the shiny spectacle of the Guggenheim, and stopping at Olabeaga to see the striking "Soñar" piece by the artist SpY. His other public work, "Crisis," was composed of €1000 glued to a city wall in the form of two cent coins that disappeared after only a few days.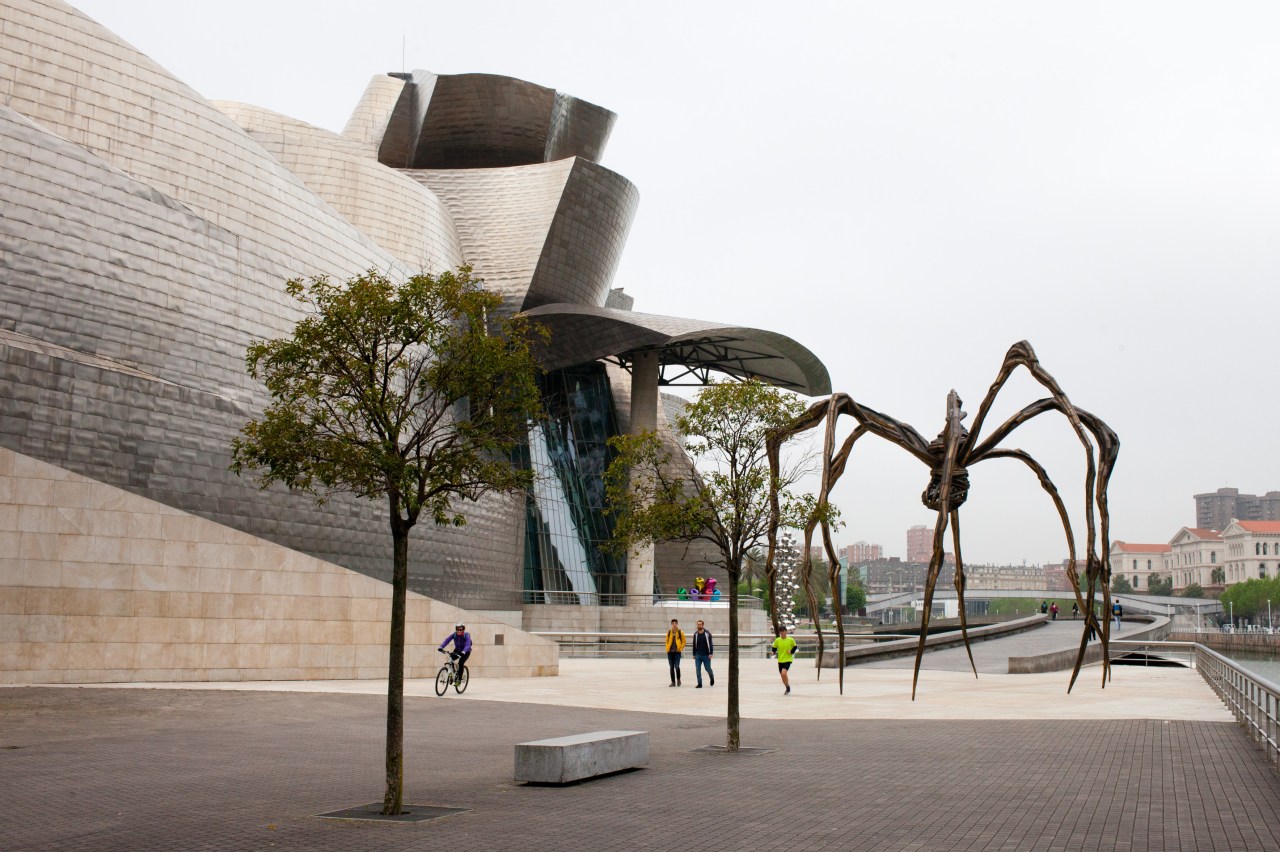 7:00
pm
Penguin Bar
Gregorio de la Revilla Zumarkalea, 8
Bilbao 48009
Get Directions
So much walking probably has you thirsty again. Don't let the exposed brick walls and vintage-looking leather furniture set off your hipster radar—Penguin Bar, in the happening Indautxu neighborhood of Bilbao, is the real deal, especially when a beverage is in order. Café-wise, they serve up Right Side coffee, from the Barcelona roasters that are Spain's caffeine darlings du jour. Cerveza-wise, there are 16 taps of craft beer, many of them local brews, like Boga and Basqueland Brewing Project.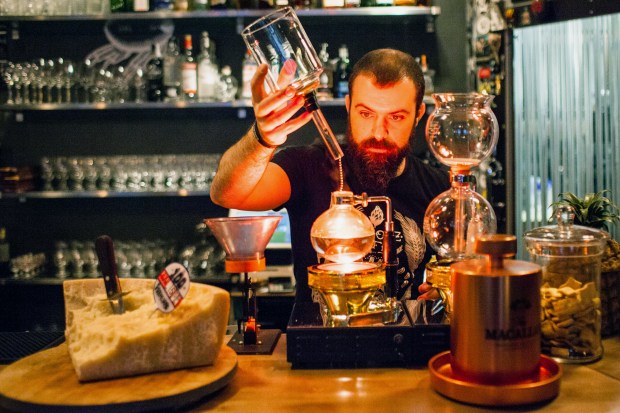 Never one to shy away from a challenge (or a big name in architecture), Bilbao has taken the peninsula of Zorrotzaurre, formed when the Canal of Deusto was built in the 1960s and made a grand urban design plan with the late Zaha Hadid. The road to completion looks to be a long one, but in the meantime, the plan has created a movement: ZAWP (Zorrotzaurre Art Work In Progress). HACERIA Aretoa is the theatrical, musical expression of ZAWP. This small theater brings disproportionately large ideas and sounds to the under-the-radar riverside of Bilbao.
A rough-around-the-edges black Pandora's box, hACERIA Aretoa's rotating programming could have you learning to play the flamenco box or flailing in a Lindy Hop dance class followed by a DJ session. Check the website for what's on and head over to the Zorrotzaurre peninsula to catch the show.
Tucked away in an old salt cellar, Bascook is a little restaurant that people love to love. Aitor Elizegi is a chef's cook—no-nonsense, hard-working, and with a spot-on set of taste buds. Warm stone walls provide the backdrop to his three-part menu, which features a section for vegetables (broccoli kebab with quinoa tartar and kimchi pomade), local cuisine (confit salt cod with cauliflower pil pil sauce), and fusion food (pulled Basque pork with mustard chutney). Regardless of what you order, feel certain that you are in the hands of a chef that knows his local produce. Elizegi's fluency in the language of salt cod, anchovy, Idiazabal cheese, and mushrooms is striking, and he uses it to coax out delicious new expressions of these traditional products.