During the dry season, the air in Dakar is hot and still, full of fine Sahara dust floating in the atmosphere. From the city's chaotic traffic and the countless grilled meat stalls that line the streets, to men sitting in brightly colored boubous enjoying an afternoon cup of ataya, Senegalese green tea, in the shade of a mango tree, to the powerful white-capped waves crashing into the Dakar peninsula, everyone can find something to love in the capital.
Due to its location on the Cap-Vert Peninsula, the city is almost circular and very easy to explore. For the more adventurous, hopping on a carrapide—a sort of minibus, and a Dakar institution—is a perfect way to get an authentic taste of the city's pace. Taxis will transport you just as easily (and far more comfortably) around the city, with an average trip about 1,500 CFA ($2.45).
There are plenty of major cultural events held in the city throughout the year, such as the month-long Dak'Art Biennale, which takes place on every even-numbered year, or Dakar Fashion Week, held every June. Dakar has a very unique vibe: it feels young and fresh, full of big dreams and laughter. With a cultural calendar full of concerts, art exhibitions, and performances, Dakar is increasingly attracting more and more people and drawing in young, creative talent. The city has huge potential, and is ripe for exploring.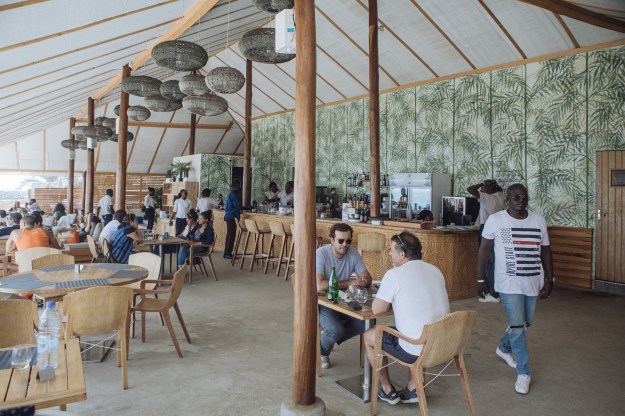 8:30
am
Chez Fatou
Corniche des almadies – Rte de Ngor
Les Almadies 00000
Get Directions
Start the day off at Chez Fatou, a newly-opened, hip beachside breakfast and brunch spot. Specializing in "All-American Breakfasts," complete with bacon, eggs, toast, and pancakes drizzled with maple syrup, fresh fruit salad, and a selection of juices, teas and coffee. Take in the views of the ocean and enjoy the morning's warm sunrays hitting the terrace.
9:30
am
Malika Surf Camp
La maison des surfeurs
Centre aéré BCEAO, villa 19
Get Directions
Hop into a taxi and arrive early for a pre-booked surfing lesson at the Malika Surf Camp, where husband and wife Marta Imarisio and Aziz Kane will teach you how to chase the perfect waves at Yoff Beach, on the outskirts of Dakar. For beginners, a steady stream of gentle swells sweep the sandy beach; further away, there are more challenging waves for more seasoned surfers. On N'Gor Island, just 300 feet offshore, hundreds of surfers rush to ride the perfect barrel.
11:30
am
Les Mamelles Lighthouse
Mamelles, Route de l'Aeroport
Get Directions
If you're up for some more exercise, climb to Les Mamelles Lighthouse to take in the view of the bustling city. The lighthouse, situated on one of two prominent hills near Pointe des Almadies, the westernmost point of Africa, is a good alternative to the more touristy and expensive African Renaissance Monument, which towers over the city a short distance away. The whitewashed lighthouse, built in 1864, is one of the oldest surviving buildings in Dakar.
After the morning's workout, head toward the Pointe des Almadies to rest and have a bite to eat. The seafront is stacked with seafood restaurants side by side, with smoked fish being grilled on open fires at each shop front. From sea urchin and thiof (grouper) to lobster and red carp, La Marée serves a variety of seafood brought in by fishermen visible just feet away from the balcony overlooking the shoreline. A plate of cockles drizzled with lime juice is the ideal savory snack to be shared among friends. Wash it all down with a bottle of locally-brewed Gazelle beer, naturally.
For a cultural experience, head over to the Village des Arts. The large garden space, with its dozens of mango trees, offers welcome shade and an oasis of calm and is home to both established and emerging artists. Stroll through the garden and open-air workshops, or wander through the rows and rows of indoor studios. The artists are more than happy to stop for a chat and show you around. This is a true haven for creatives of all kinds, and if you're lucky, musicians will stop by, filling the air with beautiful melodies that melt into the sounds of hammering and welding. Huge, half-finished sculptures, like a gorilla and various large concoctions of scrap metal, stand ready to be used or finished, adding to the cozy and somewhat surreal atmosphere of the garden.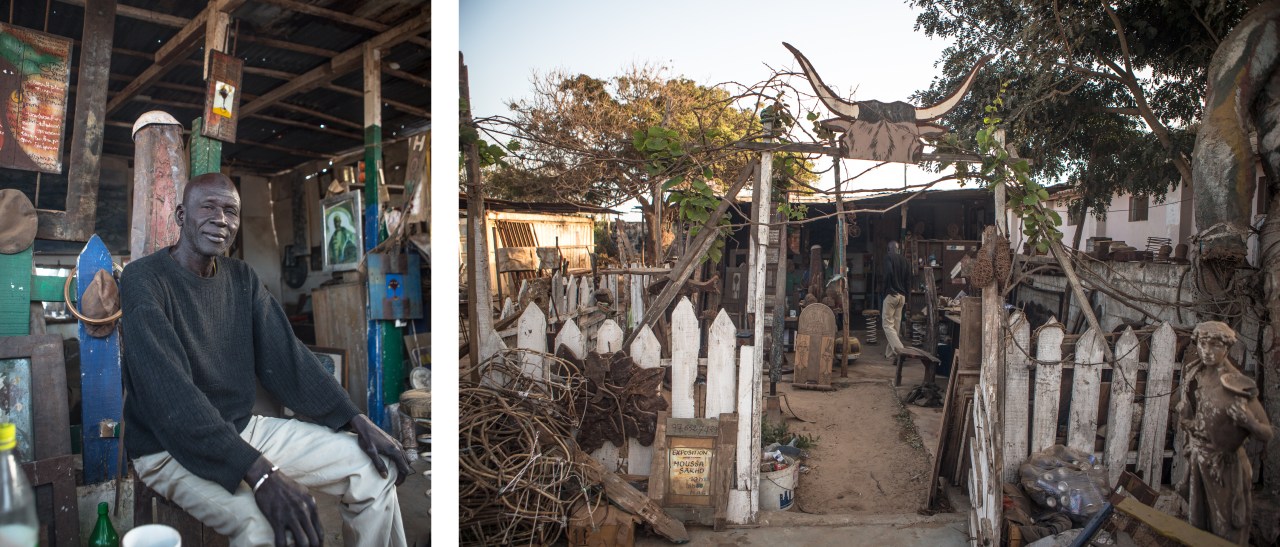 Buzzing, crowded markets are the heartbeat of Dakar, offering locals everything from manioc, okra, and rainbow-colored fish glimmering in the sunshine, to kitchen utensils and jewelry. If you would rather avoid the more touristy Marché Artisanale de Soumbédioune, where it can be difficult to dodge the strong-armed sales pitches, head over to Marché Tilene.
This market, located in the heart of the Medina neighborhood, offers a glimpse into local city life; you'll be safe from tourist touts here. Walk along the market and take in the vibrant colors and smells of piles of bright spices and herbs, fragrant fruits, and vegetables.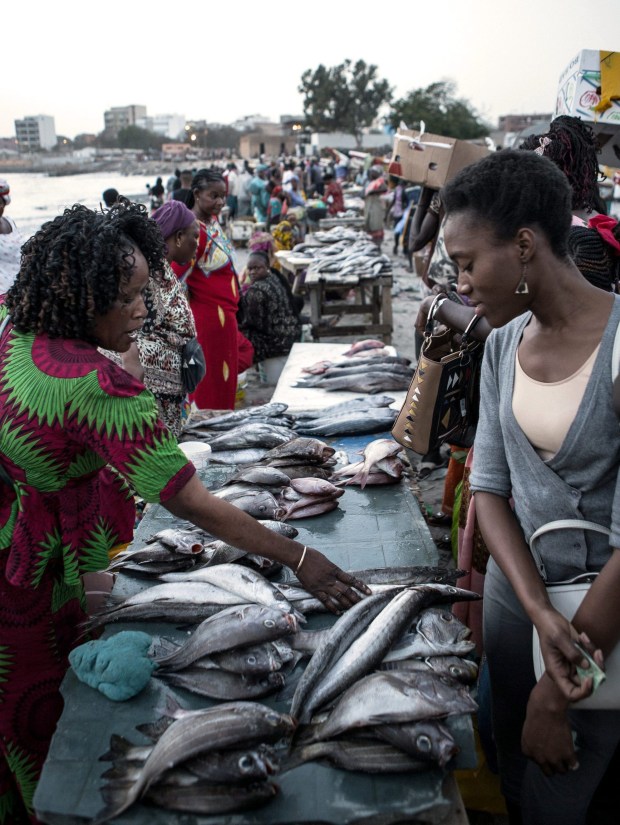 If you feel like a walk, take the 15 minute trek to grab a snack from one of the many dibiteries—grilled meat stands—lining the Soumbedioune Fish Market. If it's too hot, grab a cab to this next food destination.
You'll find dozens of women grilling fish and preparing nems (spring rolls); bring a fish from the market to a vendor grilling over an open fire, or let them choose one for you. Walk to the beach after 4 p.m. to get the best vantage point for viewing the hundreds of pirogues returning to shore after the day's fishing. As soon as the fishermen dock, a horde of fishmongers storm the beach to inspect the catch, which can include anything from barracuda to shrimp.
5:45
pm
Monument du millenaire
Intersection of Avenue Malick Sy and Route de la Corniche Ouest
Get Directions
Hop into a taxi to head over to Corniche Ouest and the Millennium Gateway to watch the sunset. As the temperature falls slightly, hundreds of locals fill the beaches below and begin their daily workout routine. Besides the joggers and footballers, outdoor gym facilities—including everything from bench presses to elliptical machines—along the Corniche attract sporty people of all ages. Take in the views of the beaches and beachgoers below as the sun is rapidly swallowed by the ocean.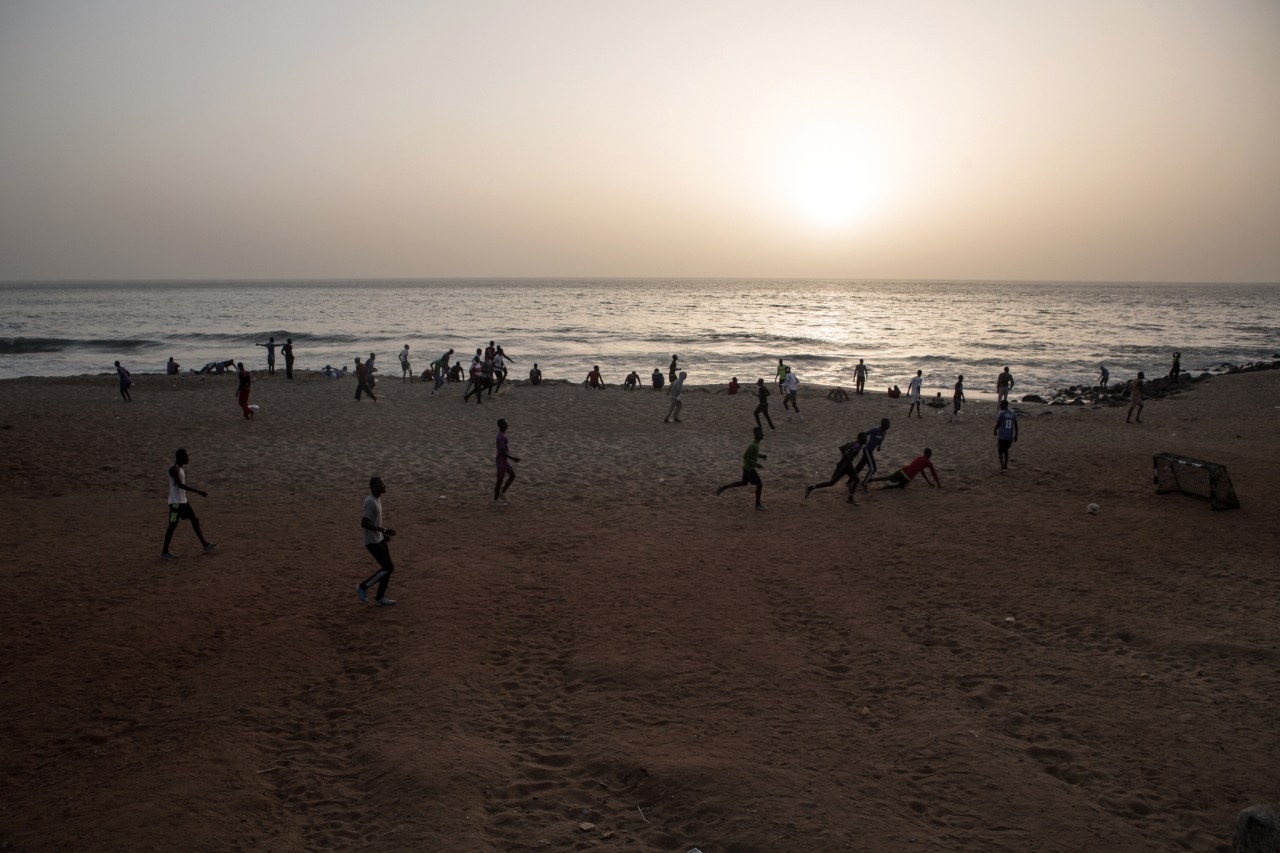 Although locals—and many restaurants—don't start dinner until after 8 p.m., you can still get dinner at Khorbi from 6 p.m. onwards. Located in the Fann neighborhood, not far from the Cheikh Anta Diop University, this place is popular among students and professors. During football matches, multicolored banners supporting the local teams decorate the neighboring streets that become lively after sundown. Khorbi offers a selection of meats and fish—I recommend any of the fresh fish, though more adventurous eaters may want to try the large selection of game. Ideal for night owls, Khorbi is open until 4 a.m. with mellow salsa music playing in the background and locals challenging each other to a game of pool at the side of the restaurant.
If you're still up for an adventure after the day's activities, immerse yourself in Dakar's nightlife. You'll be lucky to find a place that gets going before 11 p.m. but there are plenty of bars and nightclubs to choose from. For the most authentic atmosphere, head to the city's many bars playing salsa or mbalax, which infuses traditional Senegalese drum beats with salsa. Most bars and nightclubs are open until very late (or early, whichever way you look at it) and many partiers will stop off for a late-night snack at local late-night institution Ali Baba for pizza, burgers, and shawarma. Alternatively, try some dibi from Dibiterie Le Mboté, or the many stands lining the streets, ready to serve late-night revelers meat wrapped in greaseproof paper and cooked on a wooden fire, served with grilled onions and mustard.