Spending time in the inner city of Johannesburg is an adventure; it's exciting, noisy, crowded, and requires a certain amount of street smarts. Although over the past decade the area has been transformed into a vibrant and cosmopolitan city, it is still struggling to shed its association with crime, poverty, and run-down buildings. However, government efforts through the urban renewal government program begun in 2005 are yielding results—lower crime rates, cleaner streets, and an increased police presence. Today, the city is firmly on the way up—a destination on international travelers' must-visit list. Downtown Johannesburg is a melting pot of cultures. Everyone from bankers to hawkers offering a variety of international cuisines lives, works, and plays here.
I like going to the inner city on Saturdays. Although there are new shops and restaurants, the area has kept its old landmarks, vibrant street markets, and museums.
My personal preference is to get there using public transport because parking is very limited and can be pricey. The Central Business District, dense with skyscrapers, is also dense with people.  Nearly 470,000 people live in the inner city and about 800,000 commute there every day.
Whether you are into theater, art, fashion, food, architecture, culture, or history, this city, known affectionately as "Joburg," has a bit of everything. Street art, weekly fashion shows on Saturdays, and restaurant hopping in Little Ethiopia are all on offer, but my main reason to visit the inner city is to meet my friends so we can go bargain hunting for clothes and have a catch-up session at a nice restaurant. This particular day I am riding solo.
The entry to the city from the north is the Nelson Mandela Bridge, named after South Africa's first democratic president.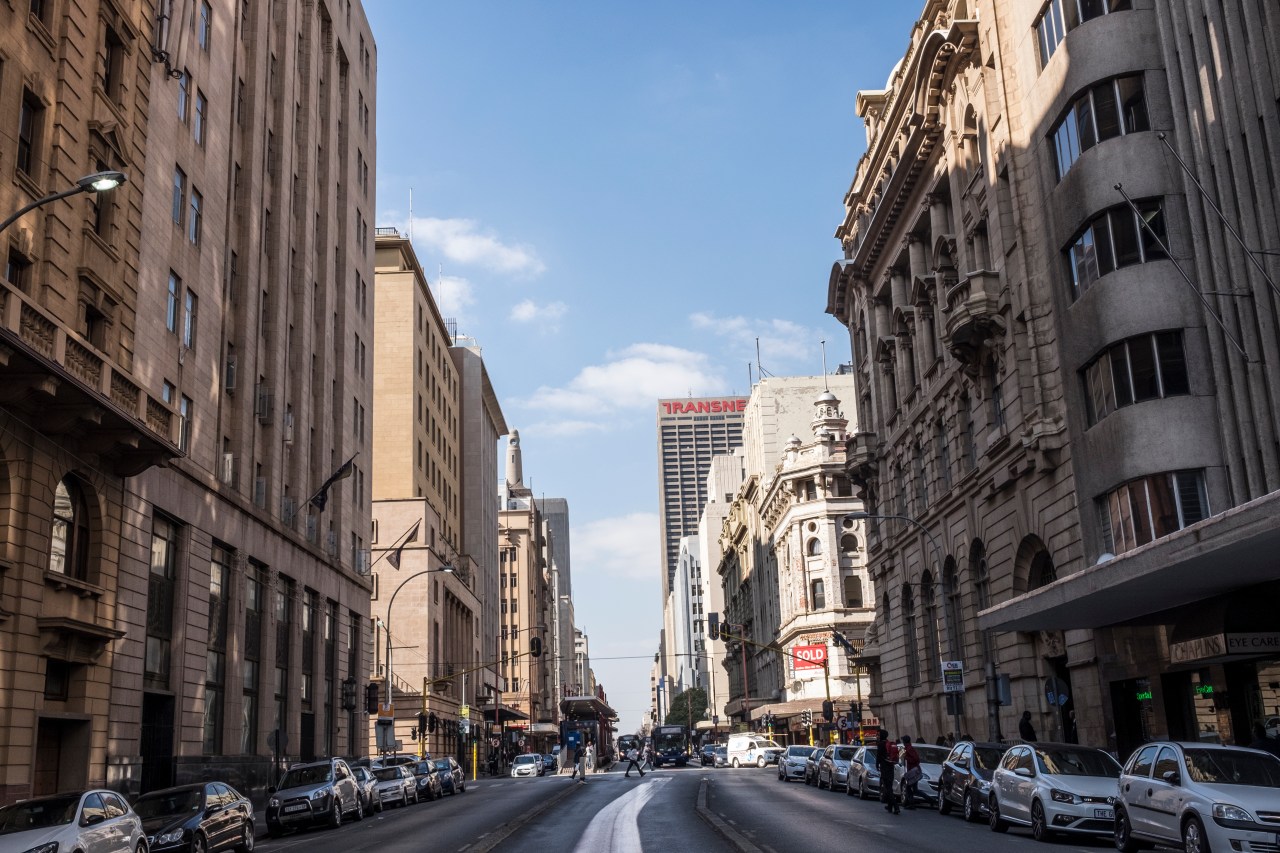 10:00
am
Johannesburg City Hall
Rissik St, Johannesburg, 2000, South Africa
Get Directions
From Rosebank, a suburb on the northern side of Joburg, take the bus to Gandhi Square, the central terminus for the city's Metrobus network. The square is named after Indian political and human rights activist Mahatma Gandhi.
Next, I make my way through the Pedestrian Mall on Main Street and admire the magnificent old houses built by mining companies, with artifacts including an old mine and shafts giving a glimpse into the country's mining heritage. The world's richest gold fields were discovered in Johannesburg in the 1880s.
Distinctive blue plaques with more information on this history line the walkway between trees, fountains, and sculptures. These plaques, sprinkled around the city, tell the story of Joburg's growth from its pre-colonial days through the gold rush, and its establishment as a mining town.
Other interesting buildings nearby that showcase colonial architecture include Johannesburg City Hall, once claimed to have the largest, most beautiful pipe organ in the southern hemisphere. Stop by to have a look—it was refurbished in 2011.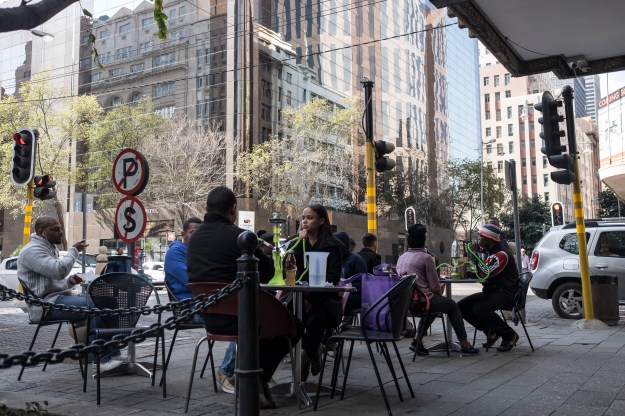 The Johannesburg Public Library is another grand building worthy of architectural note. Stop as well to see Anstey's Building, built in 1935, which has been declared a national monument and described as the best Art Deco architecture in town. This building was once the home of Cecil Williams, the anti-apartheid activist.  
While walking in downtown Johannesburg, expect to be offered a haircut or a new hairstyle, especially if you have natural hair (i.e. Afro). In the inner city, you can find any type of braid hairstyle at an affordable price: you will be offered a small chair or to sit on the pavement and three women will style your hair for R150-R350 ($11 to $27)–a steal compared to salon prices that can run up to R800.
You will also see street vendors on the sidewalks selling everything from traditional foods like chicken feet, tripe, and sheep's heads, to colorful Zulu and Ndebele garments and accessories.
Between shouting vendors, loudspeakers outside some shops blaring music, and minibus taxis honking, the inner city is also very noisy place.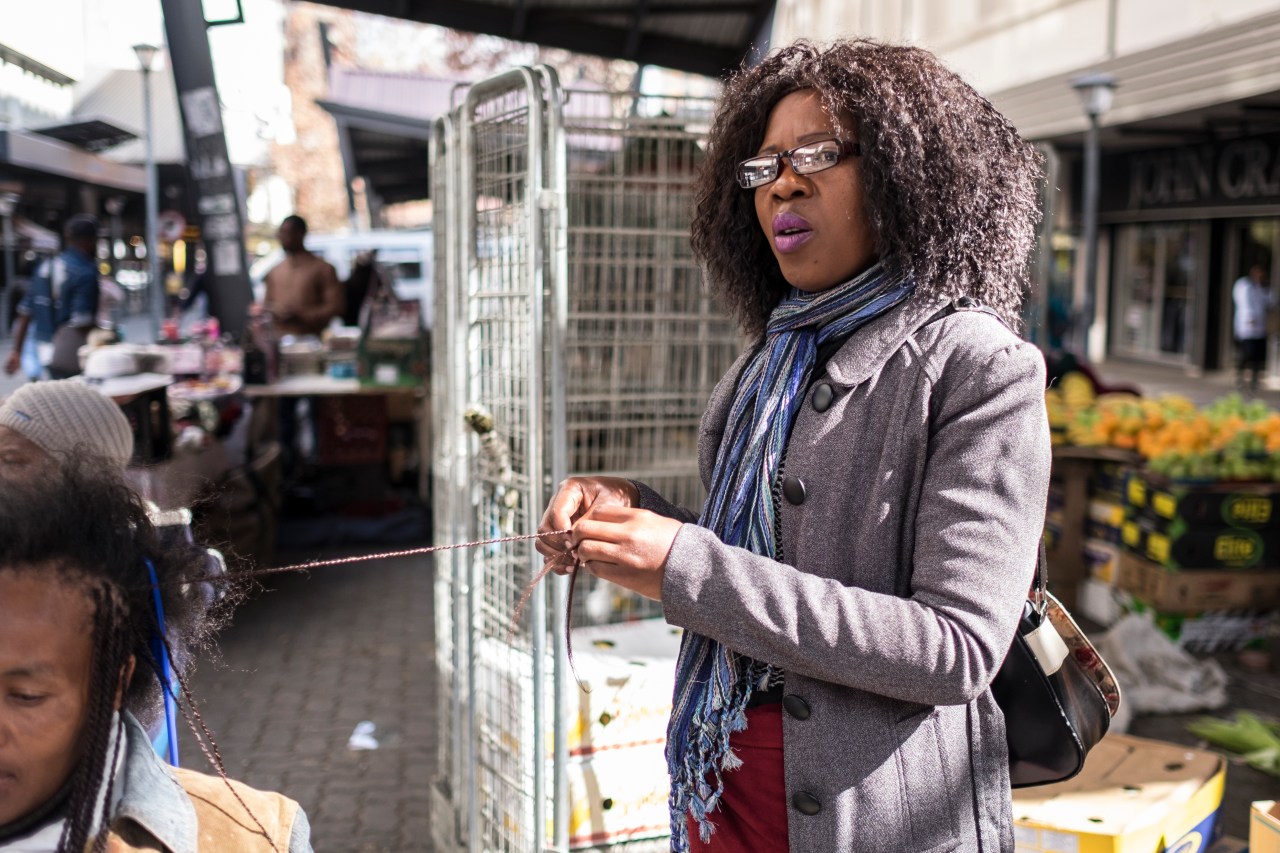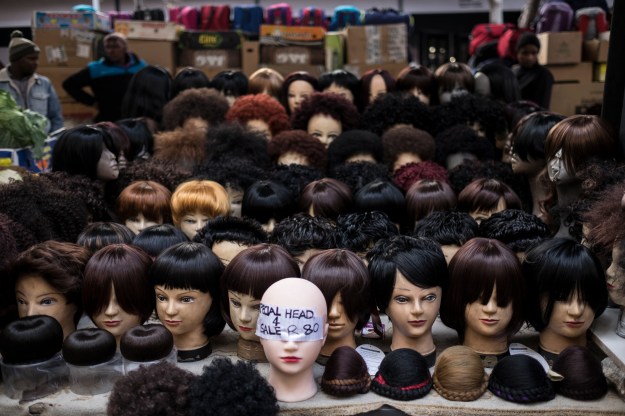 1:00
pm
Niki's Oasis
138 Bree Street, Newtown Precinct
Tel: +27 (0)11 838 9733
Get Directions
I take a minibus taxi to Newton, a neighborhood about five minutes away on the West side of the inner city.  Newton is a great attraction for anyone with love for arts and culture and the place you are most likely to bump into famous actors and musicians. This side of downtown is much calmer. The district houses theaters, art galleries, museums, restaurants, bookstores, craft markets, clubs, and cafés.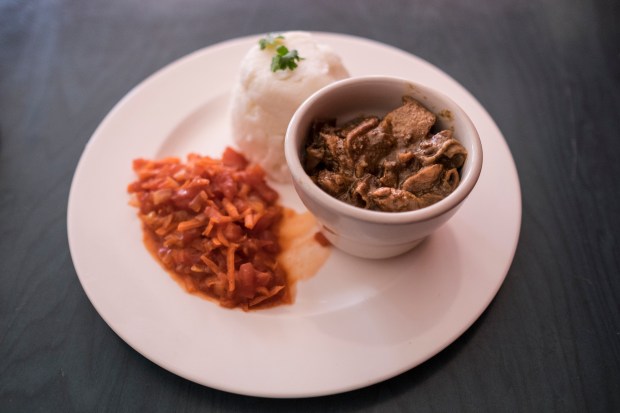 The first stop is Niki's Oasis, a jazz bar opposite the Market Theatre.
What I like about the restaurant is that it serves authentic African cuisine from oxtail, mogodu (tripe) or one of Nikis's famous potjies—stews cooked over a fire in a three-legged pot. Try the lamb potjie. My favorite dish is tripe and mngqusho (samp and beans). Inside the restaurant, enjoy the displays of upcoming artists' paintings and sculptures.
2:30
pm
Market Theatre
56 Margaret Mcingana St, Newtown, Johannesburg, 2001, South Africa
Phone: +27 11 832 1641
Get Directions
After lunch, walk back to the Market Theatre, which forms part of the Newton Heritage Trail. The theater was established by a troupe of dedicated anti-apartheid actors and opened its doors in 1976, the same week that the Soweto uprising began.
It was one of the few places where blacks and white shared the stage and performed for mixed-race audiences.
3:15
pm
Worker's Museum
Jeppe St, Newtown, Johannesburg, 2000, South Africa
+27 11 492 0600
Get Directions
Next, I head to the Worker's Museum, which showcases the history of black migrant workers and how the working class was divided along color lines during apartheid.
Next door, find the studios of the Dance Factory, the only dedicated dance theater in the country.
4:00
pm
Arts on Main
264 Fox St & Berea Road, Maboneng, Johannesburg, 2094, South Africa
Phone: +27 11 592 0513
Get Directions
Take a taxi to Maboneng (a Sotho name which means a place of light) on the east side of the inner city, and thank goodness it is summer in Johannesburg and the sun sets after 7 p.m.—a big improvement on the early dusk of winter. 
This precinct is a mixture of fashion designers, funky restaurants, art galleries, and studios. Just like the other precincts of the inner city the area went through a transformation from an industrial space with derelict buildings into an artistic paradise. Head to Arts on Main, one of Maboneng's two main building complexes.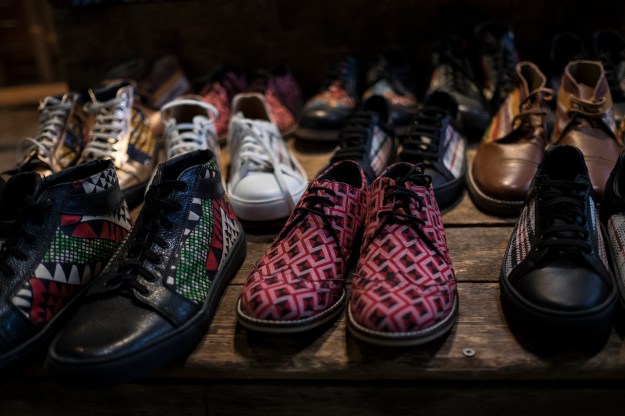 Despite the bare-bones vibe, the community has a close-knit feeling akin to a small-town atmosphere. Riding a bike—you can rent one for the day—and walking are the best ways to get around the neighborhood.
On Sunday the street vendors transform Arts on Main into a vibrant and colorful place where you stock up on locally-designed clothing and vintage fashion. It's also a spot to introduce your taste buds to a variety of food. For those who love to dance (or watch those who can), head to rooftop Canteen, the courtyard restaurant where you can move your hips to the rhythm of salsa.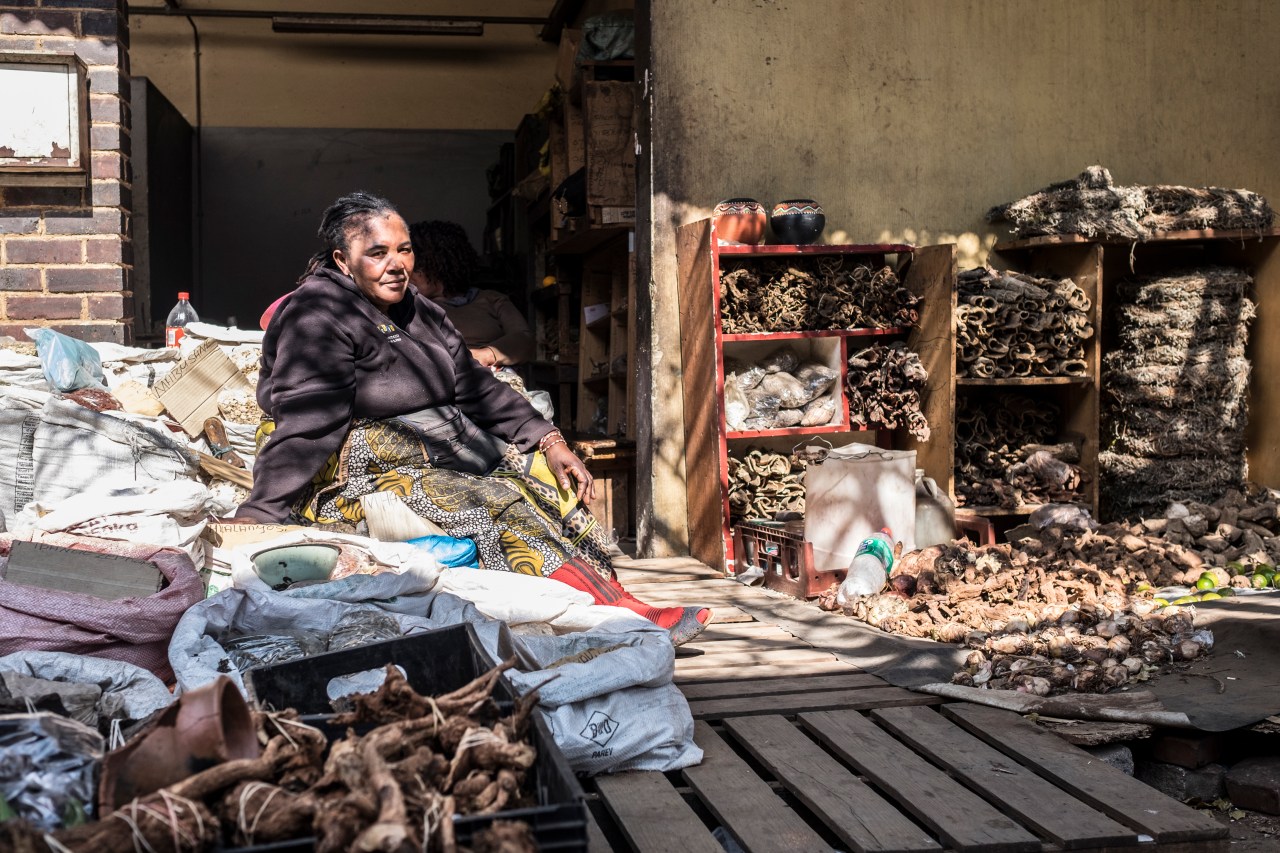 7:00
pm
The Blackanese
20 Kruger St, Johannesburg, 2094, South Africa
Get Directions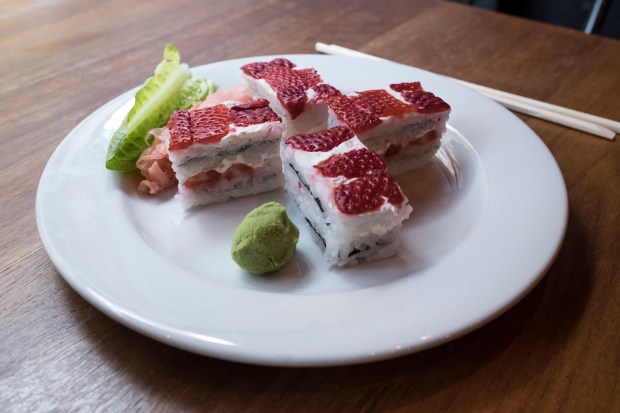 After window shopping—one of my favorites is P&H Boutique, for their African-inspired outfits and accessories—it's time for dinner at trendy eatery The Blackanese, a sushi restaurant with a twist. The restaurant infuses Japanese dishes with African flavors. Traditional sushi dishes such as maki, sashimi and nigiri have been fused with local flavors, resulting in surprising and delightful dishes like biltong sushi. Try the strawberry and cream cheese dessert sushi for a bit of sweetness after your meal.
9:00
pm
Bioscope
286 Fox St, City and Suburban, Johannesburg, 2094, South Africa
Phone: +27 11 039 7306
Get Directions
After dinner, head out to the Bioscope, which screens local films—get your documentary fix here—and exhibits Johannesburg's music scene with live concerts.
Walking through Joburg's inner city I get to use all my senses to experience the different tastes, smells, textures, sounds and colors. Though this is a blueprint for one day, it takes multiple trips to fully appreciate enjoy the experience, so plan on a return visit.