If there were an award for the region of Europe whose location was easiest to describe in just a few words, Puglia would be forever hiring a tux. "It's the heel of Italy's boot" is usually all one needs to say in explanation. There's a terrible irony about this accidental meeting of topography and footwear, because, since time immemorial, Puglia has found itself under the heel of myriad other nations as their armies marched through without so much as a "by your leave." The Greeks started the trend, followed by the Romans, Goths, Lombards, Byzantines, Normans, Swabians, Angevins, and Aragonese, among others. The cities, castles, and amphitheaters of Puglia—built from the local limestone—stand in mute testimony to its invaders' conquests.
I like to think that my own journeys through Puglia have been somewhat more benign. I'm a great fan of rail travel, so my ideal day involves a good amount of hopping on and off trains. Happily, that means I also get to see a great sweep of what Puglia has to offer.
But it's the timing of the trip that is crucial. August is when the Apugliesi take their summer holiday and the streets, cafes, and beaches are full to bursting. I prefer late autumn or early spring. It's cooler and wetter, but pick a clear bright day and it can be surprisingly warm—and there's nothing like a little nip in the air in the evening to keep you honest.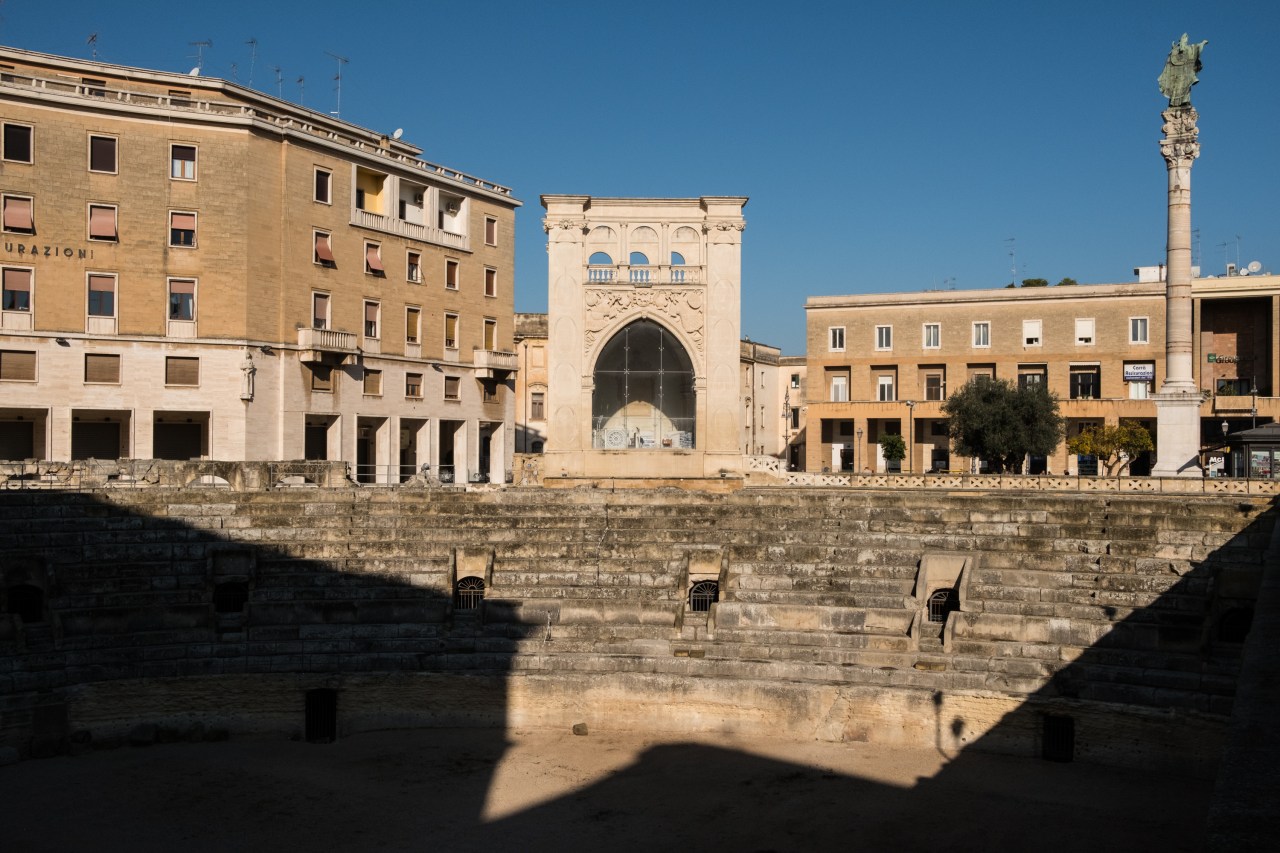 9:00
am
Caffè Alvino
Piazza Sant'Oronzo, 30,
73100 Lecce LE, Italy
Get Directions
Having woken up at La Bella Lecce, an airy bed-and-breakfast in the backstreets of Lecce's old town, I emerge and allow my eyes to become accustomed to the glare of sunlight on white stone. Lecce is a city filled with so much magnificent Baroque architecture that I feel abashed about strolling through it to get to my favorite spot in the city—a decidedly non-Baroque Roman amphitheater in the middle of Piazza Sant'Oronzo. It's astonishingly well preserved. Perhaps we could meet to have a wander around it before taking a seat under a parasol at Caffè Alvino. There are many cafes on the square, but Alvino has the best coffee. Since I'm not really a breakfast kind of person, the coffee becomes rather more important. However, the cafe is famous for its range of pastries—the pasticciotto is the best in Lecce—so do help yourself. Or have some cake. You're on holiday after all.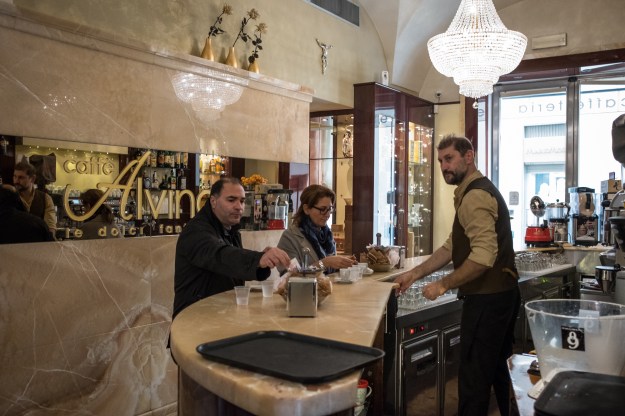 10:00
am
Lecce Railway Station
Piazzale Oronzo Massari
73100 Lecce
Get Directions
All being well, our first train should depart on the dot of 10 to take us northwest to the coast. Italian railways are reasonably reliable and surprisingly cheap.
Today we'll be taking five trains on a tour of around 161 miles, and the fare will cost us less than €20 each.
Our first port of call is Brindisi. Even locals will admit that it used to be a bit of a dump, but it's really come up in the world in recent years. Nowadays it's a pleasure to saunter from the station along the arrow-straight Corso Umberto, a broad street of whitewashed stone, flanked by huge palm trees. We pass the modern Fontana delle Ancore—a fountain whose immense anchors pay tribute to Brindisi's millennia-old importance as a seaport—and arrive at the Piazza del Popolo with its statue of Caesar Augustus.
The first Roman emperor cuts a rather forlorn and shabby figure, eyes cast downward and doomed to point eternally at something indeterminate above our heads. The statue may be the Puglians' subtle way of exacting revenge on their onetime overlord. No matter—we've still time enough to take in Corso Garibaldi. Its little independent shops hide behind yet more gargantuan palm trees. The street surges onto where the ferries leave for Greece, that first ancient foe across the water.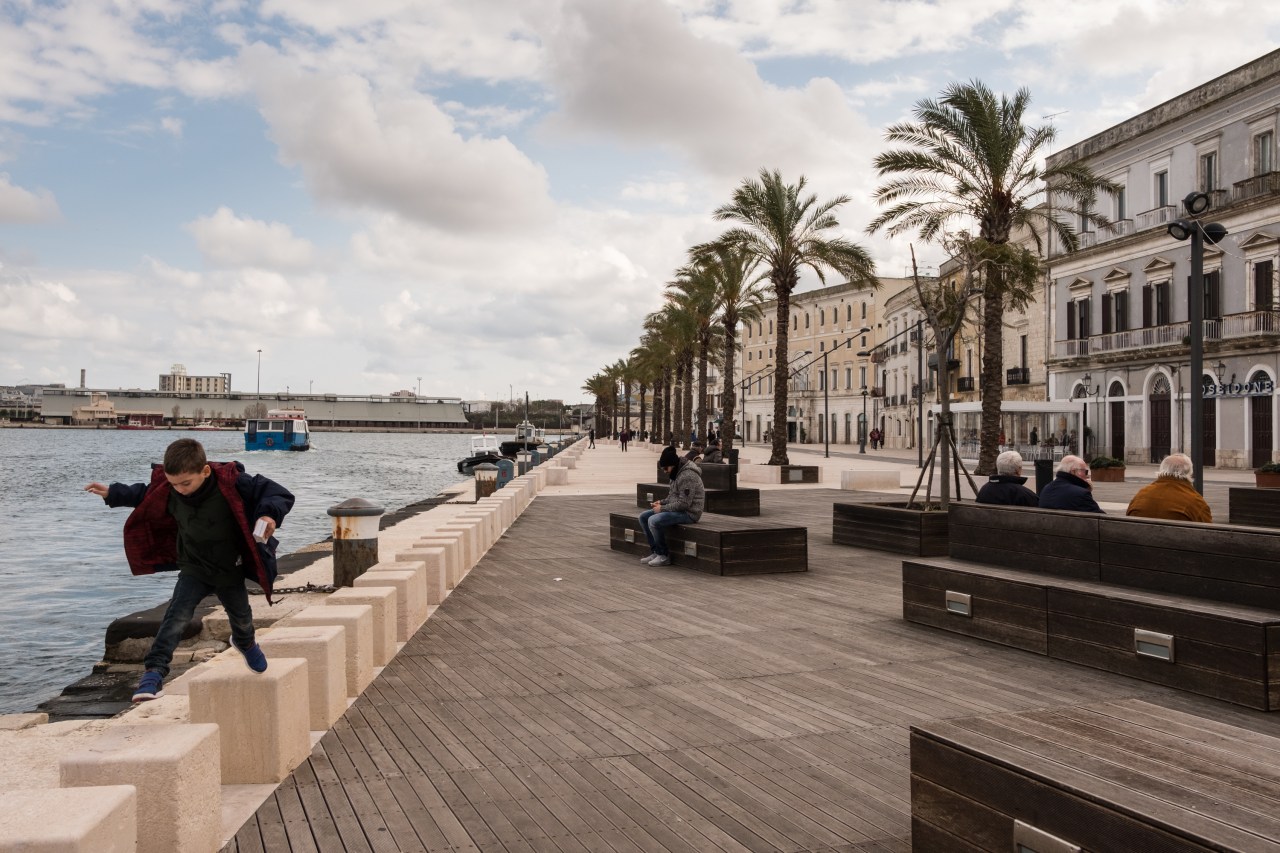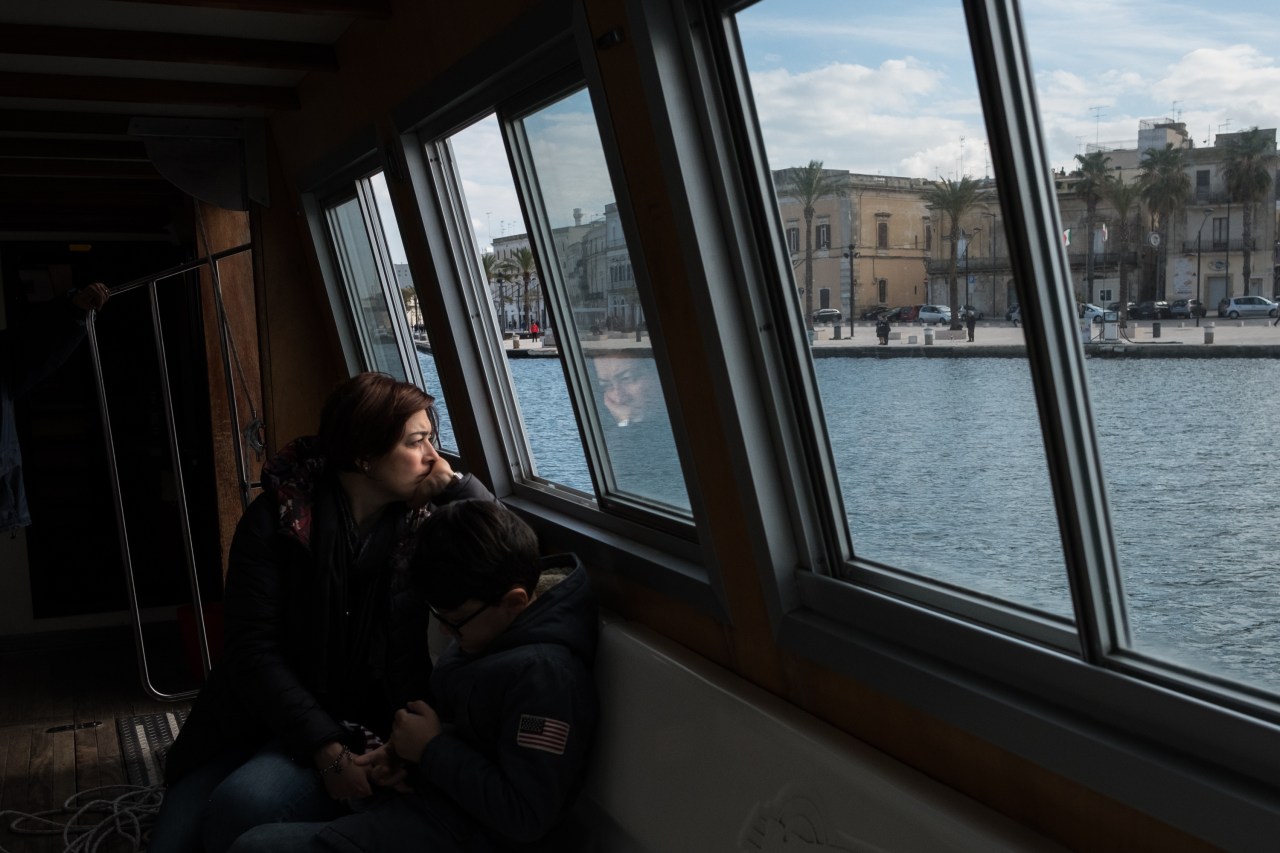 11:30
am
Brindisi Railway Station
Piazza Stazione
72100 Brindisi, Italy
Get Directions
Boarding the train farther northwest along the coast we have an important decision to make: If we plop ourselves down on the right-hand side, we can gaze listlessly out to sea and imagine ourselves poets. Alternatively, if we're in the mood for views across the seemingly limitless groves of olive trees surrounding the città bianche—the white medieval hilltop towns—we'll settle down on the left. You can choose.
12:30
pm
Polignano a Mare
70044 Metropolitan City of Bari
Get Directions
The small seaside town of Polignano a Mare holds a special place in the heart of the Apugliesi, and it can get stiflingly crowded in summer as a result. It's much more relaxed today as we amble into the compact centro storico. The limestone-white buildings date from the Middle Ages, but here there's a modern twist: Quotations and fragments of poems are painted in an endearingly amateur fashion on wooden doors and whatever else might plausibly be mistaken for a blank canvas.
The creator of Huckleberry Finn even gets a look in: "Questo luogo è stato creato prima del Paradiso—Mark Twain," one door proclaims. Did Twain ever say something along the lines of "This place was created before Heaven"? We can discuss the matter as we make our way down to the tiny cove for which Polignano a Mare is famous. The surrounding craggy cliffs, undercut by caves and topped with ancient buildings that look as if they are daring each other to inch a little closer to the edge, make this one of the most photographed settings in all of Puglia. It's the sort of place that gives romance a good name.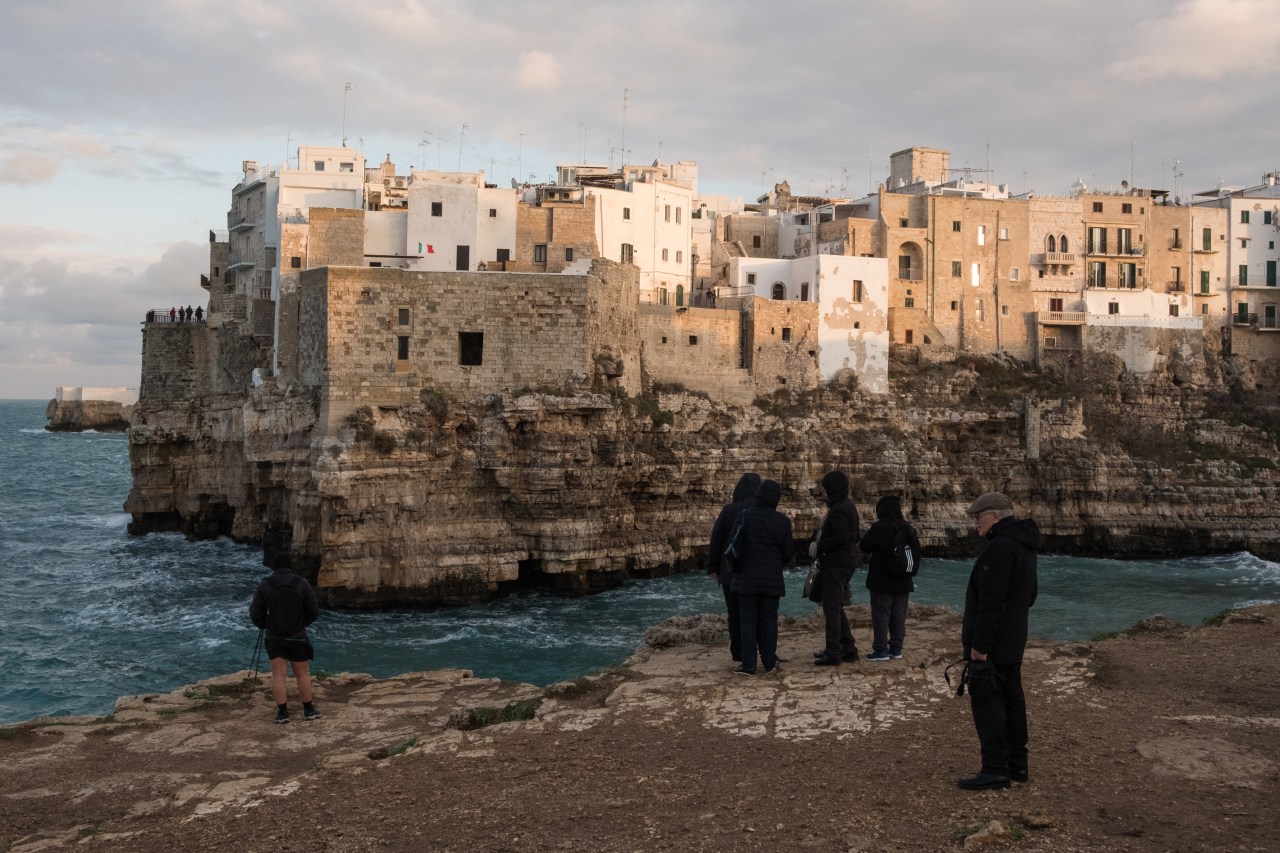 1:00
pm
Mint Cucina Fresca
Via San Benedetto 32
70044 Polignano a Mare
Get Directions
Forget love—I'm hungry. This could be a good moment to break it to you that I'm a vegan. Thankfully, a lot of the most delicious food here is what I term "accidentally vegan." What's more, Mint Cucina Fresca is a really friendly little bistro in the old town dedicated to serving only the healthiest of food. The dishes are all vegetarian, vegan, or fish based. Co-owners Liu Sorgi and Fabrizio Silini source their ingredients from local farmers and fishermen and serve up their preparations in a tiny cave of a cafe. You might want to try the potato pancakes with burrata while I tuck into the Rainbow Tris, a cornucopia of raw vegetables and fruit with black sesame seeds and fusilli made entirely from peas. I'll round that off with a vegan creme brulee.
2:30
pm
Polignano a Mare Railway Station
Viale Trieste
70044 Polignano a Mare
Get Directions
To travel inland to Alberobello we must first make our way along the coast to Bari. The port city, like so many around the world, is somewhat rough around the edges. The centro storico, packed into a tiny peninsula beside the old port, is worth a jaunt if you've an hour to kill, but we have tastier polenta to fry. We're going to leave the speedy main line of Trenitalia for the somewhat more laid-back inland routes of the Ferrovie del Sud Est. Alberobello may only be 40 miles away, but the journey will take us an hour and 40 minutes. Relax—it's not a race, and the traveling is all part of the enjoyment of the day. To accompany us on our odyssey into the Valle d'Itria through tiny villages and trulli (and yet more olive trees), I've brought along a book: Puglia: A Culinary Memoir, by local author Maria Pignatelli Ferrante. On our way we can soak up its history of the area, laced with personal anecdotes and hundreds of Puglian recipes.
5:00
pm
Mille Voglie
Piazza Antonio Curri 31
70011 Alberobello
Get Directions
So Alberobello is very touristy, but there's a reason for that: It's absolutely extraordinary. The town is a mecca for lovers of trulli, the little stone dwellings that look like upside-down ice cream cones. They're dotted liberally about rural Puglia, particularly among the plots of olive trees; but in Alberobello there are a cool 1,400 of them squashed together in a warren of winding streets. It's no wonder this little town has UNESCO World Heritage status because, it literally looks like nowhere else on Earth.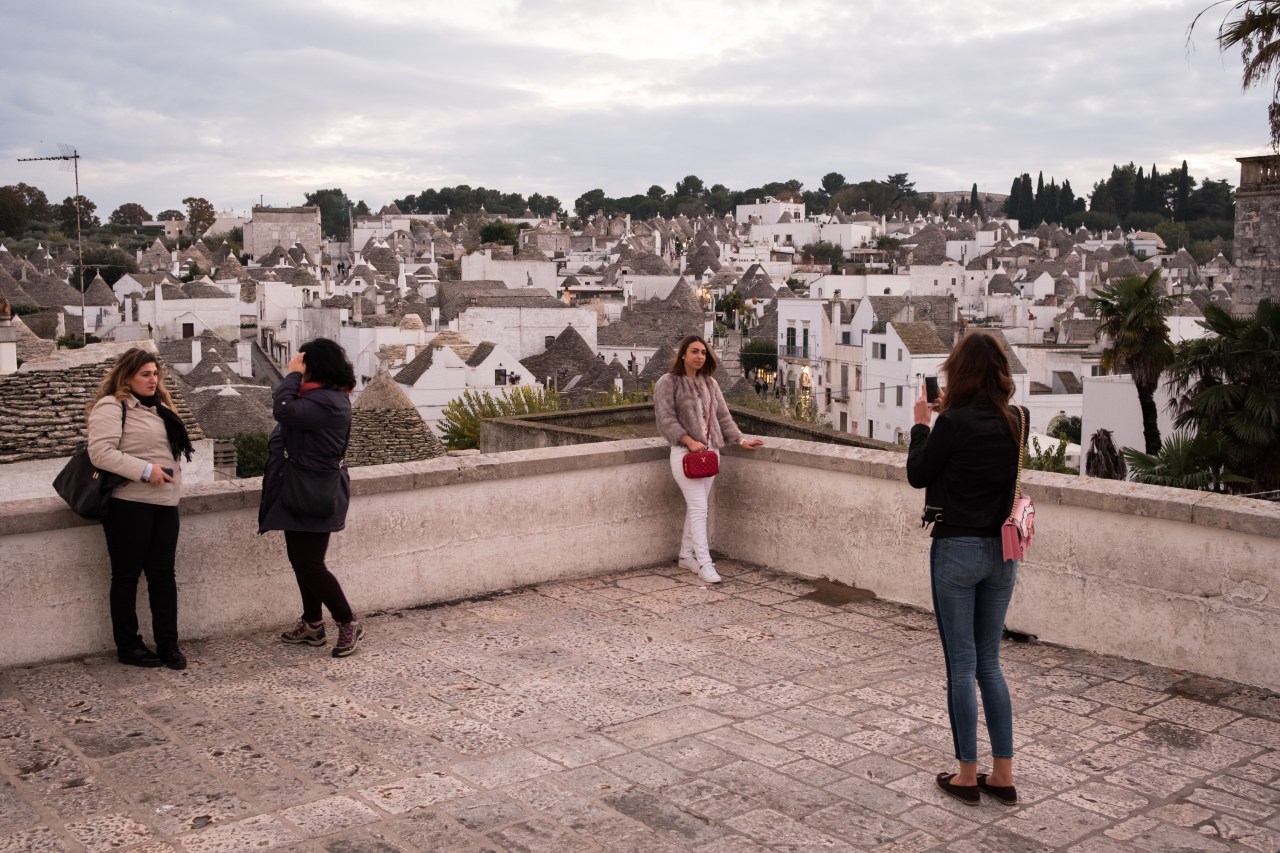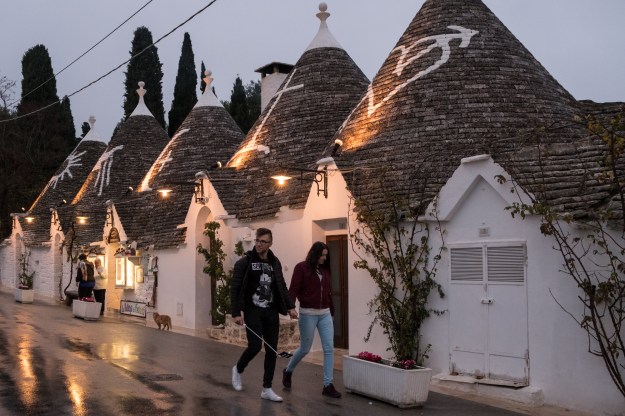 Before we head back to the station, let's pop into Mille Voglie, the town's best gelateria. I'll pick up a refreshing lemony granita alla siciliana. You might like to try one of the exotic ice creams. Panna cotta with sea buckthorn, perhaps?
Don't dawdle, though. The 5:45pm is the very last train we can catch to make it to Ceglie Messapica this evening!
6:00
pm
Porto Santo Stefano
Piazza XX Settembre
Martina Franca
Get Directions
Changing trains at Martina Franca allows us a quick wander around our first città bianca of the day. The ancient white towns, each sitting atop their own isolated little hill, have a distinctly Greek or even North African look to them, a legacy of the constant invasions. At Martina Franca we'll have time to admire Porto Santo Stefano, the magnificent stone gateway to the old town.
Our last train of the day, at 6:30pm, takes us through the gathering twilight to the lights of our final destination.
Ceglie Messapica—just "Ceglie" to the locals—is the least affluent of the città bianche. It's a real blue-collar town with no pretensions about it. This makes the gems they have—the mazelike little backstreets and the dazzlingly white town square where everyone checks out everyone else while pretending to be innocently chatting to friends—all the more attractive.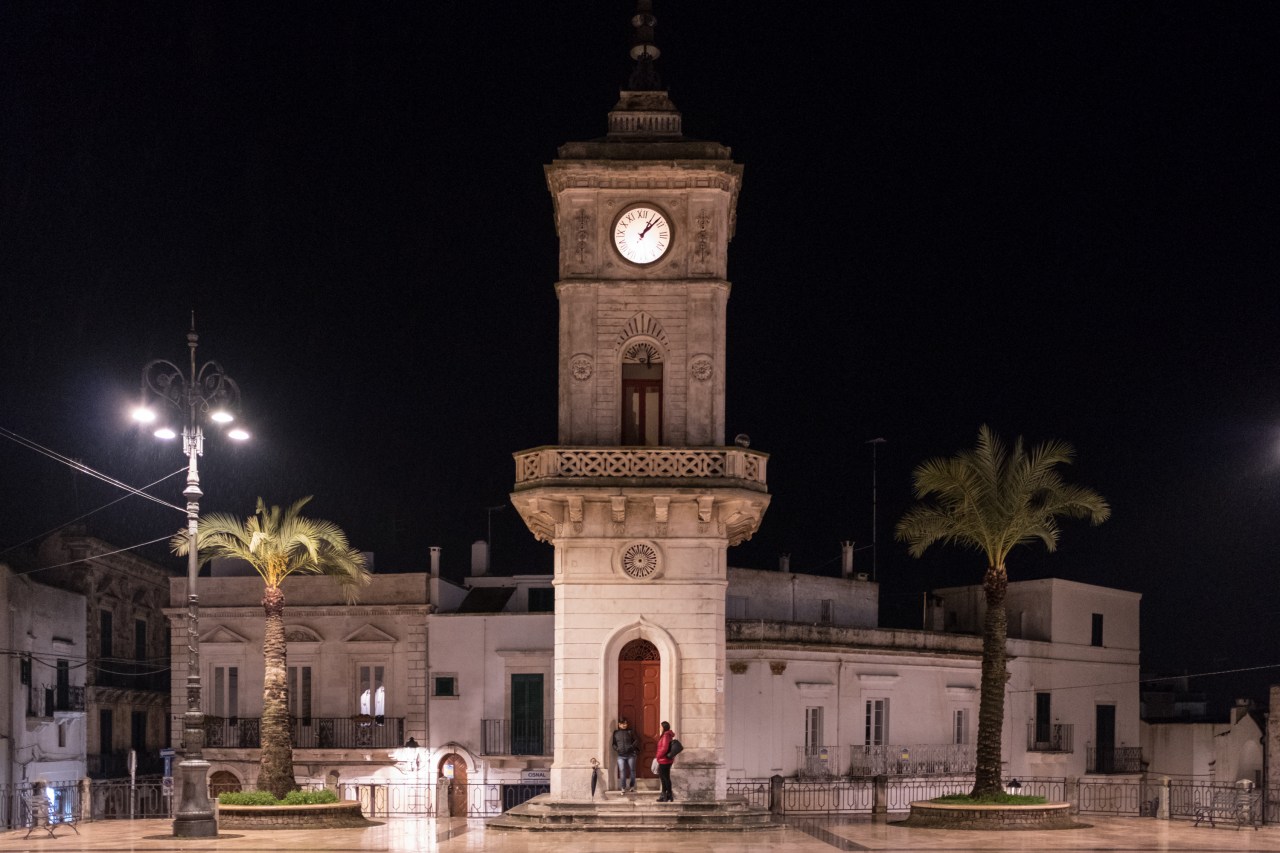 7:30
pm
Laloca Birreria
Via Venezia 61
72013 Ceglie Messapica
Get Directions
Just to sharpen the appetite we'll stroll to the outskirts of town and hit the cozy Laloca Birreria for a cheeky aperitif before dinner.
9:00
pm
Osteria Pugliese
Vico I Orto Nannavecchia 10
72013 Ceglie Messapica
Get Directions
And at last it's time to eat, so we'll walk back towards the square and down into a little cul-de-sac to a door near the end on the right. Ceglie may not be wealthy, but it's recognized as the gastronomic capital of the white towns. Osteria Pugliese is a mother-and-sons restaurant beloved by the locals and cherished by those few lucky tourists who happen upon it. There's no menu, but one of the brothers will tell you what's cooking that day. It'll be a small selection of plain and tasty Pugliese dishes in exceedingly generous portions.
My favorite is probably the simplest on the (non)menu: fave e cicoria. This is a cucina povera ('cuisine of the poor') dish and a staple of the region. The fave (pronounced "fah-veh") is a puree made from the dried broad beans that are traditionally grown between the olive trees; the cicoria is boiled chicory. I'll have some peperoni (mild chilies) to go with it, too. And a carafe or two of a full-bodied local wine.
No matter how much we eat here, the bill will be shockingly small, so this one's on me.