This dish of Dutch origin is a real treat in Sri Lanka. Beef smore is made with a whole fillet or loin which is slowly simmered in a spicy coconut milk gravy and then sliced and served in its own juices. Eat with rice or breads of your choice.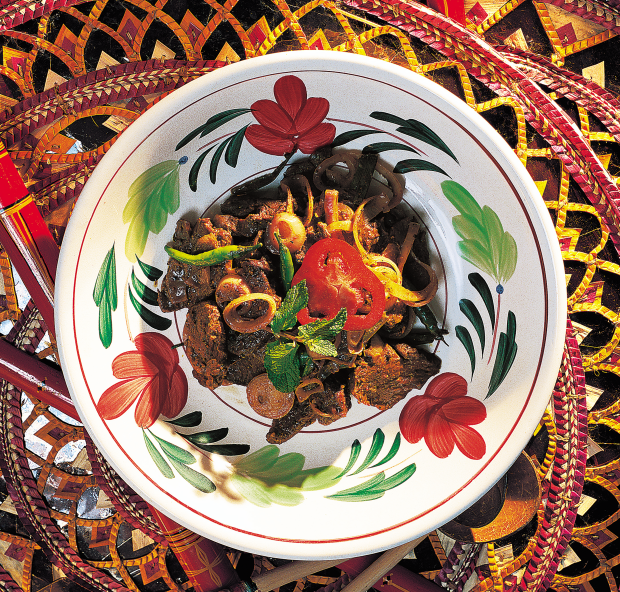 Ingredients:
1 1/2 lbs (700 g) beef sirloin
2 tablespoons white vinegar
2 tablespoons ghee or oil for
stir-frying
2 sprigs curry leaves
1 stalk lemongrass, tender inner part of bottom third only, finely sliced
1 onion, sliced
1–2 green finger-length chilies, deseeded and finely sliced
1/2 teaspoon chili powder
1 cup (250 ml) coconut milk
Salt and pepper, or to taste
Preparation
Pierce the beef all over with a fork or skewer and marinate in the vinegar, salt, and pepper for 2 to 4 hours.
Heat the ghee or oil until very hot and sear the beef until lightly browned on all sides. This seals the meat and helps to retain the juices. Remove the meat from the pan and set aside.
To the same pan add the curry leaves, lemongrass, sliced onion, and green chilies. Fry until half cooked, about 3 minutes. Add the chili powder and mix well. Return the beef to the pan and add the coconut milk. Stir well and simmer until the coconut milk reduces into a thick gravy and the meat is done to your liking, about 25–35 minutes.
Remove from the heat, slice the meat to the desired thickness and pour the gravy over the slices.
Excerpted from Sri Lankan Cooking: 64 Recipes From the Chefs and Kitchens of Sri Lanka, with permission from Tuttle Publishing.