Miraji Mussa Kheirwas born in Zanzibar and has never left the island. She lives in a northern suburb of the capital, Zanzibar City, in a small house that she shares with her husband and two of her three daughters. The house is small, with just two rooms and a kitchen in a hut outside. Every day after school her only grandchild helps her prepare dinner for the family. "My grandson is really good at helping me with cooking. I always ask him to go to buy some fish or vegetables at the small market at the end of the road. All the sellers there know him now; he might be the youngest client they have. Then, when he gets home, he helps me with cutting the vegetables, cleaning the fish, and many other things. Cooking together with him makes me one of the happier grandmothers on the island," says Miraji, smiling. Barracuda is one of the most popular catches in Zanzibar, but it is not necessary for this recipe of fish, rice, and vegetables in green mango sauce. You can use any other kind of fish; black sea bass, bluefish, and mackerel also work well. – Gabriele Galimberti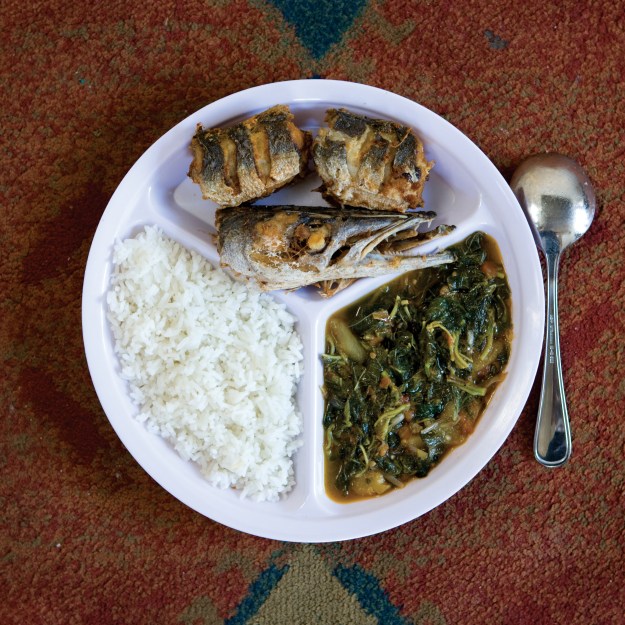 Ingredients
Fish, Rice, and Vegetables in Green Mango Sauce
(Serves 4)
2 pounds spinach, washed and cut into strips
¼ cup grapeseed or sunflower oil
2 tomatoes, diced (about 1¾ cups)
1 medium eggplant, diced (about 4 cups)
1 teaspoon curry powder
1 teaspoon garam masala
Salt
2 green mangoes, diced (about 1¼ cups)
1 cup long-grain rice
3 pounds whole barracuda, scaled and gutted, or fish of your choice (black sea bass works well here)
1 (½-inch) piece of fresh ginger, peeled and chopped
Preparation
Fill a medium saucepan with water and bring to a boil. Add the spinach and cook for 5 minutes. Drain well and set aside.
Heat 2 tablespoons of the oil in a large pan over medium heat. When the oil is hot, add the tomatoes and cook for 5 minutes. Add the eggplant, curry, garam masala, and 1 teaspoon of salt. Cook for 5 more minutes, then add the mangoes and cook for 5 minutes more. Add the cooked spinach and 1 cup of water to the pan and stir the mixture to combine. Increase the heat to medium-high and bring the mixture to a boil. Cook for 10 to 15 minutes more.
While the mango sauce is cooking, prepare the rice. In a medium saucepan, bring 2 cups of water and the rice to a boil over medium-high heat. Reduce the heat to medium, cover the saucepan, and cook until the water is absorbed and the rice is tender, 15 to 18 minutes. (If you have a rice cooker, you can use it instead.)
Pat the skin of the fish with a paper towel or cloth until it is completely dry. Cut the fish into 4-inch pieces (or leave whole for more delicate fish). With a knife, make several cuts into the sides of the fish. Season inside the slits with salt and some of the chopped ginger. Scatter the remaining ginger on top.
Heat the remaining 2 tablespoons oil in a large nonstick pan and fry the fish for about 10 minutes on each side, or until done. Remove the fish and drain on paper towels.
Serve the fish alongside the rice and sauce.
This recipe was originally published in In Her Kitchen by Gabriele Galimberti.