Green Seasoning
Green Seasoning is one of those spice mixtures that is unique to the Caribbean and differs slightly from island to island. It is used in a huge number of Trinidadian dishes. In Trinidad, it's distinguished by the use of shado beni, a local herb very much like cilantro. Fresh shado beni can sometimes be found in West Indian markets, but if not, fresh cilantro is a good substitute.
Ingredients:
(makes 1 cup)
3 Tbs chopped fresh chives
1 Tbs chopped fresh shado beni or cilantro leaves
2 Tbs chopped fresh thyme
1 Tbs chopped fresh oregano
1 Tbs chopped fresh parsley
4 cloves garlic, minced
Preparation:
Process all the ingredients in a food processor until the mixture forms a thick paste. (Alternatively, process in a blender with 2 tablespoons of vinegar.)
Use immediately, or store in a tightly sealed glass jar in the refrigerator for up to 1 week.
Hot Pepper Sauce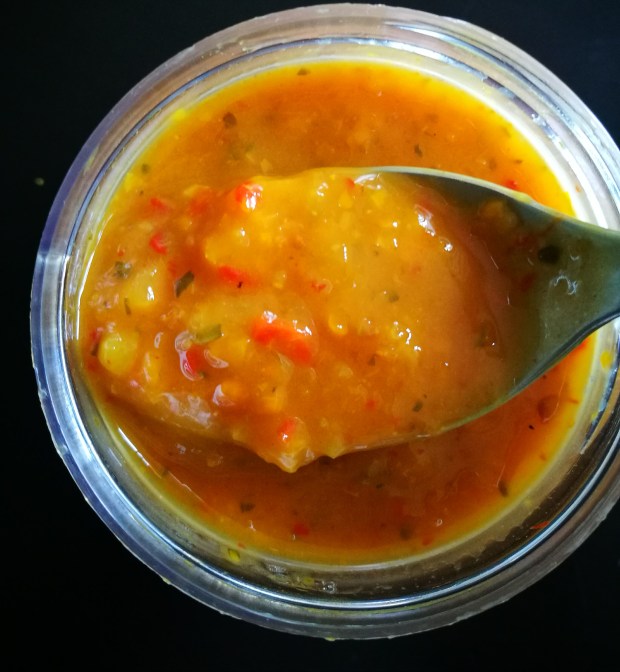 Watching my father eat was one of my most fascinating childhood pastimes—largely because of the astounding amount of incredibly hot pepper he consumed with every meal. He would either eat whole hot peppers between bites of food, each crunch releasing its tart, hot aroma, or he'd liberally dash habañero sauce on his rice, mixing it in well so that every forkful was good and spicy.
One of his favorites was the yellow sauce he made from Scotch bonnet peppers. I like to use it to flavor pumpkin soups, but remember—just a little dab'll do ya!
Ingredients:
(makes 2 cups)
1/2 pound yellow Scotch bonnet or other hot red chili peppers, stemmed, seeded, and minced
4 fresh pimiento peppers, stemmed, seeded, and minced; or 4 tablespoons minced jarred pimientos
1 small carrot, peeled and minced
1/4 cup light brown sugar
1/4 cup white wine vinegar
1/4 cup mustard oil
1 Tbs Trinidad curry powder
1 Tbs ground cumin
1/2 tsp coarse or kosher salt
1 tsp freshly ground black pepper
4 cloves garlic, minced
Preparation:
Combine all the ingredients in a blender or food processor, ensuring that the lid is on tight. Pulse to a thick yellow sauce the consistency of bottled mustard.
Pour the sauce into a 16-ounce glass bottle and seal tightly. The sealed bottle may be stored, unrefrigerated, for up to 3 months. Once unsealed, it may be refrigerated for up to 1 month.
Tip: I always wear rubber gloves when seeding and mincing habañero or any other hot peppers, and discard the gloves after use. However, when making this sauce, I learned the hard way that the mere smell of some pepper sauces is enough to cause serious distress: removing the food processor cover and poking my nose over the edge to check the consistency of the sauce I got a good, eye-watering, cough-inducing whiff of the stuff. The moral of the story? Hot peppers are caustic in more ways than one, so keep the sauce pointed away from your face at all times. Wash down with white vinegar all surfaces that have come into contact with hot peppers—including the outside of the sauce's storage bottle.
Originally published in Sweet Hands: Island Cooking from Trinidad & Tobago by Ramin Ganeshram. Published by Hippocrene Books.