Presidio, Texas, often gets overlooked. North of the small border town is Marfa, the bougie oasis frequented by Beyoncé and throngs of tourists alike. To the southeast is Big Bend National Park, an 800,000-acre geological marvel that offers stunning views of the desert. Presidio, wedged between them, is usually just a stop along the way.
I'm here to tell you why that should change. I, for one, prefer to stay in Presidio. In fact, I once stayed there for three years. I moved to the town in 2014 to work as a reporter, and its uncomplicated charm and warmth in the face of complicated border issues won me over.
Situated on the US-Mexico border, Presidio (pop. 4,099), along with its Mexican sister city Ojinaga, is a place of flux. It embodies what many seem to misunderstand about the border—that both sides are inextricably tied, that neither is uniquely Texan or Mexican but rather a composite of the two. It's in the way that people speak, in the trickle of people on foot who cross the international Port of Entry each day, in the sweet-smelling bakery, which sells pan dulce alongside frosted doughnuts.
It's a place where unlikely characters turn up: The MacArthur fellow Rackstraw Downes has painted in Presidio for years, and American writer Ambrose Bierce is said to have disappeared here.
Presidio is more than just a stop along the way to Mexico. It's a step toward understanding the border region in all its marvelous complexity. Abandon your preconceived notions, and I promise the place will surprise you.
The Bean Café is a greasy spoon that serves up the best breakfast in town. It also happens to offer an excellent vantage for people-watching. Customs and Border Protection officers, in their green uniforms, huddle at tables separate from the rest of the locals. There's little interaction between them. You could say the restaurant is like a microcosm of the town itself. The menu consists of items that pay homage to some of the town's mainstay characters, like the Brad Burger and the Juicy Lucy. There's a good chance you'll run into the town's economic development director, Brad Newton, and the mayor's wife and high-school band instructor, Lucy Ferguson, while you're there. My personal pick off the menu is the huevos rancheros, bursting with flavor. But beware: The ranchero sauce is not for the faint of heart. You're on the border now, though. You'd better get used to the heat.
You'll probably want to walk off that breakfast, and I know just the spot. But first let's make a little pit stop at Fort Leaton, conveniently on the way. From downtown Presidio, get onto Farm to Market Road (FM) 170—affectionately known as the "River Road"—which traverses Big Bend Ranch State Park and runs adjacent to the Rio Grande. About a five-minute drive from Presidio, you'll find Fort Leaton State Historic Site. One of the biggest adobe structures in Texas, it pays homage to a time when the fort was the sole supply station along a 450-mile stretch of the Rio Grande. The fortified trading post is a reminder of the long history of communication between both sides of the river.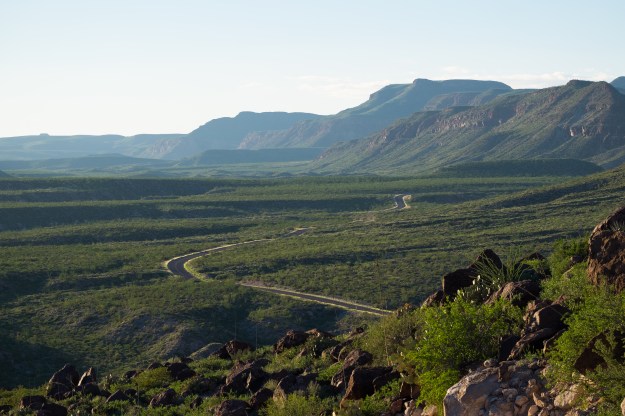 Hop back in your car and get back on FM 170. It's just another two-minute drive to the B.J. Bishop Wetlands. Look out for signs—it's easy to miss. Follow a dirt road to the trailhead and park your car. The city utilizes the effluent water from Presidio's wastewater system to create a man-made ecosystem that mimics the wetlands that once existed all along the river before irrigation and mining undid them. The wetlands are just 10 acres, but to wander down the dirt trail feels like walking into a scene out of Jurassic Park. It's a reminder of the magical force of water in the desert. The sight is idyllic; the dramatic Chisos Mountains frame the backdrop. At sunrise and sunset the birds are most active, and dozens of species swoop in and out of the water, skimming the surface with their webbed feet. Ducks tread the bluish water without sound. If you're a birder, bring binoculars!
Walk the dirt road that runs alongside the wetlands and it'll take you over a levee, on the other side of which is the Rio Grande. Just a stone's throw from the Presidio shore is Mexico. It's a wonderful place to contemplate the Rio Grande's stagnant surface and try to wrap your head around the lines that divide us.
Take a quick drive up to the city's water tower, easy to spot as it's the tallest structure in town.
Earlier this year the Mexican consulate in Presidio commissioned renowned street artist El Mac to paint a mural on Presidio's water tower as a gesture of goodwill. The painting depicts a middle-aged Latina woman clutching the stem of a rose. The portrait is based off a Presidio resident, though El Mac says that her face was meant to be more broadly representative of the people who live in this border region. Her stern but affectionate gaze extends past the landscape of the town, beyond the Rio Grande, and into Mexico. It's surrounded by a chain-link fence, but the close-up view offers a look into El Mac's painstaking detail and personal aesthetic. From afar her face registers as a realist portrait, but it is composed of circles and lines—a modern take on pointillism.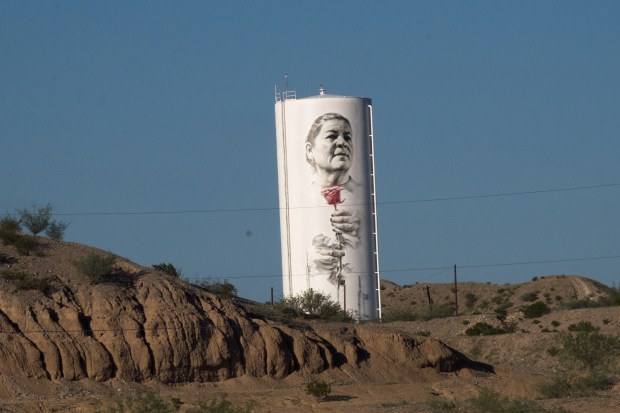 There's no trip to Presidio without a trip to its sister city in Mexico, Ojinaga—called "OJ" by the locals—so make sure you bring your passport. Head over to the international Port of Entry, a five-minute drive from virtually any point in Presidio. If you're spending just the day in OJ, you don't need to worry about getting car insurance. The trip to Mexico is usually a breeze. Follow the signs and you'll be in OJ in no time at all.
Welcome to Mexico. You've just gained an hour! Though Presidio and OJ are adjacent to each other, there's an hour's time difference between them. In Ojinaga head to Avenida Trasviña y Retes, which is a major artery of the city. Here you'll find plenty of taquerías, shops with knickknacks and housewares (great for souvenir shopping), boot shops, and, best of all, custom piñata shops. My personal favorite is Piñateria y Dulceria Erika, where the papier-mâché creations register more as art than party favors.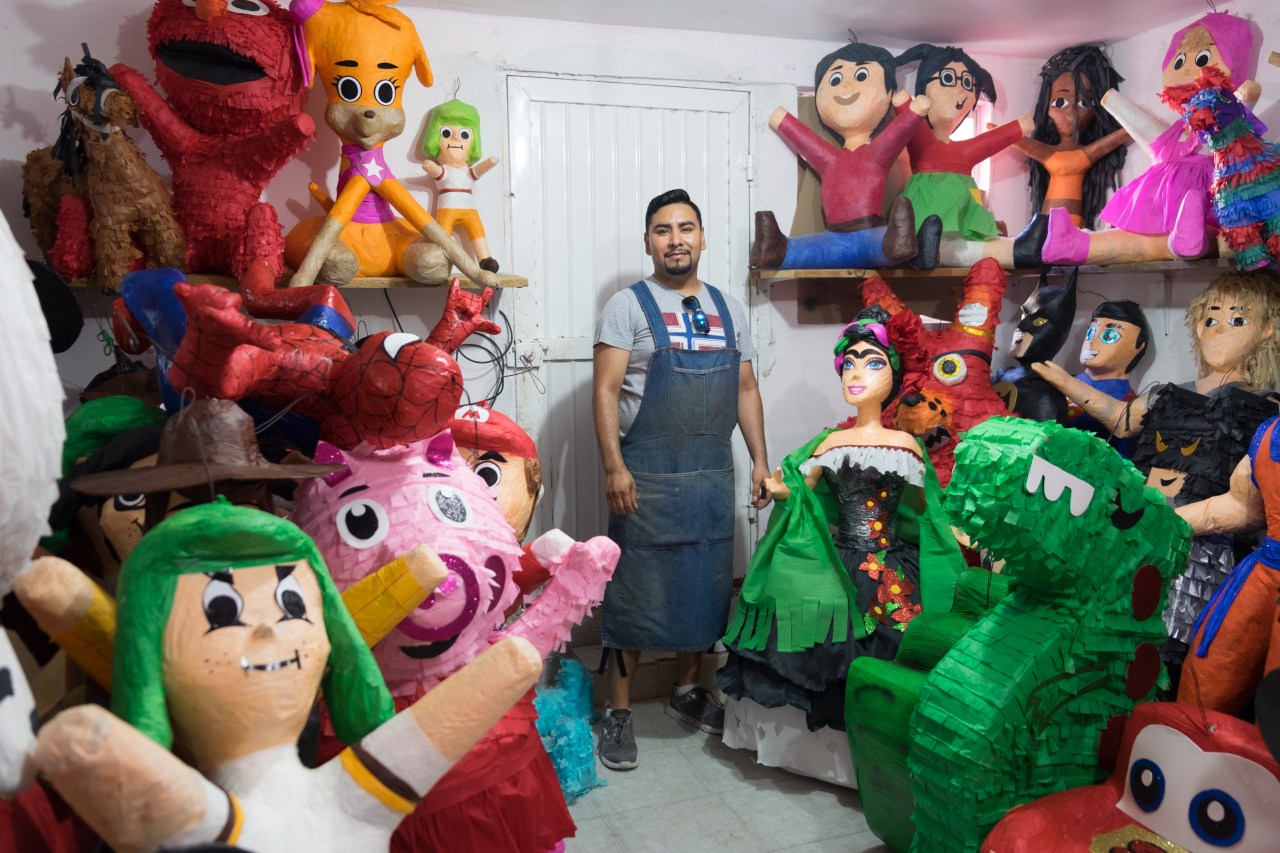 There you'll likely find Juan Ernesto Martinez Aguirre wrist deep in wheat paste. He's a true artist and never shies away from a challenge: I've ordered everything from a piñata of Homer Simpson to a replica of my dad. Even if you don't have a custom piñata in mind, you won't be disappointed by a trip to the shop. The back room, dimly lit, is crowded with piñatas in every possible space. Batman and Spiderman hang from the ceiling next to Ariel from The Little Mermaid. The shop offers an equally eclectic assortment of Mexican candy, from chile-coated mango gummies, the mere memory of which will make your mouth water, to the classic De La Rosa "marzipan" candies.
You've probably worked up an appetite by now. Head over to Mariscos Sinaloa for some delicious ceviche. The small outdoor stop serves aguachiles in a big volcanic-rock mortar. The soupy marinade is refreshing with a kick, and big, squishy shrimp lurk beneath the surface. Served with tostadas, it's the perfect summer meal. Order it with a michelada, served in a giant beer stein, and you won't be disappointed.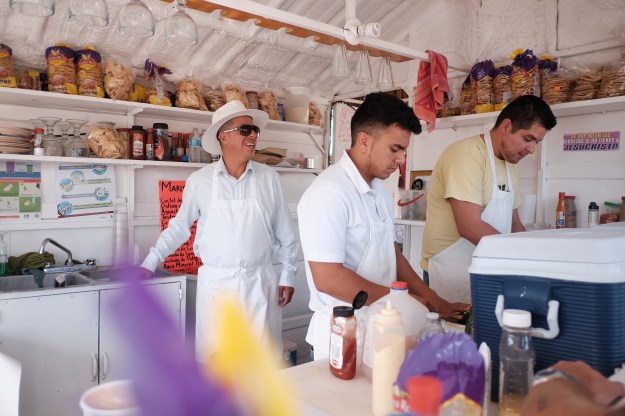 Let's head back to Presidio to beat the crowds at the Port of Entry, which is busiest during normal rush-hour traffic and holidays. If you're bringing Mexican products across the border, make sure you declare your items with your customs officer. Remember—you lose an hour this time.
If you're visiting during the spring or summer months, it's probably pretty hot. Now might be a good time to head over to Presidio's public swimming pool for relief. Remember: Stay hydrated! If you're traveling during the cooler months, I have a better idea. Get back on the River Road—there's arguably no more romantic drive. Snaking along the Rio Grande, you can catch glimpses of its glassy surface at almost every turn. Sedimentary rock juts from the landscape like an alien cityscape—it is breathtaking. Drive to the Closed Canyon trailhead, which offers a wonderful descending hike through an ever-narrowing canyon. Depending on the recent rainfall, you may see tinajas, 2- to 3-foot-wide pockets of rainwater you will have to wade through.
Time your drive back into Presidio around golden hour and the landscape will instill in you a religiosity you never knew you had. There's no better place to conclude your perfect day in Presidio than at Presidio Trading Post & Cantina, a bar right off the River Road. There you'll find the smiling faces of owners Rafael and Lupe Carrera, two of the nicest folks around. Have a beer, eat some wings, play some pool, and chat with the locals—they love meeting outsiders! If you hang out long enough, someone will probably try to convince you to take the party back to Mexico. You should probably go.