I feel a bit remorseful as a small group of people bundled in reflective red coats, their feet planted on the snowy ground of Antarctica, wave goodbye to me and my crew, our own feet gripping the icy steel deck of their supply ship. As we steam away, the folks onshore are not just bidding farewell to their last physical connection to the rest of the world for three and a half months, they're parting with something far more precious: fresh food.
I know how they're feeling quite well; my own nine seagoing voyages to this vast continent have also afforded isolation and self-reliance, particularly when it comes to eating. We can be on the water for more than six weeks at a time. Aside from supporting Palmer Station, our primary purpose is to facilitate science within the U.S. Antarctic Program. For a few months each year, I sail as the marine science technician, helping to deploy science equipment and manage the laboratories onboard. Our ship, the Laurence M. Gould, often rolls 20 degrees from one side to the other. Food is crucial to our collective sanity. The profusion of chopped meats and vegetables on Taco Tuesday can improve the spirits of an entire ship. Hot dog soup? Not so much.
Nearly two dozen people spend the better part of May through October at Palmer Station, an isolated U.S. science base in the Southern Ocean—among them marine scientists, carpenters, electricians, and communications technicians. During this period, called midwinter, everyone dines together in Palmer Station's comfortable dining hall, or "galley," sitting next to large windows that look out over sea ice and grounded icebergs beyond. A wood stove stands in the corner with broken-up old pallets burning inside, surrounded by a couple of couches and a coffee table with a stack of New York Times crossword puzzles. A dozen small tables fill the rest of the space, many lined up end to end, and red-checkered tablecloths come out for special occasions.
Mike Hiller is the station chef. Based here for his third winter, he alone is in charge of chopping, cooking, and choreographing the allotment of fresh food—"freshies" down here—as they ripen and discolor with age. For the next 15 weeks, Hiller will have to be beyond resourceful, carefully strategizing which foods are served when in order to ensure proper variety and nutrition in each meal before he receives the next resupply from the Gould.
Hiller, burly, with a thick, red beard, hails from Homer, Alaska. Proud of the fact that he has spent the last seven years working in regions where temperatures never exceed 65 degrees, Hiller honed his culinary talents both in his own kitchens—owning one restaurant and two food trucks—and on remote Alaskan field camps and research vessels. He thrives on the challenge of running a solo kitchen in extreme environments.
"I would challenge you to buy three months of produce at your grocery store … and then not go shopping again for three more months," he tells me, pointing to 50 large cans of tomatoes stacked in his dry-goods storage room that he'll transform into roasted tomato bisque, spicy pizza sauce, and black bean chili.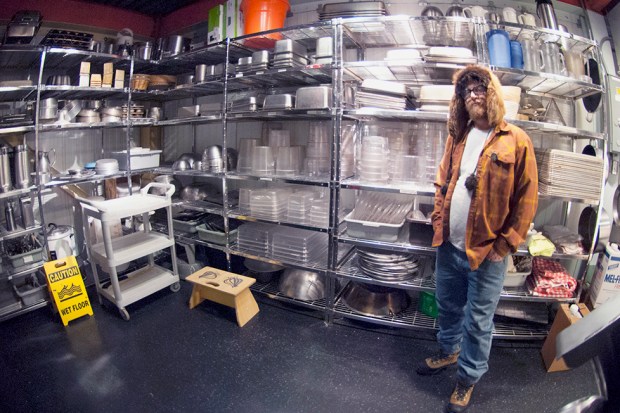 Having spent months at a time living on ships in the Antarctic, I know all too well the threat chefs like Hiller face after weeks with no freshies: the menace of the beige plate. Rice, mashed potatoes, chicken, bread, canned corn—all meals can start to take on the same unappealing color if chefs are not overtly mindful of maintaining variety.
Hiller explains the shelf life of the freshies that come south across the Drake Passage on the Gould. Cucumbers, strawberries, and fresh herbs have just a three-day shelf life at Palmer Station; red romaine lettuce lasts up to five days; cherry tomatoes can last a month with proper refrigeration. Hiller's strategy is to "serve freshies as long as possible while they're really fresh."
The first night the ship pulls into Palmer Station and offloads freshies, tradition dictates what's called a crosstown dinner, meaning that both the station's and ship's crews dine together. Hiller, excited for fresh food and a new audience, creates a glorious spread for the buffet line: grilled fish coupled with a vibrant mango cilantro salsa; avocado salad topped with finely sliced red and green onions with tomato; freshly baked bread; and an apple pie and kiwi tart for dessert. The mango cilantro salsa alone is enough to boost my morale for at least a week.
Within a few days, however, I'm counting the weeks until I will eat fresh herbs again. A few days more and I am flat out yearning for fresh basil and cilantro, to the point of daydreaming about the fresh produce aisle in the small grocery store at our final portcall in Chile.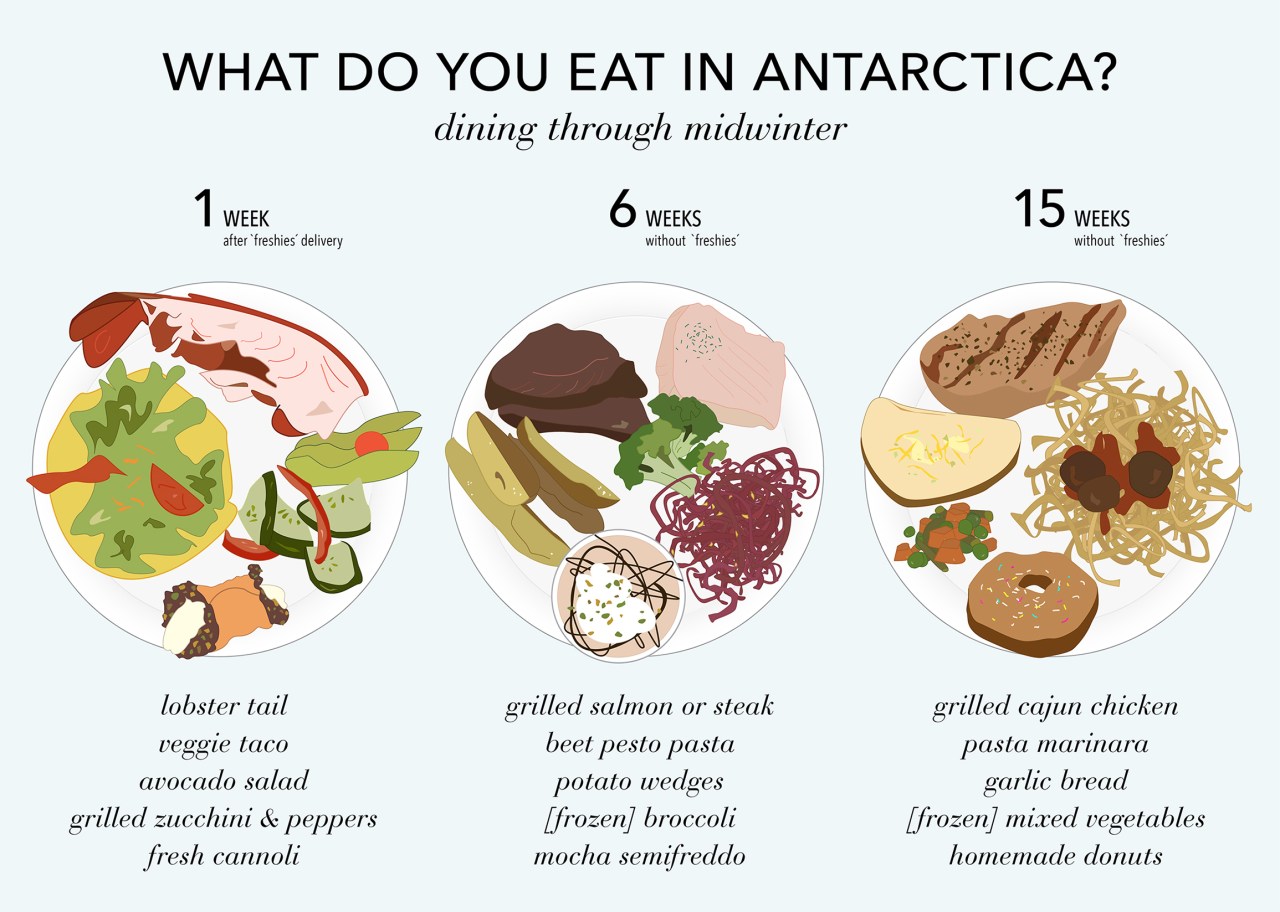 Four weeks after the last resupply at Palmer Station, the freshies are gone and Hiller's job "gets way easier." With only hard vegetables left—cabbage, potatoes, onions, radishes, carrots—time once spent chopping fruits and vegetables becomes time spent making delectable sauces and, often, elaborate desserts: cannoli rimmed with dark chocolate and crushed pistachio, homemade glazed donuts, and mocha semifreddo served in martini glasses.
"Variety is a sign of bounty," Hiller says. "When that first shipment comes in and I put out a big, giant display of fruit, the bananas aren't so interesting and the kiwis aren't so interesting because those colors are similar to what people wear and see," he adds. "But the brightness of the lemons and the limes and the oranges and the tangerines and the apples—those colors you don't really see this time of year … people just stare at it for a while."
Variation in our daily fare is likewise prized when we're out at sea. On scientific fishing cruises, Hiller will send the marine crew off with homemade peach granola bars, which we save for the dark hours on watch when we need it most. Occasionally, we trade foodstuffs with other bases as well: Each summer the Gould visits a U.K. base, Rothera, and exchanges a giant crate of peanut butter for a couple thousand bags of black tea. Each time I've visited Vernadsky, a Ukrainian base, its crew has gifted us with delicious cured meats and chocolates. On a recent visit to Arctowski, a Polish base, where a handful of people had been on the ice alone for 10 months, we brought them crates of freshies.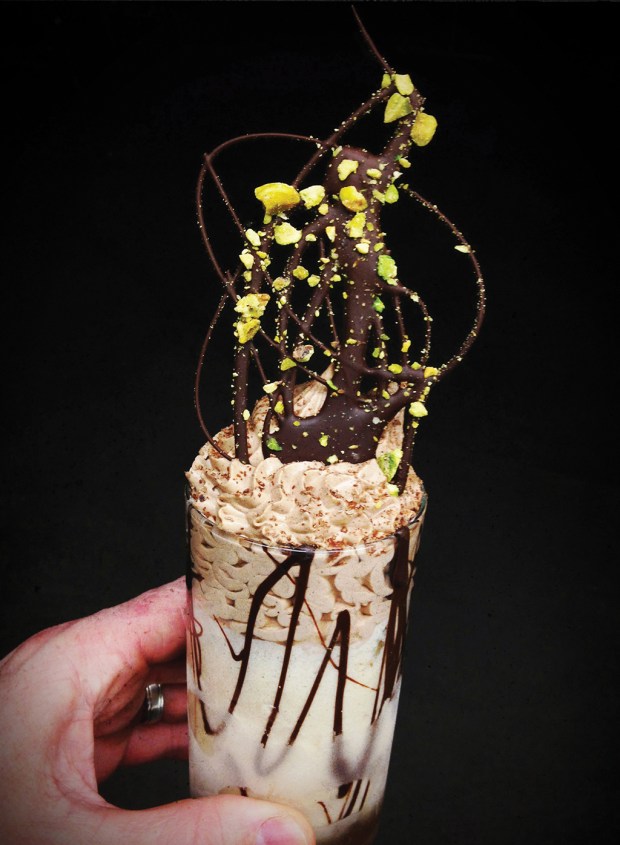 To add some variety, our science support crew makes exotic dishes as well. On the other U.S. Antarctic ship, the Nathaniel B. Palmer, I enjoy making liquid nitrogen-cooled ice cream with our excess supply. Scientists clad in cryogenic gloves and safety glasses stir cream, milk, sugar, and flavoring in large stainless steel bowls while I pour the supercooled liquid into each, and a midday treat is served.
Until a decade ago, chefs could grow fresh herbs such as cilantro, sprouts, and basil inside Antarctic research stations. The two other U.S. bases, South Pole and McMurdo, still maintain greenhouses today. But because Palmer Station is north of the Antarctic Circle, scientists worry stray seeds from the herbs could potentially grow in the summertime, spreading invasive species on the continent. To eliminate this threat, Palmer Station has banned the practice. Eating native Antarctic animals and plants is also strictly prohibited at all Antarctic bases.
Regardless of the prohibition on growing fresh food, Hiller exudes a certain reassuring cockiness that can only come from working in other isolated environments, including the North Slope oil fields and the Aleutian Islands of Alaska.
"If I'm feeling pretty creative, I can create a meal just as colorful as the first week freshies are in," he says. He describes how to make a bright pureed pea soup with a touch of tarragon for "exoticism," as well as a rich, magenta-colored pasta by infusing it with beet and sunflower seed pesto.
Turning a dearth of aging ingredients into a feast for the eyes takes talent and tenacity. Along with the roughly 1,100 other residents of Antarctica scattered across 41 bases occupied through midwinter, one thing is clear at Palmer Station—morale lies in the chef's hands.
This story was produced with support from The GroundTruth Project. Originally published on Roads & Kingdoms on August 7, 2015.