Armenians love basturma, can't get enough of pilaf, and argue about the thousand and one ways to marinate lamb. But when it comes time to show off our favorite cuisine to non-Armenian friends, we pop a few lahmajouns, or Armenian meat pies, in the oven.
When it's done right, the crust is soft enough to fold but still crunchy around the edges. The meat mixture picks up heat from the spices and sweetness from chopped green and red bell peppers. Add a squeeze of lemon for a bit of tang, then double the fun by sprinkling on a mix of parsley and onion slices.
No plates or utensils are necessary. Just roll it up like a taco and eat it with your hands. It's all the good stuff literally rolled into one—which is why everyone loves lahmajoun.
The traditional preparation requires making the dough for the crust from scratch. It's time-consuming, but the reward is an irresistible final dish.
Ingredients:
(Makes 12 pies)
For the dough:
3 ½  cups all-purpose flour

1 teaspoon salt

1 teaspoon sugar

1 package (¼ ounce or 2 ¼ teaspoon) dry yeast

1 cup lukewarm water (105 to 110 F)

¼ cup oil (vegetable or olive)
For the topping:
1 medium onion

1 medium red bell pepper, chopped

½ medium green bell pepper, chopped

1 small bunch of parsley, washed well and patted dry, thick stems removed

One 15 ounce can of diced tomatoes, drained

1 pound lean ground lamb or beef or a combination of the two. (Note: ground turkey may be substituted)

2 tablespoons tomato paste

2 teaspoons dried mint, crushed

2 small cloves garlic, minced

1 ½ teaspoons salt

1 teaspoon sweet paprika

¼ teaspoon cayenne pepper, or to taste (optional)

2 tablespoons flour

¼ sweet onion, thinly sliced, for garnish

1 lemon, for garnish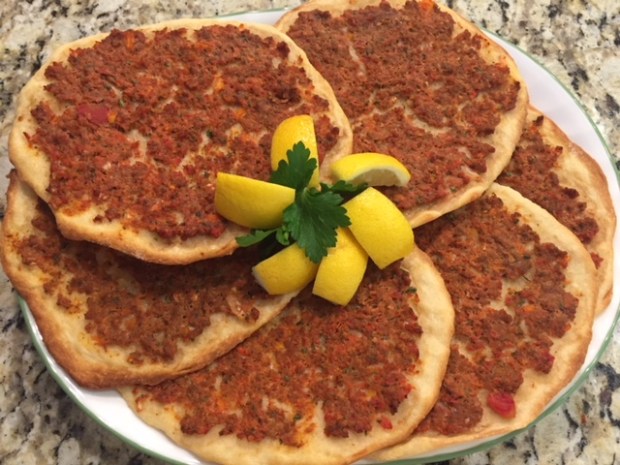 Preparation:
For the dough:
In a large mixing bowl, whisk together the flour and salt.

Dissolve the sugar and yeast in the lukewarm water. Stir well.

Add the liquid mixture to the flour and mix well with a wooden spoon or electric hand mixer. You can also use a stand mixer with the dough-hook attachment.

Add a little more warm water if necessary.

On a lightly floured work surface, knead the dough until smooth and elastic. (Note: If using a stand mixer with a dough hook, this step isn't necessary.)

Lightly oil a clean large bowl. Place the dough in the bowl and lightly oil the surface of the dough. Tightly cover the bowl with plastic wrap and cover with a towel large enough to surround the bowl. Place the bowl in a draft-free location and allow dough to rise for 2 hours.

After the dough has risen, pat the dough, then divide it into 12 small, evenly sized balls.

Lightly flour the work surface and a rolling pin. Keep additional flour handy for the rolling process.

Working with one ball of dough at a time, roll each  ball into a thin 7-inch disc. Keep the rolled discs covered with plastic wrap while assembling to keep them from drying out.
For the topping:
If preparing the vegetables by hand, be sure to finely chop the onion, peppers, and parsley. Leave some parsley aside to chop for garnish.To save time, cut onion and peppers into chunks, then put them with the parsley and diced tomatoes in a food processor, using the metal S blade. DO NOT overprocess. Vegetables should still be a bit chunky, not pureed.

Using a sieve or strainer, squeeze out any excess liquid. (Note: Too much liquid in the topping will make the dough soggy.)

In a large bowl, combine the ground meat, tomato paste, seasonings, flour, and processed vegetables. Mix well. Cover and refrigerate until ready to use.
Assembly and baking:
Heat oven to 425 F.
Place 3 rolled discs of dough on a parchment-lined or lightly oiled baking sheet. Make sure the discs don't overlap.

Add topping in a thin, even layer, spreading it almost to the edge. (Note: An easy way to spread the topping evenly

—

and keep your hands clean

—

is to place about ¼ cup of the filling in the center of the rolled dough and spread it with the back of a spoon.)

Bake on the lower rack of the oven for about 6 minutes. Move it to the upper rack and bake for another 6 minutes or until the meat topping has browned and the bottom and edges of the dough are golden.

Serve immediately, topped with thin slices of sweet onion, chopped parsley, and a squeeze of fresh lemon. Then fold and eat!
Freezing:
After baking, cool the lahmajouns completely on wire racks. Once cooled, stack the lahmajouns, separating them with plastic wrap or parchment paper. Place in plastic freezer bags, label, and seal tightly. They should keep nicely for about 1 month.
Reheating:
Heat oven to 350 F. (Note: There is no need to defrost the frozen lahmajouns.)

Line a baking sheet with parchment paper. Carefully separate the lahmajouns and remove any plastic or paper wrapping and stake them 

in pairs, meat sides facing each other, and place on prepared baking sheet.

Bake for about 5 to 7 minutes or until heated through.
Robyn Kalajian is a retired culinary-arts instructor and now the head chef and recipe tester at thearmeniankitchen.com, a website created by her husband, Douglas Kalajian, an author and retired journalist.