"Can tigers really fly?"
It's a question I asked my skeptical self more than once as I listened to my guide, Karma, matter-of-factly describe the supernatural founding of Taktsang, the Tiger's Nest monastery, during our arduous, half-day hike to Bhutan's most iconic and sacred site.
Perched at the edge of a cliff 10,240 feet above sea level, the temple complex, stunning in its beauty and impossibility, seems to defy gravity and reason. According to legend (or history—the two are rather intertwined in Bhutan), Guru Rinpoche, an eighth-century Buddhist master, flew on the back of a tigress to a cave there, where he meditated for over three years to clear the area of demons. Rinpoche, also known as Padmasambhava, or the second Buddha, is credited with taking Buddhism to Bhutan and is revered to this day.
In 1692, fulfilling the wish of the Zhabdrung, the lama and leader who unified Bhutan, the governor of Paro, Gyalsey Tenzin Rabgye, built a temple to Rinpoche that later became the Tiger's Nest monastery. The temple, which survived two fires in 1951 and 1998, was meticulously renovated in the early 2000s and today is one of Bhutan's top tourist destinations.
We set out early that morning to avoid the crowds. From the base camp, I tilted my head back and spotted a singular white speck glistening amid dense forests and hills. It's an unlikely spot for a temple, and yet each day during peak season, as many as 1,000 visitors—be they screen-addicted teenagers, British royalty, Buddhist pilgrims, or Diamox-assisted septuagenarians—make the two-to-three-hour trek to reach Taktsang.
If this were Europe, there would be a cable car. But in Bhutan, whose first road was built in 1962, the only way up is by foot or partway on the back of a horse. There are no shortcuts, apart from a breathless one that bypasses the zigzags (and horse dung) of the regular path.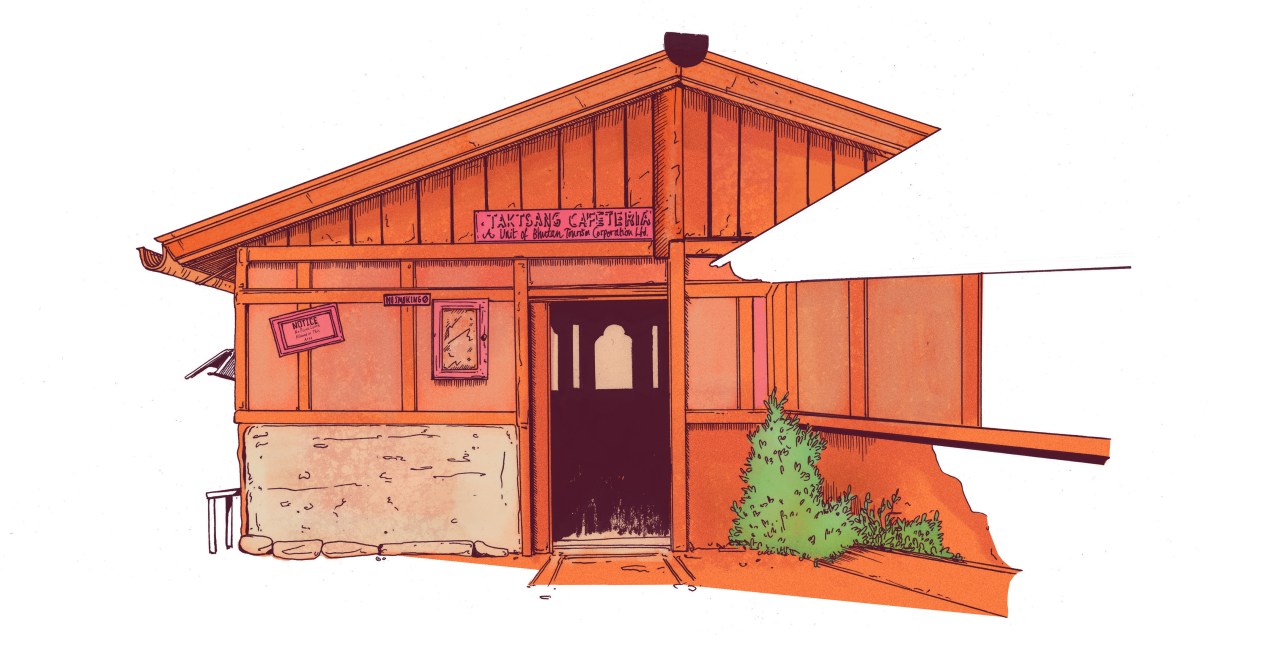 That, it turned out, was my guide's preferred route. I gulped the pine-scented air as I tried to keep up with quick-footed Karma, who sported a black gho and shiny dress shoes—the national dress. He was always at least five steps ahead of me, despite my hiking boots, trekking pole, and activewear.
During our first hour uphill, we encountered colorful prayer flags and anti-littering signage, dodged teams of heavy-hoofed horses carrying travelers, hurried past boombox-wielding tourists blasting Indian bhangra beats, and came across a local man carrying a box of puppies. An omen of benevolence, if there ever was one.
After petting the pups, we reached the monastery cafeteria and drank tea while taking in the view of the Paro Valley and the monastery off in the distance. From certain angles, Tiger's Nest looks like a face of a demon—likely one of Rinpoche's wrathful manifestations.
Then onward we went, past oak trees and rhododendrons, until we finally reached the point where the trail levels off and rejoins the main route. Soon after that, we approached a small house next to a tiny cave—essentially, a space between two boulders—where Geshey Guenden Rinchen, a Je Khenpo (essentially Bhutan's version of the Dalai Lama) was born in 1926.
If you can fit through the cave, you'll be cleared of your sins, I was told. I gave it a shot, but alas, claustrophobia kicked in, and I was out.
How quickly things can change. Looking ahead, I spotted Taktsang. This was the money shot. The place where everyone (including me) stops to take that iconic I-hiked-to-the-Tiger's-Nest photo. "We're almost there," I told myself.
The trail had taken us about 100 feet above the Tiger's Nest, where it then leads to hundreds of stone steps. I cautiously descended, gripping the railing, which Karma said was completed in time for Prince William and Kate Middleton's 2016 visit.
We reached a prayer-flag-covered bridge, which sits in front of a waterfall and chapel of holy butter lamps. To my left, I spotted a sign for Lion Cave. Intrigued, I climbed up the steep, narrow, and slippery staircase next to it and discovered a small shrine, wedged inside a crevice and draped in colorful prayer shawls.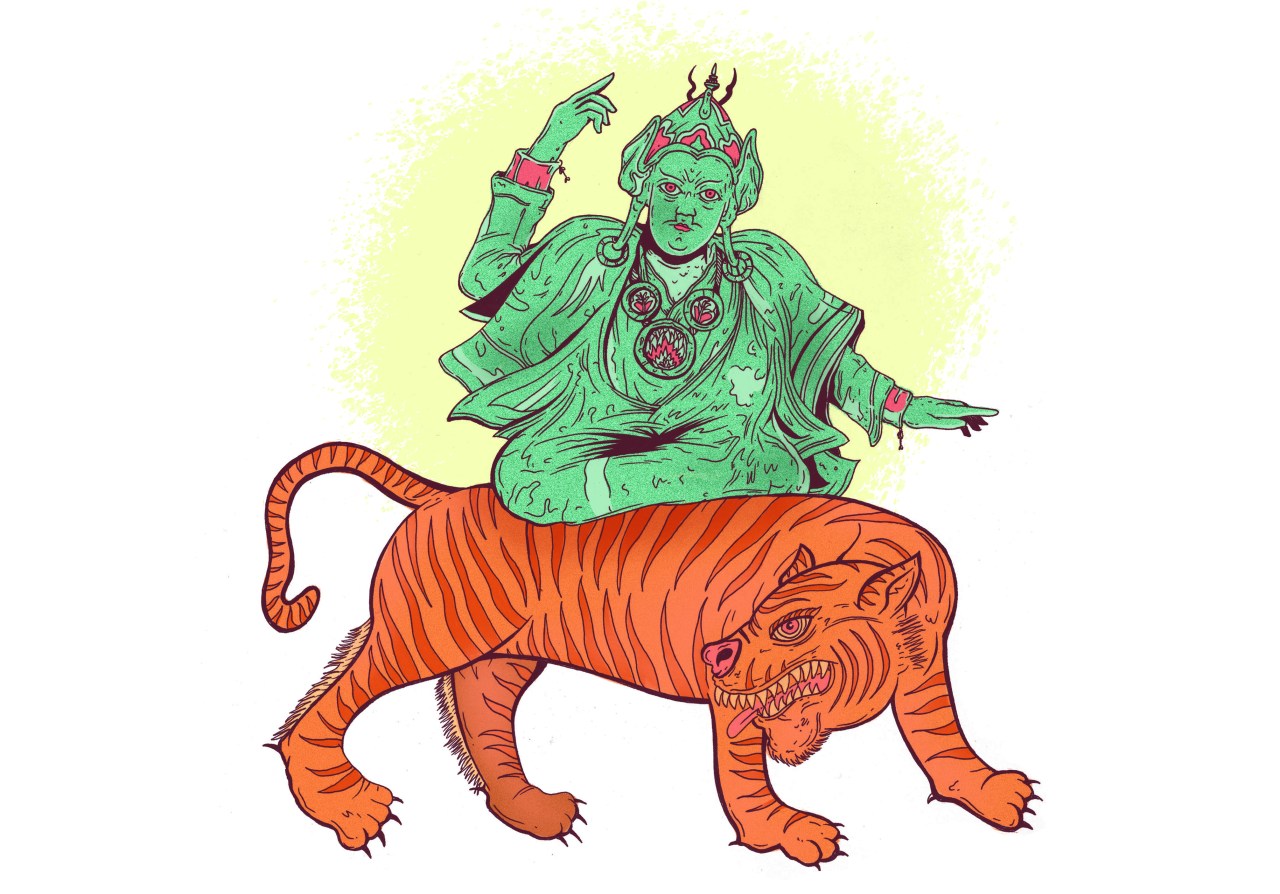 Next to it was a meditation hut associated with Rinpoche's divine consort, Yeshi Tsogyal, who had manifested as a flying tigress.
Karma had gone ahead, and no one else was around. I savored a rare moment of solitude in Bhutan, where all foreign travelers are assigned local guides.
I then ascended one last staircase to my destination, where Karma awaited. I left my mobile phone and camera in a locker; visitors are not allowed to take photos inside the 13-temple complex. Slipping off my shoes, I followed a robed monk into the Dubkhang, a small temple built around Rinpoche's cave. The cave has a gilded gate, and the walls are adorned with murals of Rinpoche in his eight manifestations—different forms he assumed throughout his life. It contains holy relics like the ritual dagger of the guru and a large clay statue of Dorje Drolod (one of his wrathful forms). I left a small donation on an altar, the monk poured some holy water into my cupped hands to bless me, and I splashed the herbal-tasting water on my face.
Karma led me to the next temple, where a handful of other visitors were meditating. I sat on the wide-planked wooden floor, and he suggested that instead of closing my eyes, I focus on murals of Rinpoche in his wrathful form. As I inhaled and exhaled, I enjoyed the stillness after our two-hour hike. After 20 minutes, when my tired legs started to tingle, I stepped outside, looked out onto the expansive Paro Valley and eyed the sheer, 3,000-foot drop at the edge of the monastery. I wondered how anyone could have found this cave, nestled deep in the valley, on anything other than a gravity-defying tiger.
How to get to the trailhead: If you are traveling from outside Bhutan, your government-appointed guide will take you to a base camp 7 miles northwest of Paro. The trail is about 4 miles round trip.
Hours of operation and costs: Open daily from 8:00 a.m. to 4:00 p.m. The cost of entry is included with daily visa fees ($200 to $250 per day). Horses are generally included or cost about $8 to $10.
When to go: Auspicious days to visit, especially for Buddhists, are the 8th, 10th, 15th, 25th and 30th days of the Bhutanese months. On these days, monks chant prayers and play musical instruments.
What to take: Camera (for the trail, if not the temple), sunscreen, a snack, and water. Because photography is not allowed inside the temple complex, some visitors take drawing materials. Small change for a donation is suggested but not obligatory.
What to wear: Respectful clothing for entering a monastery, socks (since you'll be taking off your shoes), hiking boots, or sneakers. Take layers. During the summer, dress for rain.