It's noon when I step off the Pink Line L at 18th Street in Pilsen, Chicago's gem of a Lower West Side neighborhood. I moved out of Pilsen three years ago, yielding to the call of a more temperate Los Angeles, and much has changed since then. This area was once an affordable, working-class place to live, and it became Chicago's first majority Latino neighborhood around 1970. Within one block I eye a new ramen shop, located right next to a bitcoin ATM.
I'm here to pay respect to some of the older neighborhood businesses that have nourished the community through the years: its varied and fantastic taquerias.
Before you ask: Yes, I am a hero.
Part of my fascination with the tacos in Pilsen is just how specific they are, to a style or a particular region of Mexican cuisine. Most people would assume that leaving the Midwest for L.A. would be a taco upgrade. In L.A. the tacos are wonderful, but most places offer you every type of taco you can imagine, rather than perfecting one specific type. Of course, taquerias with broad offerings exist in Chicago as well, and they tend to be the type of eatery that L.A. equals or outperforms. It's when you visit the longstanding storefronts that have been operating continuously—often with knowledge passed down from family member to family member—that you come to a realization that is blasphemous but true: Chicago's taco game blows Los Angeles' out of the water.
Customers at Carnitas Uruapan get a small sample of carnitas when they order. It's a longstanding tradition, I learn, that hails back to when the store opened in 1975 and the owner would lure potential customers from the Mexican supermarket across the street, insisting they sample his work.
Only a handful of tables dot the small storefront. Most of the space is dedicated to a large counter housing a cash register, heat lamps, and butcher station where huge golden slabs of carnitas are unceremoniously cleaved into perfect flakes of fried pork.  
Marcos Carbajal, who has run the business since his father retired in 2013, explains that carnitas are a lot like Southern barbecue: It varies highly from region to region, and, as I quickly discover when I press for specifics on his family's recipe, it's very secretive. I have an easier time learning what Carnitas Uruapan doesn't do: They don't braise with orange juice, like some others, or use Coca-Cola for their coloring.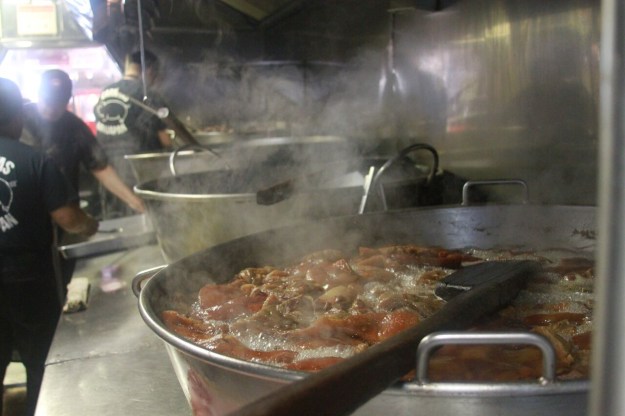 Carbajal says they first sear the pork shoulders and ribs; then they set them aside before frying them over the course of two hours. He tells me the recipe came from his grandfather's butcher shop in Michoacán, the birthplace of carnitas, after his father immigrated to Chicago following the city's exploding meatpacking and stockyard industries. I don't blame him for keeping the family recipe secret. Carbajal says that Carnitas Uruapan moves 8,000 pounds of pork out the door each week, mostly from takeout.
I order the classic carnitas and the sesos, a deep-fried, folded-over taco full of mashed pig brains and chilies. The carnitas are comfort embodied: deep and rich, crispy and juicy in all the right places. The sesos, smooth and bright, are the perfect counter note. I wash it all down with a Coke (glass bottle, of course) and hold myself back from ordering more. I have a long way to go.
Walking down 18th Street toward my second stop, I marvel at some striking 19th-century architecture. It dates to when Czech immigrants dominated the neighborhood before it shifted to being primarily Latino. Under the familiar red and white awning of Birrieria Reyes de Ocotlan, the amazing smell of slowly simmering goat and chilies greets me. Ocotlan is a region in the Mexican state of Jalisco, and the specialty perfected over the years at Birrieria Reyes is the stewed goat and, of equal importance, the broth it produces.
I order three tacos—chivo (traditional goat cut), hígado (liver), and cabeza (head and cheek)—and a bowl of rich, nourishing consommé. I sit at one of the plastic booths, waiting for my food under the gaze of various goat figurines. I'm brought bowls of lime, pickled onion with habanero, and dried chili arbol. The tacos come wrapped in thin wax paper, along with the bowl of broth, steaming and peppered with chopped onions and cilantro. The chivo and cabeza are extremely delicate and flavorful, with the gaminess singular to goat. The lime and pickled onion balance the liver's deep, intense flavor. After one too many slices of thin habanero, my forehead beads with sweat, and I order a horchata to cool down.
The consommé balances the rich flavors of the tacos. I rip open the chili pods, dump their contents into the broth, and squeeze in the juice of multiple limes to achieve a fantastic alchemy—both acidic and bitter, salty and somehow sweet. I almost wish for a hangover so it could be deliciously vanquished.
Much like Uruapan, Birrieria Reyes does one thing and one thing well. By focusing on a regional specialty, they can devote limited kitchen space to simmering the dish slowly, in this case over the course of three to four hours, and coaxing out the depth and flavor missing at taco joints that offer everything. Yelp enthusiasts and foodies will call this slow food. To those manning the perpetually simmering pot at Birrieria Reyes, it's simply the way things are done.     
Next up is another old soul in the Chicago taco scene, Taqueria El Milagro. The most demonstrably successful business I'll be visiting on this crawl, Milagro is one of four taqueria Chicago offshoots of a tortilla manufacturer that has operated in the city since 1950. It's spread to Texas and Georgia, and you've certainly seen its tortillas in your local bodega or even in a Target or Walmart. Milagro even exports its tortillas to Mexico. The difference is that in Chicago if you grab a package off the shelf of your local convenience store, it will often still be warm.
At Milagro's Pilsen location you see locals (and, for some reason, always cops) saddle up to the cafeteria-style line to order. Dishes are homey, many cooked for long periods of time, such as pollo en mole or lengua that's been gently simmered in tomato and chilies.
The first time I went to Taqueria El Milagro I was most struck by the addition of coleslaw to the tacos. Creamy, bitter cabbage with the bright and fatty flavor of tacos seemed genius—but also inexplicable. I later learned that Germans flocked to Mexico in the mid to late 19th century, spurred by the country's liberal economic policies. Many German immigrants settled in northern Mexico and Texas, not only bringing coleslaw across the Atlantic but also their music, which is why much of classic Tejano music sounds suspiciously like what you hear while grabbing a third pretzel at Oktoberfest.
Beneath a year-round nativity and a portrait of the Virgin Mary, hung directly over the soda fountain, I sit down with my tray and Solo jazz cup filled with tamarind agua fresca. I have braised lengua so smooth it's like biting into a flavorful cloud and an absurdly large milanesa de res that's a crispy counterpunch.
I realize I am full even though my intake has been tempered by walking. I also realize that I'm near Skylark, indisputably the best bar in Pilsen. I go in and down a shot of fernet. Reinvigorated by the digestif, I make my way to Mary's, a small taqueria and convenience store on Pilsen's eastern border. I have it on good authority that the asada here is not to be missed.
At Mary's, I look over the menu offerings as well as the scattershot items for sale on the counter, including Sponch cookies, toilet paper, and industrial-size bottles of blood-red Valentina hot sauce. I settle on the asada and chile-relleno tacos and leave the homemade empañadas for someone whose stomach has fewer responsibilities today.
Carne asada, which typically refers to marinated and grilled steak, is the quintessential and most ubiquitous taco stuffing. Northern Mexico—and specifically the state of Sonora—prides itself on being the regional champion of the dish, but asada can be found well beyond Mexico. In Argentina and Chile, asado refers to a general tradition of barbecue that encompasses not just steak but also ribs, goatling, and pork. In Sonora or Buenos Aires, you might find a selection of beef much like a traditional steakhouse: grilled NY strip, rib-eye, or sirloin served on its own or chopped and mixed into proprietary grilled blends. Such a selection in the United States would make for a more expensive taco than most people will spring for, so most taquerias go with a simple marinated flank steak or similar. Mary's is no exception, but the attention to flavor and technique betrays a study of the classic tradition.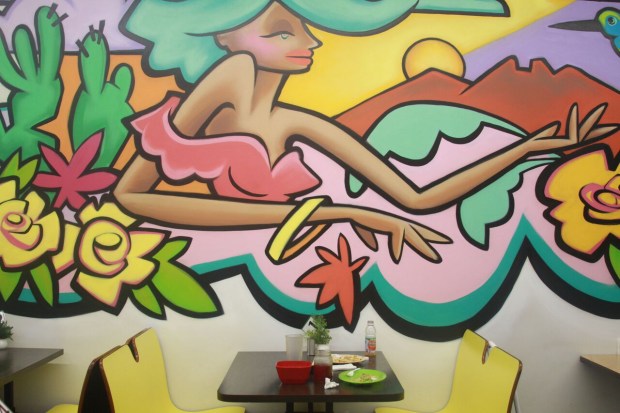 Most places do asada well, but only a few places do it great. It's difficult to grill a piece of beef—and far easier to just cook it to death. Often asada is overdone and dry or just rubbery. When it's done right, however, the charred crust and tender, juicy interior can light your brain's pleasure centers like a pinball machine on Ritalin.
Mary's is one of the few, honorable champions of asada. Fixings are simple: cilantro and onion and a squeeze bottle of rich green salsa. The chile-relleno taco is no slouch either—a fried poblano that oozes hot cheese, resembling the most delicious of horror films.
The sun is setting and it's time for my last stop of the day. For this one I rest my feet and take a bus to Taqueria Los Barrilitos in Little Village. Yes, I know Little Village isn't technically Pilsen (I really miss your tacos, Chicago, but not your fastidious, near-feudal obsession with neighborhood boundaries).
I saved Barrilitos for last because its claim to fame is the fan favorite, tacos al pastor. Let's face it: Al pastor tacos are the best tacos. And the bar in this arena is high. I consider myself something of a practiced student on the subject. I used to wonder at the similarities between the Mexican spit-roasted spicy pork and Greek gyro lamb or Mediterranean shawarma, until I discovered the similarity is no coincidence. There was an influx of Lebanese immigrants to central Mexico in the late-19th and early-20th centuries, and these newcomers married traditional Mexican flavors with their own rich tradition of spit roasting and shaving marinated meats, giving birth to one of the most iconic of taco fillings.
The walls at Barrilitos are littered with ornate demon masks that I suspect are traditional until I notice the screeching visage of the Predator among them. I order my pastor as well as some tacos de tripitas. My server asks if I would like my tripe crispy. Why yes, yes I would.
I ask to take photos of the kitchen and spit, and the cook behind the counter self-consciously explains that his tower of pastor was much bigger earlier in the day. I assure him I understand.
I'm not expecting this stop to be my favorite of the day, if for no other reason than the fact that taco fatigue has truly settled in. But I am very wrong.
The pastor is some of the best I've ever tasted. The tripe offers great, earthy bassoon notes—I'm reminded of raw cacao—that enhance the cheerful pastor, and crispy it is. The combination is synergic; running assistance are brilliant neon-red and electric-green salsas, which I pump greedily from squeeze bottles on the restaurant's small tables. Against all odds, I finish every last bite.
I pack up my things and slog to the CTA train station fuller than I've been in a long time. I spent a whole day pulling back a single corner of the curtain on just one of Chicago's enclaves. For every taqueria I visited I missed five equally deserving, I'm sure. But I'll return.
As the train rattles across raised tracks and the receding Chicago skyline glints with the fading gold and purple dusk, I'm struck by how much I miss this city. A great gratitude falls over me. If the day's sodium intake hasn't sapped every ounce of moisture from my body, I might start to cry.