Copenhagen has shed its image as a cold, conservative city known primarily for moody crime series and royal castles. It's now considered northern Europe's capital of cool, so hip that the hipster bible Kinfolk has opened an office there.
The success of Noma, which topped the list of the world's best restaurants several years in a row, paved the way. But the manifesto of New Nordic cuisine was just the beginning. Noma alumni and local newcomers have opened dozens of restaurants—15 of them with Michelin stars at time of publication—that have helped cement Copenhagen's status as a major foodie destination. While some chefs present their own interpretations of the New Nordic cuisine, others follow a more playful and less strict philosophy in their kitchens (or, very importantly, hot dog stands). The result is a restaurant scene that's as fun as it is ambitious. Even with Noma's temporary closing—the restaurant will reopen in a new location as an urban farm later this year—there's plenty to explore.
It's not all about the food, though. The Copenhageners' way of life frequently lands the Danish capital at the top of the most-livable-cities list. It's easy for travelers to join in; bike rides through the city's neighborhoods, boat rides on its canals, dips in its harbor, and impromptu barbecue parties in its parks are all essential parts of exploring Copenhagen. The city's strong counter-culture scenes provide an edgy, alternative vibe, and as global pop stars have emerged from them—Lukas Graham from hippie commune Christiania and MØ from the anarchist underground—they have attracted attention from locals and visitors alike.
The current of coolness takes place against a backdrop of royal castles, cobblestone streets and some of the world's oldest amusement parks. Whether you're looking for modern-day inputs or old-school, fairytale charm—or, ideally, a combination of the two—Copenhagen's got you covered.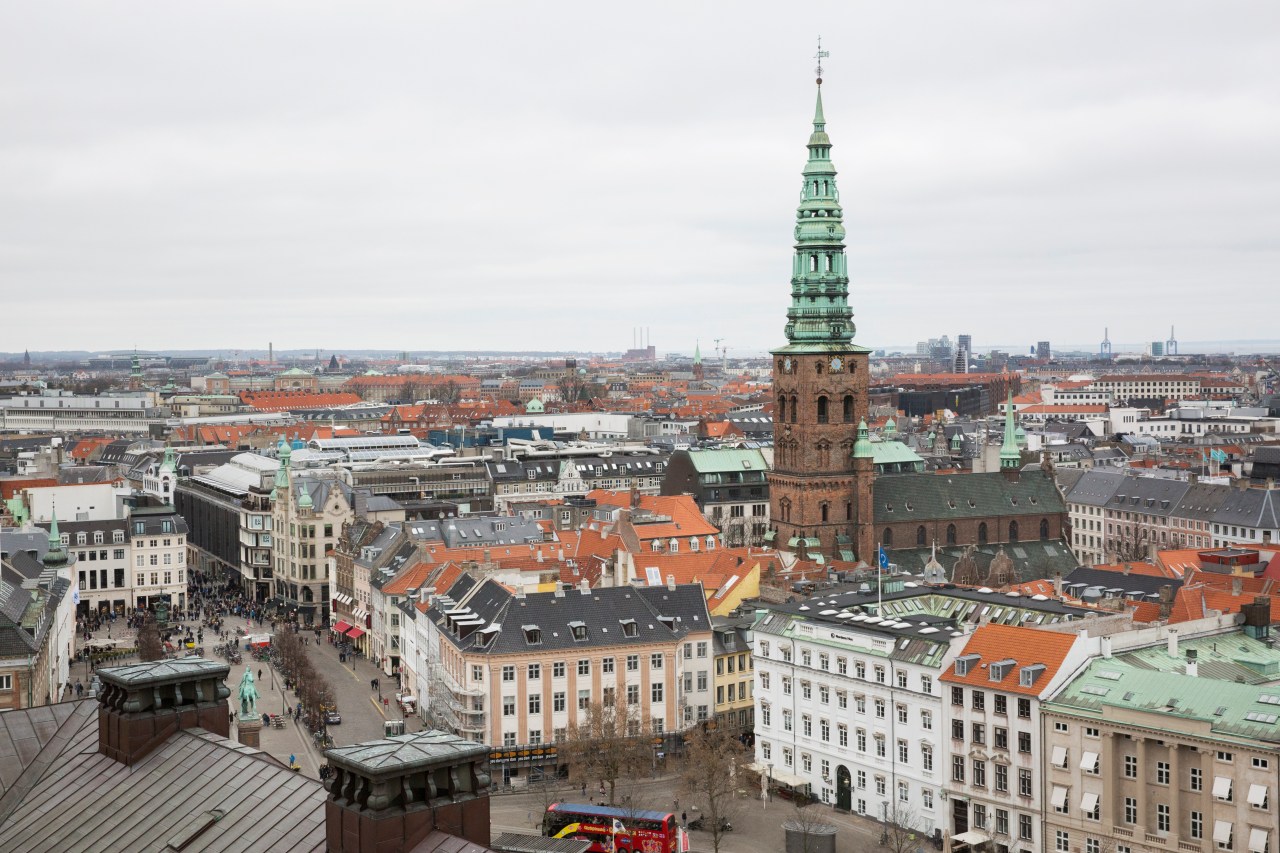 8:00
am
Islands Brygge
Islands Brygge 14
2300 København S
Get Directions
In a city that's named for its harbor—hagen is the Danish word—there's no better way to start the day than with a dip in it. Copenhagen has three harbor baths—free-entry swimming pools sunk into and filled with the seawater from the harbor—offering open-air swimming in the middle of the city. They all attract a combination of beach boys, families and ambitious swimmers in goggles and Speedos trying to do their daily laps. The most popular harbor bath is at Islands Brygge, where you'll find several pools, a basin for small kids, and springboards in various heights. The harbor bath is open to the public from June-October, and during the summer months the lawn by the bath is packed with barbecue parties and beach babes. The rest of the year a group of winter swimmers uses the harbor bath and the sauna; join them on the first Sunday of every month for free and start your day the Viking way.
9:00
am
Wullf + Konstali
Isafjordsgade 10
2300 København S
Get Directions
According to research, cold water whets your appetite, and as the average sea temperature in Copenhagen rarely rises above 60 degrees, you'll deserve some breakfast. According to the food critics, foodies, and food blogs of Copenhagen, the cozy café Wullf + Konstali is one of the best breakfast spots in the city. Located in the neighborhood Amager, it is relatively close to the harbor bath at Islands Brygge. You'll eat family-style in a bright room with massive windows and a communal table to linger around. The menu consists of 20 tapas-sized breakfast dishes: homemade chocolate-hazelnut spread on rye bread, scrambled eggs, almond croissants, Danish cheese, and salmon with beetroot cream, to name a few. Just put a cross in front of the ones you'd like to include in your self-curated breakfast menu. The coffee is good, too.
The idea of an 84-acre hippie commune existing in the most expensive part of Copenhagen might sound crazy, but it's nothing compared to the place itself. Christiania was founded in the early 1970s, and today is home to over 800 citizens, close to 100 small companies, and a host of music venues, jazz bars, vegan cafés, and pot dealers.
Skip the renowned Pusher Street—the least interesting part of the commune—and head deeper into Christiania instead. The hand-built houses on the edge of the waterways—usually constructed by the owners themselves—are testaments to the pairing of unbound creativity and mad carpentry skills. You can take it all in when crossing the small wooden bridge connecting the two banks of Christiania.
Look into the women's smithy on your way back to the city; they sell beautiful industrial-inspired furniture and souvenirs. The creatively constructed candle holders are especially popular, but you can also buy small mirrors, Christmas decorations, trays, and restored vintage lamps.
Copenhageners might argue about which smørrebrødsrestaurant—restaurants serving the iconic open-faced sandwiches—is the best, but there's no debate about which one has the most spectacular location. The restaurant Tårnet is located in an incredibly high-ceilinged room hidden in the tower of the castle that houses the national parliament and the prime minister's offices.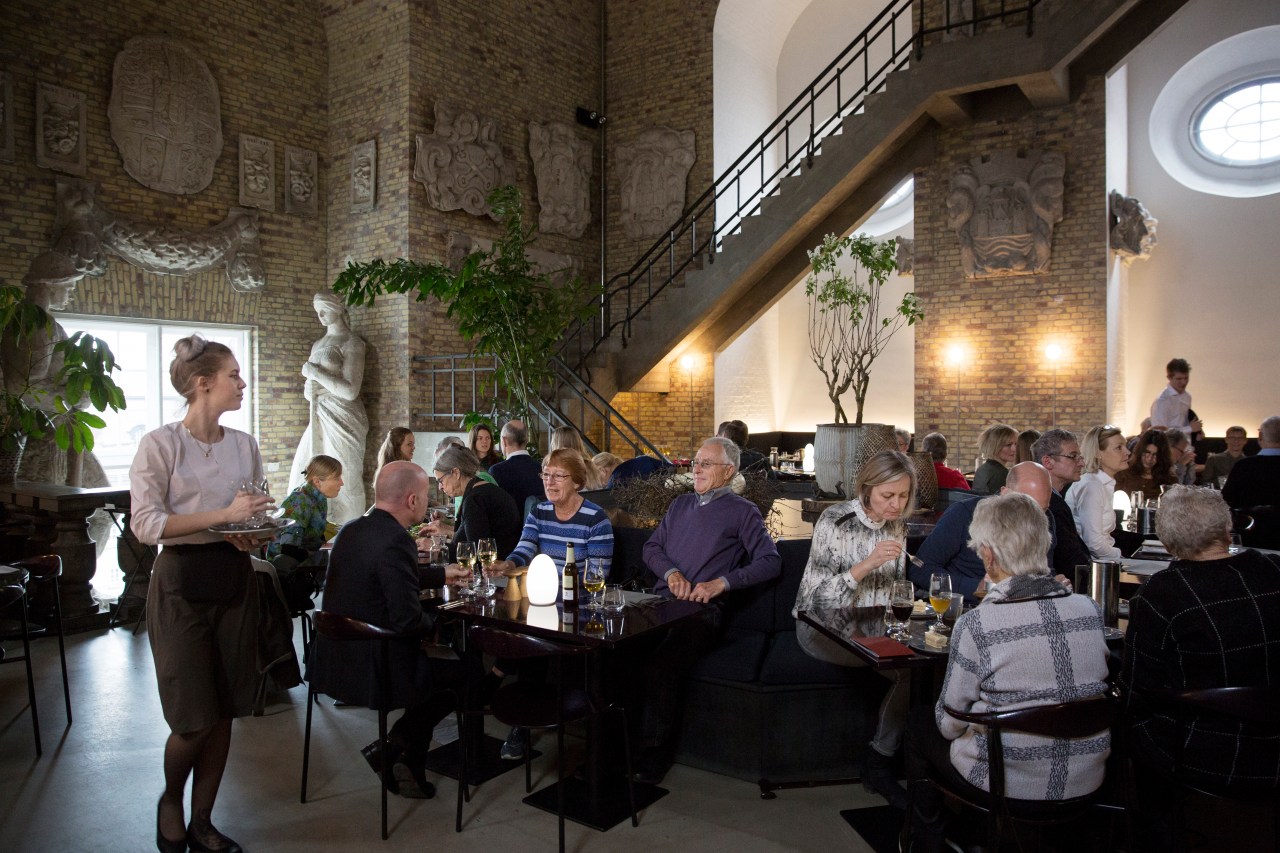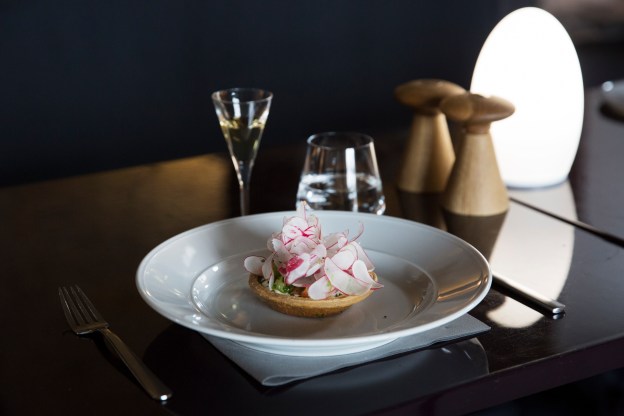 Save the view for after lunch and focus on the open-faced sandwiches instead. Smoked or pickled herring is a classic, but the beef tartare, potato and salmon versions are excellent too. Have a Danish beer—try the Bøgedal Tårnet, a beer made for the restaurant by one of Denmark's most renowned smaller breweries—with lunch, and maybe one of the signature cakes based on 19th century recipes. The Sarah Bernhardt is a beloved, classic Danish invention; it consists of chocolate-covered chocolate mousse on top of a crisp, marzipan-based macaron, and the potato cake—vanilla creme resting on a soft vanilla cracker, covered by a piece of thick marzipan—is a lot better than its name and appearance suggests.
When you're done exploring Danish culinary traditions (or, in other words, stuffing yourself), walk one flight up the steep, narrow staircase to the top of the copper tower. It's one of the best views of the city, and it's free. From here you can look down on the royal stable at the ground floor of the castle, out over the city center's historical tiled rooftops and cobbled lanes, and, on a bright day, all the way to Sweden. Your eyes will also be met by the city's countless church towers and spires, a few of them belong to Tivoli, the next destination.
If your idea of a visit to an amusement park consists of running between ugly machines playing noisy disco music while eating synthetic snacks think again; Tivoli is more about idyll than daredevilry. Dating from 1843, it's the second-oldest amusement park in the world (the oldest is Bakken just north of Copenhagen).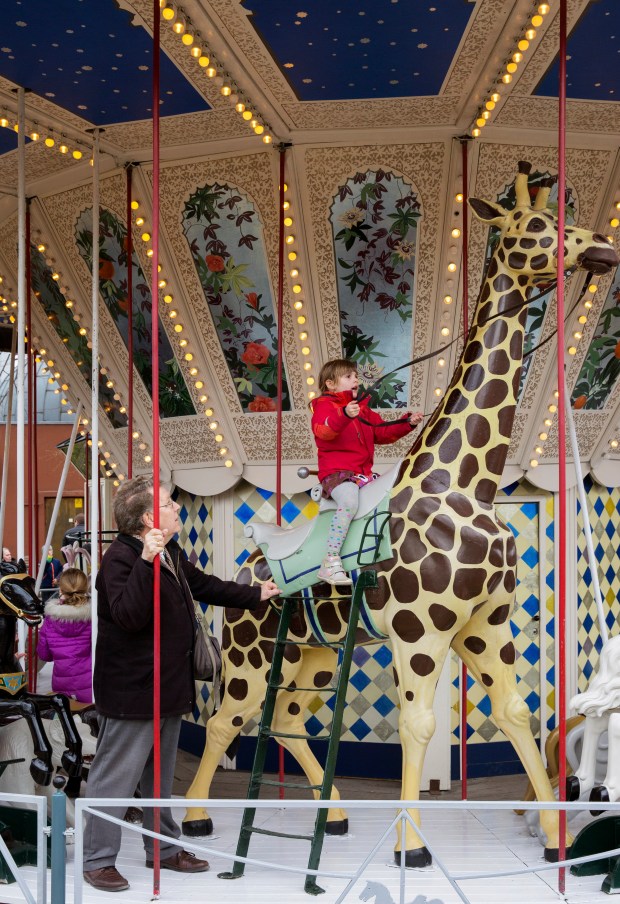 Wandering past the park's quietly turning Ferris wheel, colorful flowerbeds, idyllic lakes, traditional restaurants, and thousands upon thousands of light bulbs feels like losing yourself in a fairytale version of old Europe. Watch the outdoor pantomime show or an indoor ballet (both take place several times every day during the summer season), take a ride on the old roller coaster, and indulge in the many delicacies.
No trip to Tivoli is complete without dessert; at Svaneke you can buy ice cream from the foodie island Bornholm. Flavors include local produce such as rhubarb, gooseberries, carrot, and licorice, besides well-executed versions of classics such as stracciatella, chocolate, vanilla, and strawberry. At night, Tivoli turns into a party zone for grown-ups who amuse themselves with concerts, beer stalls, and Michelin-starred restaurants, rather than roller coasters.
After a morning and midday spent exploring the classic side of Copenhagen, it's time to hit the city's hipper neighborhoods. They're located west of the city's historical center, and the hippest one is Vesterbro. It used to be the red light and meatpacking district of Copenhagen, and though you'll still see some sex shops (especially at the easternmost part of trendy Istedgade), these days the neighborhood is mostly home to hip cafés, small fashion shops, interior design studios, and art galleries. Stroll down Istedgade, the main thoroughfare of the hip part of the neighborhood, to get a feel for it, then turn left and head into Kødbyen, the former meatpacking district. Here you'll find galleries such as V1, Eighteen and Bo Bjerggaard, more than a dozen hip restaurants and bars, and, during the summer months, a street food and farmer's market each weekend.
A short stroll from Kødbyen you'll find Copenhagen Boat Rent in the shadow of an unattractive mall. Here you can rent small motorboats—no experience is needed, but remember to bring your passport as a deposit. Cruise through the canals and take in the biggest sights of Copenhagen. The royal palace Amalienborg and the Marble Church hiding behind it are highlights, but you'll also pass The Royal Danish Opera House, The Royal Library, The Royal Danish Playhouse, and if you sail all the way to the end of scenic but touristy Nyhavn you'll be able to spot The Royal Danish Ballet (yes, Denmark is still a kingdom). Sail further and you'll pass The Little Mermaid statue and the former naval base of Copenhagen. From here you can drift into small canals lined with houseboats, and then through the idyllic canal of Christianshavn. Locals sit with their feet dangling over the water while drinking beer and chatting, and cafés, restaurants, and wine bars line the canals; if you ask kindly they'll sell you wine or beer to go.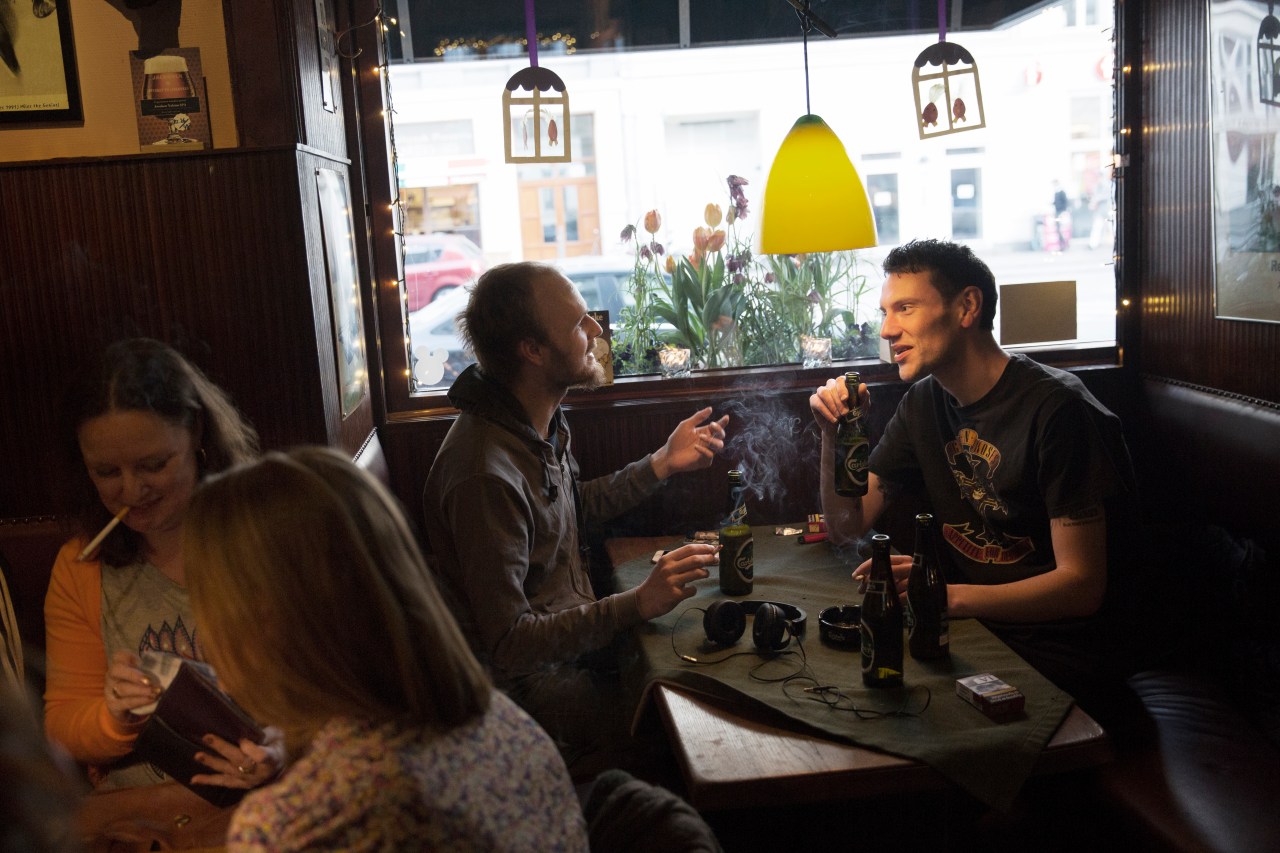 7:00
pm
Funchs Vinstue
Nørre Farimagsgade 55
1364 København K
Get Directions
It's dinnertime, and there's no reason to despair just because Noma is temporarily closed. While we're waiting to see the result of Redzepi's newest adventure, it's worth checking in on the many restaurants opened by Noma alumni. Amass is located at Refshaleøen, close to the location where Noma will re-open later this year. Helmed by Noma alum, American chef Matt Orlando, Amass guests are greeted with an aperitif in the vegetable garden in front of the restaurant. Located in a former shipyard, Amass features menus that change daily based on local produce and spontaneity. Lucky guests will end the evening where it started, drinking digestifs around a bonfire in the vegetable garden. In summer the sun sets at 9 p.m. and Amass is the perfect place to watch the spectacle.
In recent years Copenhagen's many classy cocktail bars have gained attention worldwide, but the city's traditional pubs are usually more fun. Locals flock to smoky pubs such as Funchs Vinstue, and it's as much fun stopping by after work as it is at 1 a.m. Grab a draught beer, have a chat with the regulars and join the many cigarette smokers who still puff away inside.
During the white nights of summer the Danes stay out late, so there's time for one more drink before bedtime. Stop by La Banchina, a restaurant disguised as a wine bar. It's located on the water in a wooden shack that previously served as a waiting room for the now-closed boatyard's employees, so grab a glass of Italian natural wine and take a seat at one of the many landing stages that have given the bar its name. When it's warm you might see tipsy guests go for a swim in the harbor; in winter you can cozy up inside.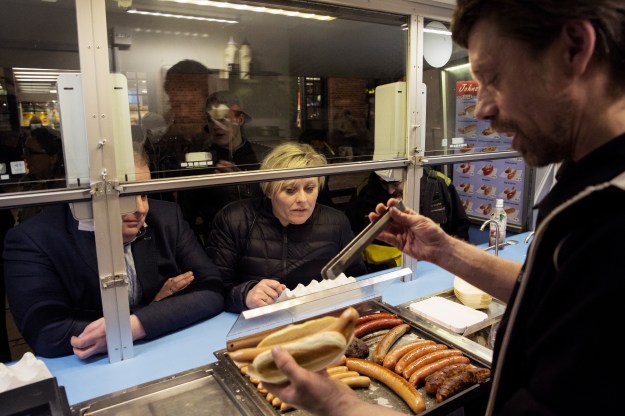 No night out in Copenhagen is complete without a late night snack, and the Danish hot dog is a classic. Hot dogs have had a revival in recent years— there's even an upscale, pricey hot dog restaurant in town—but the real deal is served at a wagon called John's Hotdog Deli. The sauces are homemade, the specialty sausages are sourced from local producers, and there's a monthly special; a recent version came with guacamole, mustard, salsa—all homemade—and a beef-pork frankfurter sausage. We recommend the classic grilled sausage in a hot-dog bun topped with roasted onions, pickled cucumber, and mustard because no matter how hip Copenhagen gets, the traditions deserve to live on.