Bourdain's Havana sidekick, the legendary Cuban musician Kelvis Ochoa, talks with his friend and occasional Havana dining companion Nathan Thornburgh about Bourdain's Cuba episode, classic Cuban cuisine, and the best spots to catch live music (and even DJs) in Havana these days.
Nathan Thornburgh: Thanks for talking with me. Let's start with how you ended up in the Parts Unknown Havana episode with Bourdain?
Kelvis Ochoa: You know I'm very good friends with [arts collective] Los Carpinteros. So we always hung out together and spent time together as friends, we do projects together, we talk about art, we talk about music, and we cook together a lot. They're very good cooks, and we share that passion. … So they reached out to me to hang out with Anthony and the others in his visit to Havana. It was a very special moment. We combined that with music, with art, with visits to their studio. Those were wonderful days. It was very lucky. That's how I ended up in the project.
Thornburgh: What did you cook for Tony?
Ochoa: We made some Cuban tamales. I made him a Cuban caldosa, which is made with a pig's head. You have to look for a very big pig's head, so it can have good quality and good quantity. So you prepare that with a lot of vegetables, you add boniato, maize, malanga, pumpkin, too. Caldosa is a very Cuban thing. It's a homemade broth very popular among the people here and in Cuba in general. It's always made for celebrations here. In fact, if one of your friends comes over, you put together whatever leftovers you have—a bone or whatever—and you make a sort of stew, you know? It's a very cool Cuban thing.
And then we got the party going. We got the pianos out on the patio. We were playing guitar and singing. We gave him a bottle of 25-years-old Santiago [rum]. Then we also had dinner. There was a barbecue. There was grilled yucca. Very traditional local food. Delicious. Flavors from that type of cooking have been lost somewhat in Cuba, because other types of restaurants have opened in Cuba in this wave, and the food has changed a lot in Cuba. If you want to find good local criollo food, you have to know where to go. Because what you can get is everyone trying to make gourmet food.
Thornburgh: Where do you go for that traditional food these days in Havana?
Ochoa: Start with El Ajiaco in Cojímar. I brought you there. We ate there. Their ajiaco is very good, the tamal de cazuela is very tasty, the pickled swordfish is very good. They also have all the traditional dishes, ropa vieja, pig. It's great for flavor and quality. Other established restaurants around here don't have that flavor of always, the flavor that people are trying to find. There's La Guarida, which, you know, is an exceptional place, and some others like that. There's Santi, where we ate very good criollo sushi. Do you remember that one?
Thornburgh: Yes, of course. So what do you dig about La Guarida?
Ochoa: La Guarida began in the apartment where Fresa y Chocolate, a Cuban film that was nominated for an Oscar, was filmed. Enrique [Núñez] is the owner, and he truly has done a wonderful job. He found very good chefs, and he has helped them grow. They have a very Cuban dish, their signature dish, called cherna a la caimanera. Cherna is a grouper, and Caimanera is a place in Cuba which is very close to the Guantánamo naval base. There are a few coastal towns around there: Caimanera, Boquerón. … So this cherna is cooked in the Caimanera style. It's very criollo.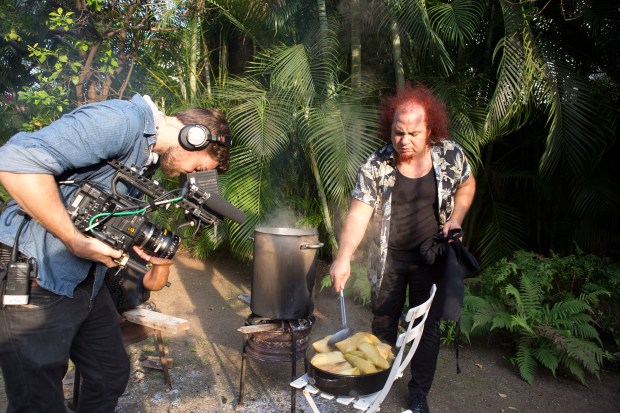 Thornbrugh: Remind me, what is the name of the restaurant where we were next to Tun Tun in Miramar?
Ochoa: De Otra Manera. It's so good. Their food is more European in style—Spanish, Mediterranean. Very good. There are other private restaurants, like La Corte del Príncipe, that do a good job. There are some places that offer everything; they're not well defined. But I think we're regaining this thing we had lost in Havana, having different music venues and restaurants to choose from.
Thornburgh: Let's talk about music venues in Havana. What are your suggestions for where can people go?
Ochoa: The musicians from my generation who live in Havana or who spend a lot of time in Havana, we are playing in a lot of venues which were created with the opening of private venues. They have been improving massively in terms of sound quality and acoustics. At first these venues were very makeshift, but they eventually leveled up. We worked, for example, with David Torrens; he's a composer and singer-songwriter from my generation who lives in Havana. I've hung out with him a lot in a place called Corner Café, in B Street and 1st Street in Vedado neighborhood, very close to the Cohiba Hotel. There's also Oh La La, a place right in front of the synagogue in Vedado, in E street and 17th Street, right on the corner. We play Fridays, Thursdays, mainly on the weekends.
Thornburgh: I don't know Oh La La. Is it new?
Ochoa: Yeah, it had another name before. But in Vedado it's mostly newer places. A few very small places have sprung up where trovadores go to sing in acoustic settings, but there's a very diverse musical scene now in Havana's nightlife. There's the classics too. Van Van, who are releasing a new album soon, which is pretty good. Havana D' Primera, whose temple is La Casa de la Música in Miramar, and they also play many nights in the Capri. Alain Pérez, who is a great musician and producer, produced the album Boomerang with Nat Chediak and Fernando Trueba, also plays at La Casa de la Música. Also, NG La Banda play there and in El Diablo Tun Tun, which is right above La Casa de la Música. Ray Fernández too. There's a lot of variety, so there is a very healthy and diverse scene. There's rumba in La Casa de la Rumba and a bit of everything. Havana's nightlife is very interesting right now. There are a lot of venues. You can go see different kinds of music, and then there's places with DJs playing music like Roma in Habana Vieja.
Thornburgh: How would you describe Tun Tun? What type of place is it?
Ochoa: El Tun Tun is a very busy and crowded place with a lot of dancing. It has programming for every day of the week. You can see and dance with NG La Banda, to their mambo. It attracts a type of crowd that likes to dance and party. For example, Ray Fernández, a trovador and singer-songwriter, plays there on Thursdays at about 7 p.m., the matinee slot; and he fills the place with young people, college students, people who are getting out of their offices. It's a popular scene. El Diablo Tun Tun is very spicy—it has a very diverse crowd.
Thornbrugh: So the feel is more of a nightclub? Is it a bit underground?
Ochoa: It's not very underground. It's a state-run company. La Casa de la Música, El Diablo Tun Tun, they belong to a state company. They're not part of those private venues, but music is still played there. Like in Don Cangrejo, it also belongs to the state. Like El Capri, El Palacio de la Salsa …
Thornburgh: Can you tell which are private and which are state run?
Ochoa: Yes, of course. You notice how those places work. The private venues work very well. They flow well. In the state-run venues you notice that drinks aren't cold, there's no ice, things like that. At the end, you enjoy the music because the bands that play there are good bands, but you notice the difference. Waiters treat you better. Everyone is trying to serve you.
Thornburgh: What about prices?
Ochoa: The state-run ones are much cheaper. The private ones are more expensive.
Thornburgh: So how do you know who is playing where and when?
Ochoa: People promote themselves. They make flyers, posters, and they put them in both state-run and private businesses. Everyone has a Facebook page, and they post their shows there. They keep their social media alive, and they send emails promoting their shows. And they also promote them on the streets, which works pretty well.
Thornburgh: But is there a special publication for visitors?
Ochoa: Not really. What we need is a guide—a cultural, gastronomic, musical, and artistic guide of the city that tells you about the places and their qualities, which is what we're missing now. A guide that a visitor could receive as soon as he arrives, where he can find everything. There are no publications yet. There are some magazines, but everything happens at the level I was telling you about.
Thornburgh: So you have to ask in the hotel or someone in the street who might know.
Ochoa: Exactly.
Thornburgh: Are there any other places? Maybe new venues that have opened up after my visit last August that are interesting?
Ochoa: A few have opened up. There's a very small place on 23rd Street and F Street called El Bar de F. They are trying to have jazz there. It's not a jazz club, but they always have jazz. It's programmed early for the whole week. You can see duos, trios, quartets playing. Then a DJ sets up the atmosphere for the night and the morning. There's also El Pasillo, but I haven't been there yet. It's pretty new, in Vedado. They also have live music. Each day more venues open.
Thornbrugh: But how can you go to Havana and listen to electronic music? There are so many great live bands and musicians.
Ochoa: There's a very interesting electronic scene—people like DJ Jigüe and Wichy or this duo of female DJs called Pauza. They are active on social media and have their parties all over Havana just by sending SMS. They call each other, and a lot of people get together for the parties. Now in La Tropical on Fridays they have an electronic-music party. Four or five DJs get together, and they fill up la Tropical with people dancing.
Thornburgh: How is La Tropical doing other nights?
Ochoa: They have lots of bands there. Elito Revé's band plays there. It's the band of Elito Revé Sr.; it's called El Charangón de Revé, and it is one of the best-sounding live bands right now. A lot of people from the reggaeton and the hip-hop scenes play there too. It's also a state-run venue. They have a schedule, you have to go there to check it. But everything would be better if we had a guide promoting everything, the state-run and the private venues.
Thornburgh: In this case, you are my guide. Thanks!
Ochoa: I always try to help!