Beirut 
When Anthony Bourdain went to Lebanon. I am a first-generation American. My parents immigrated to the US in 1993 from Lebanon. Growing up, especially in Indiana, no one ever spoke about Lebanon or the Middle East being beautiful or rich in culture. They focused on the negative and never gave Lebanon a chance. I remember watching the Parts Unknown episode of Lebanon with my parents and feeling so proud that finally, someone else recognized this incredible country.
— Stephanie Haddad
Bloomington, Indiana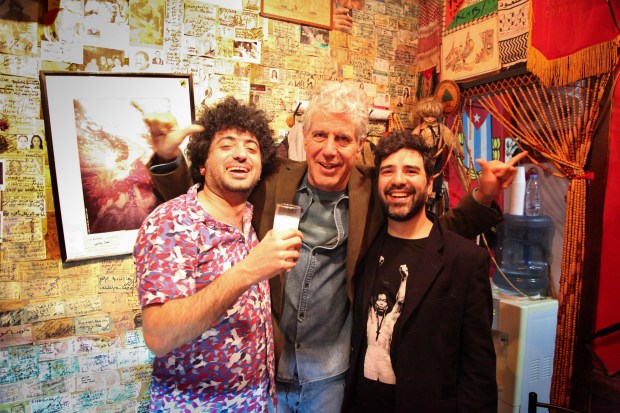 Hanoi
The episode where he's eating with President Barack Obama in Hanoi. They're eating a $6 meal with a bottle of beer when Bourdain says he feels like America is turning inwards. He asks Obama if things are going to be OK for their daughters, and Obama says people everywhere have pretty much the same hopes and dreams, that progress isn't a straight line. The moment was so honest, so raw, it brought me to tears. Obama said, "You don't make peace with your friends. You do so with your enemies." That exchange resonated with me. I share those fears. But it also showed, as Bourdain always did, that having a great meal in a foreign land—breaking bread, so to speak—brings out honest and heartfelt conversation. I miss President Obama and, equally, Anthony Bourdain.
— Cindy Kincaide
Alden, New York
Jerusalem
Season 2, Episode 2
For me, in the Jerusalem episode, it was Tony's embrace of Palestinians as actual human beings instead of as an ugly stereotype. As a woman of Palestinian descent, it meant—and still means—so much to me. Overall Tony's respect of people of the Muslim world was so overwhelming for me. With so much vilification of Islam and Muslims, having someone like Tony in our corner meant so much.
— Sahar Arafat-Ray
Austin, Texas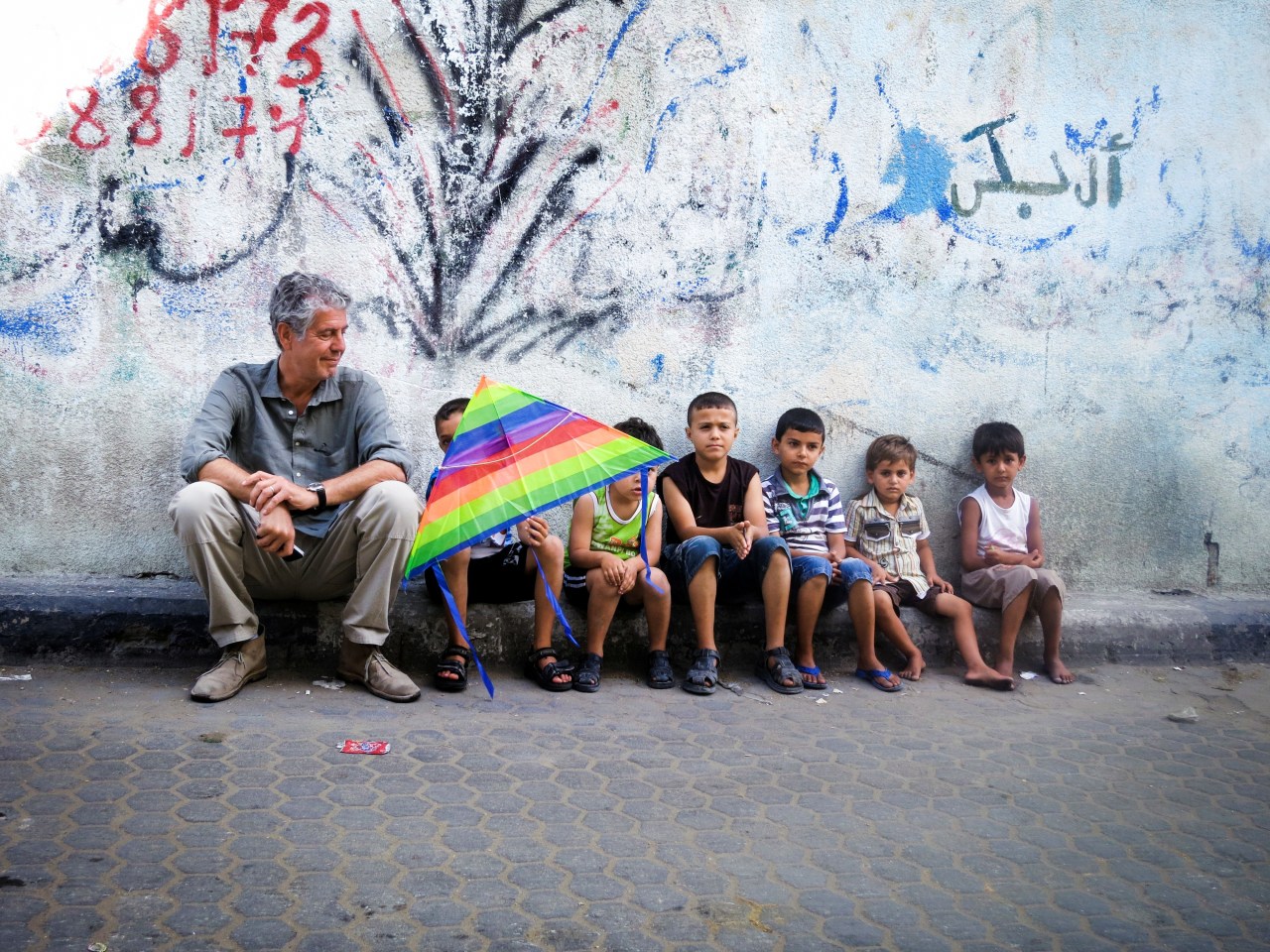 Koreatown, Los Angeles
I loved when Anthony went to Sizzler with chef Roy Choi during the Koreatown episode. Even though I'm not Korean (I'm Indian), it was funny seeing how much Asians valued Sizzler!! I didn't know that was a shared tradition among the Asian community. My parents felt the same way about Sizzler—that it was our version of "dining out." Growing up in a suburb of LA, I felt represented, and that was a nice feeling.
— Priya Sharma
Los Angeles, California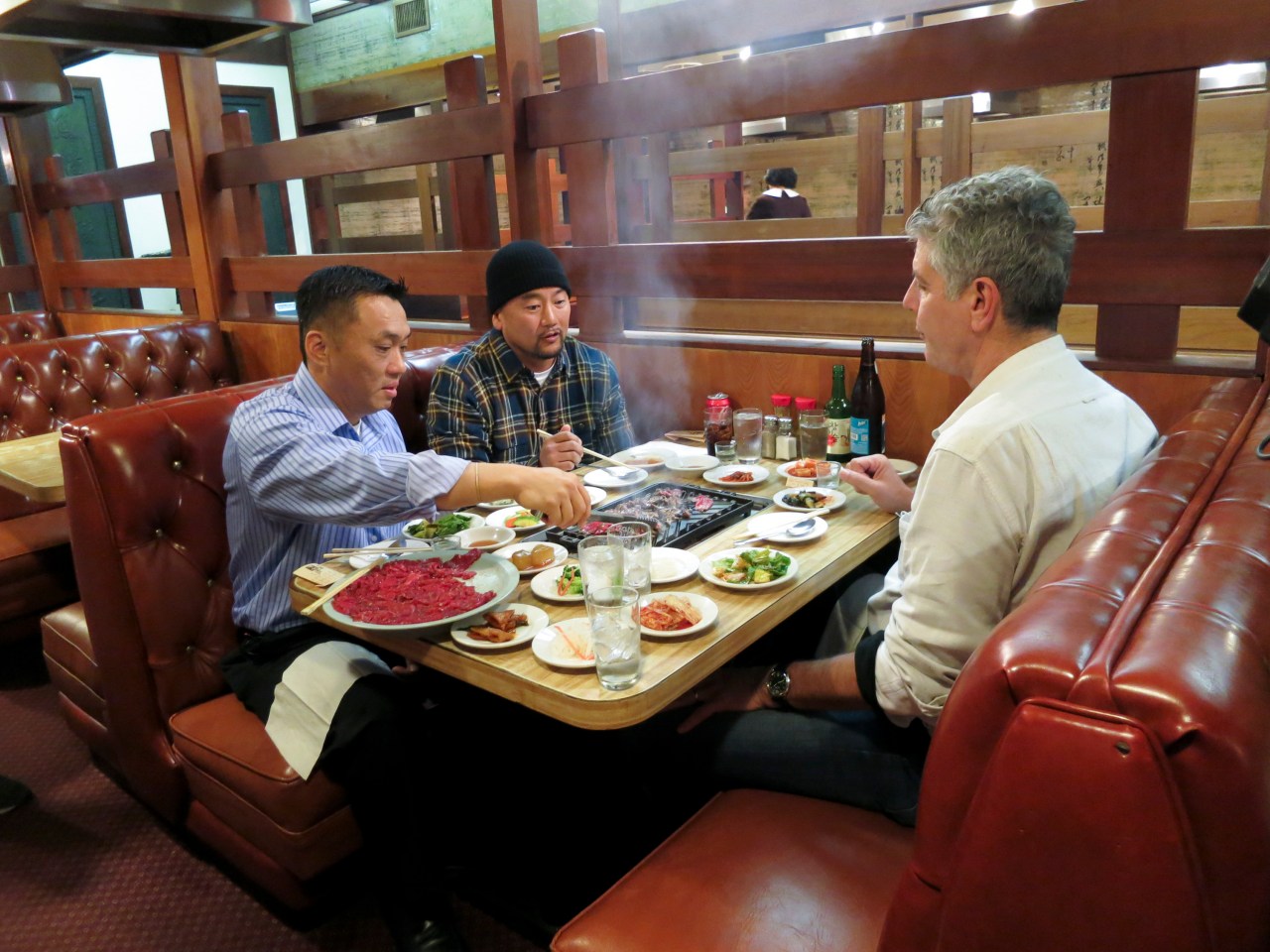 The Koreatown Los Angeles episode is and will forever be my favorite episode—where Anthony introduced me and the rest of the world to Korean-barbecue tacos. I was only 15 at the time, and I had never imagined that there were places in this world where people could be so bold and create a fusion of Korean and Mexican food. Later that year I somehow convinced my parents to go to LA, and we made it part of our mission to try the Kogi food trucks.
— José Ignacio Mendoza
Toronto, Canada

Houston
The Houston episode, where he eats a diverse lunch in a backyard with a family of different ethnic backgrounds: This was so memorable because it perfectly demonstrated Bourdain's main focus of utilizing food as a tool to bring cultures together.
— Christian Doan
Chicago, Illinois
Lyon 
Season 3, Episode 4
The scene in the Lyon episode where Bourdain and Daniel Boulud visit the Institut Paul Bocuse is very special. The devotion and craft given to the preparation of the food are truly incredible, especially in the dish where the fresh-caught rabbit is cooked whole in a sauce of its own blood and then ladled over it tableside. You can see how honored Anthony is to share a table with Mr. Bocuse and how appreciative he is of the tradition that goes into the meal.
— Max Goldsworthy
El Dorado Hills, California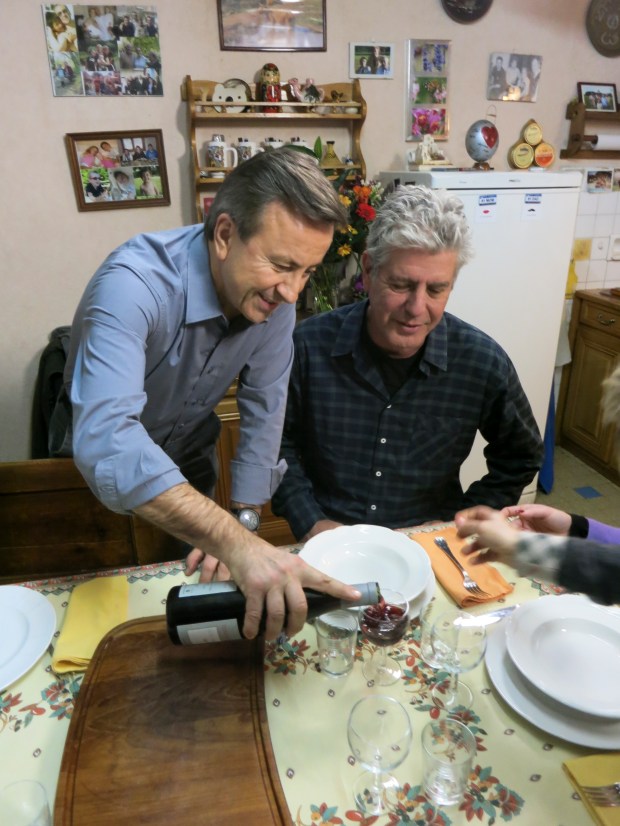 Manila, Philippines
On the seventh season of Parts Unknown Bourdain visited my country, the Philippines. One of the most memorable parts of the episode included a short visit to Jollibee, the most popular food chain in the country. He ordered Jolly Spaghetti and Chickenjoy (fried chicken), a Filipino favorite. Seconds after his first bite of the fried chicken, the Jollibee theme song played. It was weird at first because Bourdain had always been known for his tough-guy persona and culinary grit, but in that moment he seemed so vulnerable to me—not in a cheesy way but in a reflective way: Bourdain was the type of person who'd walk in the shoes of the people whose story he is telling.
Jollibee might be a commercial food chain, but it showcases the hospitality and values Filipinos cherish the most. Bourdain perfectly captured our love for food and for family. He became relatable to millions of Filipinos here and abroad because of that visit.
— Kez
Iloilo City, Philippines

Hawaii
There is a moment at the end of the Hawaii episode where Anthony sets out on a whale-diving expedition. As he enters the water, the dialogue stops and a piano piece begins to play. For the next minute you see the beauty of the ocean, whales, and the soul of Anthony. As he comes up for air in the final moment, you see him smile so genuinely and can't help but be in awe. It catches him in a moment of pure happiness, and that is how I look back on him, bringing viewers into these incredible places and sharing his insights on life. It's a truly beautiful scene.
— Brandon Walton
Columbus, Ohio

Sichuan
The hot pot meal in the Sichuan episode: This was perfect. The show is at its best when I feel like I've been transported to the table—communal eating, conversation, bonding, and lots of beer. Tony's excitement when dropping ingredients to their fiery doom in the hot pot cauldron is bested only by his absolute pleasure in Eric Ripert's beautiful misery with the spicy food. If that isn't friendship, I don't know what is.
— Travis Dingledine
Brooklyn, New York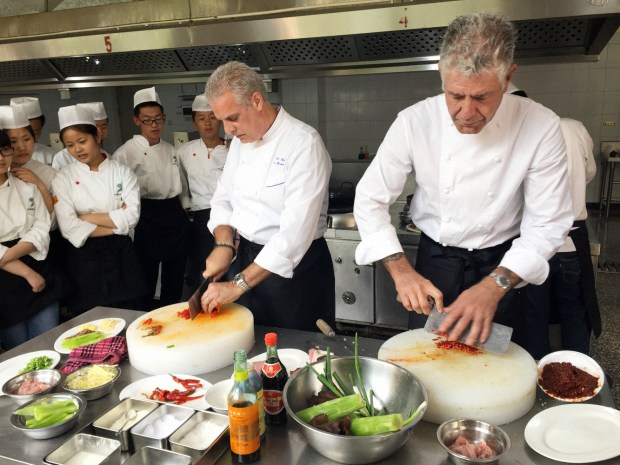 Borneo
Borneo is an episode that I often revisit. Bourdain explores his past by retracing his steps from old adventures and opening old wounds. This was Bourdain exploring his own, personal "parts unknown." The episode overall offers rich cuisine mixed with mystic remote locations, ritual slaughter, binge drinking, and even tales of headhunters.
One of the most prominent scenes in the series is featured in this episode, when the center of Bourdain's chest is (painfully) inked with a tribal tattoo by a Borneo artist. His narration in this scene will always resonate with me:
"At this point I think my body is like an old car. Another dent ain't gonna make a whole lot of difference. At best it's a reminder that you're still alive and lucky as hell. Another tattoo, another thing you did, another place you've been."
— Brandon Brown
New York, New York