Anthony Bourdain was a longtime resident of New York, but he admitted that he had always considered the Bronx to be "unexplored land you drove through to get to Yankee Stadium." On Parts Unknown, comedian and TV personality Desus Nice showed Bourdain around his native borough, introducing him to the vibrant cultures and cuisines of the many immigrant communities that live there. Nice and the Kid Mero, aka "The Bodega Boys," will be performing at the NY Comedy Festival on November 11. Nice, who's slated to co-host a late-night talk show on Showtime with the Kid Mero, spoke to Explore Parts Unknown's Tafi Mukunyadzi about what Bourdain was like when the cameras weren't rolling.
Tafi Mukunyadzi: How did you end up showing Anthony Bourdain around the Bronx?
Desus Nice: He actually had been following me on Twitter for a while and occasionally tweeted at me if someone mentioned the Bronx. One day he DMed me to ask if I wanted to appear on an episode. I said, "Hell, yes."
Mukunyadzi: What expectations did you have of Bourdain?
Nice: I completely expected him to be like a wild Hollywood jerk. I expected him to yell at people and tell them not to talk to him. He was pretty famous, and you expect people with power to be stereotypically terrible people. But he was down to earth. We clicked right away. He was effortlessly cool, and the coolness came from the fact that he genuinely cared about you.
He showed up to the bar where we were shooting without security. The bar is in a neighborhood that's kind of rough, but he was just walking by himself. It didn't make the final cut, but while we were shooting, we ended up walking through a major thoroughfare and people kept coming up to him. They were taking pictures and asking for autographs. We continued to have our conversation and kept recording while he was interacting with all these people.
Mukunyadzi: What was your favorite place that you and Tony visited?
Nice: We went to a restaurant called Lobster Box on City Island. The restaurant overlooks the water, and there's a firing range for the NYPD across the water. As we were talking, we heard gunshots and Tony asked what the noises were. I explained to him that they were coming from an NYPD gun range.
After we stopped filming, we sat there and talked for about three hours. We talked about his time as a line cook. He seemed very comfortable talking to me, but I assume he was comfortable with everyone. I think people really appreciated that about him.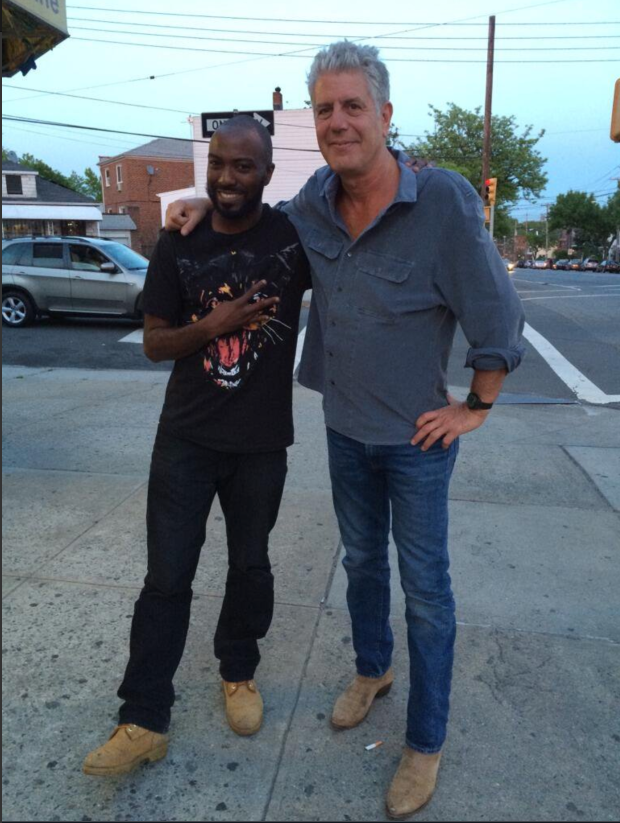 Mukunyadzi: After you watched the episode, did you feel like he understood the Bronx?
Nice: He definitely got the Bronx right. When people talk about the Bronx, they talk about 1980s hip-hop. They never focus on new culture or the significant changes occurring in the Bronx. Tony showed cultures that are very relevant that people outside of the Bronx don't know about. He showcased that the Bronx isn't a monolith. There are so many different types of people that come together to create a community. I was very impressed.
Mukunyadzi: Did you keep in touch after filming wrapped?
Nice: Yeah, we were supposed to meet up again. We joked that if he was ever in a remote location, I would meet up with him as a surprise. We never got the chance to do it, but I just imagine him getting to the top of Mount Everest, and I'm there like, "Yo, Tony!"
Mukunyadzi: That would have been a great show. What was your favorite episode of Parts Unknown?
Nice: The episode when he met up with President Obama in Vietnam. I think it's because of the idea of the logistics that went into getting Obama on the show. But also why would you have Obama in Vietnam? But it makes perfect sense. It makes perfect sense, it was so well done, and it was something only Parts Unknown could pull off. Obama was a part of that show, but you didn't watch the show because he was in it. There was the sense of We're just chilling and drinking beer with him, and then we're going to talk to this other person who cooks food.
Mukunyadzi: If you could have created a show with Tony, what would it have been like?
Nice: We could have done a cop show. It could have been like Law & Order but in kitchens. We would run and check to see if food was expired. We'd arrest people for using counterfeit ingredients.
Mukunyadzi: I would have watched it.
Nice: I would've watched it too.
This interview has been edited and condensed.