I got to travel and photograph the world with Anthony Bourdain.
Sounds like a dream job right? It was.
I traveled thousands of miles to far-off places like Vietnam, Tanzania, and Russia, as well as to places not so far away like South Carolina, Montana, and all over New York City. Along the way I learned to be a better traveler and, hand in hand with that, a better person. I'm thankful for the experience. It's hard to imagine that I'll ever have a better job.
One of the first times I photographed Tony we were in Russia, hanging out, and I asked if I could take a few pictures of him. He sighed and rolled his eyes and mumbled something implying that it would take too long and that he was kind of busy.
"Look, I just need you for 15 seconds," I replied. "You're the one who is wasting time." Then, for just a moment, I second-guessed my brashness.
He grumbled, "OK, all right," and then obliged. He stepped into the frame and looked right at me. I snapped five frames, thanked him, and walked away. He seemed bewildered that I got what I needed so quickly.
Later that week, sitting in an airport on our way home, I thanked him for letting me come along. He replied, "No, thank you. You're the most expedient photographer I've ever met."
I don't always photograph that quickly, but I'm pretty good at reading the situation and figuring out what I can ask for and what I can't.
It wasn't that Tony didn't like being photographed. He just didn't like the spectacle of a photo shoot. He told me that every creative director has some grand idea, but that doesn't mean they are good ideas.
The strength of what we as a crew do is that it is honest, what creative directors refer to as authentic. And so my role was to make pictures that mirrored the show—they had to be real. Tony wasn't the sort of guy to sit around for 30 minutes giving you Blue Steel, so he said, "Photograph what is there." He believed the show wasn't about him. He was just part of the equation.
There are a lot of images I like. I probably chose some of these because of my personal experiences. Here are few that matter the most to me: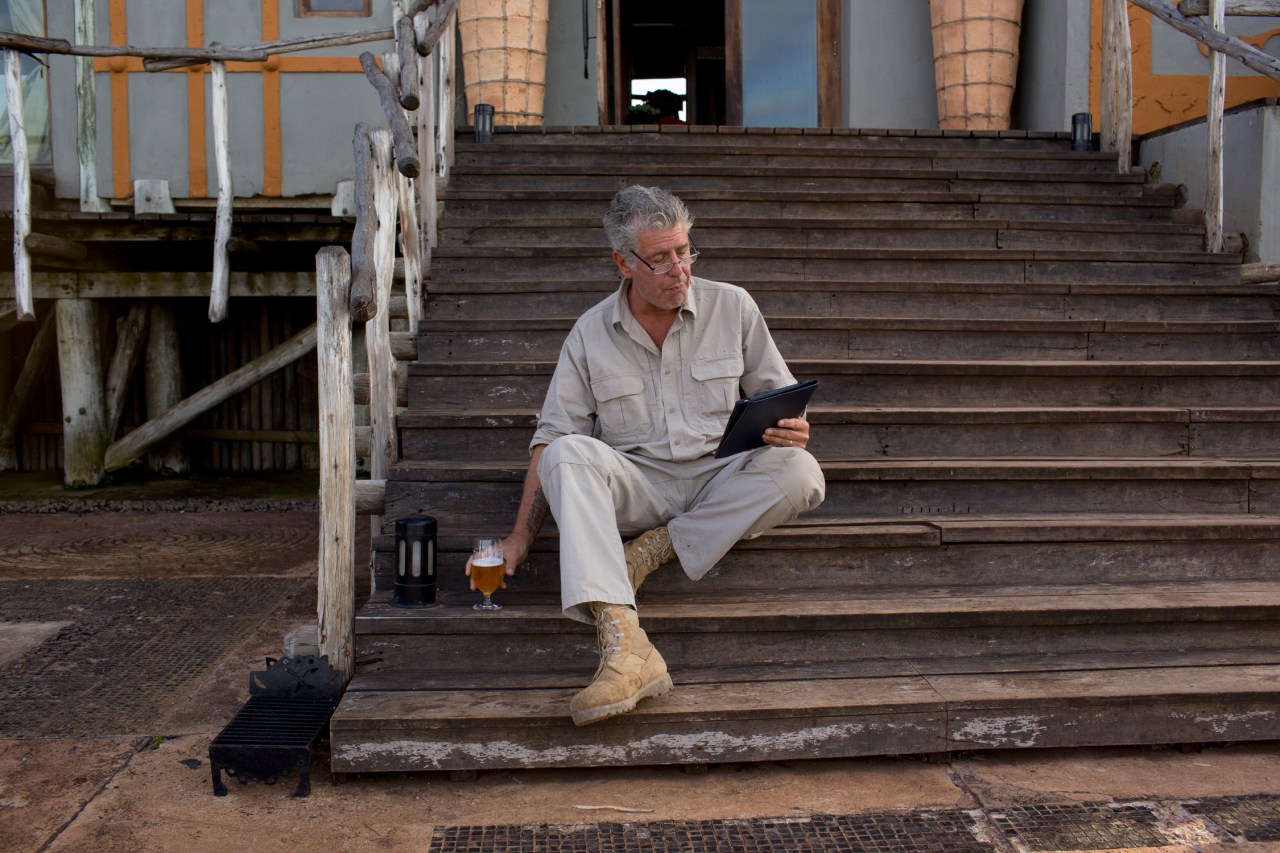 Tanzania is one of my favorite places on earth, and we shot an episode there in 2014. We were finishing after a long day on safari, and I asked Tony if I could shoot a couple of portraits at his lodge as the sun was setting. As we waited for the light to improve, he said he wanted to check his email while we waited. I stared off across the Ngorongoro Crater and started doing cartwheels in the grass. I asked what we were missing back home, and he started reading me a couple of headlines from his iPad. Then I turned around and saw him sitting on these steps with a drink, so I picked up my camera and snapped this.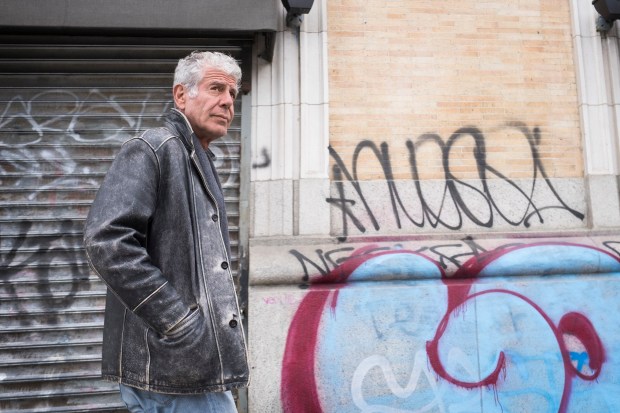 This photo was shot on the Lower East Side, the neighborhood that I live in, on a street that I walk every morning to take my son to school. We walked through the LES to Tompkins Square Park, places I go to every day but that were Tony's haunts 20 years before. Tony loved NYC, and it was always good to see him out and about.  
This image wasn't taken for Parts Unknown. It was from when Tony hosted a week of programming for Turner Classic Movies. He was surprised when he showed up on set and found out I worked on that network, too. I joked that one day he would realize that I hustle. Over the next couple of weeks I ran into him five times in instances not related to his show. Tony really enjoyed this. He loved movies and had a lot of strong feelings about all aspects of filmmaking.
Whenever someone told me they were nervous around Tony and not sure what to say to him, I would say, "Talk to him about John Wick." He was crazy about the film and Keanu Reeves as an action star. It was a surefire ice breaker.
This picture and the next one are both from Sri Lanka. This was one of my favorite trips, and it was also one of the most difficult. I think it might have been the longest flight I've ever taken. Tony arrived several days before I did, and he and most of the crew had been sick. I had just arrived, and I felt amazing. We took a 10-and-a-half-hour train ride from the south of the island to Jaffna, in the north, and it was one of my favorite travel experiences ever. Tony was not feeling well, but he still let me keep photographing.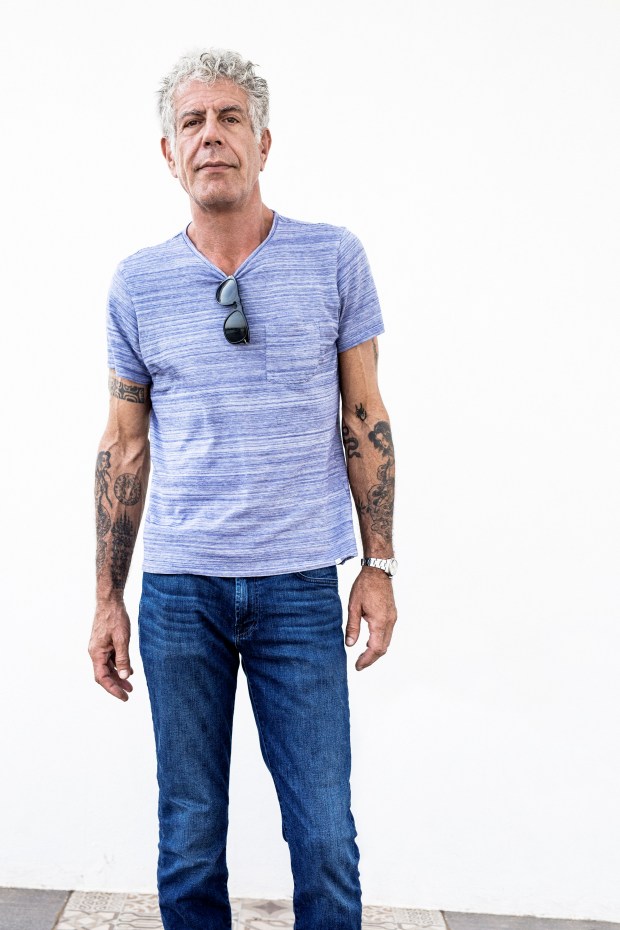 I had gotten a note from CNN's marketing department saying, "If Tony wears the blue striped shirt, will you ask him to change, because we have a lot of photos of him in that shirt lately." I was going to meet him on the roof of our hotel to shoot some portraits of him. When he arrived, he was wearing the shirt. I laughed and told him about the note from CNN, and he made it clear that he wasn't about to go change. So, personally, the photo is a memory of Tony's defiance. He did things his way.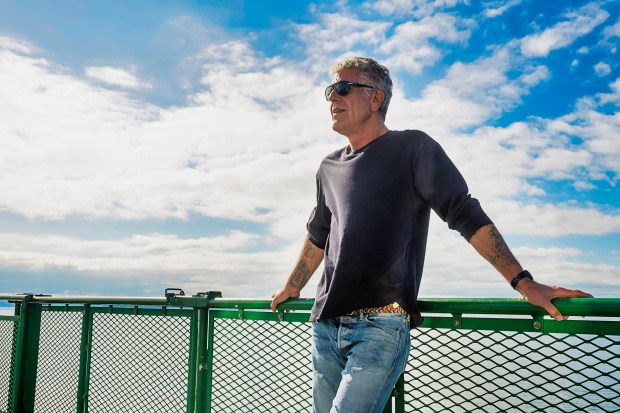 This was a quiet moment on the ferry from Seattle to Vashon Island. The ride takes about 20 minutes. We were on our way to a cookout, the air felt remarkably clean, and it just felt good.
Looking through these pictures, my inner voice keeps saying, "Oh—this might've been my favorite trip." I think it means that they were mostly great trips. This is from the Southern Louisiana Courir de Mardi Gras episode. Readers, you should go celebrate this one if you get the chance. At one point Tony donned a costume and went on the run. He rolled his eyes a little at wearing a costume, but I think he enjoyed being incognito and taking part without the distraction of his celebrity.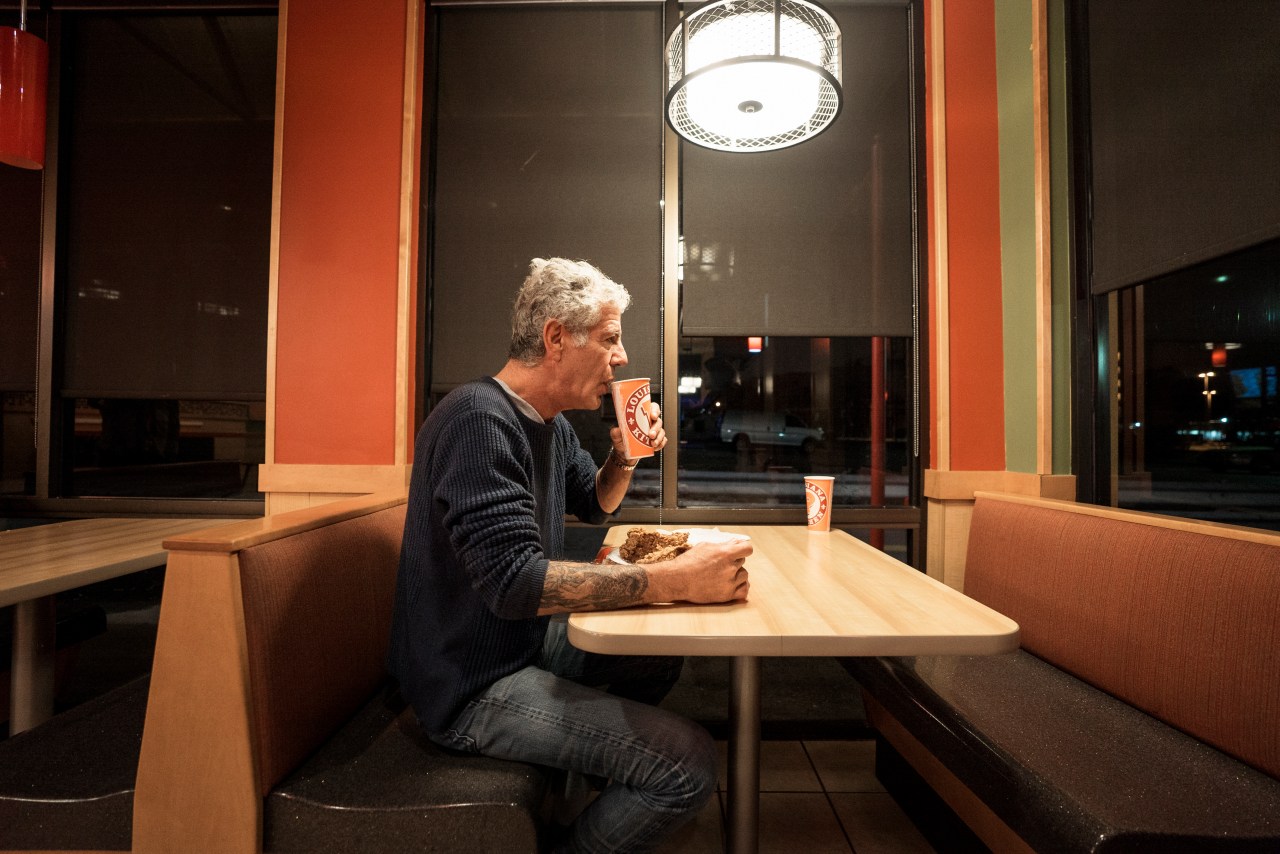 This is also from Louisiana. There was a Popeyes Louisiana Chicken down the road from our hotel, and at night Tony would walk down and get a bite to eat. Most people didn't notice him, and when they did, I don't think they believed it was him. He didn't film it—it was just something for him. I'm from the country, and I loved this (and his trip to Waffle House with Sean Brock, which became a hit on social media) because I think sometimes people tried to label Tony an East Coast elitist or a food snob or something along those lines and it couldn't be further from the truth. When something was good, he would tell you.
I ran into Tony in the hallway at CNN in New York City, and he said, "Are you coming to Cuba?"
I had already heard about the trip and had been in the process of begging the marketing department to find the money to send me, but I tried to play it cool and said, "I dunno. Do you think I should go?" President Obama had just announced a plan for normalization of relations with Cuba before we went, and while we were in Havana, Tony commented on how fortunate we were that the trip coincided with this moment in history. Tony and the directors were really good at being ahead of the curve.