When many foreigners think of Vietnam, the image of a war zone is still chief in their mind. They might be surprised to see that Vietnam has transformed greatly from those days, becoming one of Asia's major tourist destinations.
Hanoi is the capital of Vietnam, and a must-see destination if you visit this beautiful country. When it became the capital city in 1010 it was called Thang Long—Land of the Ascending Dragon, which was later changed to Dong Do—Eastern Capital. In 1831, it was finally called Hanoi—City within the Rivers—due to the numerous waterways flowing through the city.
Despite a thousand years of eventful history, destructive wars, and natural calamities, Hanoi is still home to various ancient architectural works including the Old Quarter and over 600 pagodas and temples. Places of interest include the One Pillar Pagoda (built in 1049), the Temple of Literature (built in 1070), Hanoi Citadel, Long Bien Bridge, Hanoi Cathedral, Hoa Lo Prison, Hanoi Opera House, President Ho Chi Minh's Mausoleum and so much more.
Hanoi is also home to famous traditional handicraft villages such as Bat Trang pottery village, Van Phuc silk village, and Ngu Xa bronze casting village, all within the city limits.
If the brief peek above has made you curious, let's grab a map and discover the city.
After a savory meal, it's time to explore Hanoi's nightlife in the Old Quarter. The city comes alive in the evening. If walking the streets and exploring shops with interesting handicrafts makes you parched, then a pint of bia hoi—Vietnamese draught beer—will quench your thirst. Find yourself among hundreds of locals and expats sitting on plastic stools with a pint of bia hoi in hand, cheering and shouting "bottoms-up!" at Bia Hoi Junction, at the corner of Ta Hien and Luong Ngoc Quyen streets in the Hanoi Old Quarter. Lively bars and nightclubs with great tunes and nice drinks are easy to find in the Old Quarter as is the opportunity to mingle with people from all over the world.
Hanoi is known for its charisma and beauty, found in the harmonious combination of traditional and modern, of the Old Quarter and skyscrapers, of the tree-lined streets with French architecture and modern shopping malls. Even if Hanoi is not love at first sight for you, eventually you will fall in love with this beautiful city, and its culture, food, and fun-loving people.
Are you an early bird? Start the day by heading to Hoan Kiem (Lake of the Restored Sword), which is located right in the heart of the city, to enjoy the sunrise on the lake and join early-risers of all ages in their morning exercise, whether it's tai chi, badminton, or running.
You will meet the Hanoians; why don't you make friends with them? Start with "Xin Chao", which means hello—it is pronounced similarly to "ciao" in Italian—and a cheerful smile. Hanoi people are gentle and easy to talk to, helpful, and they smile a lot. They are willing to talk to you and show you where to go and what to eat in their beloved city. They may tell you about the legend of the lake; Emperor Le Loi was boating on the lake and a Golden Turtle surfaced and asked for his magic sword. He wanted to return it to the Dragon King, who had given it to the Emperor earlier during his revolt against China's Ming conquerors.
The red Huc (Morning Sunlight) Bridge connects to the Jade Island, where you will find the Ngoc Son (Jade Mountain) Temple. The Turtle Temple, where giant turtles sunbathe, sits in the center of the lake.
If you visit the city during the weekend the streets around Hoan Kiem Lake will be closed off to traffic. The walkable streets will be filled with festive activities such as traditional singing and puppet performances as well as traditional games like o an quan and nhay sap.
7:30
am
Pho 10 Ly Quoc Su
10 Lý Quốc Sư
Hàng Trống, Hoàn Kiếm
Get Directions
Have pho bo—beef noodle soup—at Pho 10 Ly Quoc Su, a seven-minute walk from Hoan Kiem Lake, beloved by locals and tourists alike. Pho bo is definitely a "must-try" dish in Hanoi. It is made from fresh beef, thinly sliced and blanched, served with fresh rice noodles in a tasty hot beef broth with various types of seasonings—green onion, cilantro, long coriander—surely a good kick-start for your day. The place is always packed with pho lovers and there may be a line, but the happy faces eagerly enjoying their steaming breakfasts let you know it's worth the wait. Do like the locals—add some slices of hot chili and squeeze a lime wedge into your pho, and enjoy the distinctive taste of the spicy, tangy broth.
As the sun is setting, take a cab to see the sunset over the West Lake, a very large body of water often referred to as "the lung of Hanoi." West Lake was formed from a curved part of Red River, and legend surrounds its ancient origins. Quan Thanh Temple, one of the Four Sacred Temples of ancient Hanoi, is located at the beginning of the road, and Tran Quoc Pagoda, built in the 6th century and the oldest pagoda in Vietnam, is located on a small island in the middle of the lake. You can reach the pagoda by a bridge; stepping into its tranquil atmosphere you leave behind all the vibrancy of the bustling city. A feeling of Zen and pure peace makes the time pass slowly here.
At dusk the red-orange sun gradually descends, the sky dyed violet while the golden rays turn the water to glittering waves. It is breathtaking; simply sit down to drink in the sunset. West Lake is a favorite place for lovers to enjoy sundown together.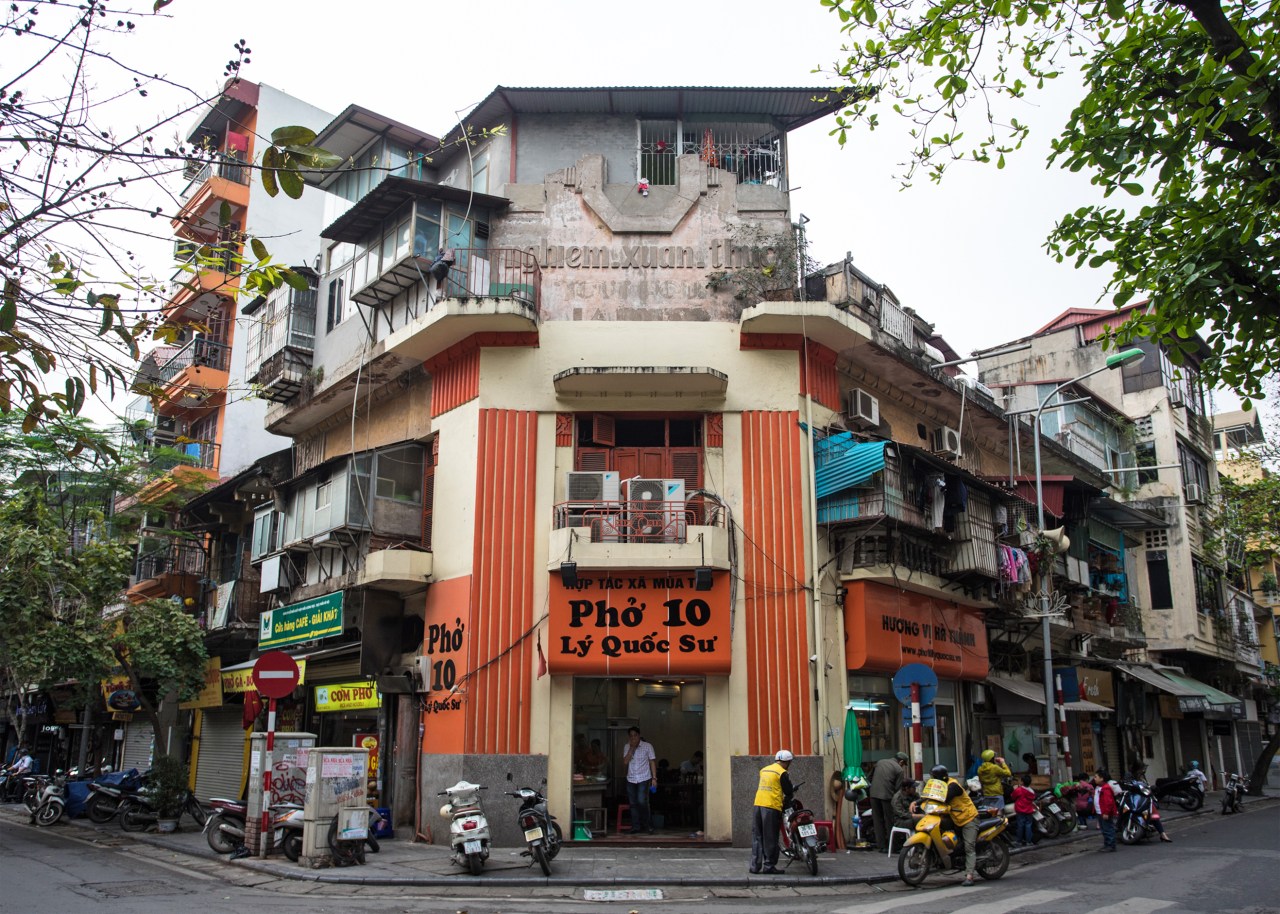 Enjoy a stroll to the Roman Catholic Saint Joseph Cathedral, just a five-minute walk from the pho shop. The biggest and oldest cathedral in the city, it is often called Hanoi Cathedral. Built by the French in late 1880s in the neo-gothic style, it was beautifully designed with stained-glass windows and a high-vaulted interior.
There are many tea shops on the street next to Hanoi Cathedral. Just take a seat like the locals do, and ask for an iced lemon tea and some roasted sunflower seeds, or slowly sip a cup of hot jasmine or lotus tea while people are rushing to work on their motorbikes. Like other big cities, Hanoi is hustling and bustling, with thousands of people riding motorbikes, the most convenient means of transportation in the city.
Take a cyclo ride in the Old Quarter. A cyclo is a bicycle cab with a red roof, pedaled by a driver who sits behind you, allowing for an unobstructed view of the old streets of Hanoi. The one-hour trip will give you ample time to see the neighborhood's highlights. The Old Quarter consists of 36 old streets named after the kind of goods or crafts that used to be made or sold on those streets, such as Hang Dao (Silk Street), Hang Bac (Silver Street), Hang Duong (Sugar Street), and Hang Muoi (Salt Street). Browse for handicrafts such as embroidered tablecloths, lacquer ware, and silver jewelry at various shops or street vendors; try to bargain 30% down for the items you like—it's expected.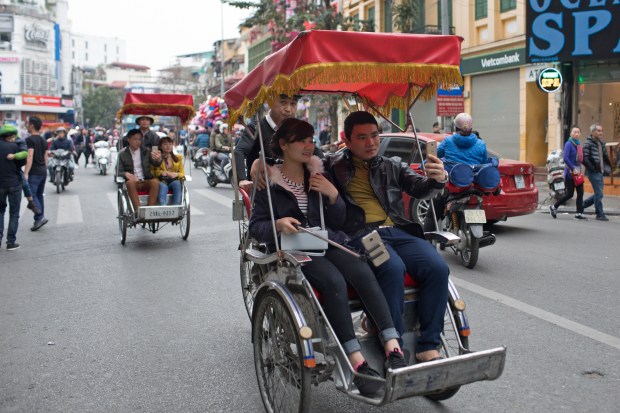 After sightseeing, you may be hungry and cha ca—grilled fish—will undoubtedly be a good choice. Have lunch at Cha Ca La Vong, located on 14 Cha Ca street (yes, the street is named after the amazing dish sold here); the meal will recharge you. This rustic restaurant was founded more than 100 years ago and was the first restaurant to serve this iconic dish of Hanoi. The fresh river fish is sliced and marinated with galangal and spices, then grilled and pan-fried with dill and green onion and served on a skillet over a hot charcoal oven to keep it hot till the last bite. The fish is served on a bed of vermicelli noodles with roasted peanuts, shrimp paste or fish sauce, and herbs. The fresh seafood, grilled, seasoned, and dipped in sauce, will tantalize your taste buds and fill up your empty stomach to get you ready for the afternoon excursion.
After this hearty lunch, stroll down the streets and try café trung—egg yolk coffee at Café Giang, 39 Nguyen Huu Huan street, about a 10-minute walk from Cha Ca street. Vietnam is famous for its Robusta coffee, and café trung is a charming Vietnamese version of cappuccino. Hot café trung, with its rich taste of coffee, creamy egg yolk, and sweet condensed milk, will leave you smiling.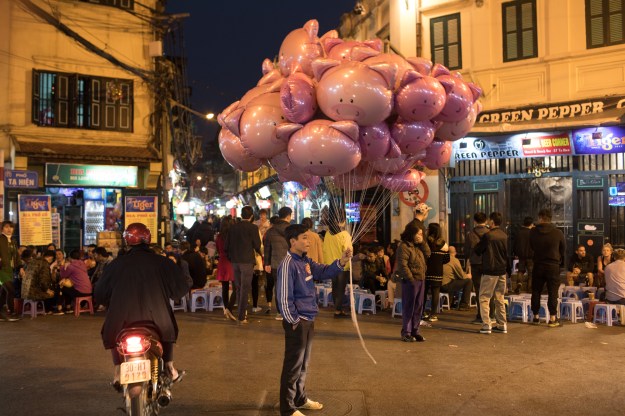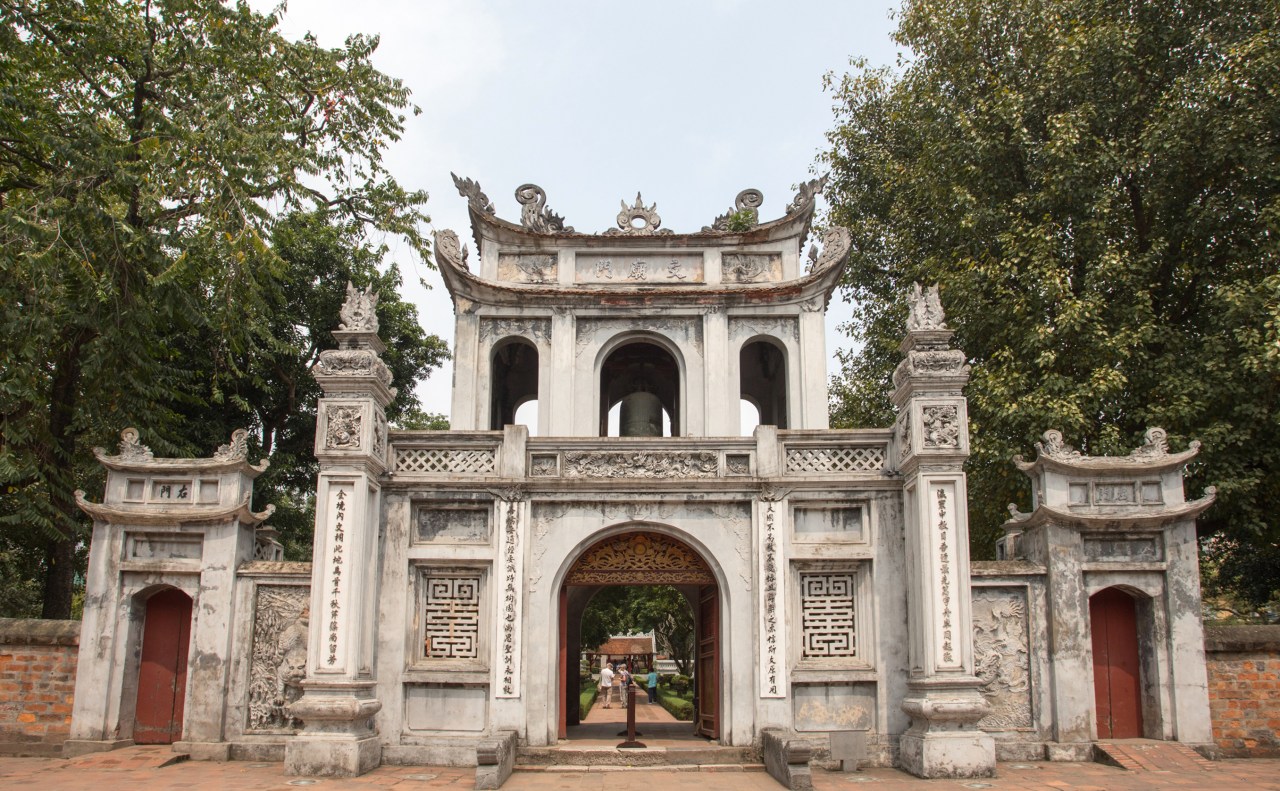 Continue your trip with a visit to Van Mieu—Temple of Literature. You will probably want to take a metered taxi since it is about two and a half miles west of the coffee shop. En route to Temple of Literature, stop by Hoa Lo—Hanoi Prison—at 1 Hoa Lo street. Hoa Lo means Hell's Hole, which was also nicknamed "Hanoi Hilton" by the American prisoners during the Vietnam War. The prison has borne witness to the cruelties of war but is also an icon of hope and freedom.
It's about a 15-minute ride from Hanoi Prison to Van Mieu, the Temple of Literature, home to Vietnam's first national university. Built in 1070, the temple consists of five courtyards, with more than 100 steles of doctors laid on carved blue stone turtles with exquisite motifs to honor talent and encourage study. During Lunar New Year Van Mieu offers beautiful personalized calligraphy, which parents hang at home to encourage academic success for their children.
3:30
pm
Thang Long Water Puppet Theatre
57b Đinh Tiên Hoàng
Lý Thái Tổ, Hoàn Kiếm
Get Directions
Now, hustle back to the Hoan Kiem area since there is a water puppet show at the popular Thang Long Water Puppet Theater at 4 p.m. Water puppet is a unique traditional art form and expression of cultural identity. The shows capture Vietnamese traditions; farming, tending buffaloes, and catching fish; entertainment, like swimming contests and lion dancing; and historical legends with traditional music. The one-hour show is a fun and insightful look into Vietnamese culture enjoyed by both adults and children.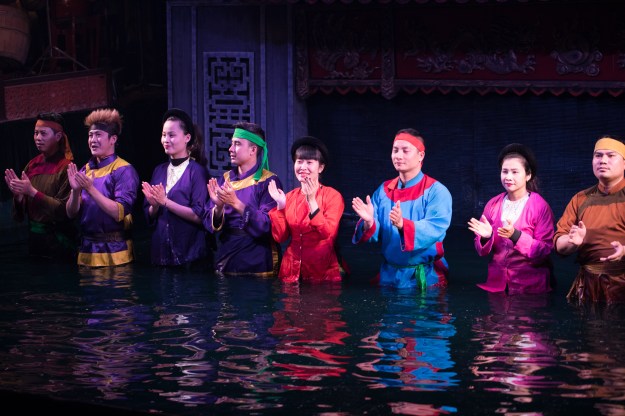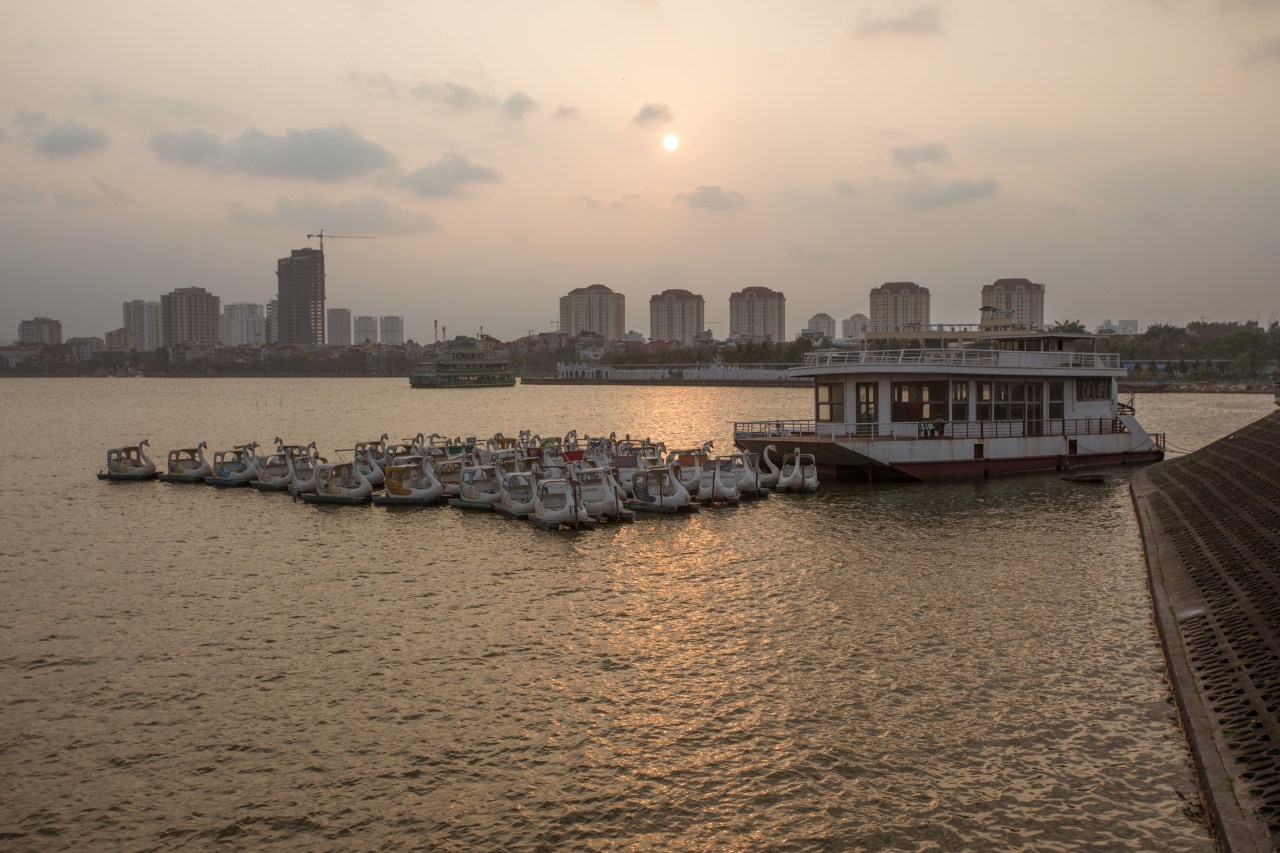 When night falls, it's time to enjoy more Vietnamese food, which is world-famous for its fresh, flavorful cuisine. Dinner is the time to indulge, and Madame Hien restaurant, at 15 Chan Cam street, is definitely one of best places in town. Bun cha (barbeque pork served with fresh vermicelli noodles and herbs), nem (fried spring rolls), nem cuon (fresh spring rolls), banh cuon (steamed rice pancake), or canh ca chu (sweet and sour fish soup broth) can be found anywhere from street stalls to fine dining places. But at Madame Hien's, the food—an elegant version of traditional Hanoi street food—is cooked to perfection, nicely presented and served in a beautifully restored 19th-century villa. Didier Corlou—the award-winning French head chef and cookbook writer—fell in love with a Vietnamese woman named Mai (a well-known chef in her own right), her cuisine, and her culture. He named his restaurant Madame Hien to pay a tribute to the Vietnamese grandmother who introduced Didier to Vietnamese cuisine and inspired his famous "36 streets" menu.