There's one view of Jakarta that always gives me goosebumps.
I'm driving into town from the airport at dusk on an elevated highway. On the left is a sprawling sea of washed-out concrete houses that sit in the shadows of a few high-rises, twinkling lights on top. On my right, the giant LED screen of Taman Anggrek Mall flashes "I Love Jakarta" in bright colors over and over. As if I needed reminding.
Jakarta doesn't offer visitors anything outstanding. It lacks Bangkok's opulent palaces and Yangon's charming, crumbling downtown. It's a place where the haves spend their weekends in air-conditioned malls and upscale hotels and the truly rich escape to the even more sophisticated Singapore.
For the have-nots, Jakarta is mostly a messy, unrewarding city you're forced to live in out of economic necessity. Your daily life is a battle against rising living costs, horrible traffic, poor public transport, few green spaces, and seasonal floods.
But for the country's rising middle class it's a place of opportunity—with a small but growing restaurant and art scene. I've lived in this city for decades and still find it difficult to make out whether its inhabitants are taking on a more conservative, stronger Muslim identity—some recent incidents and polls suggest this is the case—or if the trends toward consumerism and a Western-style expression of individual liberties are the stronger forces. In any case, Jakarta's cinemas are full and its restaurants are busy, as are the clubs and concert halls.
If you can, indulge in some of the city's luxuries—like a day in one of the many spas—but also take time to hear some dangdut music at a local dive bar. If you pay attention, you'll be impressed by the talent and energy of Indonesia's blooming creative scene.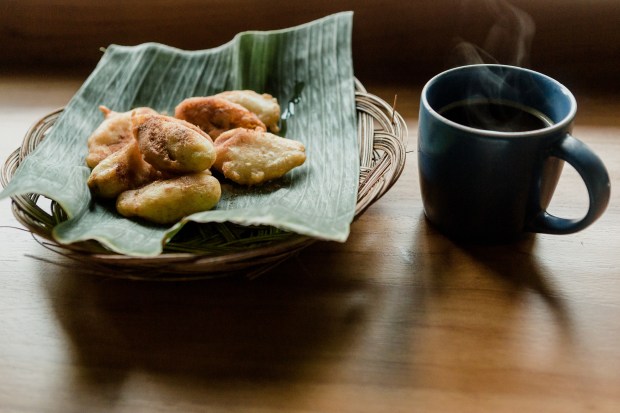 The day starts with a cup of hot coffee and some fried bananas at Coffeewar, an unpretentious café in the otherwise quite hip and relatively green south of the city. The third wave of coffee has definitely arrived to Jakarta, and many places smother you with choice—down to your preferred filtering method. Coffeewar keeps the menu lean, although you can choose from a handful of local roasts.
Stop by Dia.lo.gue, an art space just around the corner that has reliably good exhibitions. You might catch a display of colorful sketchbooks from local illustrators or modern takes on bamboo furniture design. Whatever the show, the curation in this small gallery is always top-notch.
Browse through the gift shop for original art, prints, and a ton of well-designed Indonesia-themed kitchenware, T-shirts, postcards, and figurines.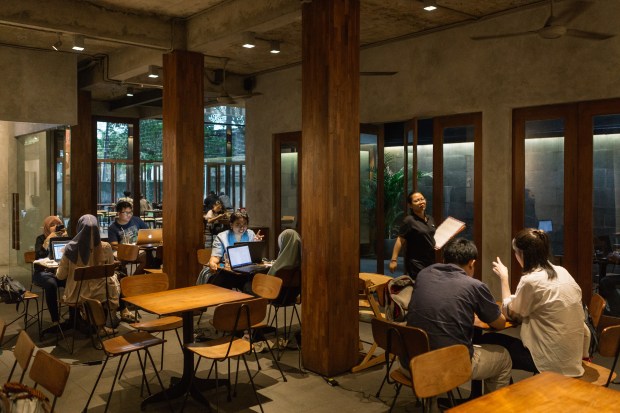 It's time to mingle. Hop on the back of a Go-Jek (a motorcycle taxi you can summon by app) and zip up to the center of the city. Ask to be dropped off near the Bundaran HI (the roundabout at Hotel Indonesia). If you're on a bike that can weave its way through the rows of cars, you'll get there in decent time.
Stroll through Menteng, an upscale residential neighborhood, and check out the ornamental fish market on Sumenep Street, where tropical salt- and freshwater fish shimmer in their aquariums. Walk around Taman Kodok, a 74-acre park that has a pond and a playground. On weekends these areas are bustling with families enjoying their day off. If it's a Sunday, walk out onto Sudirman Street—the major artery of Jakarta's central business district—which is closed to cars until 11 a.m. Enjoy the scene along with pedestrians, cyclists, skaters, and dog walkers.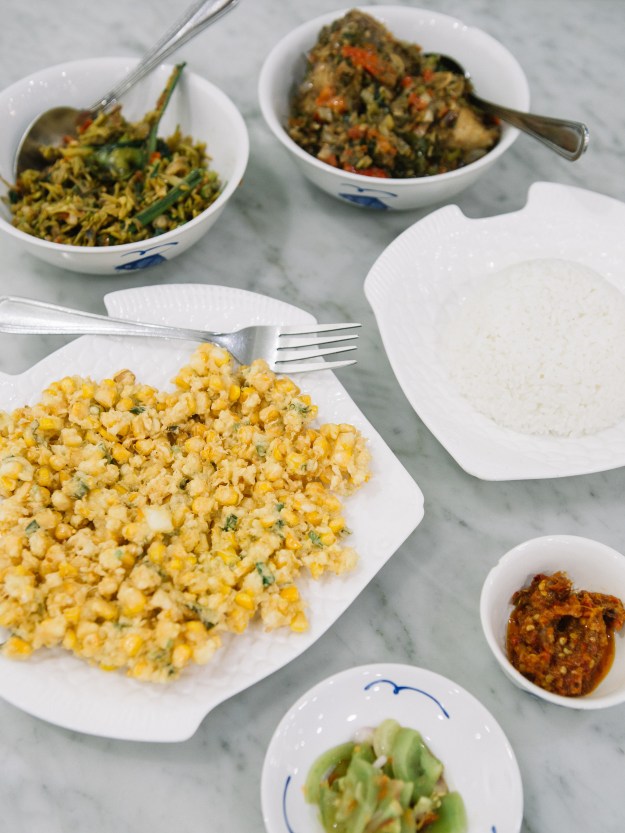 Make your way to Bunga Pepaya, a pleasant no-fuss restaurant that features the cuisine of Manado in North Sulawesi—the jagged island that looks a bit like a hand. In my eyes, it's Indonesia's best food—fresh and the spices are subtle.
Start with the crispy corn fritters with a green-tomato sambal. Everything on the menu is mouthwateringly good, but do try the squid grilled in ink, the incredibly juicy chicken on a skewer, and the restaurant's namesake papaya-flower vegetables. The maritime decor, with lots of blue and white porcelain, is a nod to Manado's history as a trade port. The restaurant gets busy on Sundays, especially with large groups.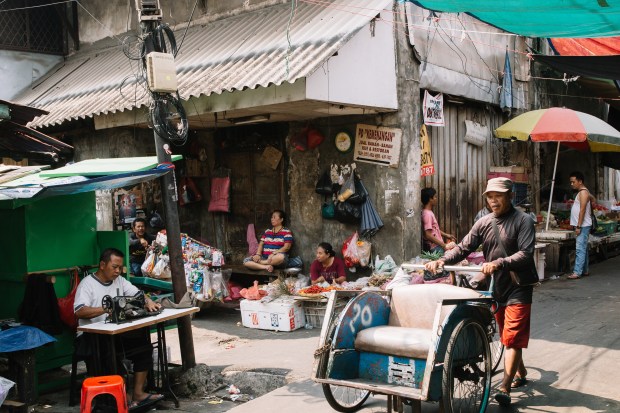 2:00
pm
Petak Sembilan
Gang Gloria, Glodok, Jl. Pintu Besar Selatan III No.4-6, RT.7/RW.6
Get Directions
Get another Go-Jek, this time to get to Petak Sembilan, Jakarta's Chinatown. Chinese people have settled across Southeast Asia for centuries, mostly as economic migrants, and Indonesia is no exception. Chinese Indonesians make up about 1.2 percent of the population, according to government data from 2010.
Get lost in the maze of little streets here—some barely wide enough for a motorbike—and check out the shops crammed with incense, trinkets, herbal medicine, and other curiosities. Eventually, you'll find your way to Vihara Dharma Bhakti, one of Jakarta's oldest Chinese temples. The temple caught fire a few years ago and lost some of its old wooden ornamental work and statues. It's still an impressive place, though, with colorful shrines and waist-high blood-red candles burning at all hours. Cool off with an iced coffee at Kopi Es Tak Kie, a cute hole-in-the-wall that's been run by the same family since 1927.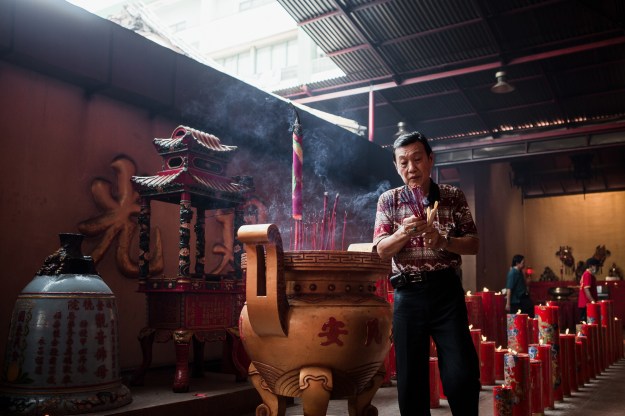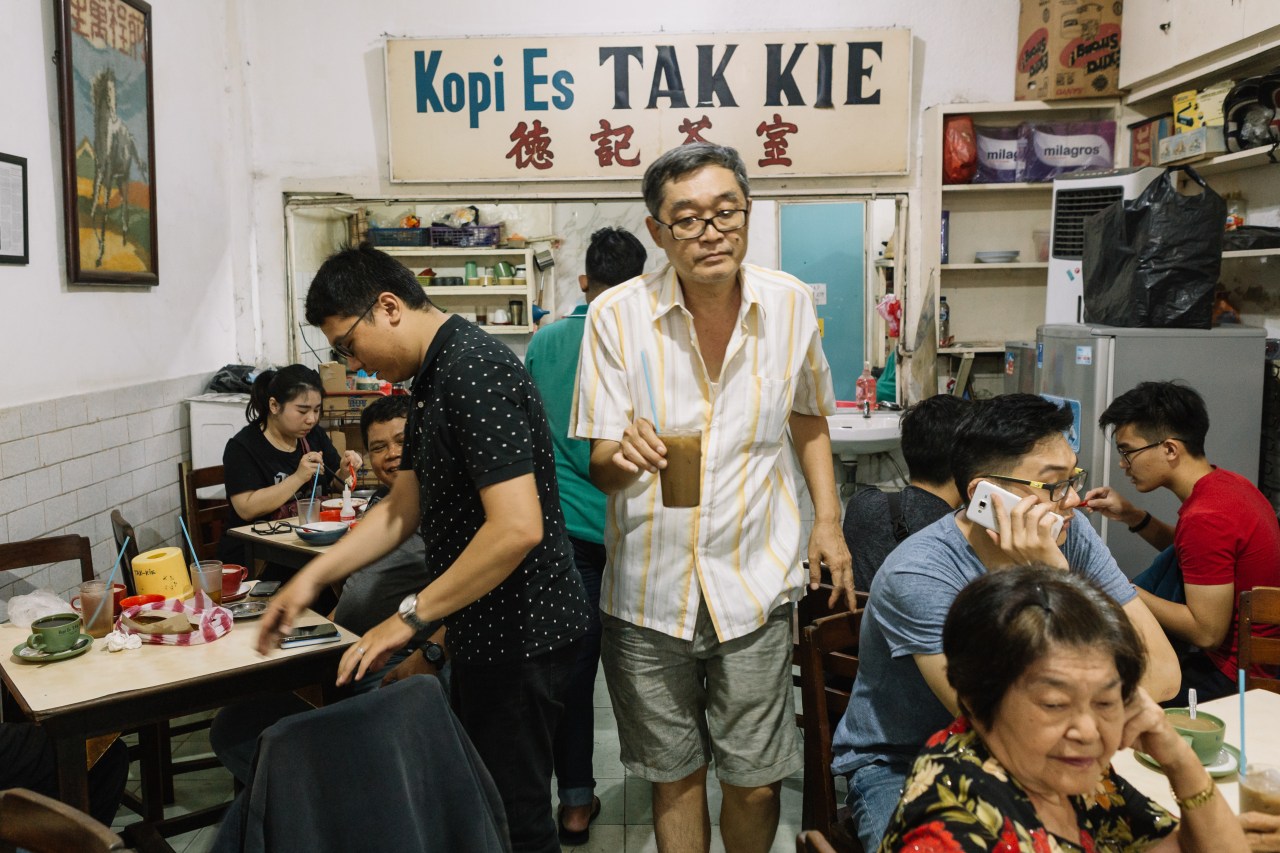 5:00
pm
Galeri Foto Jurnalistik Antara
Jl. Antara No.59, RT.2/RW.1
Get Directions
Ride over to the Pasar Baru area, known for its textile market. After a stroll through the market's main street, find the entrance to Galeri Foto Jurnalistik Antara, the photo gallery for the Indonesian news agency Antara. Its rotating exhibitions and public events are housed in this beautiful old building with tiled floors and stained-glass windows.
It was from this building that, journalists first reported on Indonesian resistance leader Sukarno's declaration of independence on August 17, 1945. Those tumultuous days eventually led to the end of centuries of Dutch colonial rule in Indonesia.
6:30
pm
Bersih Sehat Wahid Hasyim
No. Menteng,, Jl. KH. Wahid Hasyim No.106, RT.14/RW.3
Get Directions
Next take a taxi to Wahid Hasyim, a hotel not too far from where you had lunch earlier. There's a good family-friendly massage salon here called Bersih Sehat (Clean and Healthy). Book the 60-minute full-body massage or just get a traditional—sometimes painful—pijat refleksi foot massage, in which the massage therapist focuses on sensitive trigger points. The practice is believed to have all kinds of health benefits, but you can always ask the therapist to take it easy on you.
Head to nearby Kaum, a stylish restaurant and bar that samples modern takes on Indonesian dishes from across the archipelago. Definitely try the gohu fish (spiced raw fish) from Northern Maluku and the lamb skewers. Older Indonesians might cringe at the thought of spending almost $10 for a set of satay skewers, a classic street food. But Jakarta's young and upwardly mobile are willing to shell out the extra bucks for refined flavors, fresh ingredients, and artful presentation.
The stylish bar displays a selection of old-school Indonesian pop records, and mixologists prepare inventive cocktails with a local flair: Try one from the ever-changing menu and you'll be delighted by tastes like salak fruit–infused gin or ginger-flower syrup.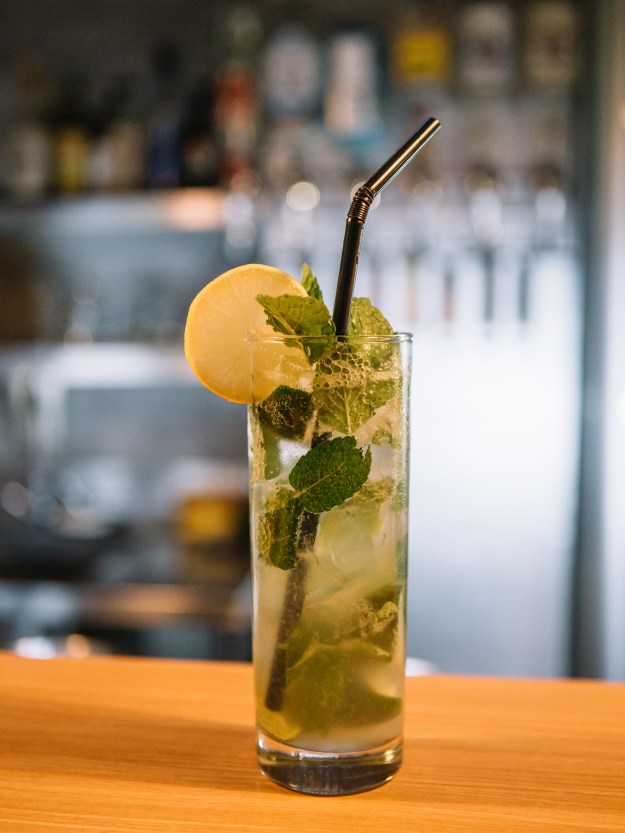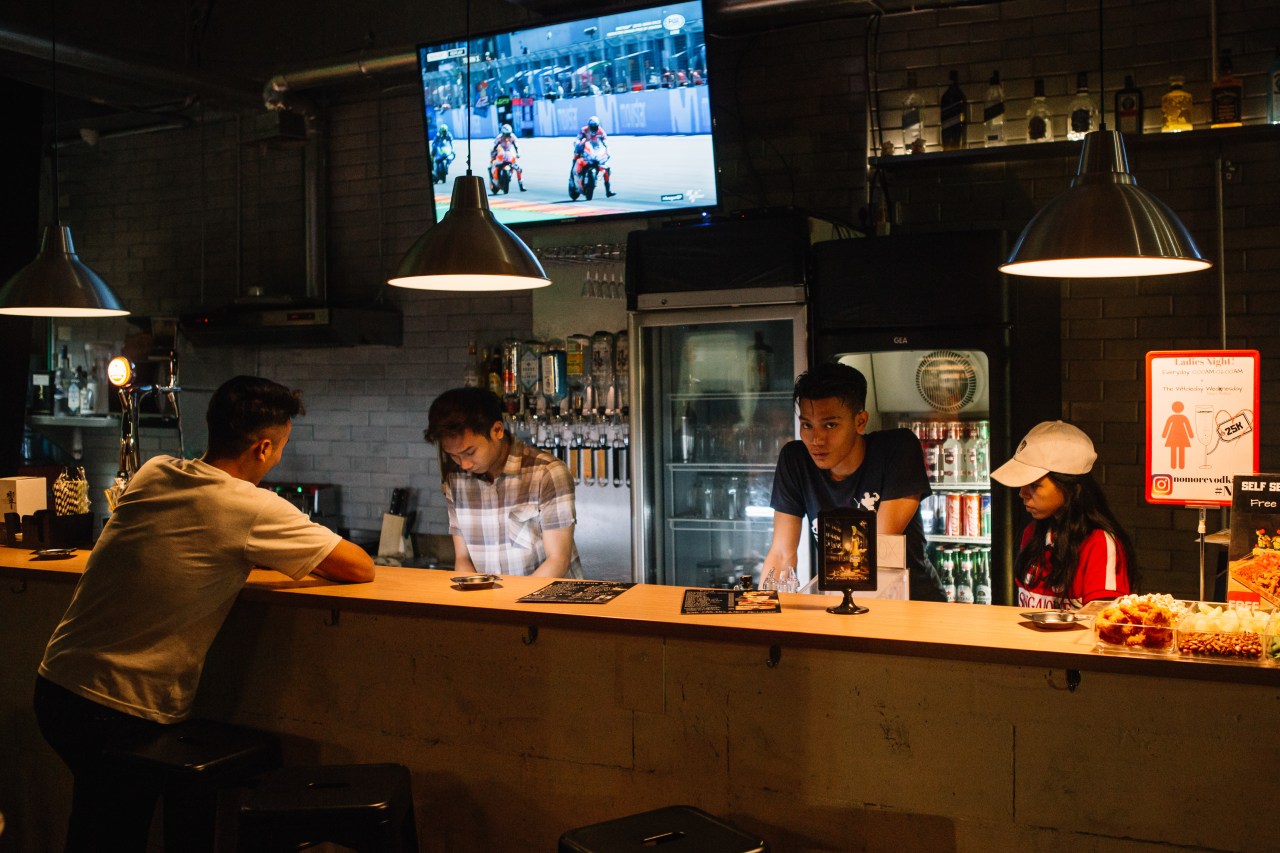 10:30
pm
No More Vodka!
Jl.Pangliman Polima Raya No. 7 RT. 004/RW : 01, RT.3/RW.1
Get Directions
Go south to the Blok M district, where the streets are lined with neon-lit bars and Japanese restaurants. The area is popular with young locals and Japanese expats. The tiny, homey bar called No More Vodka! is the kind of drinking hole where you'll likely make new friends and stay way too long. On some nights there's a DJ, but it doesn't get crowded. If you prefer something more low-key, try nearby Kashiwa, a second-floor Japanese restaurant that stays open late and serves cold beer, sake, snacks, and desserts. Try the mochi ice cream and check out the manga library.