Bourdain-isms
"I am so confused. It … wasn't supposed to be like this. Of all the places, of all the countries, all the years of traveling, it's here, in Iran, that I am greeted most warmly by total strangers. The other stuff is there, the Iran we've read about, heard about, seen in the news. But this … this I wasn't prepared for."
"Thank you. Merci. Good to be here finally. It's taken some time … like, a lot of time … like four years I've been trying. Finally."
"A big blank spot on nearly every traveler's resume."
"Forget about the politics if you can for a moment. How about the food? The food here is amazing."
"On one hand, Iranians are the descendants of Ancient Persia, an empire of poetry, flowers, the highly influential culture that goes back thousands of years. But the ruling clerical and military class are at best ambivalent and at worst actively hostile to much of that tradition."
"So how does one have fun in Iran these days? This is the line that is constantly being tested. Alcohol is, of course, forbidden. You can get away with listening to rock or rap, sort of. Sometimes. But you cannot yourself rock or be seen to visibly rock."
"Across town, the Khaju Bridge where men gather spontaneously to sing. Is this OK? This impromptu giving oneself over to the creative urge to stand and sing out to no one in particular? Maybe, but not OK, apparently, to film."
"The road back to Tehran. Along the way, reminders of just how far back this culture goes. The ruins of ancient caravansaries, highway rest stops from when armies, merchants, traders traveling by camel, by foot all passed along these same routes. This right here a stop on what was once the Silk Road extending all the way to China."
"In this part of the world, whatever your background, bread is a vital, essential, fundamental, and deeply respected staple."
"It is worth mentioning, whatever you think, wherever we are now, that Saddam—supported by the U.S. government and with our full knowledge—used sarin and mustard gas on hundreds of thousands of Iranians. Less known in America, known and felt by everyone in Iran."
"So far Iran does not look and does not feel the way I had expected. Neither East nor West, but always somewhere in the middle."
"Last day in Iran. Night falls and the kids, like kids anywhere, get in their rides and head for somewhere they can hang out."
Eats
Persian cooking has to be experienced in the home. Recipes are passed down from generation to generation, and the sheer cost and energy it takes to prepare Persian dishes as they should be made make it impossible to prepare them in a restaurant.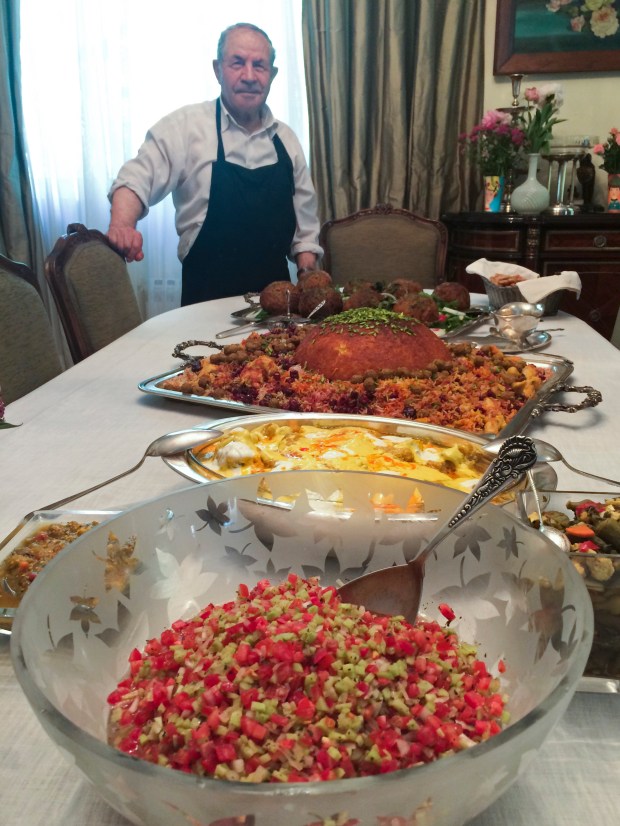 But if no one brings you home to dinner, here are some of the eateries Bourdain visited:
Tabbakhi Neshat (طباخی نشاط)
Fathi Shaqaqi Street
(+98) 21 8871 0911
Bourdain ate: bread, sheepshead stew.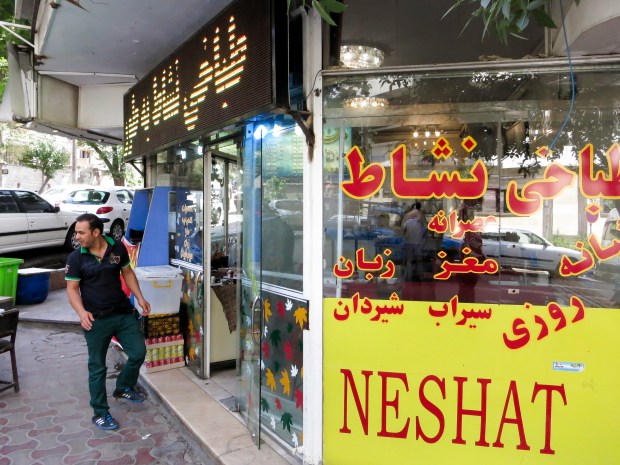 Haj Mahmoud Beryani (بریانی حاج محمود شفاعت)
Ahmad Abad Street, Isfahan
(+98) 31 3447 0045
Bourdain ate: Iranian-style biryani.
Mousa Kalantari Street, No. 52
(+98) 21 8881 0008
Bourdain ate: dizi.
Sidekicks
Yeganeh Rezaian: Former Tehran Correspondent for Bloomberg News and UAE newspaper, The National. Most recently 2016 Fellow at Harvard's Shorenstein Center on Media, Politics and Public Policy. Loves cooking the food of her homeland.
Jason Rezaian: Staff Writer for The Washington Post and formerly its Tehran Bureau Chief. 2017 Harvard Nieman Fellow. Currently Terker Distinguished Fellow at George Washington University's School of Media and Public Affairs. Avid traveler (and eater.)
Nazila Noebashari: owner and curator of Aaran Gallery in Tehran.
Farrokh Mostofi: historian and writer who specializes in Iran's culinary traditions.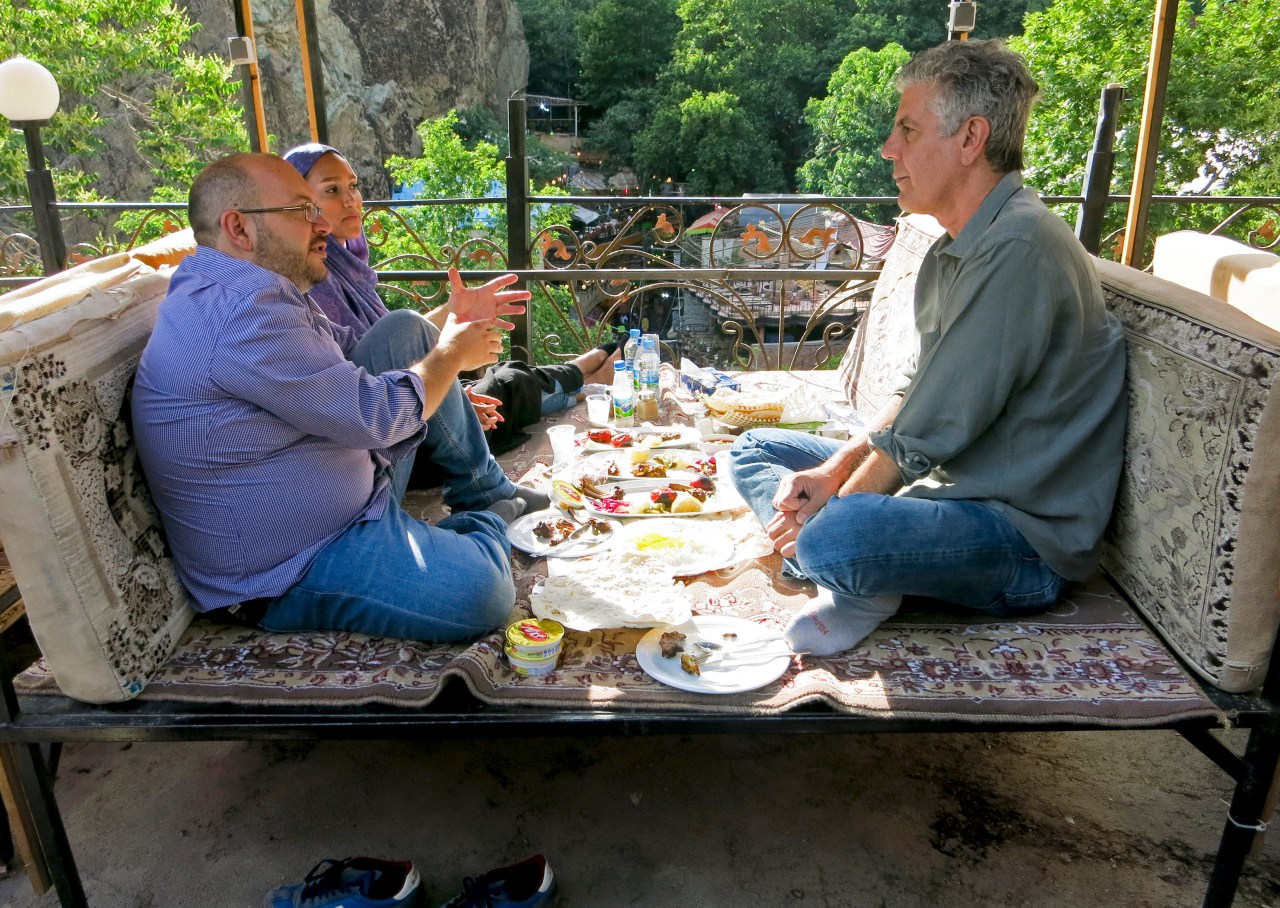 It was the best of times. It was the worst of times.
Bourdain traveled to Iran as former President Barack Obama was negotiating with Tehran on a deal that eased sanctions there in exchange for cooperation over the nation's nuclear program.
"It was a hopeful time when I arrived in Iran. A window had opened. There had been a slight loosening of restrictions since the election of President Hassan Rouhani," Bourdain explains.
That deal is currently under fire from the Trump administration in a development that many warn would provoke further unrest in the already turbulent Middle East.
But while those negotiations were still underway, Tehran continued its infamous crackdown on Iranian civil society. Shortly after Bourdain interviewed Iranian authorities for the episode, on July 22, 2014 they arrested journalists Yeganeh Rezaian and her husband, Jason Rezaian. Bourdain penned an op-ed on their detention for the Washington Post, Rezaian's employer. Yeganeh was released after more than two months, and Jason was held for 18 months before being released. They currently live in Washington DC, where Jason is working on a memoir about their ordeal.
Lingo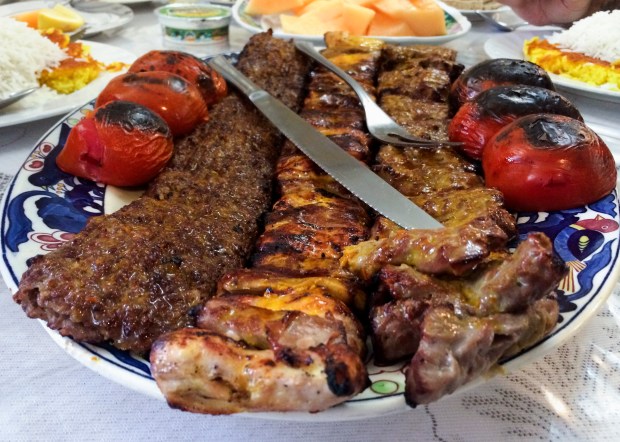 Chelo kebab: Rice pilaf with kebab, arguably Iran's national dish.
Basij: Roving religious militias.
Dizi: A dish that dates back to Mesopotamia; it includes lamb, potato, chickpeas; named for the earthenware pot in which it's cooked.
Tahdeeg: Crispy rice dish.
Sangak: Iranian flatbread, baked on stones.
Bird's-eye view
To take in all of Tehran and beyond, head to the Milad Tower, Iran's tallest building and the symbol of national pride. It rises 1,000 feet in the air and looks out over the city.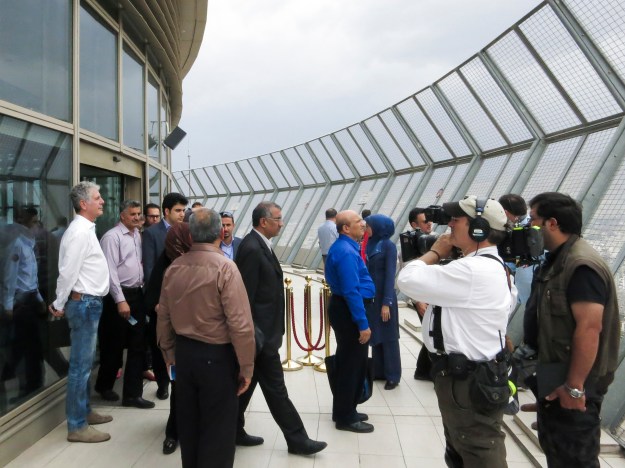 Persian pizza
Persian pizza is emblematic of the Iranian people's appreciation of Americans and their culture despite frequent tensions with Washington. The Iranian take on the Italian-classic-turned-icon of American fast food is sometimes served with deeply American condiments like ketchup and ranch.
"Not bad," says Bourdain. "We don't put ketchup on pizza though."