Anyone who has come to love Istanbul can close their eyes and feel the total exhilaration of the moment—spotting the lights of the tankers waiting to pass through the Bosphorus from an airplane window, crossing the bridge on a bus, pulling into Sirkeci station—of arriving in the greatest city on earth. It's easy to get nostalgic for the serene views over the Bosphorus, the cats that populate the old streets and the intoxicating chaos. For me, the most addictive pleasures of the city were always found in a cloud of grill smoke, a free cup of tea, a hulking clay pot of baked beans. I spent the better part of the last decade writing about Istanbul's food culture and creating food tours for Culinary Backstreets. My work was to tell stories of the city using food as my medium. What began as a prowl around the backstreets, hungry and curious, would eventually become a culinary journey.
This summer, I left Istanbul, my home for the last 15 years, because Turkey's politically oppressive environment and social turmoil started to outweigh the joy created by living in such an enchanted place. The feeling of leaving the city is as equally painful as the feeling of arrival is joyful. Since my departure—which was, coincidentally, the day of the attempted military coup on July 15—I've spent every day plotting my return. Here's exactly how I plan to spend it.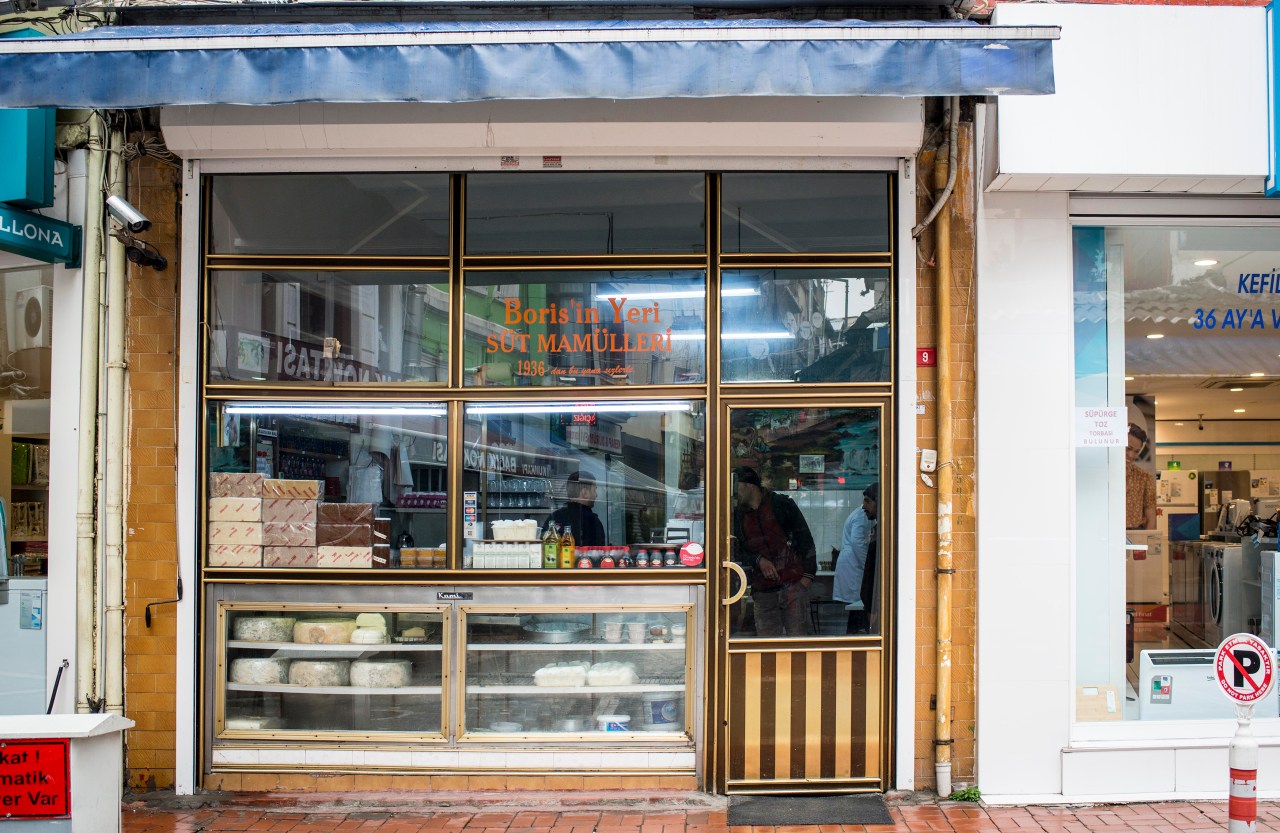 8:00
am
Boris'in Yeri
Şehsuvar Bey Mahallesi, Ördekli Bakkal Sok. No:19
34130 Fatih/İstanbul
Get Directions
Boris'in Yeri is one of the city's last true kaymak shops, a third generation dairy bar specializing in the clotted cream of water buffalo. Smeared on fresh, crusty bread and drizzled with honey, this is a rich treat best accompanied by a skillet of menemen, eggs mixed with tomatoes and peppers and gently cooked to a soupy consistency.
Three or four cups of tea later, the weekly Thursday market of Kumkapi awaits. Here you will find everything expected from an Istanbul street market—piles of cabbages, briny white cheese in buckets, bins of giant underpants, pirated DVDs. But look closer for certain specialty items smuggled in from Central Asia and the Caucasus, like Armenian brandy, Georgian pork sausage, and jars of Kyrgyz honey; the products hint at this neighborhood's rich diversity. On the edge of the market is a small stand selling beautiful Uzbek naan, stippled with floral patterns. I buy a round of the chewy, unusual bread and a few tiny cucumbers, grown nearby in the Istanbul suburb of Cengelkoy, for their blast of garden-fresh flavor.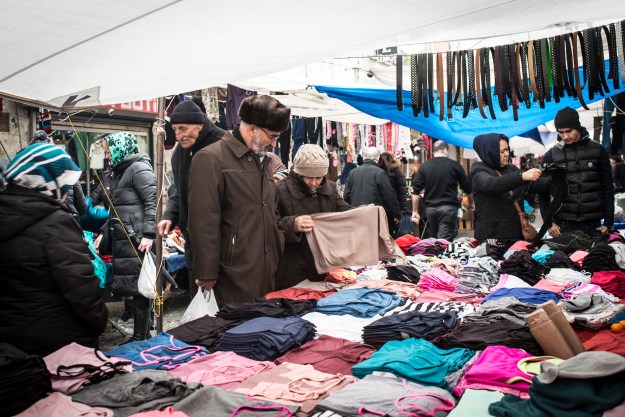 9:30
am
Café Niko
Aksaray Mahallesi, Namık Kemal Cd. 30-32
34096 Fatih/İstanbul
Get Directions
Ducking out of the market streets, across Ataturk Bulvari and past a line of auto body shops I arrive at the Emniyet Gar, the international bus station. This is Istanbul's main line to the Caucasus, an open lot busy with small-time merchants carrying big plastic sacks of stuff to sell back home.
Up a flight of rickety stairs is Istanbul's most "authentic" Georgian restaurant, Café Niko. Some intrepid Istanbulites come here for a dinner of buttery khachapuri and hulking khinkali, dumplings, but the prize of the place is the chacha, Georgian moonshine, stored in black jerry cans under a table in the dining room. The owner, Beso, is a connoisseur of this fiery, fruity spirit which he sells to go in plastic bottles to travelers getting ready for a long bus ride. I never leave the area without picking up a small bottle of his latest batch and having a quick shot with Beso as Georgian variety shows blare on the TV.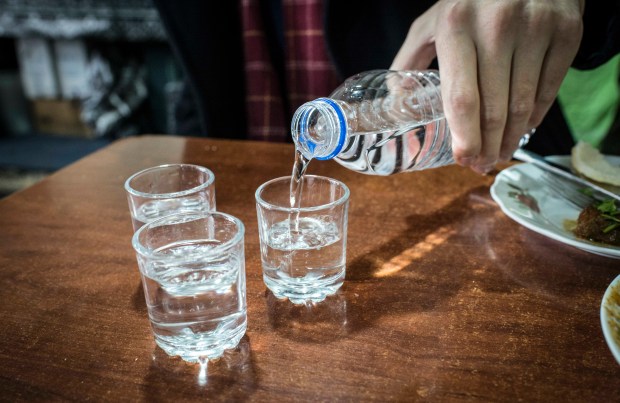 10:00
am
Ayin Biri Kilisesi
Hacı Kadın, No:, Katip Çelebi Cd. No:13
34134 Fatih/İstanbul
Get Directions
Now it is time for a little indulgence in the historical pleasure of the city. I get a taxi from the bus station going in the direction of Taksim just for the thrill of driving through the Byzantine-era Valens Aqueducts—something that always reminds me of this modern city's daily wrestling match with its historical remains. Hop out at the IMC Carsisi, a fabric, curtain, and musical instrument market, and exit through the back to an alley where a rusty metal door opens onto the courtyard of a small Greek Orthodox Chapel known in Turkish as Ayin Biri Kilisesi (first of the month church).
Every morning, a steady flow of mostly Turkish Muslim women come here to receive holy water, perform elaborate rituals with candles, tiny keys and icons, praying for something—a car, a marriage, pregnancy—and on the first of the month an Orthodox priest hears their wishes and offers blessings. On this day you'll find a line of people waiting to see the priest down the block. For a small donation, you can buy flasks of holy water and keys and trinkets symbolizing wishes.
11:00
am
Kadinlar Pazari
Zeyrek Mahallesi, Kırbacı Sok. No:4
34083 Fatih/İstanbul
Get Directions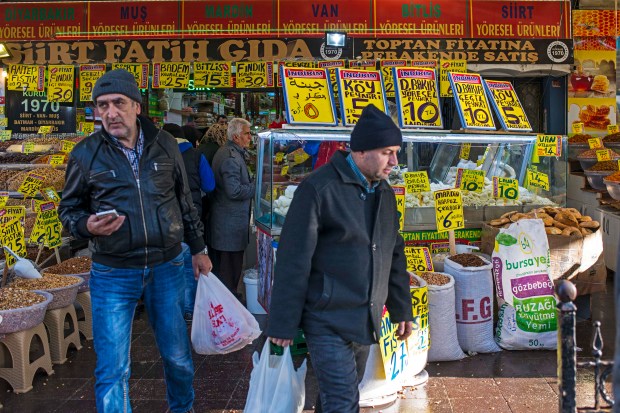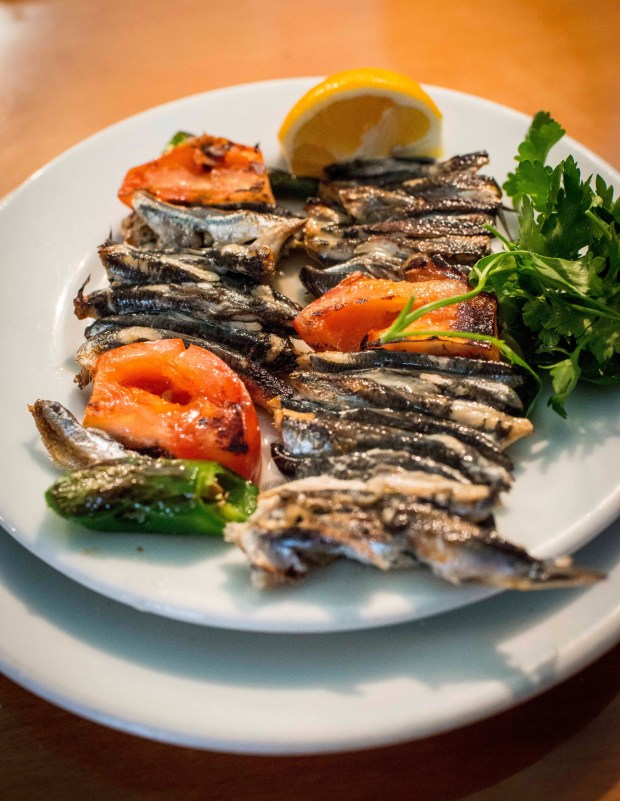 With time to spare before lunch, I walk over to the Kadinlar Pazari, a wide plaza lined with shops from Eastern Turkey, and visit Seref Gida, an unassuming shop run by a beekeeper from Eastern Turkey who curates some of the best products from his region. I get a scoop or two of the biber salcasi, a red pepper paste, and a jar of his private stash honey. Nuri Bey, the owner, offers tea and I accept, grazing the magnificent dried fruits and nuts in open bins. Back outside in the plaza, I grudgingly skip the buryan kebabi, pit-roasted lamb, that this market is famous for and get a cab over to Karakoy where my lunch will begin.
12:00
pm
Tarihi Karaköy Balıkçısı
Tersane Cad. Kürekçiler kapısı sokak no: 45 Grifin HanKat :5
34420 Karaköy/İstanbul
Get Directions
Tarihi Karaköy Balıkçısı is everything that a fish restaurant in Istanbul should be, but so few are. Cozy and simple, this place revolves around carefully selected fish, a grill, and its master, Muharrem Usta. The sea bass in parchment is tempting but I only want a plate of skewered and grilled Black Sea hamsi, or sardines. Fat, juicy, and smacking of the sea, hamsi are the subject of much adoration in Istanbul, particularly among the large migrant community from the Eastern Black Sea region where they are fished.
12:30
pm
Kurşunlu Han
Arap Cami Mahallesi, Kardeşim Sk. No:47
34421 Beyoğlu/İstanbul
Get Directions
I need to be in the Kurşunlu Han, an old caravansary right next door, so I hustle out of Tarihi Karikoy Balikcisi after my hamsi and sit down at a dinged up old desk in the open-air courtyard outside of a tiny tea shop. Industrial springs of all sizes hang outside of small shops, surrounding me as I wait in this Ottoman-era caravansary.
Within a few minutes, Mustafa Amca arrives, a street food angel if there ever was one, toting his lantern-like case of fried liver in one hand and a basket of fresh bread in the other. He has been working the same route for 30 years, so his schedule is predictable to me and the giddy spring salesmen who have gathered. He sets his gear down and starts making liver sandwiches. I've stalked Mustafa today less for his sandwich, which is truly delicious, but because his very presence, an eighty-year-old street food vendor making his solemn rounds in this manic spot, is inspiring. His route and his loyal customers are his life's long work and there's a beauty in it. I get a ceyrek, or quarter of a sandwich, prodding Mustafa Amca for life's secret sauce, which he will never tell.
From here I walk up through the nuts, bolts, chainsaw, and piping market toward Tunel Square. Along the way, on Yuksek Kaldirim Caddesi, I check the cellphone shops for a goofy iPhone case—could be President Erdogan, Ataturk, or a Minion. Passing the Galata Tower and reaching the square, I weave around the backstreets, keeping off of the main drag of the Beyoglu district, Istiklal Caddesi. I pass the old American Consulate, now the Soho House, just to see if they've gone out of business (not yet). I peek in the front window of the Buyuk Londra Hotel to make sure the chatty old parrot named Yakup is still there, and he is. I cruise through the Hazzopulo Pasaji shopping plaza to make sure Mustafa Bey, my favorite tea vendor is still around. There had been stories in the Turkish news about a possible eviction. So far, untrue.
I exit out the back of the pasaji, facing the stone wall of the British Consulate, and have a quick flashback to 2003, when I raced through here in a panic just after a truck bomb rammed this wall. The attack killed several, including the consul general. I always see the lovely, worn cobblestones of the courtyard freckled with blood and glass shards.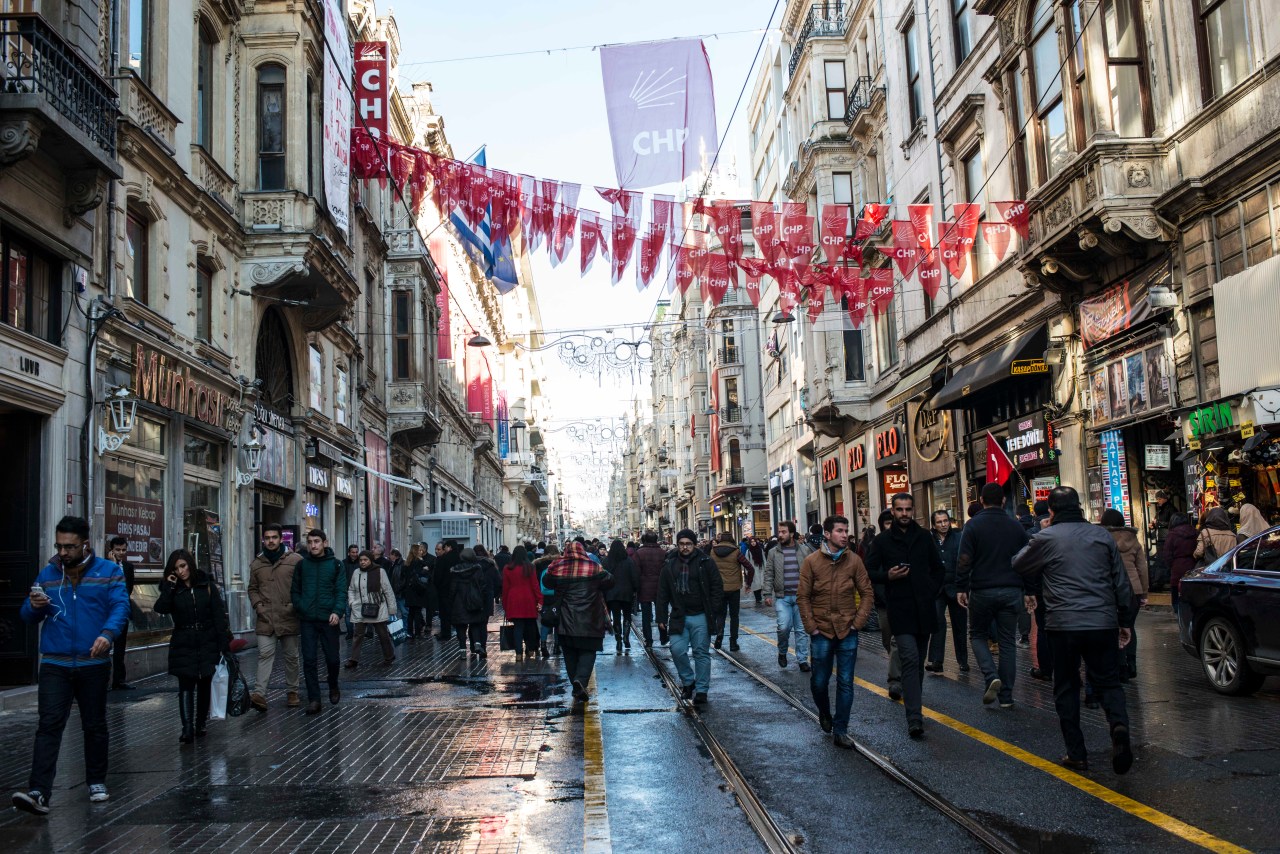 1:15
pm
Petek Turşuları
Hüseyinağa Mahallesi, Duduodaları Sokak 1d, Balıkpazarı, Balıkpazarı,
Istanbul, 34435 Beyoğlu/İstanbul
Get Directions
I head into the backside of the Beyoglu Fish Market, a tight knot of streets filled with fishmongers, specialty shops, and restaurants.  At Petek, they pickle and jar everything imaginable, most notably beets, carrots, cabbage, and vine leaves for making sarma, or stuffed grape leaves. I am more here to breathe in the briny air and gawk at the beautiful displays than to shop, but I accept a quick shot of spicy, pink juice ladled out of the pickle vats. This is a bracing preparation for what lies just down the street.
1:30
pm
Resat Balik
Hüseyinağa Mahallesi, Sahne Sok. Balık Pazarı No:8/B
34433 Beyoğlu/İstanbul
Get Directions
At the end of the street naked bulbs and shiny scales sparkle at Resat Balik. Ahmet Bey, the owner of this third-generation family shop, may be napping behind the register, but Ismail, his assistant, is always perched on a stool in front of the specialty cooler. The display is filled with wax-encased fish eggs, whole smoked fish, and the house specialty, lakerda, another briny delicacy of this street. He carefully cuts off a small piece of the pickled bonito that's cured in buckets right behind the case, as it has been for generations. This shop supplies lakerda to some of Istanbul's best-known meyhanes (restaurants) and the old families of the neighborhood who can't set the table without it. Rose-colored and beautifully grained, this soft kiss of the Bosphorus is a sublime culinary artifact that reaches back to Byzantine times.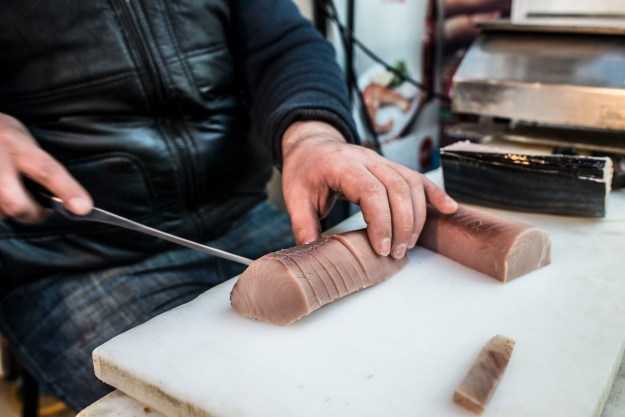 I head out to Istiklal Caddesi and cross. I cut through the Anabalaj Pasaji, which always smells of the arap sabunu, floor soap, wafting out of the shop selling cleaning supplies. Just beyond that, a knot of men sits drinking tea and rolling cigarettes outside of a tobacco shop. I pop out of the back end of the pasaj and I am two blocks from my next destination, Lades.
2:00
pm
Lades Lokantasi
Katip Mustafa Çelebi Mahallesi, İstiklal Caddesi, Sadri Alışık Sokak 14/A
34433 Beyoğlu/İstanbul
Get Directions
Lades Lokantasi is the lokanta of lokantas. A sort of Turkish trattoria, featuring a reliable rotation of lunch specials, such as an excellent doner, Lades draws a discerning, regular crowd of shopkeepers who work in the area and know where to find a good lunch. I lived around here for years and ate at Lades several times a week, as much for their elevated versions of home cooking as for the views of daily life that play out here at lunchtime. At 2 p.m., it's getting toward the end of lunch time, but there's bound to be at least one remaining portion of yesil mercimek yemegi, green lentil stew. This is the dish I've been missing most and trying,  unsuccessfully, to replicate since leaving Istanbul. It pulls my favorite Turkish flavors together in a simple way that evokes real home cooking.
2:45
pm
Suat Usta
Katip Mustafa Çelebi Mahallesi, Tel Sok No:1
34433 Beyoğlu/İstanbul
Get Directions
I am heading to Suat Usta, my go-to spot for tantuni, a thin wrap of fried beef, parsley and sumac wrapped in a very thin lavash bread. In this corner shop, the tantuni is about as good as it gets, outside of Mersin, the southern Turkish port city where this specialty originates. This quick snack is best with a cup of ayran, a salty yogurt drink; shake it up vigorously and then jab a straw through the foil lid to drink, for best effect.
3:15
pm
Hayvore
Kuloğlu Mahallesi, Turnacıbaşı Sok. No:4
34433 Beyoğlu/İstanbul
Get Directions
I don't crave baklava like many who are homesick for Turkey. For me, it is all about laz boregi, a flaky pastry filled with milk pudding. This is a specialty from Turkey's northeast. The laz part of the name refers to the Laz people, a distinct cultural minority who live on the coast near the Georgian border. Thanks to mass migration from the countryside to Istanbul in the 20th century, there's almost always a Black Sea restaurant nearby. I head down to Hayvore, one of Istanbul's most reliable Black Sea spots, and order a wedge of pastry with a glass of tea. Now, lunch is complete.
I've got an hour or so to kill before the airport shuttle leaves from Taksim, so I pass by a corner store and buy two king cans of Efes, for a beer al fresco.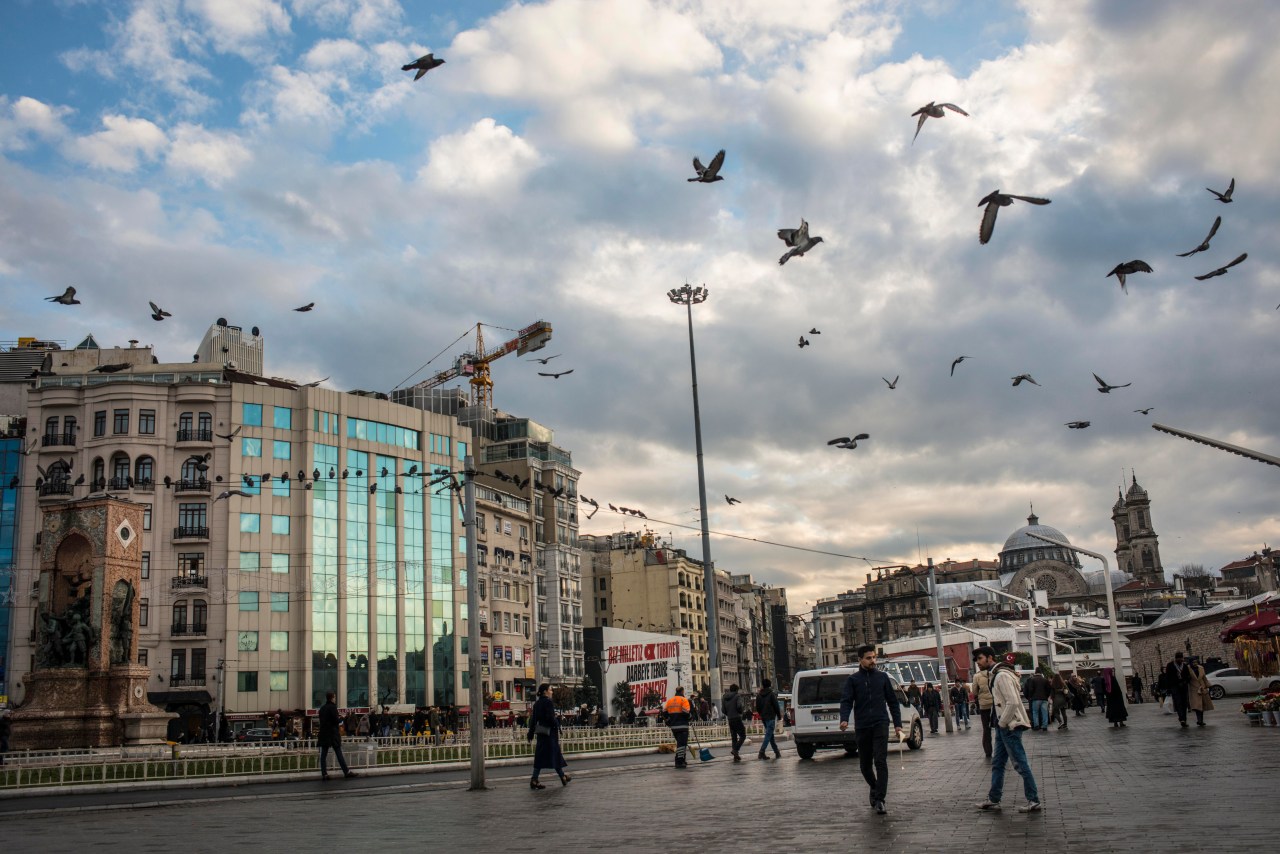 4:00
pm
Taksim Square
Gümüşsuyu Mahallesi
34437 Beyoğlu/İstanbul
Get Directions
I walk through Taksim Square, which is much more of a transit point than a place to gather. Despite that, the pulse of the nation throbs here with demonstrations, memorials, and daily acts of nation worship.
I head up into Gezi Park, an equally symbolic place in recent Turkish history. In the summer of 2013, citizens protesting the demolition of the park sparked nationwide anti-government demonstrations that continued for about a month, with "Gezi Park" as the mantra. An unexpected social movement thrived within the park, attracting young demonstrators from all over the country to camp out. There was free food, arts and crafts stations, an open air library, and buckets of cigarettes nailed to trees, from which protestors could give or take freely.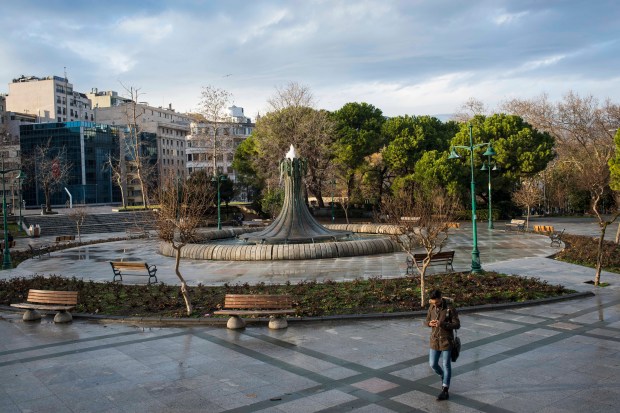 I swig my Efes and wonder about those kids who had headed way up to Istanbul and joined the demonstrations, sleeping in a tent with their city name—Adana, or Yozgat, or wherever—written on it, socked feet sticking out in the sun. Perhaps they were seeing this city for the first time, ready to defend its way of life. Istanbul can inspire that in people.
Those euphoric Gezi Park days are a distant memory from the park bench today. As Istanbul is challenged with more crisis, it's easy to write the place off. But Istanbul is a churning place of eternal beauty and frequent tragedy where simple anchors, like the kindness of a fishmonger or an unexpected glass of tea, are reminders that we're all in this together. Istanbul may be down now, but anyone who has visited has felt the city's human touch. That will be its salvation.
5:00
pm
Kenan Usta Ocakbasi
Şehit Muhtar Mh., Kurabiye Sokak No:18
Beyoğlu/İstanbul
Get Directions
There is no better place to get in touch with the soul of Istanbul than sitting grill side at Kenan Usta Ocakbasi, a simple joint near Taksim Square. Kebab, like Kenan Usta himself, may be an import to Istanbul, arriving with the great migrations from Central and Eastern Turkey over the past 60 years, but Kenan Usta is a fixture in the neighborhood, much loved by regulars for his grill skills and gentle banter. Sitting across from Kenan Usta working the charcoal fire, you can't help but get a heap of both, aided by a glass of raki, the anise seed-scented spirit that is customary here. Kozde patlican, a meze of eggplant, cooked down in the coals until soft, mashed with garlic is the proper start of a meal here. A cool cacik, yogurt with chopped cucumber, is also a must.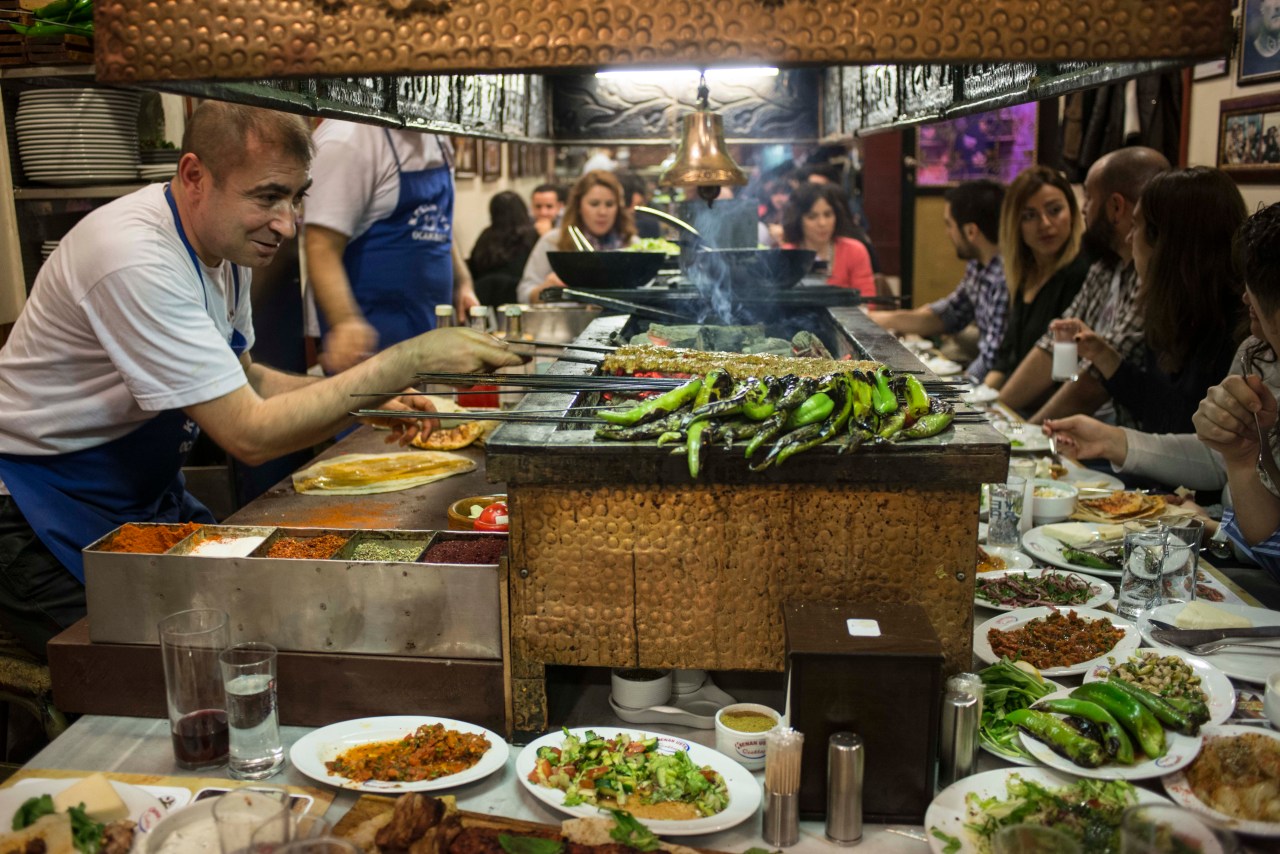 The rest is up to Kenan Usta. As conversation moves through sports, politics and daily life, he starts handing over tender morsels of grilled meat—a lamb chop here, a skewer of liver there. After the raki glass is refilled Kenan Usta will sense it is time for another kebab, perhaps the excellent, spicy minced meat called beyti. But aside from their appetites, Kenan Usta has a knack for reading the emotions of his guests. He may elevate a melancholy bunch with a sad story from his childhood or lighten the mood with the proposal of a group selfie. Kenan Usta's generosity of spirit is what makes the meal more than just sustenance. At his restaurant, like so many other places around town, a real connection is made over the simple transaction of food for money. That connection, I believe, is the bond that keeps this city together.
I consider missing my flight just to do it all over again.