Time Bar feels cozier than the high gates I slip through to get there suggest. While exclusivity is, I later learn, a hallmark of the Trident Hotel experience, so too is the mellow aura I sense as I pull my stool closer to the bar countertop
A dramatic red lobster-claw plant glamorizes the cool, white countertop, and it's the only other life form in the room with me and Byron Kissoon, the bartender. The whirring of the blender and the lulling reggae rhythms in the background are the only sounds, but I'm not bored. A blue-based abstract painting on the wall behind my stool distracts me while I wait. Within minutes my fruit mojito is ready—pineapple, strawberry, mango, Appleton rum, and fresh mint. It's pleasantly strong.
Back at the front desk, a red-lipped receptionist had smiled and explained that Saturday is a more happening day to come by the bar. So I am not completely surprised by this midweek stillness, and I make conversation with Kissoon. He is Portland born and attended the locally revered Titchfield High through to the "upper sixth form," the most senior level of high school in Jamaica's British-model education system. He's been at Trident for 30 years, he explains, a journey that started when his niece's father got him a summer job there in the late '80s.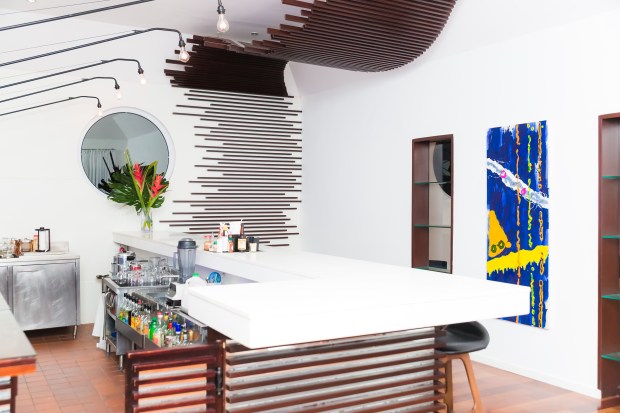 "As I graduate from school, I come straight to Trident. It took like one week. I always tell the workers [at the hotel] that I don't know how not working feel." Young Kissoon liked meeting guests from around the world, while they appreciated the quality of his waitering and bartending and encouraged him when they found out he was in a part-time stint.
His general manager at the time, Caribbean hotelier Josef Forstmayr, also noticed Kissoon's aptitude for working with tourists and sent him for further training in various programs across the island. Once he was hired full time, he worked for five years without taking a vacation—and he barely noticed. Today, he says, his guests often suggest that Time Bar be called "Byron's Bar."
As I poke my mint leaves, Kissoon explains that he is Indian. His grandparents came to pick rice on plantations in the Tom's Hope district of Portland Parish. His parents were farmers who raised cows and goats and grew bananas and taro that they sold locally for export. Now 48, Kissoon was born in Tom's Hope, the last of his parents' 10 children. He beams when he talks about Trident, assuring me that this slow Wednesday night isn't an accurate representation of most of his days. He wears many hats: Just last weekend the entire property had been reserved for a wedding, and he and other staff buzzed around to ensure it was magical. During peak season—from Boxing Day to February—there is nonstop check-in, check-out.
I revel in Kissoon's insider knowledge. Thanks to him, I learn that architect Earl Levy built and owned the original Trident Hotel, as well as the Trident Castle, before selling both to billionaire Michael Lee-Chin. He refers to the current Trident Hotel as "new Trident."
"Not even front desk have information like the bar," Kissoon says.
When he isn't sharing Trident history, he makes guests comfortable by recommending local activities. If his suggestions take them outside hotel gates, he sometimes goes with them and even chaperones them back to their villas. Once in the 1990s he went to Port Antonio's Roof Club with Eddie Murphy, who managed to avoid being identified.
Rubbing shoulders with U.S. celebrities has been a normal part of Kissoon's life over the years. His list overflows with crooners and actors, including Beyoncé, Denzel Washington, Fantasia, Fifty Cent, Peter O'Toole, Robin Williams, Snoop Dogg, Tom Cruise, and Whoopi Goldberg. But when I ask about his favorite guest in his three decades at the hotel, it's a physician, Dr. Ann, who used to come every February for about 20 years.
"Since the new Trident open, I don't see her back. Maybe she retire and that's why. … She must be in her 80s now." He thinks Dr. Ann was drawn to the quiet she found at the Trident, explaining that she used to sit by the pool and mark papers for younger doctors.
"She would be here on Valentine's night, and I would make roses out of my napkins, put red syrup on it, and give her," he remembers. "She was like part of the hotel family. Every staff look forward to her coming down. I tell you, she's just easygoing. Nothing trouble her. She eat everything. She just get used to all the workers. … Maybe something going on in Port Antonio, like a little party, she goes with us."
Kissoon got to know Dr. Ann almost as well as he knew Patrice Wymore Flynn, the late widow of actor Errol Flynn and another favorite client. "Most Sunday she come and have lunch with the owner, Mr. Levy, and I would know exactly what she want—a rum and coke—and I put an ashtray."
Kissoon is summoned to room service. "Anyway, enjoy your drink!"
I am chewing bits of pineapple and bopping to the soulful sound of artist Beres Hammond when a woman in a long blue dress and layered necklace enters the bar.
"This is pretty! Very pretty!" She leans on the counter and ogles the architecture, the painting, the plant, the light shining onto the liquor bottles. It's her birthday, and two friends are treating her to dinner and festivities at the Trident. I wish her happy birthday before she moves on to the Veranda's dining area.
With no one to keep me company and the mojito finished far too quickly, I leave the bar, thinking I'll return on the weekend. The receptionist had explained that I could watch live jazz at Mike's Supper Club, close by the bar, on Saturday night. I linger in the passageway that leads back to the front desk. African masks and giant carvings of a lanky male-and-female couple bring it to life. Even on tiptoe I'm shorter than the pair.
I return to the Trident on Saturday. In the supper club a couple snuggles up over dinner as pianist Paul McFarlane massages jazz sounds out of a Steinway baby grand, creating the atmosphere of a romantic hideaway. I don't stay long.
"Most of the guests who come back, they look up to me for anything they want to know about the parish."
Back in the bar, I sit with executive assistant manager Lij Keith, while Kissoon mixes drinks for us and another guest, a middle-aged man. Keith explains that the private vibe at the bar and throughout the hotel is deliberate. The aim is to be "exclusive, upscale, but not stuffy." I wonder if he truly doesn't find the supper club as strait-laced as I do. Then I remember it is not yet 9 p.m. and figure it will loosen up as more musicians and patrons pour in.
Keith builds on what Kissoon taught me: The renovations completed in December 2012 were headed by architect Vidal Dowding. Dowding and his team added 13 villas to the old property, which, taken together with the private movie theater above the bar, the private beach, and the helipad outside the Veranda, has made the Trident more boutique.
Over a tasty fruit punch, I ask Keith about the sprawling painting in the lobby I noticed on my first visit. It's unmissable and portrays a group of rural women fetching water. He says that Lee-Chin commissioned it from famed Jamaican artist Barrington Watson.
The blue abstract piece decorating the bar, like most of the other paintings on the property, is by Michael Stanley, an English immigrant living in Jamaica. To amp up the exclusivity, there are plans to turn the current gift shop into a coffee shop that sells art, Keith explains. The coffee shop will feature Stanley's works first; when all his pieces are sold, another artist will be featured. Wallenford Coffee, grown in Jamaica's majestic Blue Mountains and acquired by Lee-Chin, will be the only brand served.
Before I part ways with Keith, Kissoon makes us one more mix: a Blue Lagoon. It's a nod to the eponymous body of water, a stone's throw away, that keeps drawing visitors to Portland and drinkers to his care.
I want to know what has made Kissoon stay true to Trident. He left high school qualified to continue studies in several areas, including biology and accounting. Once, during a two-week vacation from the hotel, he secretly applied to a job on a cruise ship but quickly grew uninterested. And he has never been late for work.
"I just made up my mind that I would stay. Ends could meet," he says. "Both owners—old owner, new owner—I can't remember when we had a bad day. We always get along. Most of the guests who come back, they look up to me for anything they want to know about the parish."
Kissoon wants Port Antonio to boom like it did when he first started working at the Trident, when there were 200 to 300 people rafting down the Rio Grande on any given day. I agree with his reason: "The whole area is a best-kept secret."