1. Take a ride on the left side. It would be foolish to claim omniscience on all matters Nairobi: It's a richly varied, many-sided gem. But I know this: The matatu, Nairobi's ubiquitous public service vehicle, which is a sort of minibus/van hybrid, is the city's best metaphor—enterprising, fast-paced, freewheeling. (And we drive on the left.) I went to primary school in the leafy Karen suburb, where I was either driven to school by my parents or the school bus. I dreamed of the day I could finally take my first matatu ride and discover the rest of the city on my own, and it didn't disappoint. When Kenyan musician Nyashinski took American R&B artist Trey Songz on a matatu ride, Songz likened the music playing inside to the experience of being in a live studio. On a matatu, you can watch the latest music videos, listen to the radio, or strike up a conversation with a stranger to make the time in Nairobi's notorious traffic go faster. Some even have Wi-Fi. Strap on your seat belt, watch your belongings, and say hello to your makanga, your conductor. (Here's a helpful introduction video, and here is a route map.)
2. Say habari, not jambo. Nairobi is Kenya's largest city, with a population of more than 4 million people. We're a diverse bunch, drawn from more than 40 Kenyan communities (tribes) and from countries all over the world. In 2017 the Makonde from the coast were declared Kenya's 43rd tribe, and the government officially recognized the country's Asian community as its 44th. Most Kenyans slide effortlessly between at least three languages daily. English is a national language, but the glue that binds us all together is our real national—and regional—language, Kiswahili. Say hello with habari? Respond with mzuri or mzuri sana (good or very good). Or si mbaya (not bad). Or be hip and speak Sheng, Nairobi's street talk: Niaje? (How's it going?) Response: poa (cool). People say jambo—a form of hello—only to tourists.
3. Go cashless with mobile money. Mobile-money platforms allow users to withdraw, deposit, transfer cash, and pay bills with a cell phone via secure text message. M-Pesa, Airtel Money, and Equitel My Money are some of the major ones. You'll need a Kenyan SIM card and some ID, and you can sign up at authorized agents all over the city, at supermarkets, banks, cell phone stores, etc.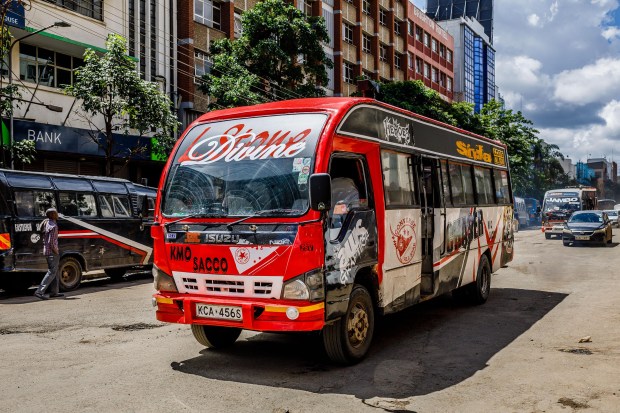 4. Choose a base. Nairobi is a collection of distinct neighborhoods sprawled across two geographical halves. A slope cuts through the city, forming a natural border between Nairobi's east side and its higher-elevation west side. In general, the wealthier districts lie in the west, which also has the lion's share of hotels; but there are places to stay all over the map. Head for the suburbs of Karen, Lang'ata, Muthaiga, or Runda if you're looking for luxury. For a fun central base, choose Westlands ("Westie"), an expat hub with lots of malls, restaurants, and nightlife. Upper Hill and Hurlingham, close to the central business district (CBD), are ideal for business travelers. Stay near Mombasa Road if you want to be closer to the airport and avoid traffic. For the quiet, residential experience, settle in Lavington or Kileleshwa. Finally, if you must have free-roaming giraffes nuzzling your shoulder as you eat breakfast, this place has you covered—but you'll need to book way in advance.
5. Ditch plastic. After 10 years and several attempts, Kenya's plastic-bag ban—the world's toughest—is now firmly in place. In a zero-tolerance gambit to reduce the country's plastic pollution, producing, selling, and even using plastic bags could net violators a hefty fine and even jail time. As people scramble to adjust (and craft some creative tote alternatives), some supermarket chains now offer customers cloth bags. Or you can do what the smart kids do and get yourself a kiondo, a traditional woven bag. Buy them at Kenyatta Market.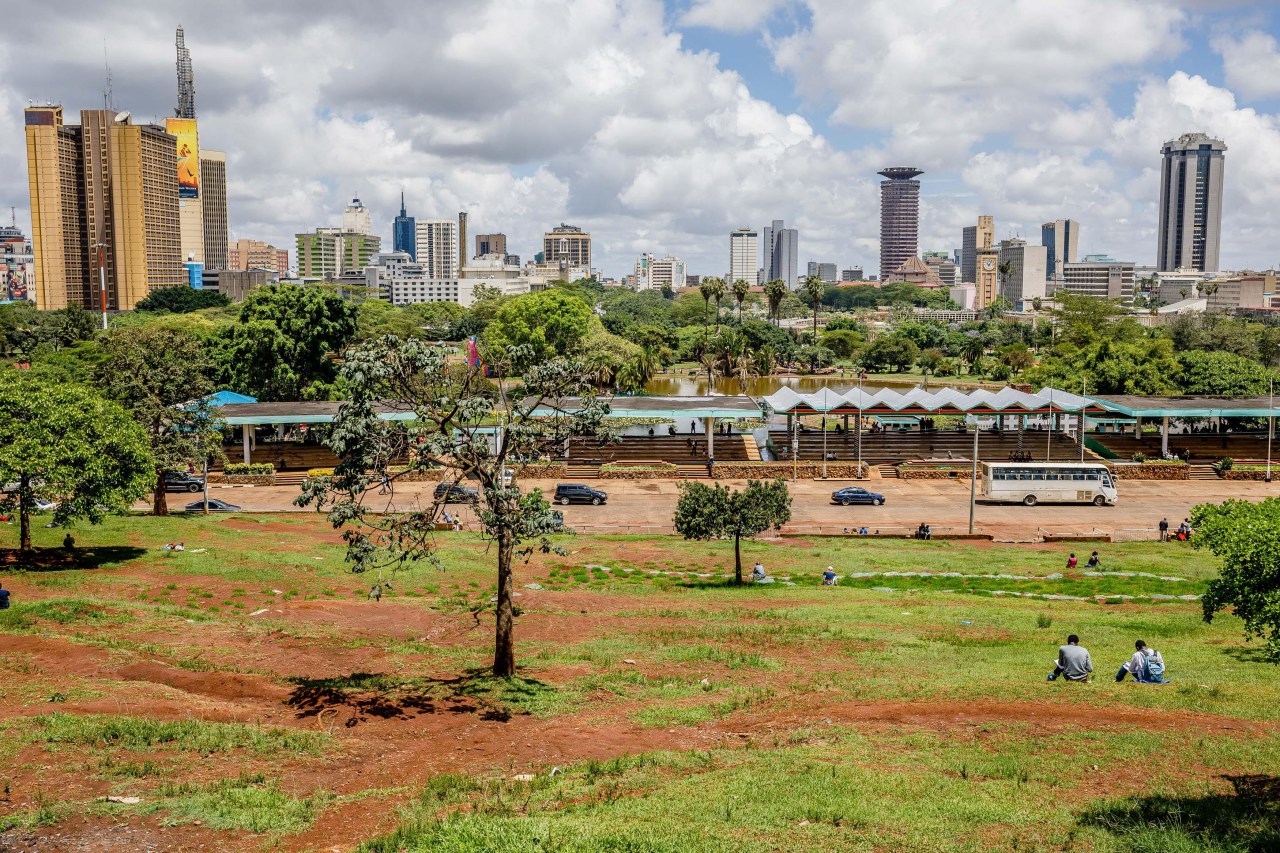 6. Know your siasa. Siasa (politics) is the nation's and the city's lifeblood. Bunge, or parliament, is one of the city's most iconic buildings. The grassroots Bunge la Mwananchi, or citizens' parliament, is a protest group that holds street-side meetings of citizens, holding forth on political developments, social welfare, government, and corruption; but the police have been trying to shut them out of the city center. In Kenya, politicking is always lively and often tense, particularly in election years—and 2017 was no different. The Supreme Court annulled incumbent President Uhuru Kenyatta's victory in the August elections because of "irregularities" in voting, and Human Rights Watch reported that at least 24 people were killed in post-election violence nationwide. There was more unrest around the do-over election in October, which opposition candidate Raila Odinga and many of his supporters boycotted. President Kenyatta won the disputed, low-turnout rerun, a result held up by the Supreme Court, but things are likely to be unsettled for a while. To keep up with what's happening in Kenya, go online and follow #KOT: Kenyans on Twitter.
7. Master the national staple. Ugali, a hard porridge made from maize flour, is the national dish. As I noted in this pre-election dispatch, the groundswell of discontent in Kenya in the months leading up to the 2017 election came to a head over the price of unga, the flour used to make ugali. People eat the dish mostly at home; it's not something you'd order in a restaurant, unless as an accompaniment to nyama choma. But it can't hurt to learn how to eat it: Take a pinch of ugali with your hand, roll it into a ball, squeeze, then dip it into your stew or veggies. Scoop and eat.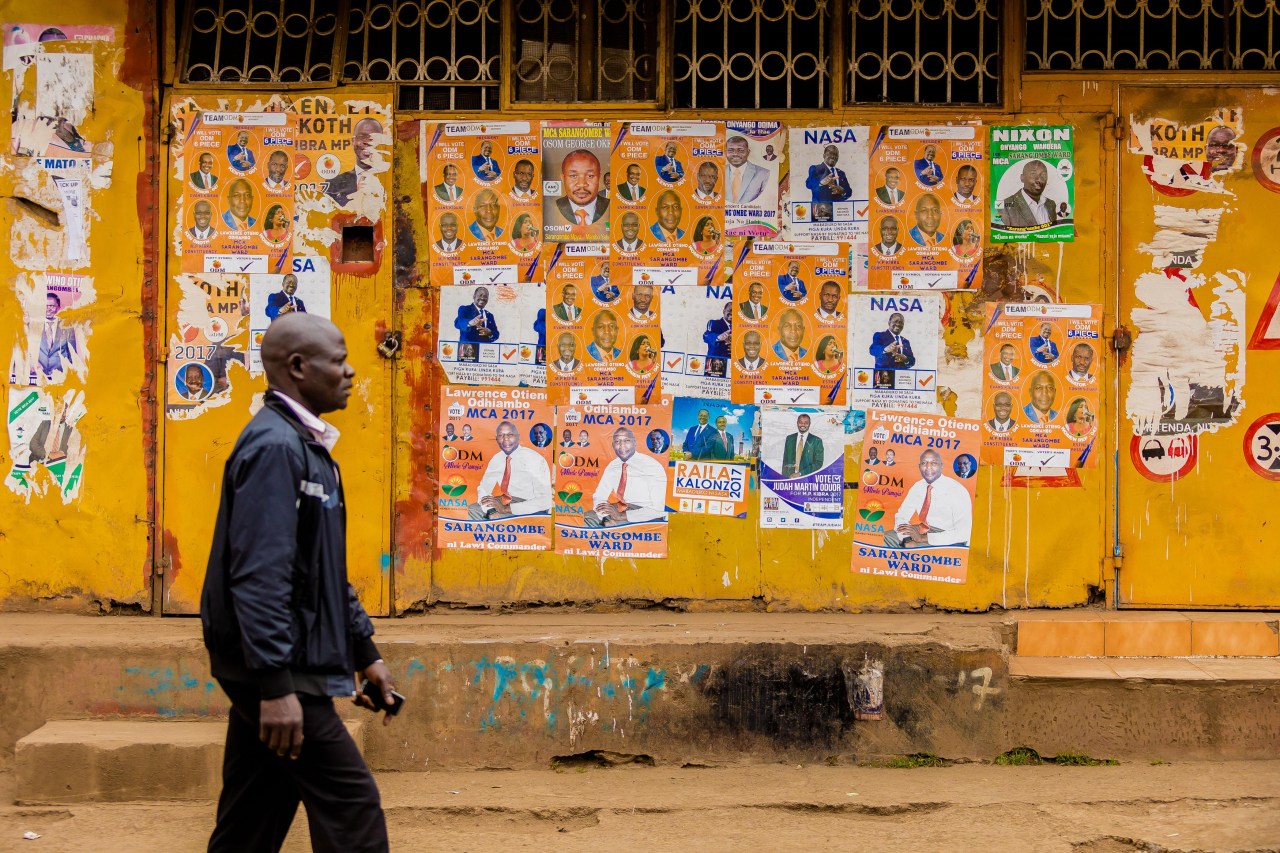 8. Go to the mall. Nairobi was once a nondescript swamp that became a pit stop on the railway to the British colonizers' ultimate destination: Uganda, the pearl of Africa. Now East Africa's economic hub is going to be the site of the tallest building on the continent. Nairobi is full of ambitious property developments: residential high-rises, office parks—and especially malls. Malls are popular hangouts, which is why al-Shabab militants targeted the Westgate mall in September 2013. Westgate has since reopened, a testament to the city's resilience, although the healing process continues.
9. Drink chai …Tea is a leading foreign exchange earner for Kenya. And we are one of the largest producers in the world, thanks to the tea culture brought over by the British and the Indians. Drink it black (known as strungi, or "strong tea") or with milk. Or with a twist: Camel milk is becoming more popular in Nairobi's cafes. Try camel-milk tea at Hamdi, Al-Yusra, or City Star, all in the CBD
10. …but do not give chai. Chai, informally, is a bribe.
11. Go east. Visit the eastern suburb of Eastleigh, a dynamic, multiethnic commercial hub, to sample Nairobi's culinary diversity. Thanks to its large population of Somalis, the area is known for its excellent Somali food; but there are many other cuisines, too, including some great Ethiopian spots. Take a number 9 matatu from the CBD, alight at Garage, and look for 10th Street. I recommend restaurant hopping and finishing off with an Addis Ababa–style macchiato at Best Ethiopian Restaurant. I worked in Addis Ababa for almost a year, and that's where I go whenever I feel nostalgic.
12. Drink coffee bitter. Java House is our version of Starbucks, but there's much more to the coffee scene here. In Kenya you can see the Arab influence on the East African coast. Some trace the earliest cultivation of coffee to Yemen, and Yemenis gave it the Arabic name qahwa, from which the Kiswahili word for coffee, kahawa, is derived. Check out Swahili Plate at the Sarit Centre mall in Westlands for kahawa chungu (bitter coffee). Made with iliki (cardamom), kahawa chungu is strikingly similar to Arabic coffee.
13. Drown in meat. Kampala has the rolex. Nairobi's street-food equivalent is the smokie, a hot dog–style sausage sold street-side. We are not the pork lovers Ugandans are, preferring beef and goat, but we are partial to these cheap, satisfying street franks. Look out for the smokie trolleys anywhere along city roads, and order a smokie pasua, a smokie split in half and filled with kachumbari, an onion, tomato, and coriander salsa. The more adventurous can sample mutura: tripe sausage stuffed with ground meat, fresh blood, and piri piri chilies. (Ask for it at your local butcher or at a bar.) Word on the street is that Maxland Restaurant is the place to go for nyama choma, our signature roast-meat feast. Also reputable: the Kenya Motorsports Club in the South C neighborhood. Want more meat? Try Carnivore in Lang'ata for charcoal-roasted ostrich, crocodile, or camel. For traditional Kenyan fare (carnivore and noncarnivore) from other parts of the country, head to Amaica.
14. Drink a cold Tusker. Tusker, Kenya's most-loved beer brand, is best served baridi (cold). Ask for it cold, or it will arrive warm. Imbibe an after-work Tusker at Mist Bar&Grill, where the rush-hour traffic on Tom Mboya Street below drowns out the '90s R&B coming out of the speakers. The golden premium lager is nothing short of a national monument. When the low-carb Tusker Lite was launched in 2011, I was less than enthusiastic about it, but then the company came up with Tusker Cider, which is delicious when chilled. Burudika. (Enjoy.)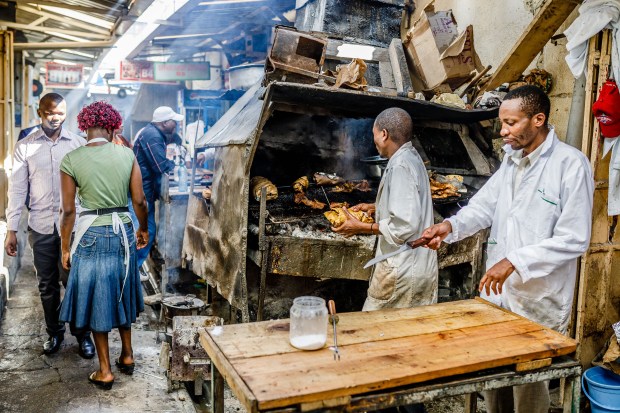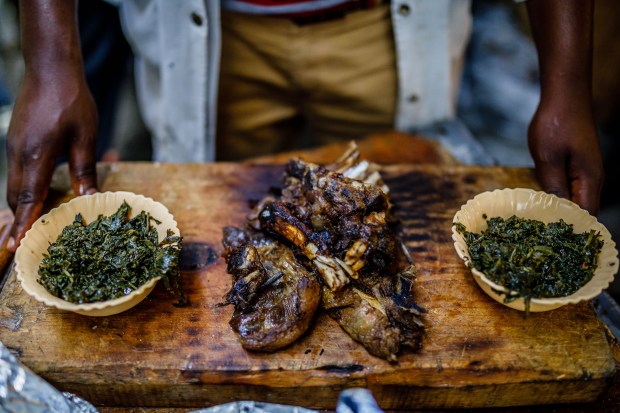 15. Get down on Furahi-day. Furahi is Swahili for "be happy," and Furahi-day is a play on Friday. The place to go for Nairobi nightlife is Westlands: Bacchus for the ambiance, Havana for the artwork, Gipsy's for the diverse crowd, The Alchemist Bar for the DJs. Take an Uber, or get a reliable taxi guy. Dress modestly; do not, as the quilleros say, "give papaya" (flaunt your wares): Sometimes the city lives up to the nickname "Nairobbery."
16. Go lko for music. Chito Ndhlovu, a radio host known as the Golden Voice, plays maloko (local tunes) on Kiss 100 FM on weekdays from 9 p.m. (One of my 2017 favorites is "Party Nation," a collaboration by Nairobi musical heavyweights Fena, MDQ, Mayonde, Kagwe, and Blinky Bill.) Nairobi has plenty of treats for music lovers. For Kenyan music, start with Nduti One Stop Music Shop. Vinyl lovers should head to Kenyatta Market stall 570, where James Rugami has been collecting vinyl since 1989. For live music, check out Thursday Nite Live for live performances by Kenya's finest artists.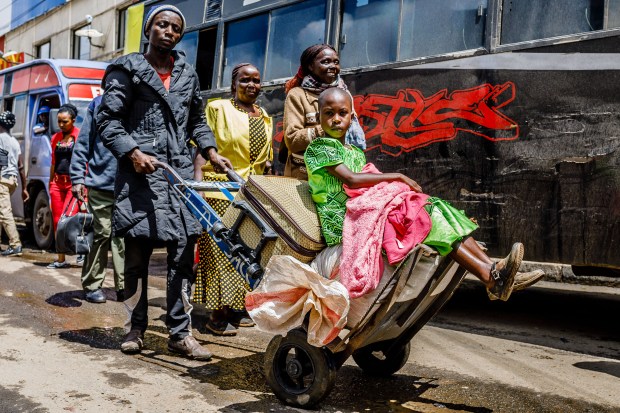 17. Embrace spiritual diversity. Mosques; Hindu temples; synagogues; Catholic, Coptic Christian, and Ethiopian Orthodox churches—Nairobi has them all. But the most ubiquitous faith-based posters around town advertise the services of daktari wa kienyeji (traditional doctors), promising cures for life's ills. These include love potions, business boosting, recovering lost items, increasing virility, and landing quick money. (Results may vary.)
18. Go green. Nairobi, derived from the Maa phrase enkare nairobi (place of cool waters), is known as the Green City in the Sun. Nairobi has plenty of green spaces, notably Uhuru Park and Karura Forest, associated with 2004 Nobel laureate Wangari Maathai, who fought for ecologically viable social, economic, and cultural development in Kenya and Africa. Nairobi's governor has launched a clean-up program, Operation Safisha Mji, and Nairobi is hoping to give Kigali, Rwanda's pristine capital, a run for its money. I like Karura for a forest walk or bike rides (there's a small fee).
19. Read some Kenyans. Binyavanga Wainaina is one of Kenya's best-known writers and made Time magazine's "100 Most Influential People" list in 2014. One of his most renowned pieces is the satirical essay "How to Write About Africa." His memoir, One Day I Will Write About This Place, is one of my favorite books. Yvonne Adhiambo Owuor's Dust is a searing, haunting tour de force. Also check out Enkare Review, a Nairobi-based literary magazine founded on Koinange Lane by a bunch of 20-somethings.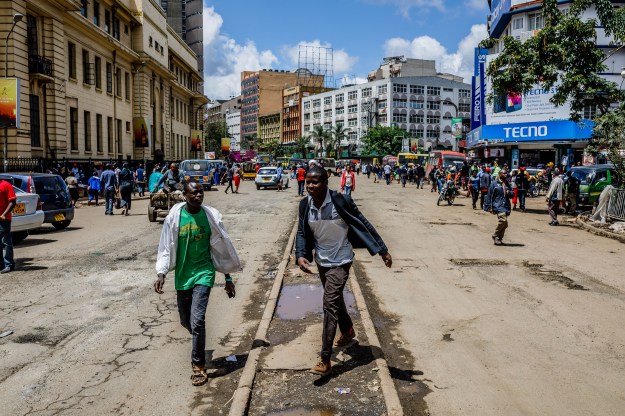 20. Break a rib. Kenyans are known for their warm hospitality, but what people don't know is that we are also hilarious. The Kenyan comedy industry is thriving, and irreverent impersonations are particularly popular. One viral video to make the rounds last year was the "Muhoho Kenyatta Challenge," which pokes fun at the president's son's Kiswahili. The Churchill Show, which records live at the Carnivore restaurant, is a showcase for new talent and live comedy. Plus, Eric Omondi's YouTube videos always crack me up.
21. Take a drive on the wild side. Nairobi is often a stopover for people heading to safaris in other parts of the country, but there is also a wildlife park within the city limits. Nairobi National Park ("The World's Wildlife Capital") occupies roughly one-sixth of the city's territory. Between 6 and 9 a.m. or 3 and 6 p.m. are the best times for game drives. The weather can be unpredictable these days, but when the grass is green is the best time to visit: More herbivores mean more predators. Park entry fees vary for citizens, residents, and nonresidents. Do not feed the animals.
22. Escape for art. Head south out of the city center and pay a visit to Kitengela Glass, an outdoor gallery and artist co-op/training center with a surreal trove of glass art, animal sculptures made of found objects, and other curiosities—all in the middle of the bush. Also good: Banana Hill Art Gallery in Banana Hill, north of Village Market.
23. Mind the seasons. In June and July, temperatures drop. In March and April and September and October, rain pelts down and tempers flare as traffic comes to a standstill. The city's poor drainage system means that pools of water puddle on roads and sidewalks, and you are more than likely to get muddy water splashed on you by a speeding matatu. Kaa ngumu. Toughen up.
Originally published on Roads & Kingdoms on November 14, 2017.