Kamau Bell had some reservations about going to Kenya. "I don't want to walk around like, I'm home," he told Anthony Bourdain, whom he traveled with earlier this year for an episode of Parts Unknown. But, he told Explore Parts Unknown's Tafi Mukunyadzi in a recent interview, "there was really a sense of embracing me that I was not expecting."
The Emmy Award-winning host of CNN's United Shades of America spoke about his time with Bourdain, impressions of Kenya, and why he thinks Parts Unknown paved the way for his own show.
Tafi Mukunyadzi: How did you end up traveling to Kenya with Anthony Bourdain?
Kamau Bell: I had been watching Tony for years and was always a huge fan. I would sit on my girlfriend's couch—she's now my wife—and would say, "Man, I would like to have a show like that someday."
We didn't actually meet until the first time that United Shades of America was nominated for an Emmy Award. We met at the Governors Ball [after-party], and within a couple minutes of meeting, he said that we should do something together. I said we should go to Kenya. Tony, surprisingly, said he'd never been. I had no idea that there was any country in the world he hadn't been to four times.
I felt super-honored and overwhelmed.
Mukunyadzi: What image did you have of Kenya before you got there?
Bell: I have friends who have a safari business, and they go to Kenya frequently. So I'd heard them talk about Kenya a lot, and I'd seen the country in the news. My mom went to Kenya when I was a little kid, so all my life I've known that, like, Nairobi is a major city. But when I got there, I realized it's so much more. It's a very Technicolor city. Everybody was wearing bright colors and it just felt really full-on. I wasn't expecting that—or the mix of urban and rural elements. You would see somebody walking down a street with goats or cows. You don't see that in American cities.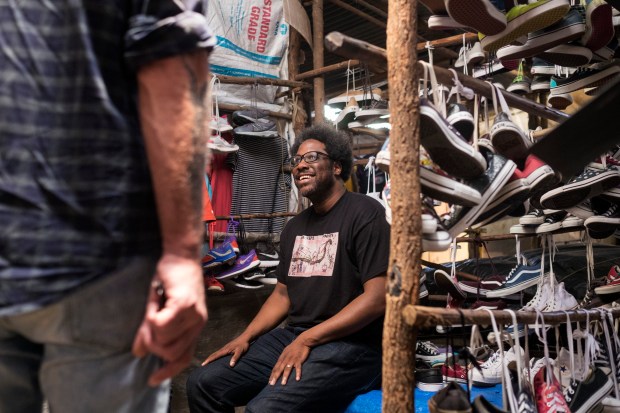 Mukunyadzi: This wasn't just your first trip to Kenya. It was also your first trip to Africa. As a black man, what was it like to go through that experience with someone who wasn't black?
Bell: As many people of color have said, Anthony Bourdain was not your regular white man. I wouldn't have gone to Kenya with him if I thought he wasn't who he was. There weren't too many points where he was like, Let me explain this. He was like, I'm having fun observing you experience this for the first time. I've never been here, but you've never been anywhere like this.
The thing about Tony was that he wasn't the kind of traveler who centered things around what he knew. He didn't say, "Let me show you what's really happening here." He said, "Watch me go through this experience and maybe we'll both learn something together."
Mukunyadzi: You mentioned to Tony that Nairobi is what you had expected Oakland, California, to look like when you first arrived there. How so?
Bell: I think in America we talk about "black" cities. We're talking about Chicago, Oakland, or New York. When I went to Nairobi, I said, "This is a black city."
I lived in Chicago, and there are parts of Chicago that do have that sense. But it's different if you see black people of all [socioeconomic] levels. I think that's a pretty special thing. Where do you see black people at all levels of society, not just in the struggling neighborhoods? Where do you see black people running the city, black people who are struggling, and black people who are in the middle class?
Mukunyadzi: The idea of going back to the "motherland" is often discussed by African-Americans. Did you get the feeling that you'd gone back home?
Bell: I was very conscious of not overplaying or claiming that feeling. Luckily, I've read about black people who went back to Africa thinking they'd gone home and then found that they weren't home. I was pretty sure that most of my ancestry wasn't even from East Africa. I later took a DNA test [that confirmed this]. I don't want to paint Africa as one big country any more than I want Sarah Palin to do it.
But having said that, many of the kids I ran into, once they found out my name is Kamau ("quiet warrior" in Swahili) would say, "Welcome home. We're glad you're here. You're an honorary Kenyan." There was really a sense of embracing me that I was not expecting. I was always afraid they'd say, "Give us the name Kamau back. You're not one of us."
Mukunyadzi: You said earlier that Tony enjoyed watching you go through this experience. He also seemed to enjoy you trying out the local food. What was your favorite meal?
Bell: We were sitting with [Njeri Gikera], talking about how the fashion [industry] works in Kenya, and we had goat meat with some collard greens, lightly cooked, and potato. It was really hearty and good. I ate more goat meat there than I had ever eaten in my life. Maybe it was the food, maybe it was the conversation, or maybe that was the first time that I really settled into being on the show.
Mukunyadzi: You also tried cow's blood while visiting a Masai village.
Bell: That wasn't really about the taste, but the ritual. They clearly love the taste of it, but for me it was about being invited to be a part of the ritual.
Mukunyadzi: What was it like to participate?
Bell: I was definitely an outsider, and I felt like they invited me in because there was a sense of You're here. We want to show you this. I was very careful to not run into the circle and ask when it was going to be my turn. I'm definitely aware, even when I'm doing United Shades, about not being a bad tourist. And I think that was Tony's lesson to all of us: Don't be a bad tourist. You're still going to be a tourist, but don't be an insensitive tourist.
Mukunyadzi: You said that if it weren't for Parts Unknown, there wouldn't be a United Shades of America. Why do you think that?
Bell: The year before Tony got his show, nobody could have imagined him on CNN. We talked about how nervous he and his crew were about whether they could create the show they wanted on CNN.
Once he established that he could do it, the show didn't get less weird and it didn't get more conservative. He was still doing the work that he'd always done, and I think CNN thought about how far they could push things. Like, Can we create this show from the inside out? And that was my show, which was one of the first ones that they built from the ground up. So to me, it's very clear that if Tony hadn't gone to CNN, then I wouldn't have a show on CNN.
This interview has been edited and condensed.