First of all, don't even think about renting a car and driving in Seoul. Not only is cruising alongside the city's taxi drivers a terrifying prospect, but Seoul's public transit system is actually amazing. Vast and dense, the subway will take you anywhere you need to go. Get yourself a T-money transit card, load it up, and you're on your way for just W1,250 ($1.10) a subway ride. (Remember to touch your card to the machine on your way in and your way out. T-money also works on buses and even in many cabs.)
Emerging from subway exit after subway exit, you'll soon discover Seoul has a district for every set. There's Insadong for art lovers and Myeongdong for shopaholics. Itaewon is great for the expat crowd. Hongdae is best for clubbers, pub crawlers, and all-around alcohol aficionados. And of course, there's Gangnam, the stuff of K-pop dreams, where "heeeyyyy!" sexy ladies trot around like horses. Gangnam is so cool that Danny Meyer has even opened a Shake Shack there.
All of the neighborhoods have vibrant food and drink scenes. From traditional Korean dishes to international imports, the discriminating eater can find almost anything their stomach desires. But eatery options aside, here's the thing about these areas: all of them, from ultra-hip Itaewon to super-hot Gangnam, are very much aware of how popular they've become. In the interest of seeing Seoul as more than just a K-pop video, seek out the city spaces that aren't quite so painfully self-aware. Seoul is characterized, after all, as much by its grit-and-grime as it is by its sparkle-and-shine.
So where should you go? For a prime position where you can view the wide-ranging contrasts that really define this city, go to Seoul's oldest hanok (traditional Korean houses) neighborhood, Ikseon-dong.
Even though Koreans customarily do not have a separate category of breakfast foods—eating for their morning meal what they would eat for lunch or dinner—it's no problem to track down eggs Benedict or a British spread if that's what you crave. But, near your accommodations, stop at a street vendor for a toast, a Korean-style toasted sandwich with egg, or at a local mom-and-pop joint for kimbap, a Korean-style sushi roll. After all, when in Seoul.
From wherever you are post-breakfast, hop on the subway and get off at Jongno 3(sam)-ga station, at the intersection of lines 1, 3, and 5. Jongno, north of the Han river that splits the city in half, is the geographic and cultural heart of Seoul and home to City Hall, Joseon Dynasty-era palaces, and loads of history and art museums. Leave through exit 6. The first thing you might spot is one of the country's ubiquitous CU or 7-Eleven convenience-store franchises. Don't worry: you're in the right place.
Here is where a figurative time machine awaits, where we can enter the subway in 2017 Seoul and exit in a city that feels a little quieter, a little humbler, and a lot more candid. It might take a bit of searching to find Ikseon-dong, but weave through the back alleys northwest of exit 6 and you should hit it: a maze-like bubble a world apart from the helter-skelter and skyscrapers that surround it. You'll know you're in Ikseon-dong when you spy the hanok homes, the game-playing grandpas, and the gardening grandmas. This is where the magic is—this is Seoul without its makeup on.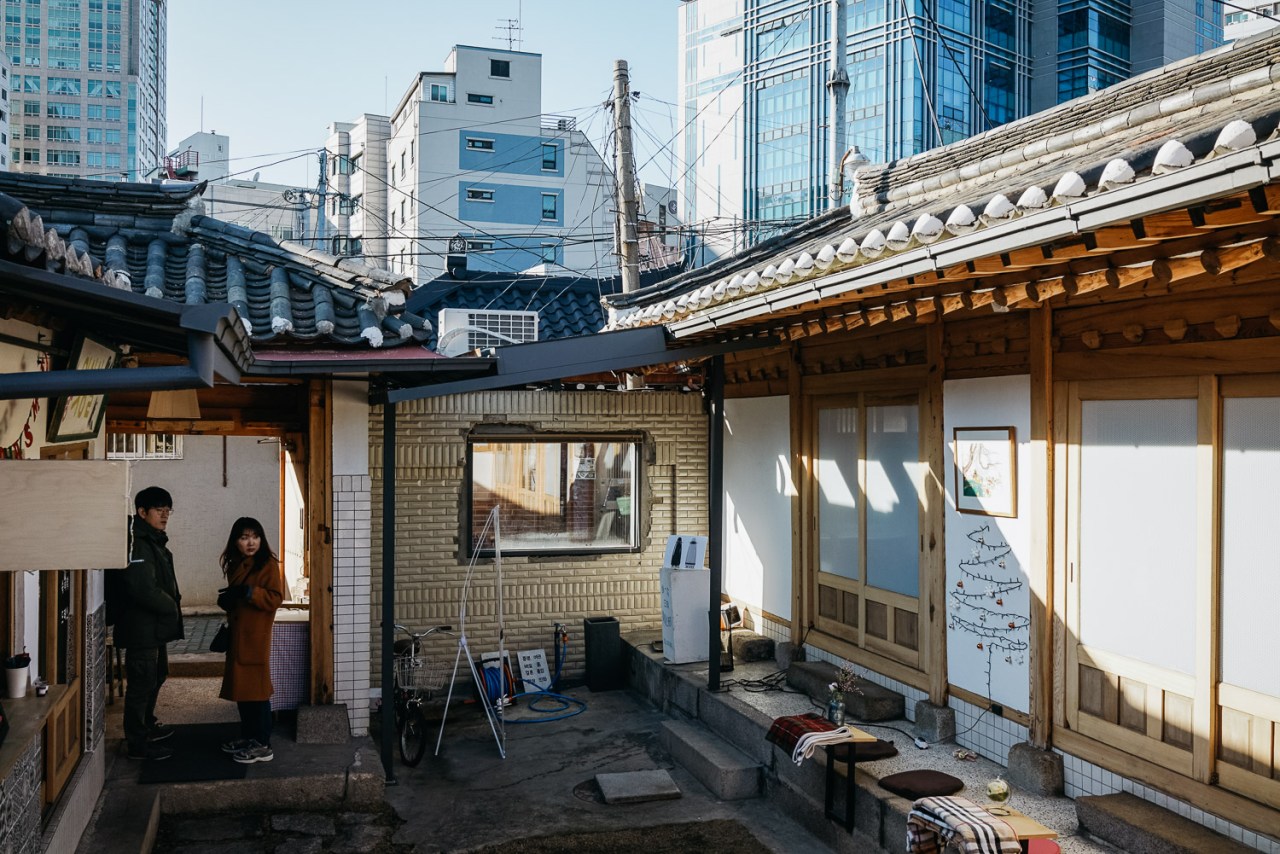 Though it's rapidly becoming more popular, Ikseon-dong has managed to retain its lost-in-time quality. The quarter is an interesting combination of pre- and post-war Korea—at once residential and commercial, retro and trendsetting—with its consumerism cleverly folded into the conventions of everyday life. Ikseon-dong is full of innovative hybrids of '20s and '30s architecture and 21st-century concepts. It is packed with cafes, galleries, supper spots, and watering holes that feel reminiscent of simpler times but pulse with revitalized energy.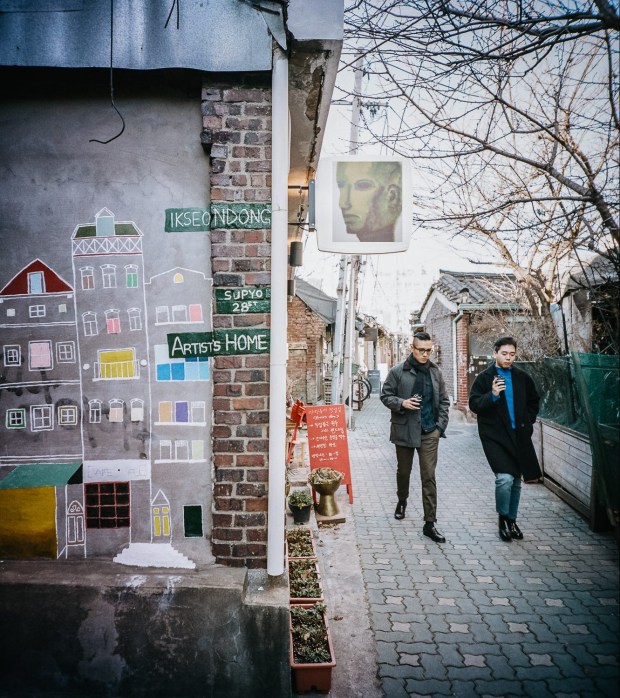 In Ikseon-dong, there are ways upon ways to navigate—the alleyways that twist and turn, the residents' ways that are both old-school and modern—and lucky visitors should wander and witness them all. Be sure to stop in at Tteuran, a traditional tea house, where you'll drift further back in time with each sip of cha. There's also Ikdongdabang, a coffee spot and art space set inside a hanok, and Proust, a café and perfumery combined into one, serving madeleines with their cups of tea.
1:00
pm
Ikseon-dong 121
30 Donhwamun-ro 11na-gil
Ikseon-dong, Jongno-gu, Seoul
Get Directions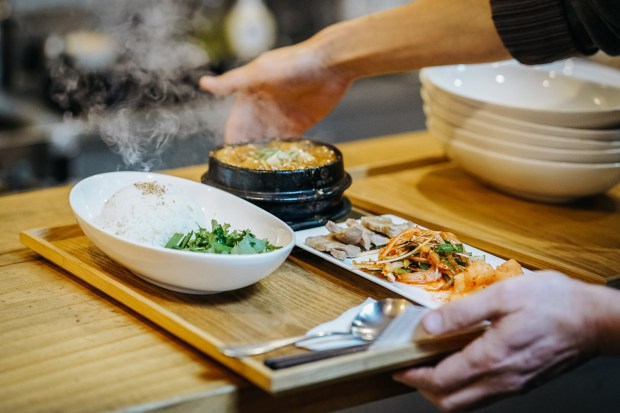 For lunch, go to Ikseon-dong 121, where you really can't do better than the house bibimbap, or mixed rice, served with soybean paste. If you're in the mood for Western-Korean fusion, there's also the outstanding Yeol-du Dal (12 Months) market and restaurant, known for its bulgogi tacos and Jiri Mountain salad topped with smoked pork.
2:00
pm
The National Folk Museum of Korea
37 Samcheong-ro
Sejongno, Jongno-gu, Seoul
Get Directions
In the afternoon, when many Ikseon-dong restaurants close for a break, step out of the time warp to visit some of Seoul's most iconic landmarks. Cheonggyecheon stream, the National Folk Museum of Korea, and Nam Mountain (along with its N Seoul Tower) are all nearby and worth braving the crowds. Then, step back into Ikseon-dong, just in time for snacks.
5:00
pm
Turtle Supermarket
17-25 Supyo-ro 28-gil
Jongno-gu, Seoul
Get Directions
There is no snacking culture like Korean snacking culture. Korean treats range from savory and salty to sweet and sugary, and from fish-flavored to matcha-inspired and beyond—the sheer variety is astounding. Keobuki Supa (Turtle Supermarket) is an Ikseon-dong staple that has them all. A junk-food paradise, it sells snacks and nothing else. Go to Turtle to watch packs of students on the hunt for the perfect after-school reward. Or, better yet, join in by picking your own snack.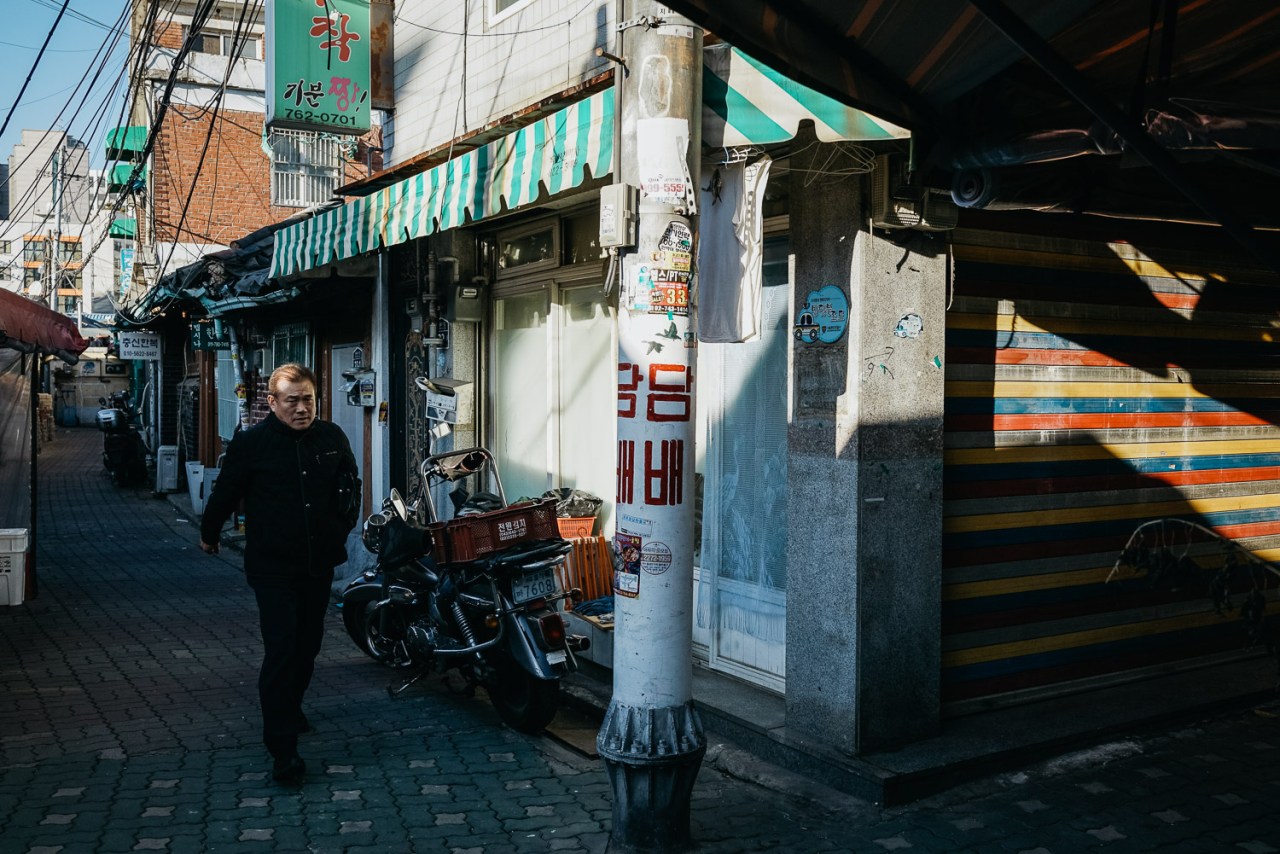 7:00
pm
Gyeongyangsik 1920
17-30 Supyo-ro 28-gil
Ikseon-dong, Jongno-gu, Seoul
Get Directions
After snack time is supper time. For Korean comfort food with a twist (that is, it's not originally Korean), head to Gyeongyangsik 1920 and order the donkkaseu, the Korean version of a breaded and deep-fried pork cutlet. Though borrowed from its Japanese neighbor, it has managed to secure a very dear, firmly entrenched place on the nation's menus, and in the people's hearts. Gyeongyangsik 1920 is somewhat of a scene, so if you're looking to swap the millennials for the old-timers, go to Su-ryeon Jip. Order the kimchi jjigae stew, rice, and banchan side dishes (and maybe even split a bottle of soju with the grandpa sitting across from you).
With the dinner must come the drinks, at least in Korea, where food and booze go together like yin and yang. Since the two complement and balance one another, it's best to have them both—and plenty of each. First, order drinks with your dinner; next, order snacks with your shots. Then, if you're still standing upright, repeat.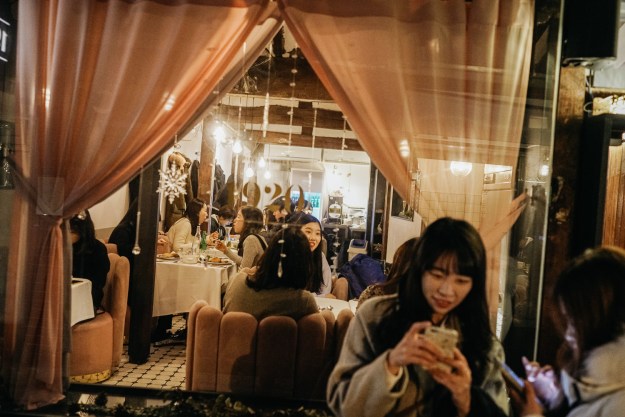 If Korea is the Land of Morning Calm, as it is charmingly known, it is also the land of evening chaos. Drinking is such a social institution that the country has developed an entire industry to cope with the aftermath: an arsenal of pills, gums, and liquid concoctions reputed to lessen hangovers. So, if you meet some random locals and decide to let your brief encounter turn into big plans—which you should do—please prepare yourself. There will be drinking, plainly put. There will be lots and lots of drinking.
Korea may be best known for its sock-it-to-you soju, but expand your palate and sample some of its other decidedly tastier alcoholic offerings, like makgeolli and maekju (beer). Perhaps most surprising to first-time drinkers in Seoul is that the city does brew good beers, something you wouldn't necessarily know if you've only been exposed to the watery and woeful Hite and OB brands. The country's burgeoning craft beer scene has been popularized by Magpie Brewing Co., The Hand & Malt, and The Booth, as well as Ikseon-dong's own Craft Roo. Housed in a renovated hanok, Craft Roo is what one online reviewer describes as "quite trendy," the type of place that has "plants growing out of light bulbs and the sort." So order a flight and dare them to bloom.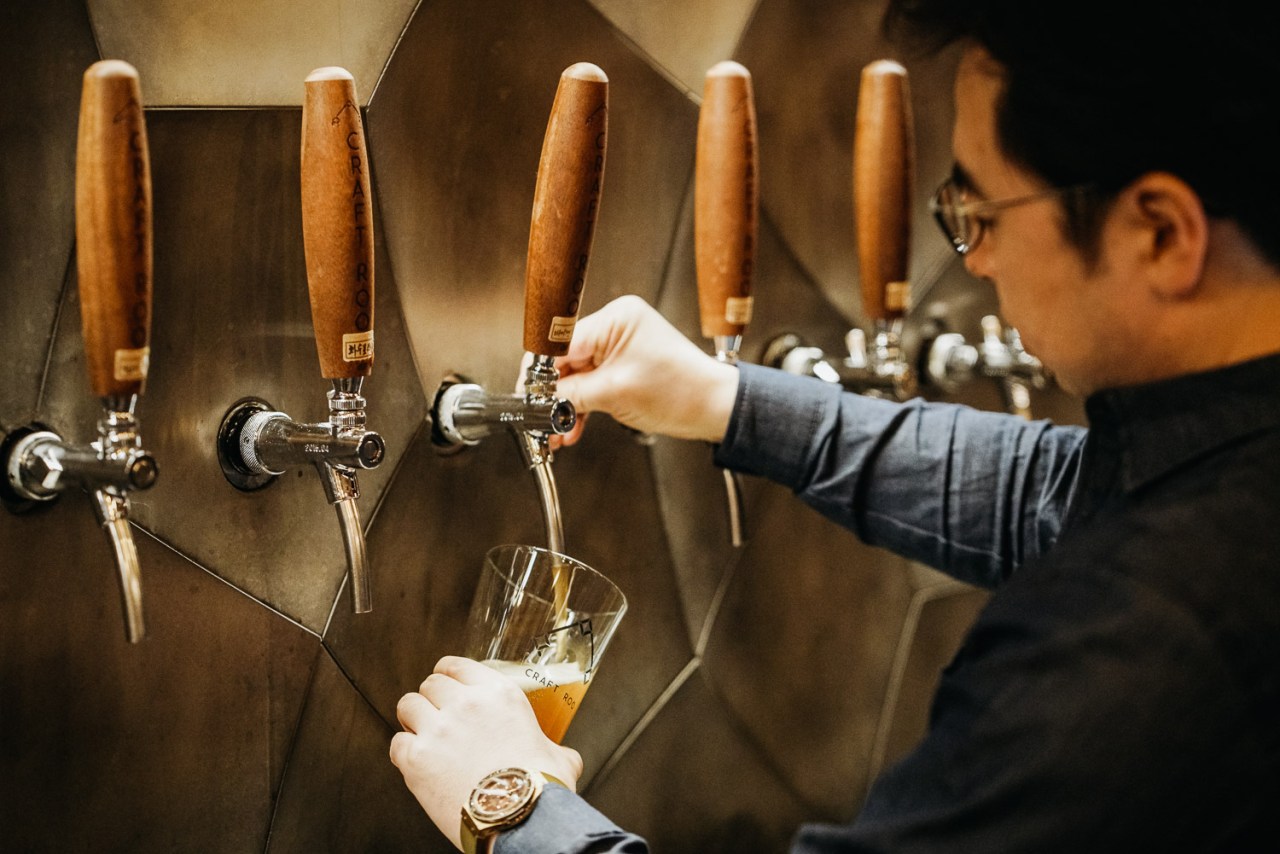 12:00
am
Tapgol Park
99 Jong-ro, Jongno 1(il).2(i).3(sam).4(sa)
Jongno-gu, Seoul
Get Directions
Seoulites are nothing if not gifted guzzlers, so if you're drinking with the best of them—or at least the most strong-willed—it's likely Ikseon-dong will shut down long before your companions are ready to do the same. At midnight, then, head back out to greater Jongno and go to the area around Tapgol Park—about a five-minute walk south of Ikseon-dong—which offers a good selection of bars, pubs, and noraebang karaoke rooms. (But remember, in this city, it's a marathon, not a sprint.)
Once you're good and sloshed, hit up a galbi joint for Korean barbecue or a pocha food tent for ddeokbokki, spicy rice cakes—and, heck, why not, have another drink—then hope for the best come tomorrow.