When outsiders—particularly East Coasters—come to Los Angeles, they enjoy our good weather and tacos for a few days. Then many go home to dismiss us to their friends as a culturally flat, vapid mass of Botox and broken dreams, with great produce.
They're not all wrong. But what intellectual stimulation and history we do have—the much longer-running indigenous and Mexican-American communities notwithstanding—is found in our immigrant populations.
The perfect day in Los Angeles I propose is all to say: You should also know us as the "capital of Asian America." Yes, follow this guide and tell your friends: Los Angeles does have culture. It has tons of it, actually; Los Angeles boasts the largest, most diverse Asian-American community of any county in the nation. There are 45 Asian ethnic groups here and 28 Asian languages, according to a report by legal advocacy group Asian Americans Advancing Justice.
In Los Angeles, we have a broader array of Asian American "towns" than anywhere in the nation: multiple Chinatowns, a trendy Little Tokyo, a sprawling Koreatown, a very residential and family-friendly Filipinotown, the first American Thaitown.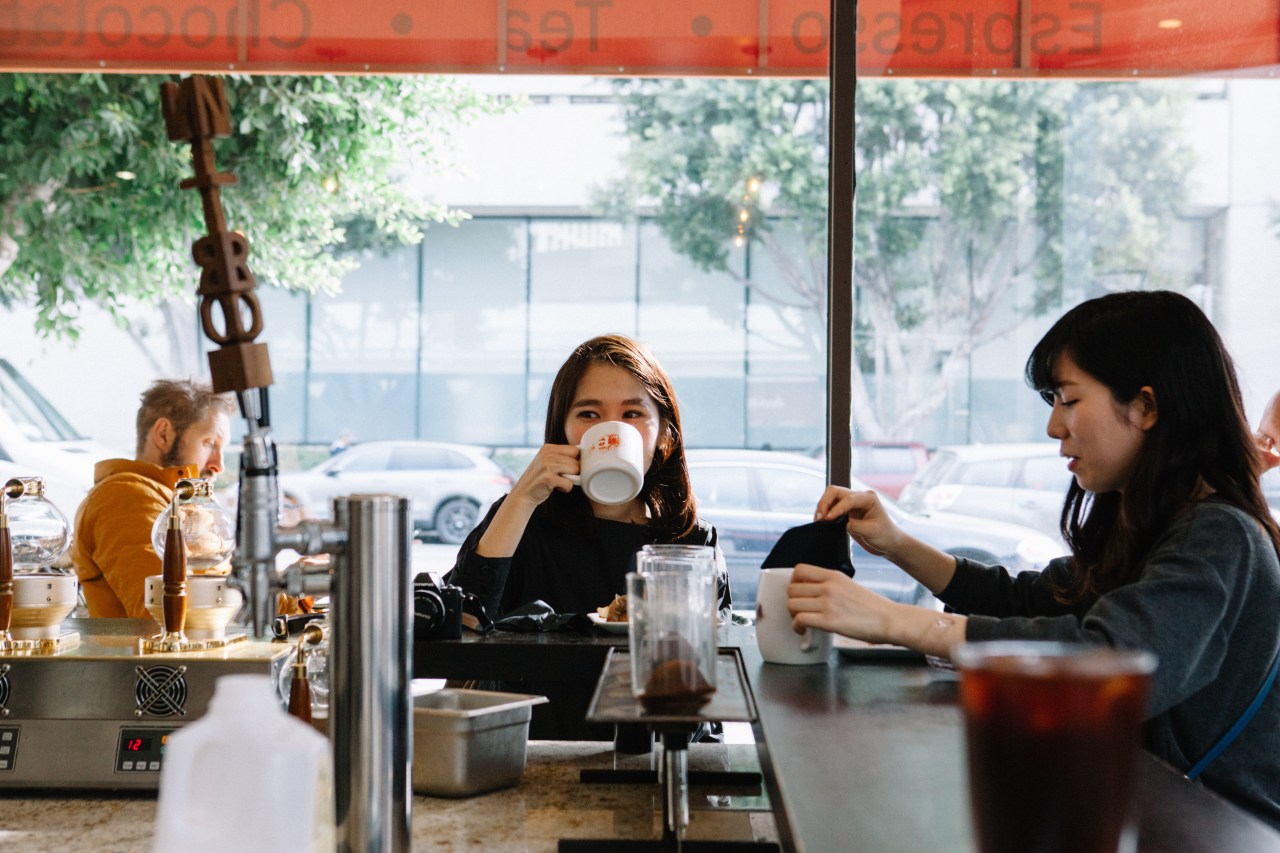 L.A.'s Asian American story is one of resilience in the face of failed U.S. political leadership. Here we still have elders who witnessed the repeal of the Chinese Exclusionary Act in 1943. This is the community that built the Southern Pacific Railroad—many literally died building the transportation infrastructure that united these United States. The Japanese-American community survived internment during World War II and its legacy is a call to protect American civil liberties for all. And as Anthony Bourdain shows in his L.A. episode of Parts Unknown, beyond its ever more popular food and skin care, the Korean-American-Angeleno community were key players in the 1992 riots that shaped concepts of community and class relations in the city and country.
To understand L.A. culture is to bear witness to these many historical threads and, along the way, enjoy some exceptional food and entertainment. I've lived in New York and Hong Kong—cities with large Asian expat communities, and nowhere else have I been able to take shimmering Japanese sticker pictures in the morning, catch a Korean movie and snack on squid in lieu of popcorn in the afternoon and top that all off with some Persian saffron and pistachio ice cream.
This adventure—full of the eclectic, the horrifying, the hilarious—is fairly ambitious , so first things first: let's get you nice and caffeinated.
Cafe Demitasse in Little Tokyo is flanked by two Starbucks, a stone's throw away on either side. Order a signature Kyoto Iced Coffee, prepared in orbs with brass and wooden finishings that recall a 1920s chemistry lab. Or get a nitrogen-infused cold brew—smooth and naturally sweet. Both are about as potent as rocket fuel.
Buy your pastry at the next stop, Fugetsu-Do Confectioners, the oldest remaining Japanese-American business in Little Tokyo—established in 1903.
Here, enjoy colorful rice and bean paste mochi in festive pastel pinks and greens, almost too beautiful to eat. If you're lucky, enjoy an impromptu chat with the owner Brian Kito, a community leader, whose parents, Roy and Kazuko were among the 120,000 Japanese Americans interned at camps in remote locations in the western United States. Kito's parents met and were married at Heart Mountain, Wyoming internment camp.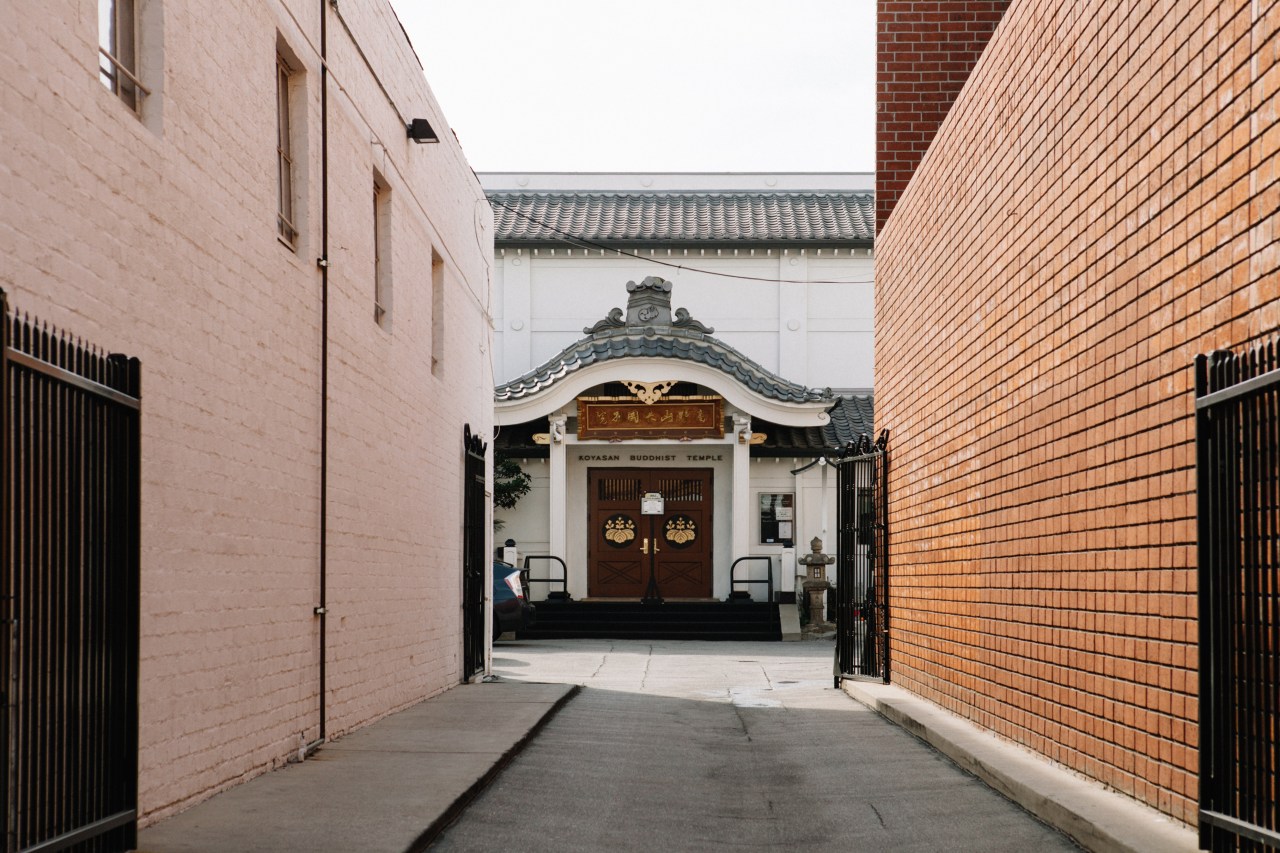 Across the street from Fugetsu-Do is the picturesque Koyasan Buddhist Temple, visible beyond a brick alleyway. The understated elegance of this Zen temple, hidden from the dirt and frenetic movement of downtown Los Angeles, is reminiscent of temples in a lot of Japanese cities. Feel free to politely ask if you can look inside, but be warned, the staff here know an on-trend Buddhist when they see one; no one here has the stomach for your selfie.
Around the corner from Fugetsu-Do and the temple, just before the Japanese American National Museum on North Central Avenue, is the street where authorities gathered Japanese-Americans to be bussed first to a transition center in Santa Anita, and then the camps.
Enter the Japanese American National Museum (closed on Mondays), where they have one of the reconstructed barracks from the Heart Mountain, Wyoming WWII internment camp on the second floor.
The museum bears witness to how wartime fear and racism resulted in one of the most infamous miscarriages of the Constitution in American history. The museum is also a testament to the civil rights movement that emerged around calls for redress and socioeconomic justice for Asian and other American peoples of color.
The museum also has one of the paper cranes folded by Sadako Sasaki , the subject of 1977 children's book Sadako and the Thousand Paper Cranes. Sadako was 12 when she died from leukemia after radiation exposure in the 1945 bombing of Hiroshima. A Japanese folk tradition holds that one who folds a thousand paper cranes is granted a wish. Sadoko's tragic bid to reverse her fate as a pre-teen made her a symbol of the Hibakusha, the wartime residents of Hiroshima, Nagasaki and environs directly affected by the bombs.
A series of visiting exhibits offer a more light-hearted, optimistic view of the Japanese-American and Asian Pacific Islander-American communities. The bygone Hello Kitty exhibit here has left a few oversized furry friends (they're not cats, evidently).
12:00
pm
Real Escape Game LA
123 Astronaut Ellison S. Onizuka Street
Unit 200
Get Directions
Head back to Weller Court Shopping Center, the mini-mall across from Demitasse. Sign yourself up for Real Escape Game LA (open Wednesday through Sunday), for a dose of real-life suspense.
On the weekends, there's often a short wait, but not to worry! Just outside, there are Japanese sticker-picture machines. For $11, you can get two sets (for you and a friend), small multi-frame, glossy, shimmering Japanese sticker-pictures. Enter the booth—note the intense bright lights. Japan prizes white skin, as you may notice from the cosmetic stores here that peddle skin-whitening creams. On the less depressing side, the lights sometimes have the effect of diminishing blemishes! The machines will also make your eyes almost unnaturally larger and glossy—anime-style.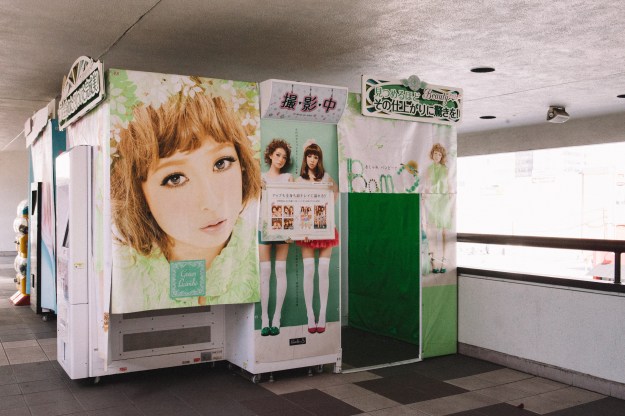 When the shoot is done, follow the instructions of a disembodied voice entreating you to enter the side of the booths, where you and your photo-mate can decorate the shots with two styluses.
If you're still waiting, head to the Japanese bookstore, Kinokuniya, just around the corner to browse the literature, manga cartoons, and exquisite stationary. Or head downstairs to the market for an onigiri rice wrap, stuffed with fish and other sushi fillings.
At the Real Escape Game, you are—rather oddly—paying $35 a person to lock yourself in a room for an hour. You're a character in a suspense novel, and the clues are all over these rooms—some of the rooms look like science labs, others like wartime barracks; the themes and rooms change every few months. The details that will set you free can be tucked away in things as unassuming as a house plant or a toilet seat.
Only about 20 in 150 teams make it out, the staff estimates, so the odds are against you. Hopefully, you'll see the humor in that. But the Real Escape Game staff aren't worried; as you'll see from the pushpin map in the lobby, people are traveling to this small shop from all over the country and world to participate in these games.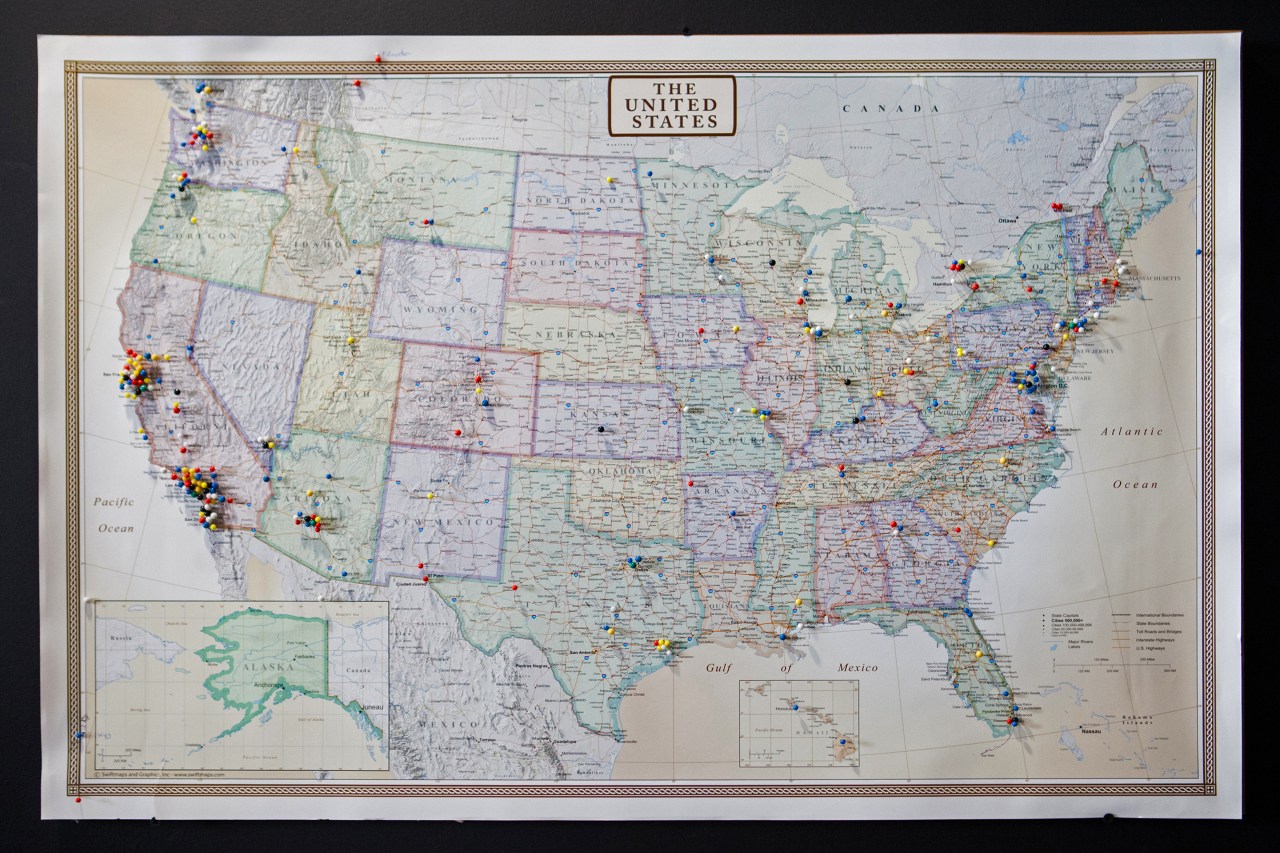 Head over to Koreatown—specifically Koreatown Plaza.
This is the shopping complex that acted as a watchtower for a Korean-American militia during the 1992 LA riots. Shop-owners who felt that the Los Angeles Police Department had abandoned them during the turmoil took up arms. At the time, they could be seen from the roof, targeting looters reacting to rampant anti-black racism in many sectors of the city. Much of that racism was blamed on the Korean-Americans who operated markets and other retail in predominantly black areas, particularly after Korean-American store owner Soon-ja Du shot and killed a 15-year-old girl, Latasha Harlins, whom Du thought was shoplifting.
Community organizers here say the media of the time played up racial tensions between Korean and African-Americans. Still, in response to the conflagrations that obliterated many Korean-American businesses, Koreatown advocates for labor and housing justice have reached out to the black and other non-Korean, non-Asian communities who share this deeply diverse, rapidly gentrifying piece of L.A.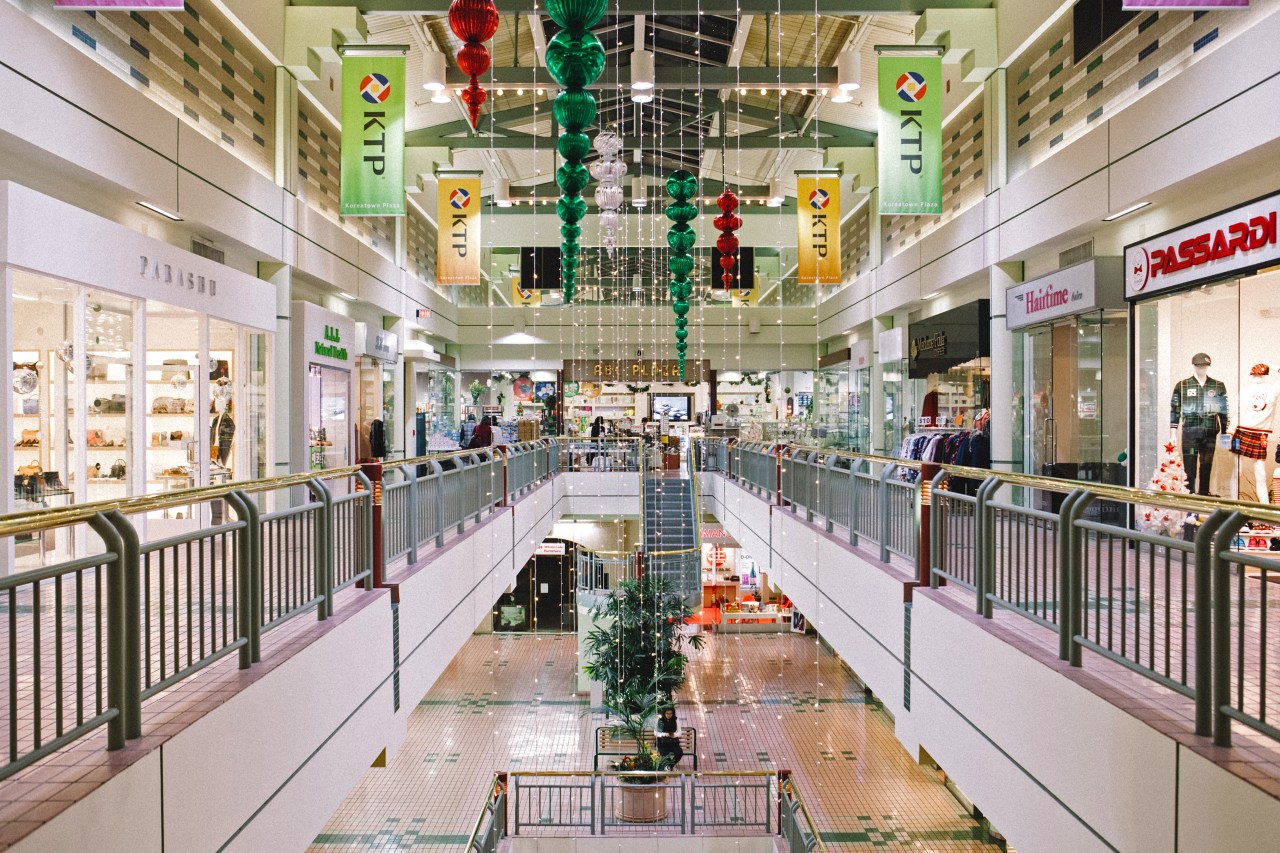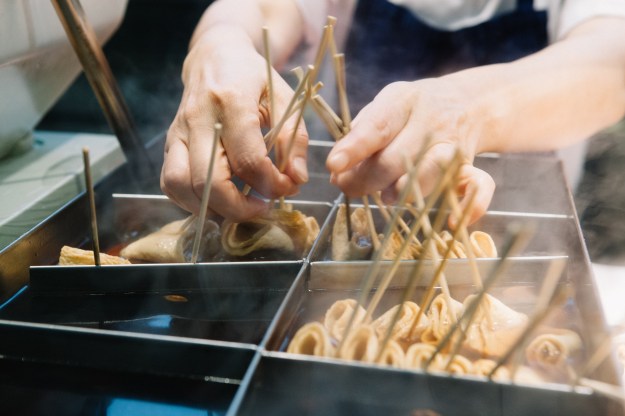 You're probably hungry—you've already covered a lot of ground. Head to the not-so-global International Food Court in the basement. Here, there are 14 stalls. Eight of them are distinctly Korean—proof that Korean food is more than the kimchi you may already know. There are hand-stuffed dumplings, bibimbap rice bowls, squid skewers, and soups believed to cure and beautify.
There's a Vietnamese pho stall, and the remaining non-Korean stalls are arguably now Korean too, in that they are Japanese and were introduced to Korea and its people through some of the most violent instances of colonialism in modern history. These friendlier by-products of imperial hegemony include tonkatsu breaded pork cutlets, sushi, and ramen, now made by and for people of Korean ethnicity.
A few blocks from Koreatown Plaza, on Wilshire and Western, you'll find a mini-mall with a single store that is half-cosmetics, half-sweets. The skin care here at The Face Shop is—in my humble opinion—unrivaled. They're a lot cheaper (and painless) but mimic the effects of cosmetic surgeries infamously popular in Seoul. There's a medicated chin strap to chisel your jaw, snail slime creams and masks that will firm your waddle and iron out your wrinkles. They work.
Now, a few feet away, get some nitrogen-infused, smoky Dragon's Breath at Chocolate Chair. The cup of cold fruity pebbles is particularly whimsical if you've never been a smoker. This is a popular date spot, with lines out the door or seated on the astroturf outside on the weekends.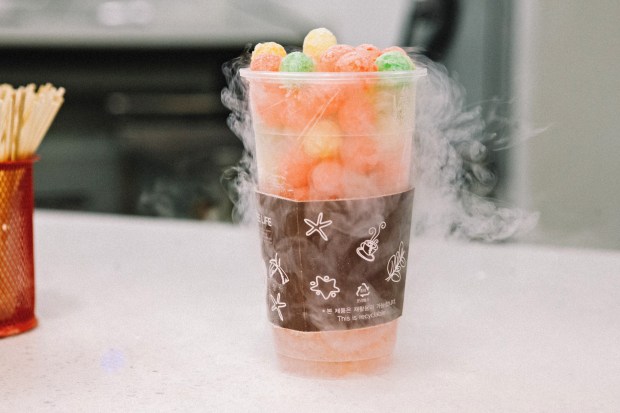 Head upstairs to the top floor to CGV Cinemas, a theater showing the latest Korean blockbusters, sometimes with subtitles. There's a cute Korean-style cafe here, in case you need to refuel.
At the concession stand, if you're still feeling peckish, there are the usual popcorn and M&M's—and less usual dried squid, along with chestnuts and other healthier options.
Jump in a car and head to Westwood. This is the heart of Tehrangeles, baby—the immigrant community that settled here after Iran's 1979 Islamic Revolution. This small strip of restaurants, bookstores, and grocery stores was popularized by Bravo reality series Shahs of Sunset.
Make another snack stop—you're not an Angeleno, after all, so you probably have no casting director to impress—at Saffron & Rose Ice Cream. Get the saffron and pistachio or the cucumber, because these are marvelous, rare flavors in the U.S. Rich and creamy, feel the perfume from the rose water rise into your nose. This isn't just an ice cream, it's a palate-cleanser for our next stop.
Head to Sawtelle. Predominantly Japanese, Sawtelle Boulevard is a small stretch of businesses that also has Chinese, Vietnamese, and Korean establishments—mostly eateries. Like Angeleno Asian-American towns, it's slowly becoming a hodgepodge of younger, trendier, more hipster-friendly Asian businesses, as older immigrants retire. The result is Korean sausages, then pho, then Japanese-style cream puffs for dessert. It's a recipe for rich living. And maybe gout.
You're probably not hungry yet—if you must, pick up a Japanese antacid from Nijiya Market. So start off at Max Karaoke Studio, a low-key joint with private rooms where you can let off steam singing the Beatles' Help or Yumi Arai's Hikoukigumo with friends.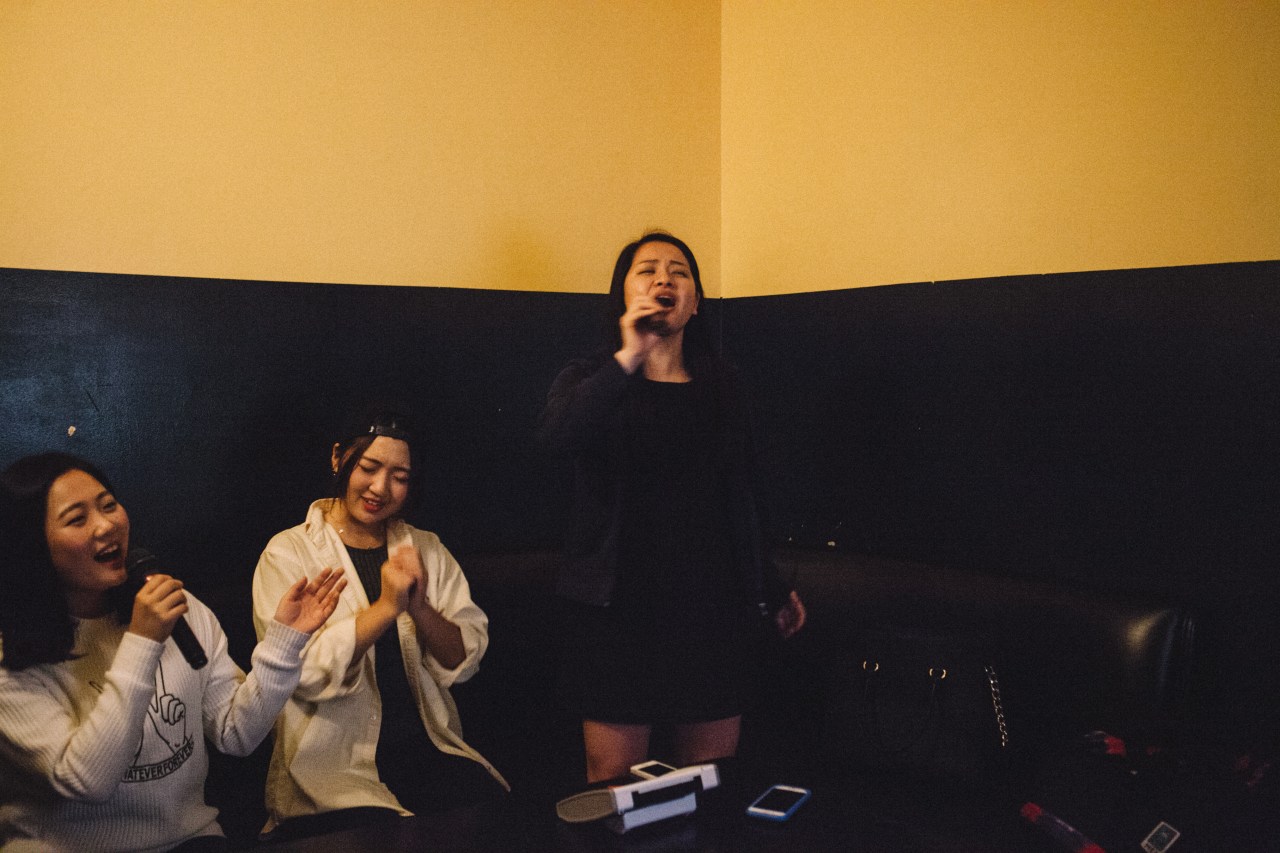 There are restaurants here that are overcrowded as hell, any night of the week. A good, little gem, tucked away between the lines of hangry students from nearby UCLA, is unassuming Kimukatsu. Spacious, with clean architectural design, it's a place to relax and have a bowl of ramen. Let your ears heal from the karaoke. They are famous for their pork cutlet tonkatsu. I'd opt for a nice piping-hot bowl of ramen or curries.
Japanese curry is dark, you'll notice. It doesn't have the cream of other curries.
Head back to Koreatown, and you'll see a sudden change in atmosphere. A wholesome, family-oriented Koreatown fades to black, and young people—dressed and made up with great attention to detail—go out for drinks to unwind. 
End your day at La Ddong Ggo, an eclectic Korean American biergarten with spacious outdoor seating and frisky decor—mostly posters from old Korean films. Have some soju—Korean rice liquor—or a beer. If you're doing it right, you're in a group of friends, and you play a drinking game. Perhaps never-have-I-ever? It'll be a losing game for you, though, because you've done so much today! 
As you have a relaxing drink, on your end of the table, you're likely feeling tired and accomplished. On my end, I'm hoping you realize L.A. isn't a cultural wasteland at all. There's a part with a very distinct Angeleno set of flavors and a kind of inherited resistance and participation in the American saga.