Your reading list for Lagos
London Life, Lagos Living by Bobo Omotayo
Lagosians are a diverse group of starkly different cultural, ethnic, and national backgrounds, but the one thing we Lagosians have in common is an aspiration to sophistication. Everyone wants to do better, or at least everyone wants everyone else to think they're doing better. This book explains the how and why. In 37 short, satirical, and conversational true stories, the author deep-dives into what it means to live, survive, and move up in station in Lagos, especially when young and ambitious. Tip: Appearance is everything. This book is pop culture commentary. Serious Lagos-culture critics—aspiring to sophistication—may call it a guide to the Lagosian psyche.
The Trouble with Nigeria by Chinua Achebe
Once considered the African country most likely to succeed, given its natural resources, arable land for exportable crops, and human capital, Nigeria hasn't quite lived up to its potential. If you have ever wondered how or why, this book is the ultimate explainer. And it wastes no time in getting down to it. Here's the opening line: "The trouble with Nigeria is simply and squarely a failure of leadership." The book was first published in 1984, one of the many years of military dictatorship in Nigeria. The dictator then in power was Major General Muhammadu Buhari. Today Nigeria is a democracy. Our president is the same man.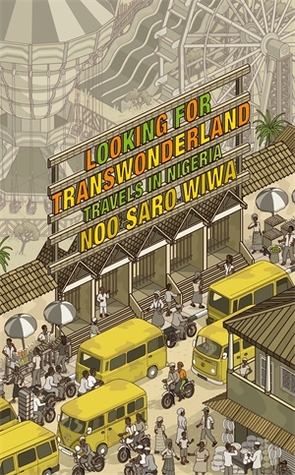 Looking for Transwonderland: Travels in Nigeria by Noo Saro-Wiwa
Perhaps no book in recent time has so exhaustively covered the breadth of Nigeria's idiosyncrasies, chaos, ironies, dark histories, heterogeneous people and cultures in a single collection and with such human storytelling. In 1995 the author's father, Ken Saro-Wiwa, was executed by the Nigerian state. He was an environmental activist and a vocal critic of the then military government's handling of alleged environmental degradation by Royal Dutch Shell's oil-extraction activities in Ogoni. He was executed on still-contested charges of inciting the murder of four Ogoni chiefs. If the author has any prejudices about Nigeria, it does not show in the book. She takes the reader on a journey across the vast country and into the minds and character of its people. She visits its ancient palaces, tropical rainforests, and its bronze guilds, which created works that were stolen by colonial powers and now reside in different museums throughout the world. She explores the Nigeria's urban centers and industries—one of which is Nollywood, the third-largest film industry in the world.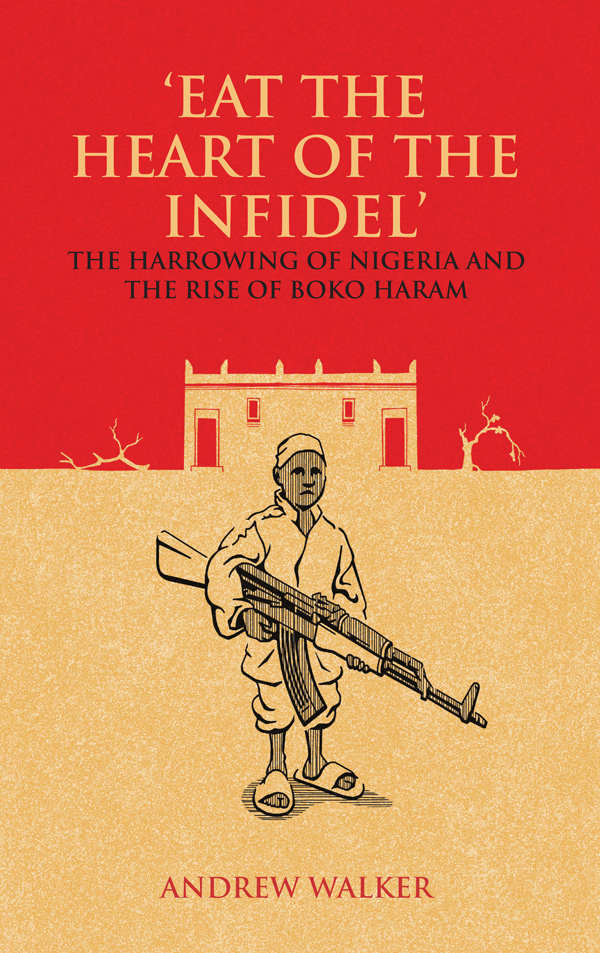 There Was a Country by Chinua Achebe
Achebe earns a second book on this list because even though he's no longer alive, he is the voice of generations and Africa's preeminent writer. This was the last book he wrote before he died, and it might be his most contentious, spawning heated and often vitriolic national debate. Part memoir, part history, Achebe's account reconsiders the most trying time in Nigeria's modern history: the civil war that took place between 1967 and 1970, when Biafra, a portion of Nigeria's southeastern region, attempted to secede. The country has yet to heal, and secessionist calls remain to this day. The book shows in painstaking detail how the war came to be, the major characters who played roles in ensuring the war happened at all, that it would be brutal, and that it would take the time it did before a cease-fire was called.
Eat the Heart of the Infidel by Andrew Walker
Nigeria's current nemesis, the terrorist group Boko Haram, is a beast that has metamorphosed over generations. This book traces the rise and reign of religious conflicts in Nigeria from the 19th century. Specifically, it explains why a number of groups have killed in the name of Islam and resisted modernity and Western education. It also details the political and colonial conditions that have enabled and allowed these fundamentalists to thrive.
Naija phrasebook
How far now? / Na? :  This saying has nothing to do with distance. It is pidgin English, and it's a common greeting between friends that could either mean How are you? or How are things going? Your response would almost always be "I dey" (I'm all right).
Wahala: This word probably pops up more often in the daily vocabulary of the average Nigerian than they would prefer. It means "trouble," and we just can't get away from it: be it disagreeable government decisions or frequent Twitter fights over topics like why women who can't cook won't find husbands.
Abeg abeg leave me alone!!
Abeg: This expression could mean "please" when posing a question or when used twice, abeg abeg! But it could also be used with intent to dismiss, as in, "Abeg abeg stop disturbing me!"
If I hear!: There is perhaps no other graphic way of expressing doubt or disagreement or of explaining how ridiculous or unlikely something is, as in, "If I hear say Buhari win second term!"
Hammer: When somebody suddenly and maybe unexpectedly comes into wealth, you say, "E don hammer." This is only common because Nigeria is a factory for overnight millionaires. How exactly the money is made, there's not yet a term for.
Know before you go
Get ready to bake.

It's hot or humid in Lagos all year round. Not warm. Hot. Only from mid-December to January does the city cool off, when the

harmattan winds

bring a plague of dust instead. When you arrive at the airport, have your sunglasses and hat ready. And skip the airport taxis: You'll have to walk an unreasonable distance in the heat to get to their lot, sweating buckets. Plus, airport taxis can be a little worse for wear, with unreliable air conditioning. Get an Uber or

Taxify

, and ask your driver to crank the AC up to the max.

Get your bearings.

Lagos is a city of two halves, linked by three large bridges. The island, along the Gulf of Guinea coast, is where you'll find

Forbes

-listed billionaires, major corporations, overpriced stores, and the historic core. The landlocked mainland is less wealthy and more densely populated, with seas of tin-roof buildings. Each side has a distinct feel. Islanders have better restaurant options and less congestion but lack the sense of community on which mainlanders pride themselves. Mainlanders like to think they have more soul.

Gorge on rice. It's our unofficial national dish. We eat rice every day, and you should too, in its many forms: white; basmati; ofada (rice in ground-pepper stew); and, of course, the West African staple and ancestor of jambalaya, jollof (rice spiked with tomato, spices, and Scotch bonnet peppers). My go-to spot for jollof is Ghana High—a typical buka, or hole-in-the-wall street-food joint, near the Ghana High Commission. Get it with asun (diced goat meat seasoned with onions and hot peppers) or chicken wings.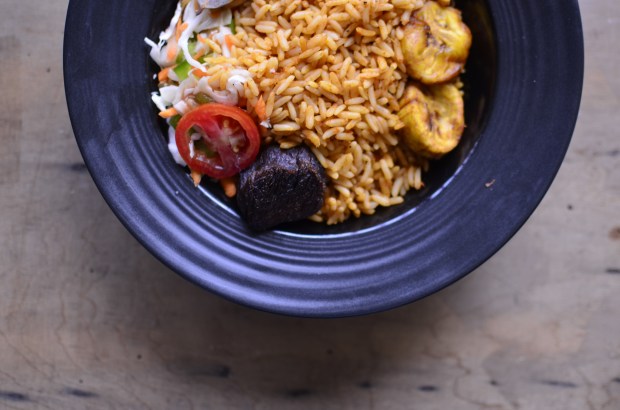 Go cashless …

The Central Bank of Nigeria has in recent years (better late than never!) developed a taste for tracking money and actively campaigns for people to use bank cards instead of cash. There's even talk of making supermarkets card only, a truly novel concept here. You're better off carrying less cash anyway because the conversion from most international currencies would leave you with a brick-thick wad of naira notes. Eating out, paying hotel bills, and going to clubs, you'll be fine with international cards.

… but not entirely.

That said, you will need some cash. There's a toll when you leave the airport. At the Filmhouse Cinemas in Surulere, on the mainland, moviegoers are charged a fee to use the toilet. In malls across the city, you're charged by the hour to park your car. On random streets, a stranger will "assist" you with parking in exchange for a tip. Plus, you will run into checkpoints run by police, vehicle-inspection officers, and other uniformed types who will make as if to search your car and ask questions about your intentions. They don't want answers; they want your spare change.

Embrace the heat.

Nigerian food is not for the faint of heart or stomach. We like it hot and spicy, packed with the herbs and spices that the country's hundreds of ethnic groups bring to the table. A favorite—and go-to comfort food—is

pepper soup

, a spicy broth made with scented leaves of

uziza

, diced chunks of goat meat or chicken, or a whole catfish. Try it anywhere; it's hard to get wrong. For more spice-rich fare, try White House, Sabo for the jollof, and Olaiya Food Canteen for

amala

—balls of ground cassava or yam flour and

ewedu

(ground vegetables). (At Olaiya, ask for soup with your

amala

; this is where the heat comes from.) These spots are no-frills places where you dine with locals, sharing spicy food in rooms with poor ventilation. For a more formal environment, try Terra Kulture or Yellow Chilli. (Yellow Chilli's seafood

okro

soup might just change your life.)
Respect the owambe.

It's best not to make any concrete plans with Lagosians on a Saturday. They'll probably be attending a wedding, concert, anniversary, birthday soiree, or a let's-get-together-and-drink-for-no-reason party of varying size and lavishness: These are all part of the

owambe

phenomenon. Lagosians love any excuse to drink and be merry, and Saturdays in particular are fair game. The

owambe

is originally a Yoruba tradition of celebrating any and all special occasions to excess and flaunting what you've got in the process, but Nigeria's other communities have embraced the party spirit, too.

Keep the faith.

Lagosians—and Nigerians in general—are a religious bunch. The country has

roughly equal numbers

of Muslims and Christians, the latter mostly of various Protestant denominations. (Pentecostal megachurches are, well,

huge

here—and visitors are welcome!) In Lagos you'll encounter megaphones blaring salvation messages, evangelists urgently pressing flyers into your hands and asking if you've been saved, and impromptu sermons at bus stops. This fervent din recently inspired the Lagos state government to pass a noise-pollution law—which churches, mosques, and preachers duly ignore. Note: Don't seek accommodation near a house of worship.

You will not beat the traffic.

Lagos is Africa's largest city, and it's growing rapidly. Epic car logjams, known as go-slows, are an inevitable part of life. Although the Lagos state has a capable traffic-management agency, sometimes the beast just can't be tamed—particularly from 6 to 9 a.m. and 4 to 10 p.m. You just have to plan ahead.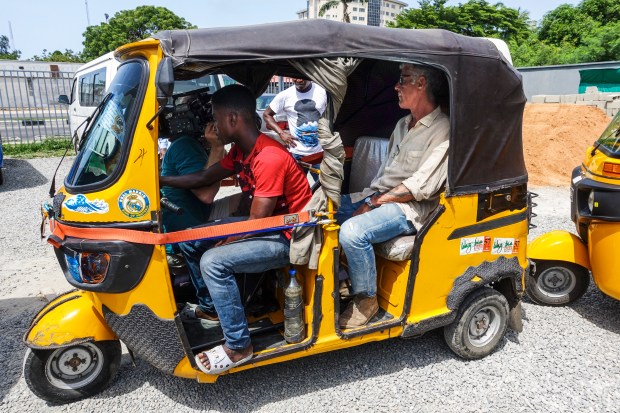 Ride private.

The most reliable, clean, and safe way to get around is by Uber or by taxi—but the latter isn't cheap. Many visitors get a prearranged driver. Other options are the

danfo

: the ubiquitous black and yellow Volkswagen buses that cover nearly the entire city. Typically, they seat 16 to 22 people—or however many the driver wants to pack in. (If you're lucky, there will be seat cushions; but sometimes there are just wood slabs with exposed nails—tearing your clothes is a real possibility.) There is also the local version of the tuk-tuk, the

keke marwa

.

Forget Airbnb.

There aren't many cheap hostel options or Airbnb apartments. The few that do exist are likely to lack key facilities such as running water or 24-hour power. For longer stays, get a short-lease apartment, which you can

book online

. For short trips hotels are best.

Visit Brazil.

Lagos Island—in the northern chunk of the island—has some well-preserved pockets, although these are under

constant threat

of demolition. Its distinctive 19th-century buildings were constructed by Brazilian master builders—former slaves who worked as carpenters and artisans in Brazil before returning to Nigeria—and Lagos's Brazilian Quarter resembles the old towns in Rio de Janeiro or Salvador de Bahia. Lagos's Brazilian community held firm to its customs as the country became increasingly Anglophone during its decades as a British colony in the 20th century; but now longtime inhabitants are moving out, and many of the community's historic buildings are being thoughtlessly renovated. Get a

local architecture buff

to show you around.
Have a meaty sundowner.

When night falls, men with skewers set up shop along random streets, grilling meat—

suya

—in the open air. The grilling starts around 5 p.m., and by 7 p.m. the meat, usually beef, is slightly charred, deliciously pink, and ready to eat. It's served in old newspapers with raw onions and fresh ground pepper. Rumor has it the Glover Court Suya in Ikoyi has the best

suya

in the city, but it's a tough call. The ones at Makinde Road in Ikeja are also pretty good.

Have at least one sleepless night.

Forget sleepless New York: Lagos parties hard, and you haven't experienced the city until you've spent a night or three wide awake. Weekends start on Thursday at around 6 p.m. with beer, chicken wings, and smokes at a live-music venue or neighborhood bar—maybe at the New Afrika Shrine or

Freedom Park

, a former colonial prison–turned–concert venue. At 8 p.m. switch things up at Food Shack, a rustic street-food restaurant and bar with half-price drinks on Fridays. They also serve the best fried yam and chicken wings in the city. At 10 p.m. hit 355, a bar with a celebrated DJ. After midnight end up at Sip Lounge (for pricey drinks), Velvet (an upscale club), or Escape, the biggest purpose-built club in the city—and stay until sunrise. Stay safe: Keep your phone charged (bring a power bank!) and your Uber/Taxify app handy.
The "know before you go" section of this article was originally published on Roads & Kingdoms on Apr. 18, 2017 and has been condensed.