This dish brings back memories of my grandmother making a whole pot of awk to feed our family. We would eat it as a full meal with a side of fresh vegetables and sticky rice. It is a delicious stew, perfect for any time of the year and easy to adapt to different dietary restrictions.
It is such a versatile comfort food that it can be prepared with any protein you have available. Alternatively, this dish can be adapted only with vegetables you might find at a seasonal farmer's market or an Asian supermarket.
Ingredients:
(serves 4)
Red Curry Paste
1/2 cup lemongrass, thinly sliced
1/4 cup galangal, sliced (you could replace with ginger)
6 garlic cloves
3 Thai chilies
1/2 cup shallots, sliced
Stew
3 tbs vegetable oil
1 1/2 cups red curry paste
2 cups raw chicken, chopped in small bites
6 Thai eggplants, quartered
2 medium-long finger hot peppers, sliced, seeds left on (or any other medium heat peppers)
1 cup green beans, sliced into 1-1 1⁄2 inch pieces
1 pack shimeji mushrooms or 2 cups white mushrooms
8 kaffir lime leaves, thinly sliced
3 cups stock (chicken or vegetable)
4 tbs fish sauce
1 tbs oyster sauce
1 tsp salt
2 cups dill, chopped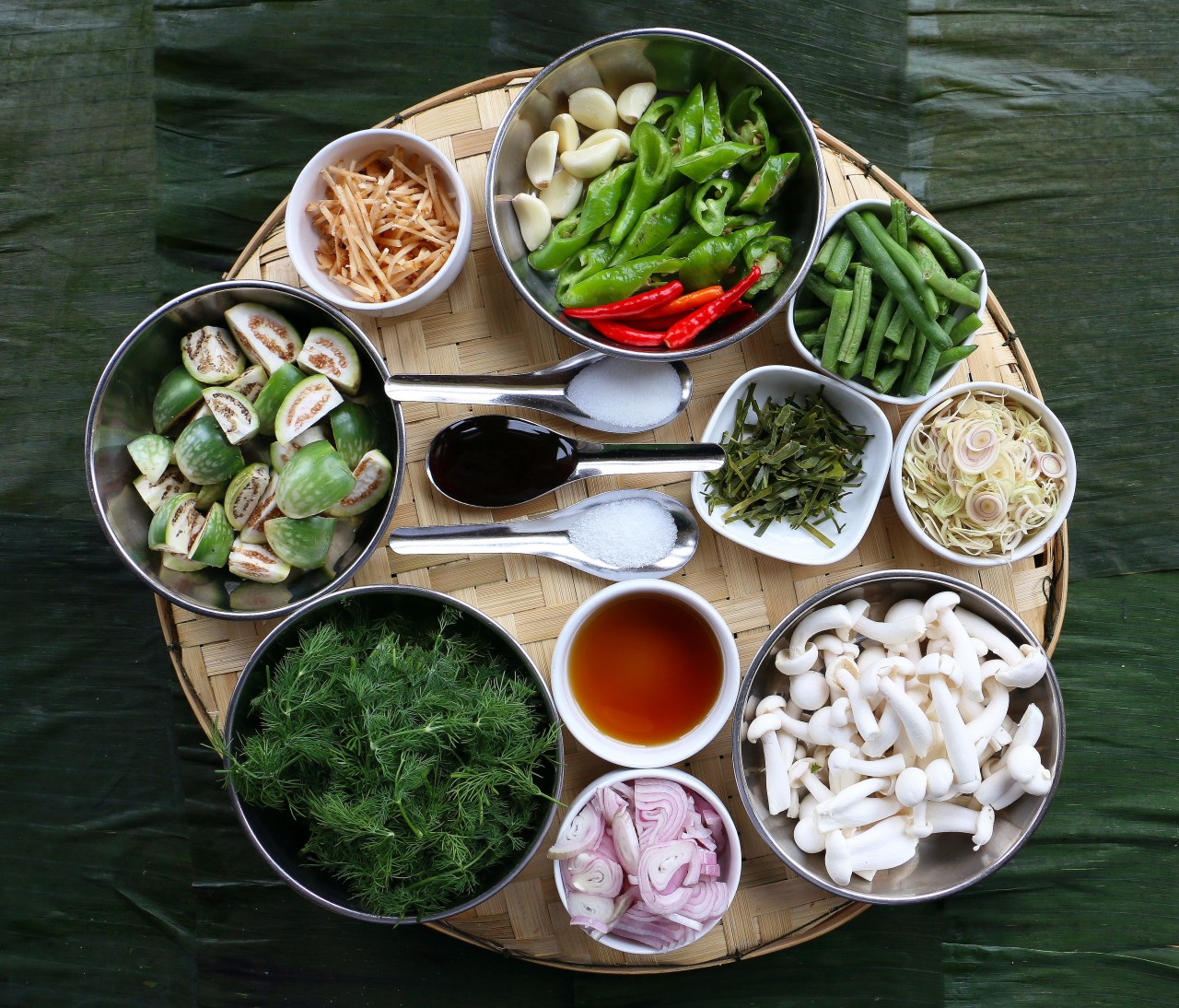 Preparation:
Red Curry Paste
You could make the paste using a mortar and pestle or using a food processor. The main difference between using a mortar and pestle vs the food processor is that pounding releases more fragrant and flavorful oils, whereas the food processor will mostly cut through them.
Mortar and Pestle | Paste
Start by pounding the lemongrass and galangal in the mortar and pestle. Then add the garlic, chili, and shallots. Pound all the ingredients to a paste, but not too finely so each ingredient maintains some of its texture.
Food Processor | Paste
Add all of the ingredients and pulse several times until they break apart to a paste, but making sure to maintain some of their texture.
Stew
Add oil to a medium-sized pot, heat on high temperature. Saute the red curry paste for two to three minutes.
Stir in the chicken and cook it until it is halfway done.
Add eggplant, peppers, green beans, mushrooms, and kaffir lime leaves. Stir fry until well-combined and the chicken is fully cooked.
Incorporate the stock, fish sauce, oyster sauce, salt, and boil for two to three minutes while covered.
Add the chopped dill and turn off the heat.
Serve immediately with sticky rice or jasmine rice.