When I was a student in Vientiane, street food was a huge part of my daily life. There was always a woman at a stand under a tree selling different delicious foods; Kua Mee, stir-fried noodles with pork and egg, was one of them.
She would sell it on banana leaves or newspaper. I would order one and eat it with my hands while walking home.
Even after all these years traveling back to Laos, I still find it on the streets; perfectly cooked and served traditionally. It is one of my favorite childhood dishes so I am very happy to share my recipe. I hope you will try it!
Ingredients:
KUA MEE
(serves 4-6)
1 16 oz package dried flat rice noodles
4 tbs vegetable oil
3 eggs, beaten with a pinch of salt
7 tbs granulated sugar
1/4 cup shallots, sliced
3 tbs garlic, minced
1 cup pork belly, sliced
3 cups stock (chicken or vegetable)
5 tbs fish sauce
1 tsp salt
3 tbs sriracha
TOPPINGS
2 cups bean sprouts
1/2 cups scallions, sliced on the bias
1/2 cups cilantro, chopped
omelet, sliced
Preparation: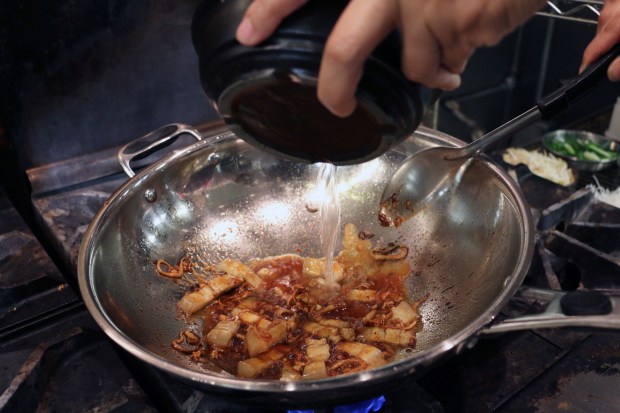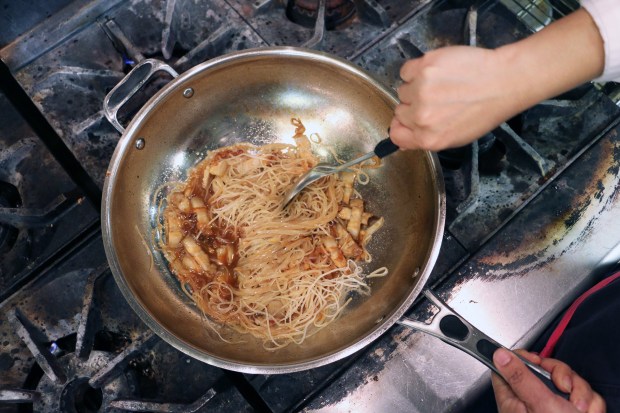 Soak the noodles in a large bowl with warm water for 30 minutes.
While noodles are soaking make the omelet topping. Heat one tablespoon of the oil in a medium-sized saute pan. Add the beaten eggs and cook on one side for 30 seconds or until lightly golden brown. Flip the omelet and cook for another 10 seconds. Remove from heat and cool to room temperature. Cut the omelet into 1/4-inch strips and reserve for final plating.
In a deep saute pan or wok, add the remaining three tablespoons of oil and cook on medium heat; add the sugar and stir until it caramelizes and turns medium golden-brown, about 3-5 minutes.
Stir in the shallots and cook for a minute, then add the garlic and cook another minute.
Add the pork belly, fish sauce, sriracha, salt, and stock, then increase the heat to high until it comes to a boil.
Once it's boiling add the noodles then cook 3-5 minutes until the noodles have absorbed most of the sauce.
Let the noodles cool to room temperature.
Toss noodles with the bean sprouts, cilantro, and scallions.
Serve with slices of egg omelet on top of each plate.