Chefs have to eat, too. And if someone else is doing the cooking, it had better be magical. Especially if the chef in question has been appointed the U.S.' inaugural Culinary Ambassador of Thai Cuisine by the Royal Thai Consulate. Jet Tila learned the traditions of Asian cooking from his Cantonese grandmother and grew up working at Los Angeles' first-ever Thai grocery store, his family's Bangkok Market. Since then, Tila has battled the legendary Masaharu Morimoto on Iron Chef America, regularly appears as a judge on Food Network's Cutthroat Kitchen, and operates Pakpao Thai Food in Dallas. The chef also spent a number of years in Las Vegas, running the kitchen at Wazuzu in Encore Resort and later at his own place, Kuma Snow Cream (now closed), in Las Vegas' incredibly diverse Chinatown. Like many of Vegas' top toques, Tila did much of his dining out among the city's effusion of Asian eateries, enjoying everything from high-end Japanese robata and Northern Thai specialties, to Hainan chicken rice and Asian-influenced food-truck fare. Here are just a few of Chef Tila's recommendations should you find yourself hungry in Sin City.
Aburiya Raku
Authenticity is the order of the day at Aburiya Raku, the name of which means "charcoal grill house enjoyment." Chef Mitsuo Endo learned kaiseki course-style cuisine in Tokyo before moving to the U.S. to open restaurants in Seattle and Manhattan. His Las Vegas restaurant opened in 2008 and is a destination for the city's other chefs as well as culinarily-minded visitors—and it stays open well after the burners have been turned off for the night elsewhere. "This is truly a gem as there are so few—if any—other restaurants like it," Tila says. "Walking into Raku is like walking into a very high-end izakaya in Japan. There are no excuses made here to Americanize the experience. No attempt is made to make it more 'comfortable' if you don't know what you're walking into—and that makes it so perfect!" Dishes here range from sushi and sashimi to robatayaki (charcoal-grilled skewers), fried and simmered dishes, and all, Tila asserts, "are superlative." As any Raku devotee will tell you, the fresh, house-made tofu is a must, to which Tila adds, "You have to eat it [both] agedashi style (lightly fried, swimming in dashi broth) and plain with katsuobushi (bonito flake) grated ginger and soy sauce—both are must eats!"
Not to be missed: Tofu, both styles; anything off the handwritten daily specials board; and braised, and charcoal-grilled tendon.

Lotus of Siam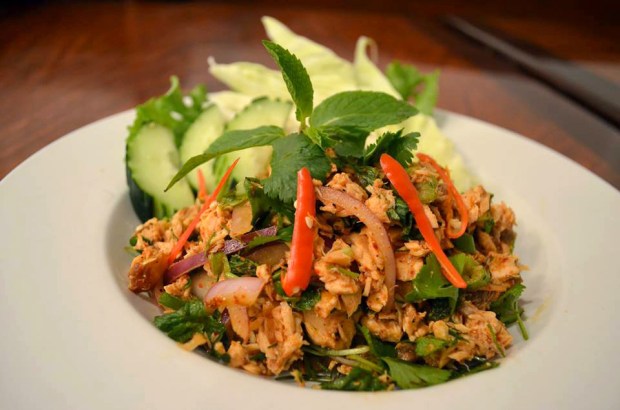 "There isn't a Thai restaurant in the U.S.—or even Thailand, in fact—that is as wildly popular as Lotus of Siam," Tila says. Indeed, people travel from all over the world to dine there and to experience the wine list—not to mention ogle photos of the hundreds of famous people who have visited the restaurant since it opened in 1999 in a strip mall with some colorful neighbors such as the infamous sex club, The Green Door. "But the true reason to come is the Northern Thai dishes," he says. "Ordering anything else is like going to Paris and bypassing the Eiffel Tower and Notre Dame." Chef-owner Saipin Chutima is the grand dame of Thai cuisine in Las Vegas, and received the prestigious James Beard Award for Best Chef Southwest in 2011 for her skill with generations of recipes passed down from her four grandmothers.
Not to be missed: Nam Prik Ong (northern Thai chili dip with tomatoes and pork), Gang Hung Lay (ginger and pork curry), and jackfruit salad.

Nittaya's Secret Kitchen
Like Lotus of Siam, contemporary jewel Nittaya's is a little out of the casual visitor's way and requires some dedication to find. But, Tila assures, the experience is worth it for the passion that owner Nittaya Parawong puts into her sharable, tapas-style offerings. "This was always a neighborhood favorite of mine when I lived in Las Vegas," Tila says. "It's such a special restaurant, curated and thoughtfully crafted. It has all the obligatory dishes that Thai places must have, but they all have a fun twist."
Not to be missed: Siamese corn fritters, son-in-law eggs, and pineapple & duck curry.
Fat Choy and Flock & Fowl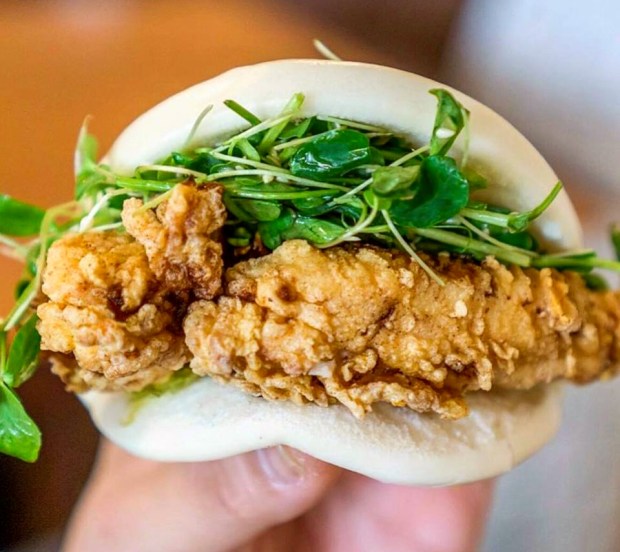 Riddle Tila this: "What do you get when a French-trained Taiwanese-American chef longs to cook the food from his childhood?" You get Sheridan Su, and do not under any circumstances ask Tila to pick a favorite between Su's two Las Vegas restaurants. "The story isn't unique in New York or L.A., with chefs such as Roy Choi and David Chang, but it is in Las Vegas: deep Asian flavors with deft French techniques, but no dishes are ever pretentious," Tila says. "This is just amazing home cooked flavors but not from your Asian mom—more like your Asian grandmother if she staged in Paris."
Not to be missed: Peking duck buns at Fat Choy; Hainan chicken rice and fried chicken buns at Flock & Fowl.
FukuBurger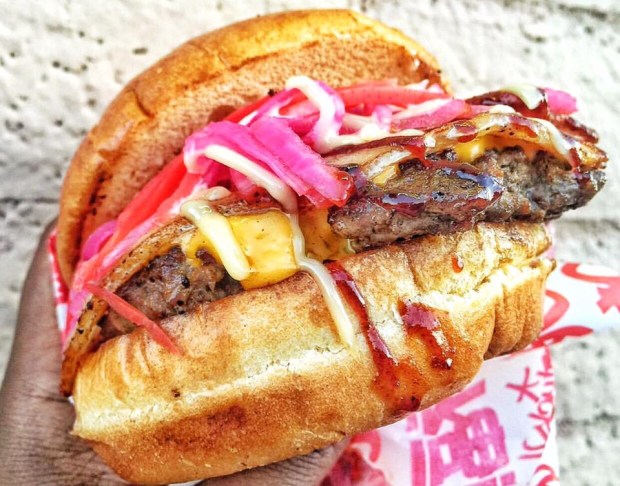 "Las Vegas' first and still-most-dominant food truck," Tila declares. "Fuku means 'lucky,' but it took more than luck to create and maintain a phenomenon. The Asian-inspired burgers, dogs, and fries are creative, but the magic is the feeling that eating and hanging at the truck creates. All are always welcome, from billionaires and famous athletes to cooks and dishwashers. Eat there, then jump on their social media channels and you are family for life." If you don't quite feel up to chasing trucks, check out the brick-and-mortar location in Chinatown; a second location is expected to open in the southwest part of town in the spring or summer of 2017.
Not to be missed: Buta burger, a bacon burger topped with Japanese barbecue sauce (Tila: "Crazy good."); naga dog, a hot link with sriracha mayo, katsu sauce, and wasabi; and FukuMoco, their version of loco moco, a Hawaiian island dish of rice, beef patties, gravy, and fried egg.

China Mama
When in doubt, eat where the locals eat. And when it comes to Cantonese, China Mama is where you'll find them. "Of all the Asians in Las Vegas, the Cantonese are the majority," Tila points out. "So one would expect hundreds of (specifically) Cantonese restaurants in Las Vegas. From $1 to $1,000 Cantonese meals, Las Vegas has it all—but I really love China Mama, one of the few places to find soup dumplings in Vegas. It's not the fanciest … but it's consistent and beloved by locals and tourists alike."
Not to be missed: steamed Shanghai dumplings, steamed juicy pork bun, fried shrimp & leek dumplings, and lamb with cumin.
Chengdu Taste
If you're truly craving spice, Chengdu Taste brings the heat. "Las Vegas was always lacking in great Sichuan cuisine until recently," Tila says. "And I mean merciless, head-sweating, lips-tingling, and on-fire Sichuan. Chengdu Taste is an L.A. original that delivers the delicious pain." Once again, pay no attention to the mild, unassuming strip-mall location; if you've learned anything by now, it's that in Las Vegas, you can't judge a cook by his or her neighborhood.
Not to be missed: bang bang chicken, toothpick lamb, and mung bean jelly noodles.